Say what you will about pirates, they're always up for a party.
The seafaring crew of buccaneers at Jolly Rogers Grub-N-Grog is planning a big one: a 10-year anniversary party, set for May 20. Owners Joe and Christie Jung will celebrate with the Jolly Rogers' community before setting their compasses for a bigger, better 11th season in 2017.
But even after this weekend's revelry, the popular lakefront bar at the 4.5 mm on the Gravois Arm always offers a good reason to celebrate, and something new for boaters to discover.
Joe believes in bringing something new to the Jolly destination for each new season. Last year, the Jungs added The Kraken Shack, a fresh, never-frozen raw oyster bar. In 2017, the Kraken Shack menu will include Prime Aged Beef. "Prime Aged" is a label reserved for just 2 percent of all beef, which is never frozen. A 22-ounce, bone-in Ribeye and 10-ounce Filet will join other seafood choices such as shrimp, crab legs, and lobster for fine, delicious dining.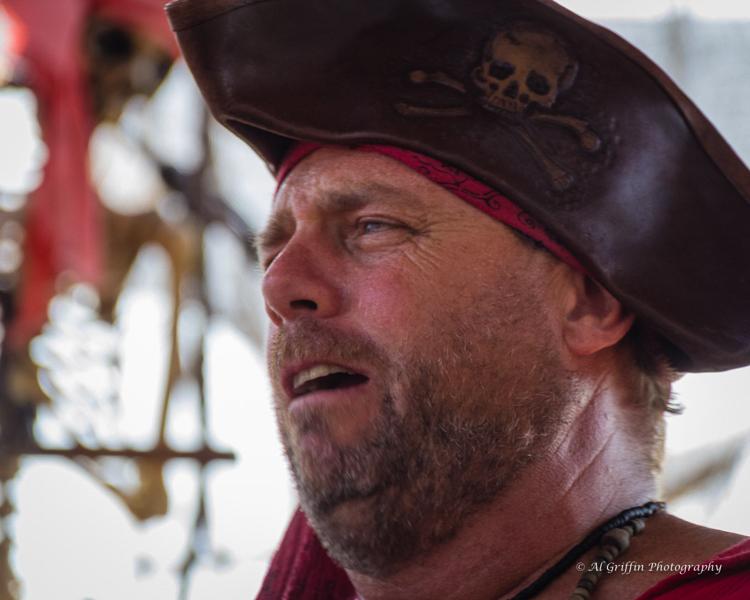 Jolly Rogers has also expanded its Grogs for 2017 with 22 beers on tap. Many are from craft breweries; some are local Missouri brewers. Piney River's Lizzie Twister, a sour Berliner Weissbier, is one available as the 2017 season kicks into high gear.
An array of beverage choices appeals to adults, but Jolly Rogers has plenty for kids too. Little pirates-in-training work off energy at the playground while waiting for fresh foods to arrive at their tables.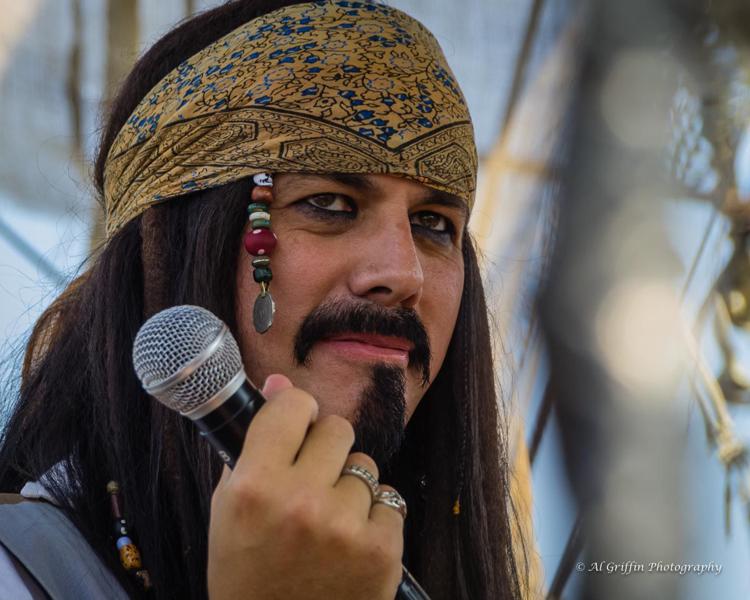 And built especially for kids is Captain Scalawag's Pirate Treasure Adventure aboard the Calypso. Granted, children become a pirate in search of treasure once they board, but they'll return to Jolly Rogers with jewels and memories of harrowing adventures involving cannon fire. The 2017 adventure will carry pirates and shipmates to Spider Island, using a new script--or map--with Jolly Joe Jung at the helm and Tim Williams as Captain Scalawag channeling Jack Sparrow.
Other scheduled voyages for the 2017 season carry passengers across the water for sunset cruises, lake tours, private charters, and a special Fourth of July fireworks cruise. Tickets can be secured easily using online booking.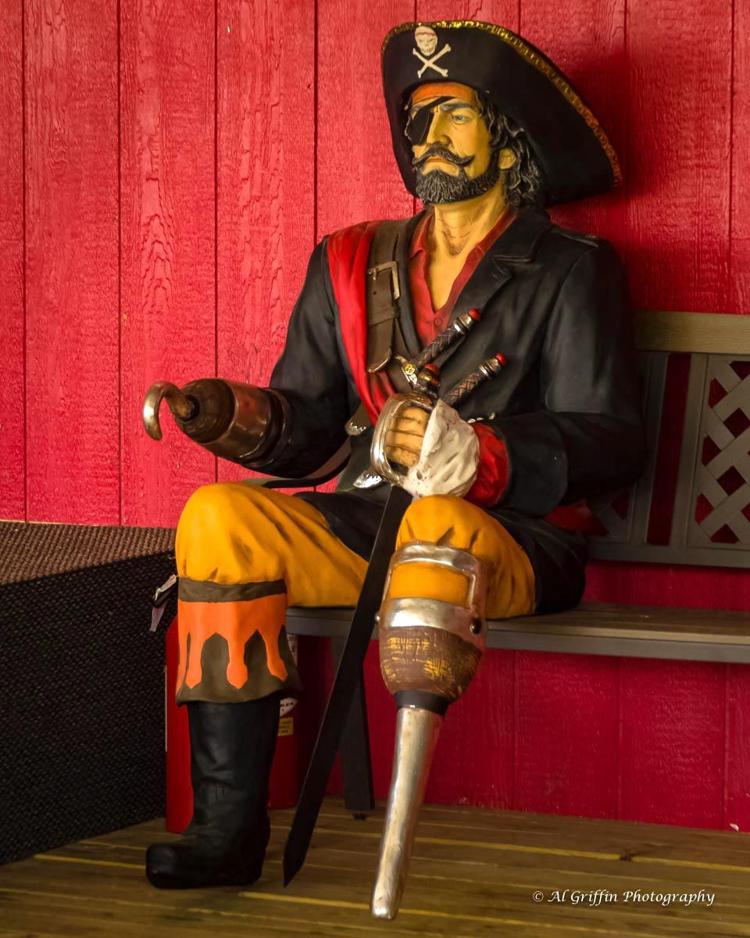 Jolly Rogers Grub and Grog has many layers. It's a fine stop for hearty food and refreshing drink after a day on the water. It's also a place to enjoy an extensive Sunday buffet featuring stations for carving meat, cooking omelets, and baking waffles, pancakes, or French toast. An array of pastries, fruits, salads, and so much more complete platters and satisfy big appetites, while Bottomless Mimosas and a Bloody Mary station can keep even the thirstiest pirate happy.
Jolly Rogers is a perfect place for dining in an open-air atmosphere. The Kraken Shack offers a distinct though still casual setting next door. There, patios and decks open to the air, affording views to boats arriving to slip into one of 45 spaces. The restaurant hums with music and energy, with fun and feasting.
The Dish: From the Gourmet Burger Menu, a Piggly Wiggly
A Piggly Wiggly gourmet burger, like Jolly Rogers itself, has layers, each proving the kitchen's mission as set by Chef Joey Vaughan. The beef, pork and cheese sandwich on a Brioche bun begins with 8 generous ounces of Angus beef, cooked to a diner's liking, without sacrificing tenderness or flavor. Resting on the beef patty is a thick layer of shaved ham. Ribbons of Applewood smoked bacon crisscross the ham. House made pimento cheese seals the bacon in place and, like frosting on a warm cake, spills down the layers of meat. House made Bacon Marmalade finishes the flavor treat, delivering a sweet and salty edge to every bite.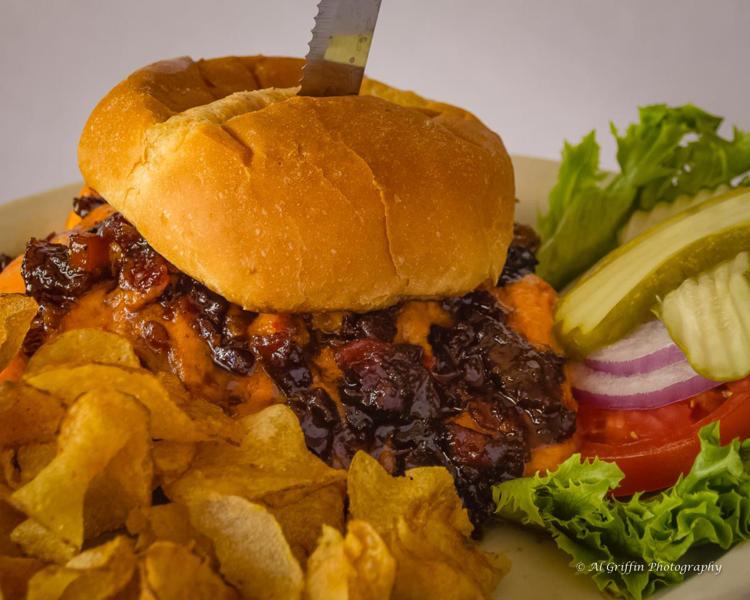 On the side are house made chips, sliced thin, fried crisp and so quickly, it would seem, as they still carry the taste of a potato dusted with salt. Two delicious deli pickle slices arrive with the chips and burger. They crisscross atop a locally sourced tomato slice and lettuce. 
Jay Martin of Lazy J Farms, with a storefront in Eldon, provides those tomatoes and will, as the season progresses, provide more fresh vegetables. That's Chef Vaughan's goal for Jolly Rogers' food: to bring more fresh, made-from-scratch food to Jolly Rogers' diners day by day, season by season, item by item.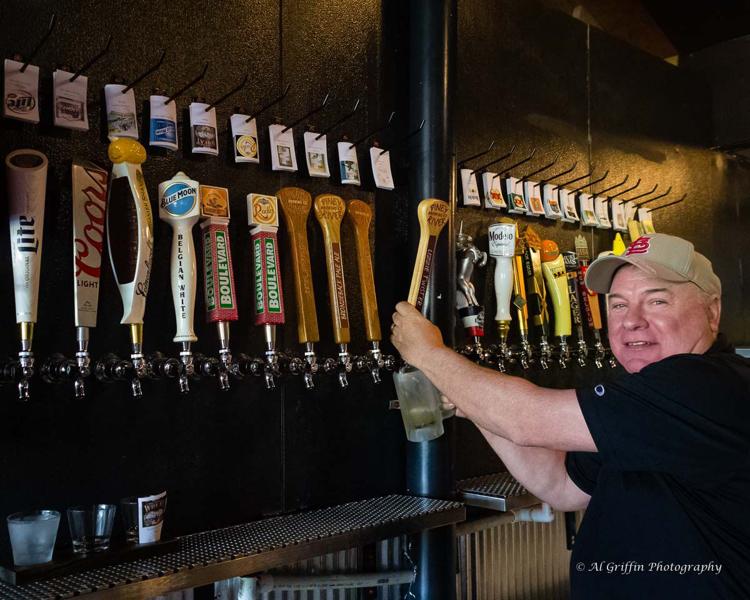 The Drink and the Art of Bartender Bob Smith: The Crossbones
If the pirates' crossbones signify death, then the Jolly Rogers' Crossbones is a good way to go. It's chocolate ice cream, vodka, crème de cocoa, and Kahlua under a cloud of whipped cream. It's a drink to raise in celebration. It's a drink to savor. It's a drink to order after a hot day in the sun.
The Crossbones is a party by itself, especially because the glass has been dressed for the occasion with white chocolate stripes and chocolate syrup drizzled across whipped cream. A tightly wrapped white chocolate candy stick invites dipping and sipping into a milk shake made exclusively for adults.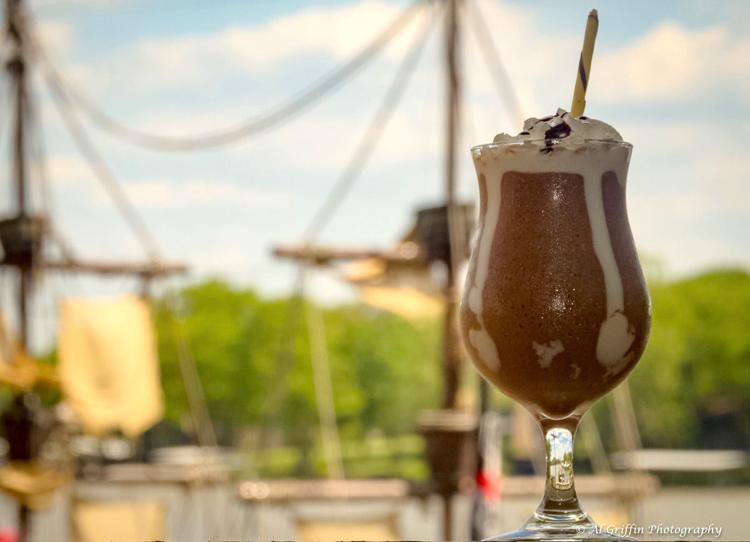 The Crossbones could be tempting for kids at the table too, so Jolly Rogers has something in ice cream just for them: the Skillet Cookie. Served on a skillet, the dessert fills the space with brownie--just foothills for three mountains of ice cream with whipped cream snow on the peaks, topped with caramel and chocolate. Sized for a family of four, the Skillet Cookie will thrill.
Blending flavors for drink and foods with entertainment and first-rate service, Jolly Rogers Grub-N-Grog is a treasure to be found... and found often.