On the water's edge at the 38MM, tucked into a cove at the edge of one of the Lake's most picturesque bluffs, sprawls a family oasis like no other.  
Bear Bottom Resort is renown for a 700-foot waterslide, swim-up pool bar, live entertainment, fireworks, and the best Nachos on the planet. 
Whether guests arrive by boat or land, with an RV in tow or on motorcycle, planning to stay overnight or for just an afternoon, Bear Bottom Resort owners Matt and Melissa Sutcliff welcome visitors with open arms – and good humor.
Bear Bottom has a reputation for the only weekly Fireworks show at the Lake, each Saturday night. And for the most grandiose show of the year for the Fourth of July. Boats fill the cove and customers fill the patio for Matt's pyrotechnic skills. For many, the Fourth is synonymous with Bear Bottom.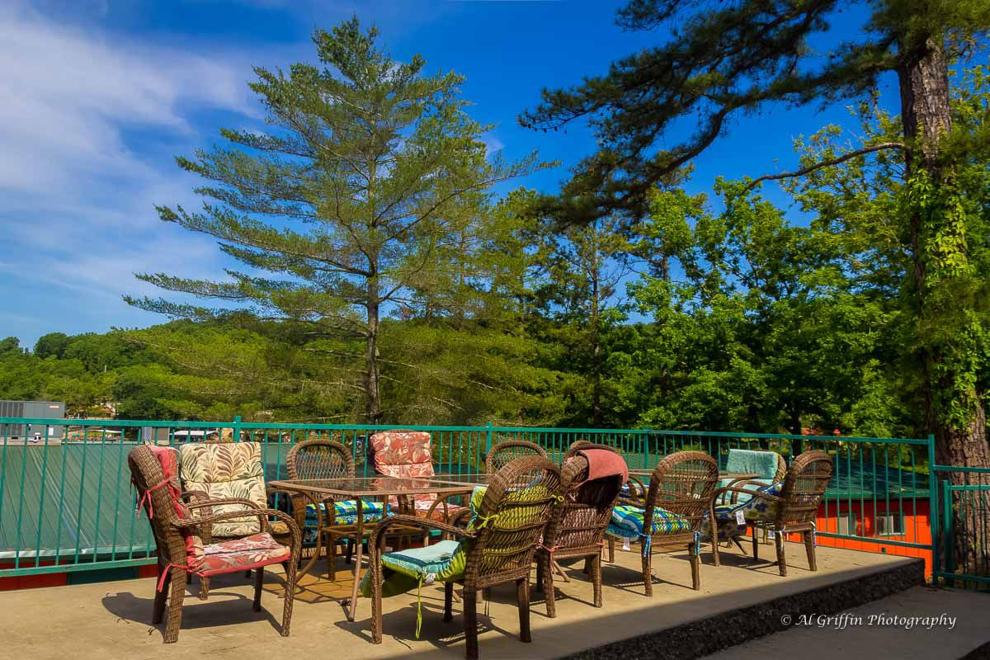 Locals and weekend warriors know they'll find live music every Friday and Saturday night. In June, those who lease space in the RV campground or rent one of 10 vacation cottages will join daily visitors to hear Alderwood, Money for Nothin', North of 40 Band, Morgan Highway, or Dirt Road Addiction. For July's line-up, fans can visit Bear Bottom's Live Music and Events page online.  
Perhaps best known for its water slide, clear water rushes along 700 feet of curved slide. Parents can join their children for the thrills and splashes, or they can wait for their children at the Poolside Bar, enjoying whatever beverage suits their taste. One of those beverages, the Miami Vice, has been on the menu since 7-year bartender Korey Sheets joined the Bear Bottom team.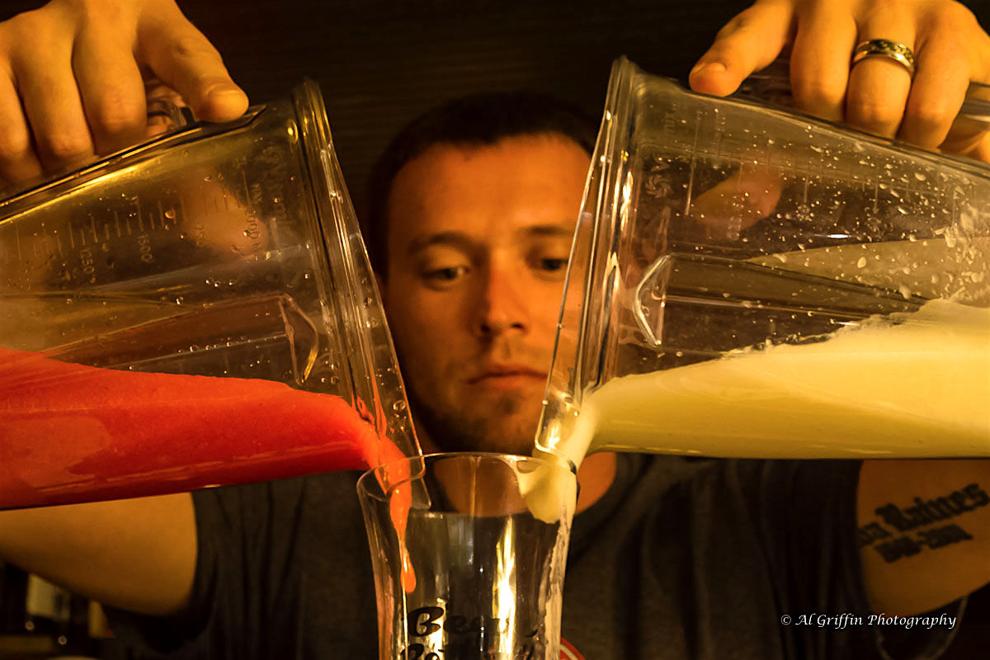 Signature Drink: The Miami Vice
The Miami Vice is one-half Strawberry Daiquiri and one-half Piña Colada. Each pours side-by-side in a Hurricane glass, rich pink on one side, creamy white on the other. Over time, while sipping, the two colors and flavors blend, but sippers can stir them vigorously together with a straw to deliver refreshing strawberry-coconut flavors all at once.
Fresh ingredients are essential, bartender Korey Sheets says. The Miami Vice begins with fresh puréed strawberries and freshly squeezed lime juice for both halves of the finished drink. He says in six years' time as bartender, he's perfected the art of pouring each blend from two separate blenders to present the drink. Many novices, who make it at home, prefer to fill the bottom with one blend and top off the glass with another before serving.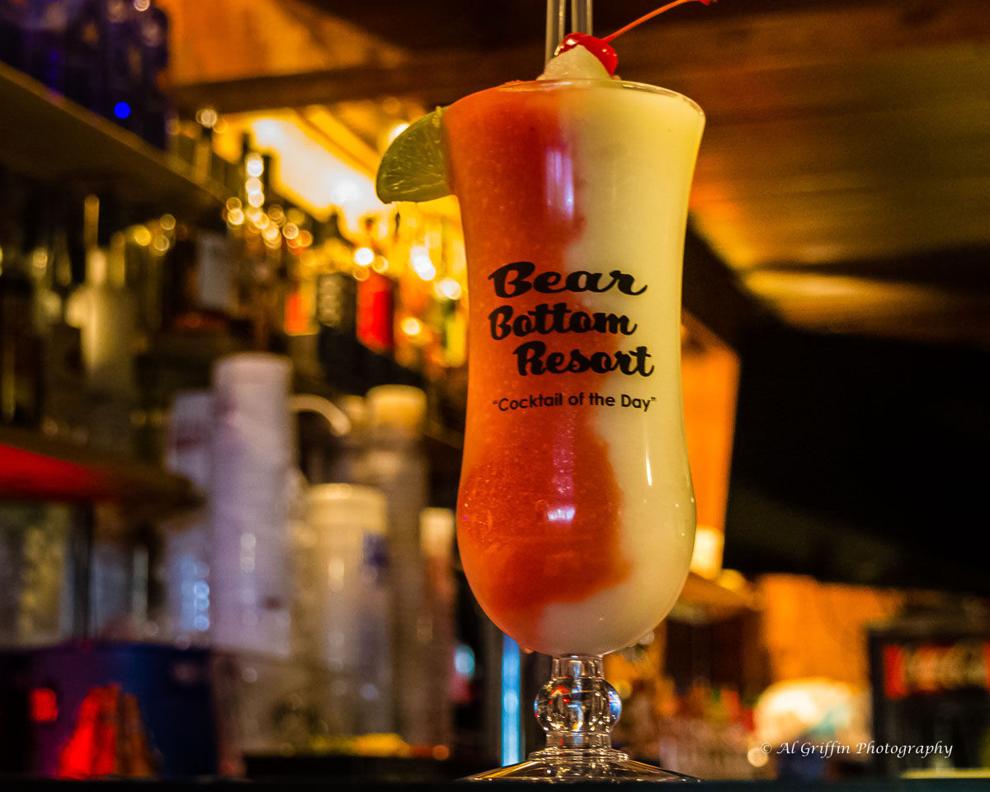 For a single serving of Strawberry Daiquiri
• Purée 3-4 strawberries with 1 Tb powdered sugar in a blender
• Add ice
• Pour the next four ingredients over the strawberries and ice
• 1-2 ounces Strawberry Rum (Bear Bottom recommends Bacardi's Dragonberry, a strawberry flavored rum)
• ¼ ounce Grenadine for a splash of tart and sweet
• ¼ ounce freshly squeezed lime juice to kick up the tart flavors a bit more
• ¼ cup lemonade (Bear Bottom uses commercially prepared lemonade to kick up the sweet tastes and balance the entire drink's flavors)
• Blend until smooth and creamy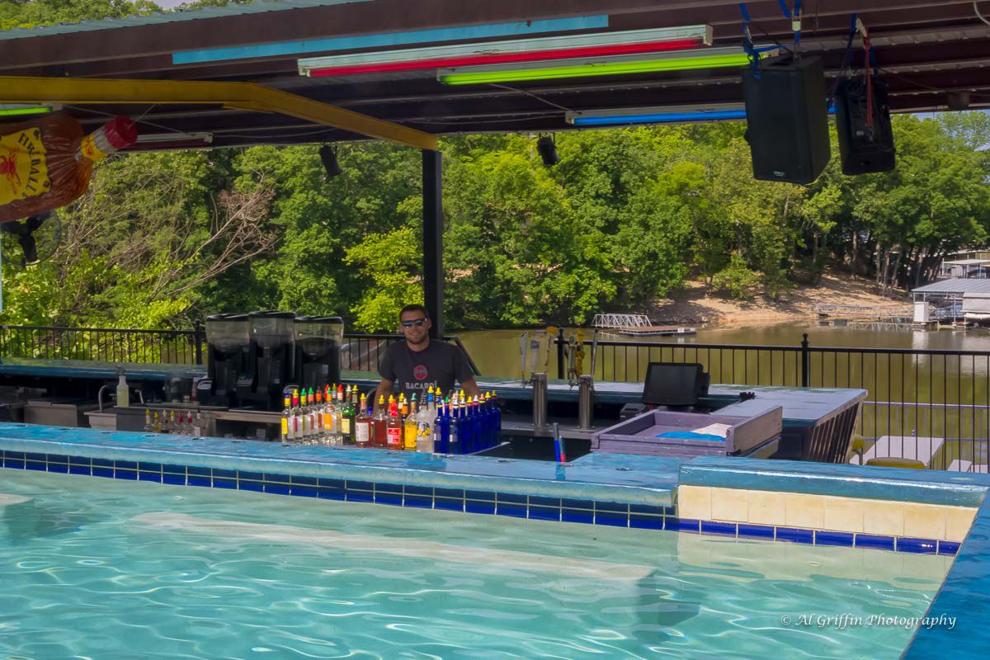 For a single serving of Piña Colada
• Add ice to a second blender
• Pour over ice the next four ingredients
• 1-2 ounces Coconut Rum (Bear Bottom uses Rum Haven's Coconut Rum, made with real coconut water and currently unavailable for home sales in this area)
• 1 ½ ounce Cream of Coconut
• ¼ cup Pineapple Juice
• ¼ ounce freshly squeezed lime juice
• Blend until smooth and creamy
Fill a glass with half Strawberry Daiquiri and half Piña Colada to make Bear Bottom's Miami Vice at home. Enjoy. 
The Miami Vice, like many Bear Bottom beverages, can be made without alcohol for those underage or those who prefer fruity or frothy concoctions without adult ingredients.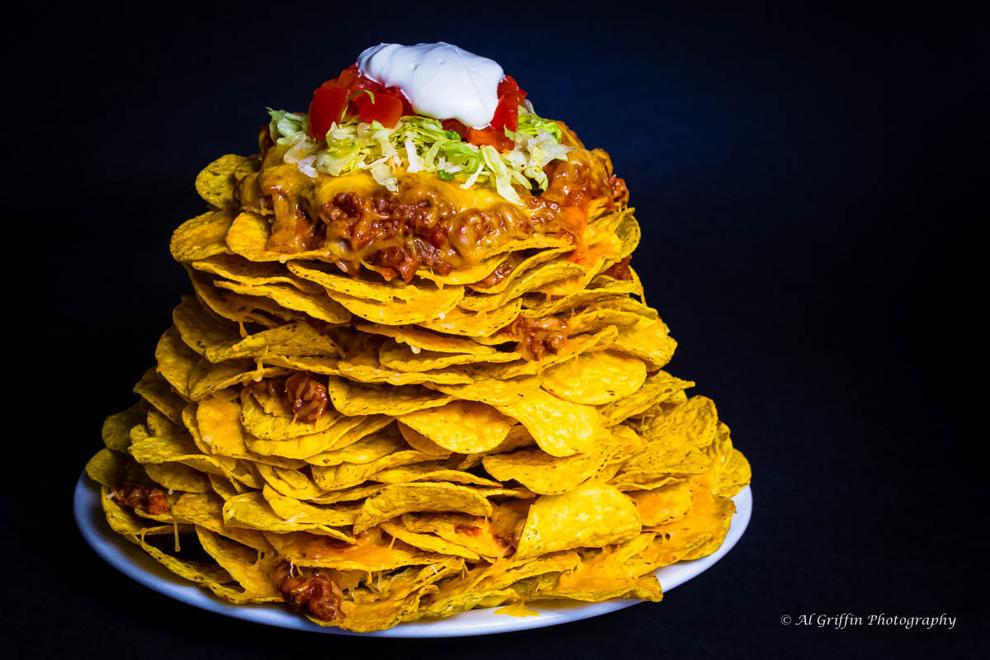 The Signature Dish: Bear Bottom's Nachos in Full, Half, and Quarter Sizes
Come hungry. These Nachos are a volcano of goodness – the kind boaters might crave spontaneously while hanging out on a dock, forcing a boat ride to the 38MM. 
A full order reaches dizzying heights of 12-14 inches. Each of five layers used to build that mountain of chips is layered by Bear Bottom's mellow chili, an ingredient that begins with freshly ground chuck and freshly chopped onions and bell peppers. After simmering for 2 ½ hours, the chili is ready for bowls and nachos.
Each layer also has a blend of shredded Monterey Jack, Aged Smoked Cheddar, and Provolone cheeses baked at 450º to deliver cheesy goodness without breaking down the chips' crispiness. Chopped lettuce and tomatoes create the Nacho Mountain's peak. Those vegetables stay cool under a snowcap of sour cream. Salsa arrives on the side, and jalapeños are available to any customer who loves their kick.
Single servings or the half order made for smaller groups and appetites have all the same ingredients, just fewer layers.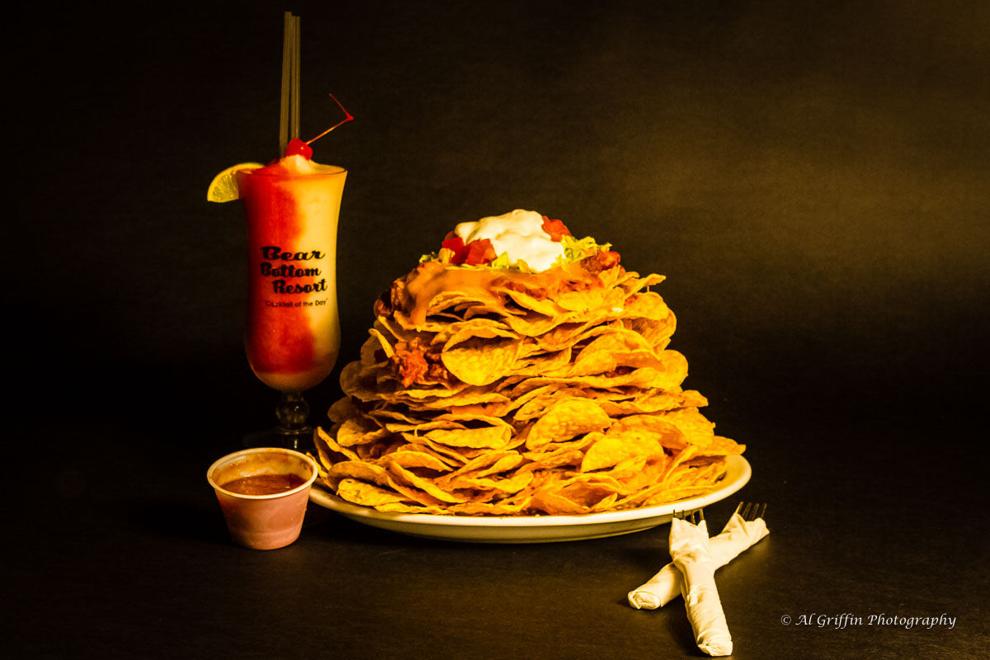 To assemble Bear Bottom's Famous Nachos:
• The day before or at least several hours before serving nachos, make chili. Bear Bottom recommends using fresh ingredients and just enough spice to make it interesting without bringing tears to the diner's eyes.
• After the chili is complete, select an oven-proof platter to build the nachos.
• Place a layer of chips on the platter.
• Ladle chili over the chips being careful not to soak them into a soggy state.
• Add shredded cheeses.
• Repeat the chips, chili, cheese additions in that order for as many layers as platter, oven, and stomachs can hold.
• Bake the layers in an oven set at 450º to melt the cheese.
• Remove from the oven and top with lettuce, tomato and sour cream.
• Serve with salsa and jalapeno or other diced chiles on the side.
In 2017, Bear Bottom has added two new entrées: Corkscrew Shrimp Tacos and Fish Tacos. Both the shrimp and fish are lightly breaded and fried before topping a blend of purple and white cabbage in a soft-shell tortilla. Both are also dressed with Bear Bottom's Boom Boom Sauce, and both are rapidly becoming two of Bear Bottom's popular orders.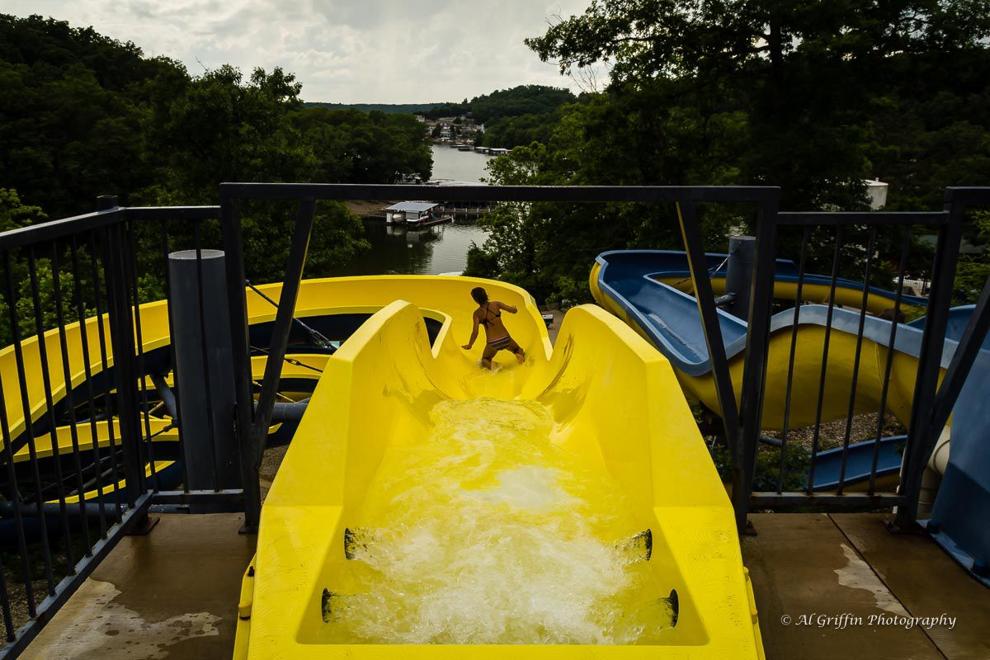 The Bear Bottom Resort Experience
People who lease space at the Bear Bottom Resort RV Campground renew year after year. The same is true for those renting cottages that range in size from one to four bedrooms. Both truths are evidence that people find a good time at Bear Bottom.
Day Trippers return just as often throughout the Summer season when Bear Bottom is open seven days weekly. They come in the off-season, September through New Year's Eve and again in March beginning with the Short Bus Shuffle for St. Patrick's Day and continuing with fewer open hours until Memorial Day in May. 
They come for family-friendly fun. Children and adults enjoy the water slides during warm weather. They enjoy the arcade games and pool available on the covered patio while waiting for a volcano of nachos or tasty seafood tacos.
Tourists also enjoy spectacular sunsets and fireworks from the open-air decks below the water slides and above boat slips, covered and uncovered in a no-wake cove. Live music on Friday and Saturday nights amps up the fun factor, and of course, the pub, where Korey Sheets is often pouring, draws people to the resort, too. Bartender Sheets, like owners Matt and Melissa Sutcliff and all the Bear Bottom staff, make everyone want to return.
Looking for the best places to eat at the Lake? Look no further!
It's fall at the Lake of the Ozarks and arguably the best time of the year here! It's time for peaceful, cool, sunny boat rides; time to watch…