Sometimes after a long, hot day on the water, you just need a huge stuffed burger and a cold cocktail. 
Tucked away in a no-wake cove at the 33MM of Lake of the Ozarks, once found Bulldog's Beach House is easy on boats. 
Boaters groove to live music from the deck and tiki bar and enjoy the antics of Bulldog's mascot -- Cosmo, the Pomeranian (ironically), a master beggar of fries. At the heart, Bulldog's is a throwback to what Lake bars use to be – maybe what it was always meant to be.  
Keeping It Simple
Bulldog's has gained notoriety as the home of the best Stuffed Burger around, made with Black Angus Beef infused with two ounces of cheese and herbs, or jalapenos for the spicy palette. It's just plain goodness inside and out. The fries are free of that "frozen just minutes before you ordered" flavor, off the corporate food service truck. Bulldog's fries appear hand-cut, double-fried potatoes uniquely between crinkle-cut and pencil-stick. They're tasty.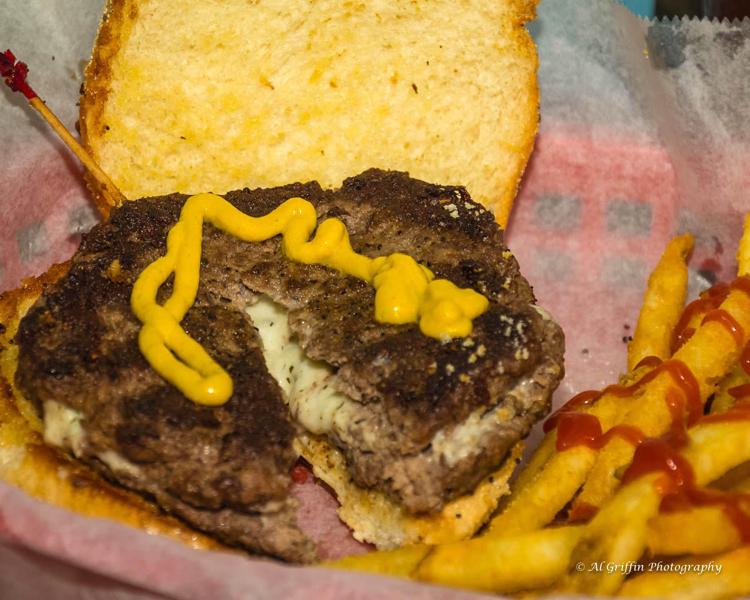 The Other App
Appetizers are aptly called, "Dog Treats" at Bulldog's, and one is a meal in itself. The Beach House Shrimp, described on the menu as "5 large stuffed with 3 cheeses and 9 herbs wrapped in bacon, sautéed and served on a bed of Sugar Snap Peas" that, as it turns out, are full of rich flavors after the shrimp has rested a sec. The bacon crisps nicely, as does the cheese stuffing that escapes as it sautées.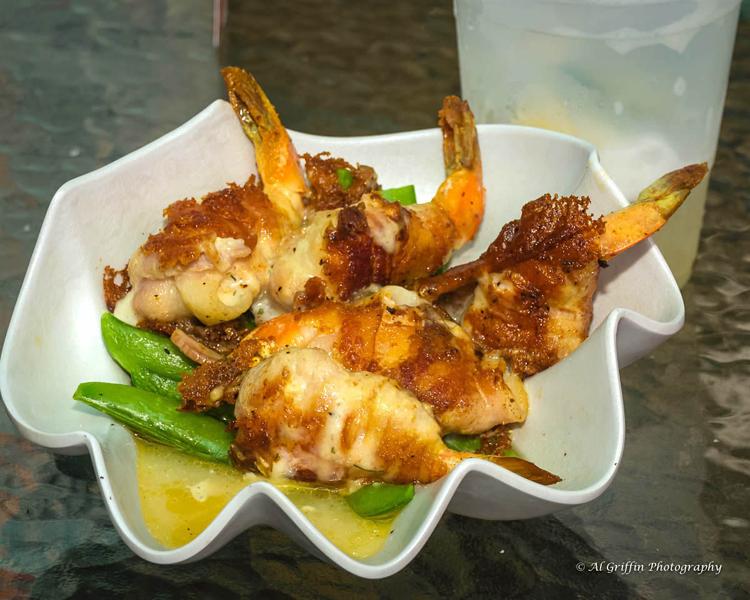 Lettuce Heads
Bulldog's salads are a good, if you're into that sort of thing. The Club Salad features three meats--ham, turkey, and bacon. Its portion size is proportional to an appetite made large by boating, skiing and sunning.
Kickin' It
A friendly customer service team packs Bulldog's. The bartenders are schooled in the finest mixed drinks, premium, specialty and domestic brews. Bulldog's Big Dog Drinks are exactly what the name implies, big in utility and taste. Cocktail connoisseurs delve into Cruzan Confusion, The Huskey and Bulldog's Voodoo Juice. Rum and vodka-lovers should take heed, as these are at the heart of several Bulldog's specialties. 
Food, drink, music and service weave together a fine lakefront experience. Families and large groups gather on the decks and outdoor seating, while singles and couples gravitate to the outdoor bar where an experienced bartender mixes a tasty Margarita. Inside, it's cool under low lights. 
A surfboard above the indoor bar reminds boaters of the restaurant's theme: a beach by sandy shores, in a quiet cove, an escape from the "real" world.