It's probably the most popular year-round restaurant at Lake of the Ozarks.
The rich, savory scent of smoked meats wafting from Wobbly Boots Roadhouse draws hungry patrons 364 days per year. Drive by Wobbly Boots any day during lunch or dinner, and the parking lot is bustling. The atmosphere and delicious flavor bring them back again and again.
Open year-round at 11:00 a.m. and closed only on Christmas Day, Wobbly Boots Roadhouse is the go-to for casual dining, business lunches, or just anyone looking for flavorful BBQ. Smoked and charbroiled meats are Wobbly Boots' specialty. The restaurant is a testament to the success of the Barrett brothers, Mark and Brian, who also own Dog Days and Shorty Pants. General Manager Landon Hall says his goal is to create a place where people feel welcome, just like they do in their own homes. With experience behind the bar at City Grill and in hospitality at Walt Disney World, Hall knows what makes a good experience for after-work or family time.
Many hungry customers begin their Wobbly Boots' order with an appetizer. One of the most popular is Onion Rings with Chipotle Ranch dipping sauce. Chef Tom Livingston insists that those onions be hand-cut on site before being breaded and fried. Diners will only see a mountain of rings--a crisp exterior enclosing tender, translucent onion. That breading is perfectly balanced between salt and white pepper: zest springs from each bite. The dipping sauce kicks up the spice level nicely for those who want a little extra.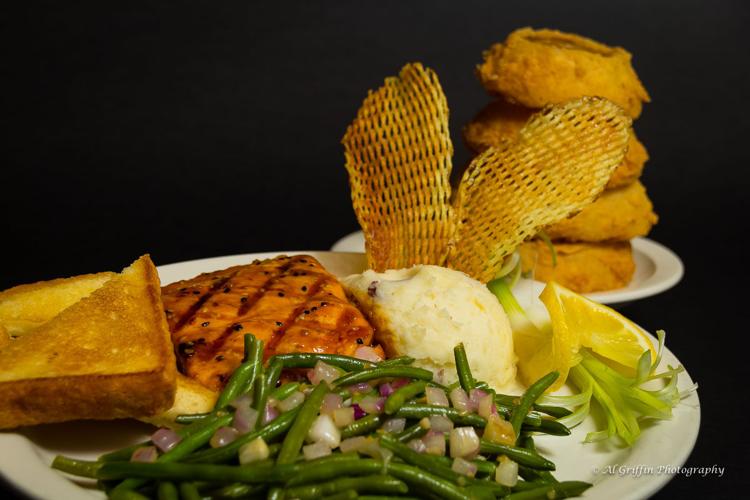 The Signature Dish: Brown Sugar Salmon with Spring Beans, Mashed Potatoes, and Texas Toast
At Wobbly Boots, BBQ is the backbone of the menu. Known for smoked and charbroiled beef, pork, turkey, chicken, and sausage, Wobbly Boots also offers catfish, shrimp, and salmon. We tried the Brown Sugar Salmon.
It begins with salmon, filleted and skinned in the Wobbly Boots' kitchen, then cut into a 7-ounce steak. A brown sugar glaze brings out the meat's rich flavors. A side of Texas toast, crisp, golden, and buttery, completes the fine balance of rich and savory tastes.
Mashed potatoes are a smooth starch to compliment the fish, and for a burst of summer-garden freshness is a side of Spring Beans sautéed with diced red onion and minced garlic.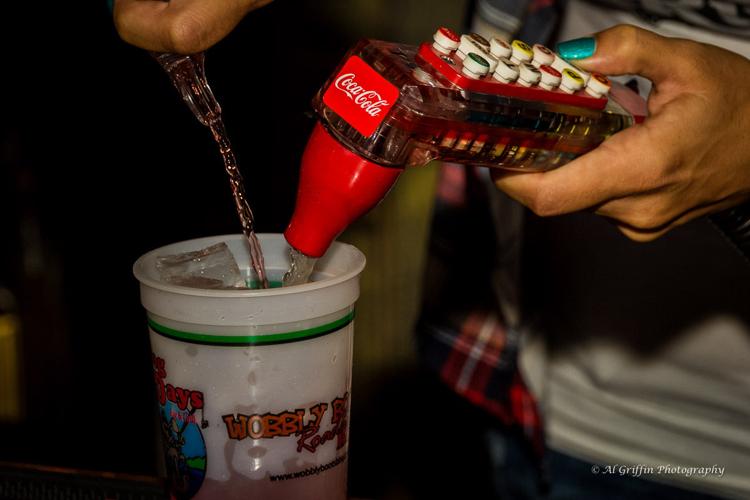 The Signature Drink at Wobbly Boots Roadhouse: The Wobbly Boot
When your signature drink is this good, you give it the same name as your restaurant. That's the case for The Wobbly Boot.
Using Blackberry Moonshine from Ozark Distillery, a local crafter, Bartender Kimberly Smith offers a delicious taste of summer in a glass, all year long.
It can be sipped as a fine after-dinner treat or as a way to wind down after a tough day on the job. Blended with a sugar-cane lemonade made in Kansas City, The Wobbly Boot is smooth, lightly sweet, definitely berry, and always delicious.
The Wobbly Boots Experience
Customers can take home the Wobbly Boots' experience by ordering from the "Buy in Bulk" menu. They can also reserve Wobbly Boots' catering services for their next office party or family reunion at the lake. Individually sized portions can be carried out for a picnic on the boat, but year-round, rain or sun, Wobbly Boots stands ready to serve good food and good times. 
When the other Barrett restaurants, Shorty Pants and Dog Days, are closed through the winter, Wobbly Boots offers smoked meats and hot plates of BBQ on the coldest winter days. In winter, fires in the fireplaces beat back the chill from overcast skies. In summer, air conditioning cools. In the air at all times is the scent of smoked meats, making it tough to choose from an array of those meats on the menu. Burnt ends dressing oversized baked potatoes, diced ham or turkey topping salads, smoked salmon, or Ribbies and Wings from the Starter menu are just a few of those meats on the menu in every season. Any choice will satisfy. That's what Wobbly Boots strives to do every day.