An ounce of prevention is worth well more than a pound of cure, especially when it comes to dock electric safety.
While it would be nice if every aspect of boating and Lake life was just plug-and-play, the reality is: things need to be maintained. And while boaters are typically diligent to winterize, maintain, and inspect their vessel (or pay someone qualified to do it), it can be tempting to gloss over the other stuff. But when it comes to safely enjoying the Lake life, Catalyst Electric owner Jon Bussey says few things are more important than ensuring your dock's electrical system is in good shape. In business at Lake of the Ozarks for 10 years, Catalyst's crews inspect hundreds of docks every year, and Bussey says some of the elecrical problems they find—and solve—are disconcerting.
By Ameren's count (the utility company that permits docks on Lake of the Ozarks), the Lake has more than 30,000 docks along its 1,150 miles of shoreline. The vast majority of those docks use electrical connections: for everything from boat lifts to lights to water pumps to fancy bar setups. The harsh elements of the Ozarks—from humidity and temperature swings to the rocking waves of a busy summer on the top recreational lake in the nation—can take their toll on the elements of a dock's electrical system. And while the number of electric shock incidents on the water has been small—considering the hundreds of thousands of visitors the Lake sees every year—one electrical accident is too many.
There have been multiple electrocutions or near-electrocutions at the Lake over the past decade:
LAKE OF THE OZARKS, Mo. — Investigators say a breaker that kept tripping was a sign of wirin…
LAKE OF THE OZARKS, Mo. — It could have been fatal.
LAKE OF THE OZARKS, Mo. – Two children died Wednesday afternoon from electrocution while swi…
The Missouri Supreme Court found Ameren Missouri isn't liable for the electrocution deaths o…
LAKE OF THE OZARKS, Mo. – A 26-year-old woman died Saturday night in a dock-electrocution in…
"The best way to prevent another electrocution is for dock owners to be diligent," Bussey said. "Honestly, you can't be too careful. But at the very least, a good place to start is by visually inspecting your dock's electrical system every spring, as you prepare to get on, or in, the water."
Electricity can kill, so when in doubt, dock owners should always call an electrician. At the risk of sounding self-serving, Bussey points out not all electricians are created equally… better to spend the extra few bucks on a reputable electrician than go with the guy who swears he's real handy and can probably figure it out. To that point, Bussey's business partner Seth Agnew is literally a nationally-acclaimed electrician. Agnew recently won third place in an "Elite Tradesmen" national electrician competition. Check out the video of his award-winning, incredibly-efficient wiring job…
(Skip to 20:17, 22:13, 23:00, and especially 24:55 – 26:00)
Bussey says dock owners don't even need to touch any wires to perform a safe, visual inspection of their dock's electrical system. Just looking closely—and knowing where to look—can help catch minor issues early, before they come major problems.
Here's what to look at, and what to look for:
ELECTRICAL INSPECTION CHECKLIST FOR DOCK OWNERS
1. CHECK BOXES & BREAKERS
-Boxes, fittings & covers should be in good shape. If they're broken, they can expose wires to the elements and possibly result in electrical problems
-Every month, check every GFCI breaker by using the test button as well as a plug-in GFCI tester
-If you don't have GFCI breakers leading to your dock, it's time to call an electrician… today
**Pictured below: Seth Agnew, of Catalyst Electric, works on the electric connection for a Lake of the Ozarks dock.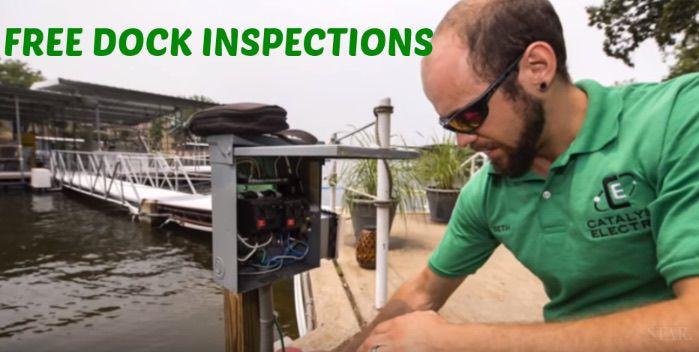 2. CHECK YOUR CONDUIT
-Visually inspect the conduit coming from the house to the shoreline. It should be intact, and joints should be tight
-On the dock, visually inspect conduit running overhead and/or under the decking. If there's any separation in conduit joints, conduit damage, or visible wear and tear, you might have a problem.
-(If wiring on your dock has not been run in conduit, it's time to call an electrician)
**Pictured below: 1) a broken conduit and 2) conduit not properly strapped to the dock structure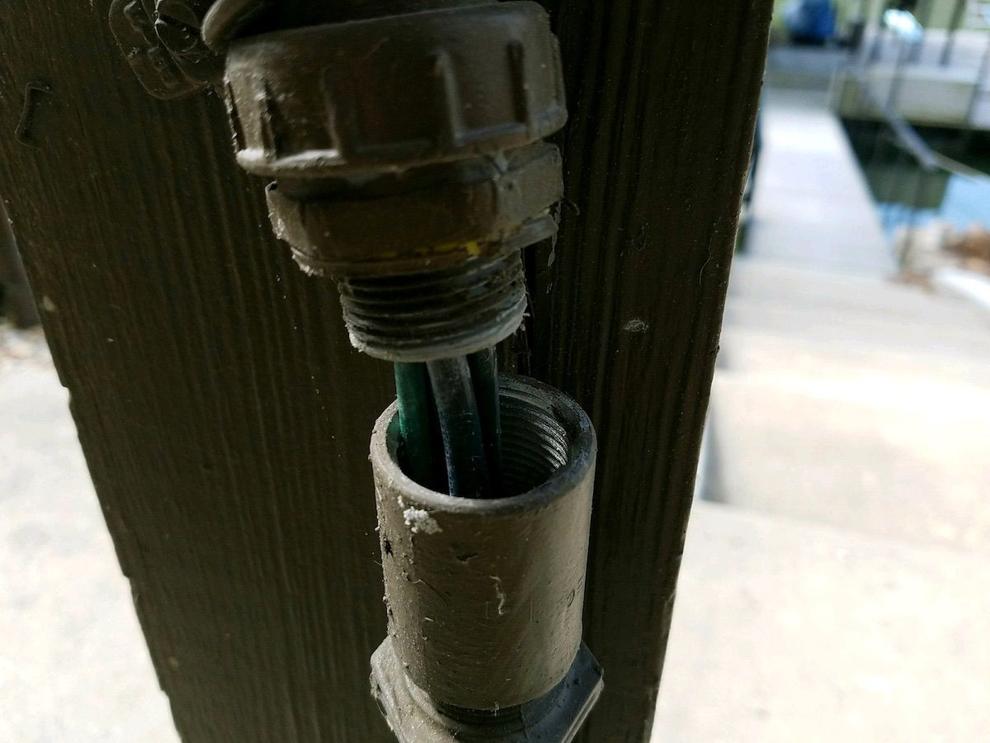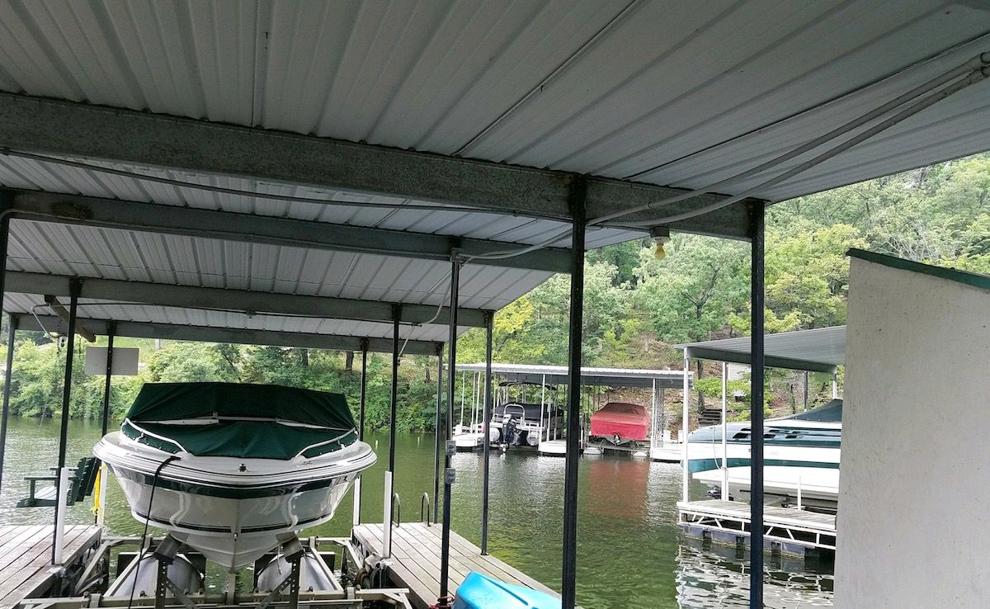 3. ON THE SHORELINE
-Your grounding jumpers—from the dock to the shoreline—should have good connections and be secure
-Make sure that when the shoreline breakers are off, all power to the dock is off. If the breakers are off but you've still got power on the dock, you've got a problem.
-Visually inspect cords leading to pumps or lifts, and make sure they're in good shape
**The disconnect pictured below is shown submerged during flooding. Breakers are not rated for water contact, so if you know any flooding has submerged your electrical connections, you should call an electrician to have them checked immediately.**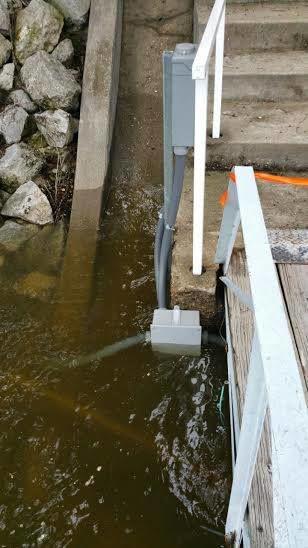 4. IN THE WATER
-Have a certified mechanic thoroughly check the boat's electrical system. Faulty boat electrical grounds can be as dangerous as a poorly grounded dock.
-Use a current-detecting device to test the water around the dock before you go for a swim.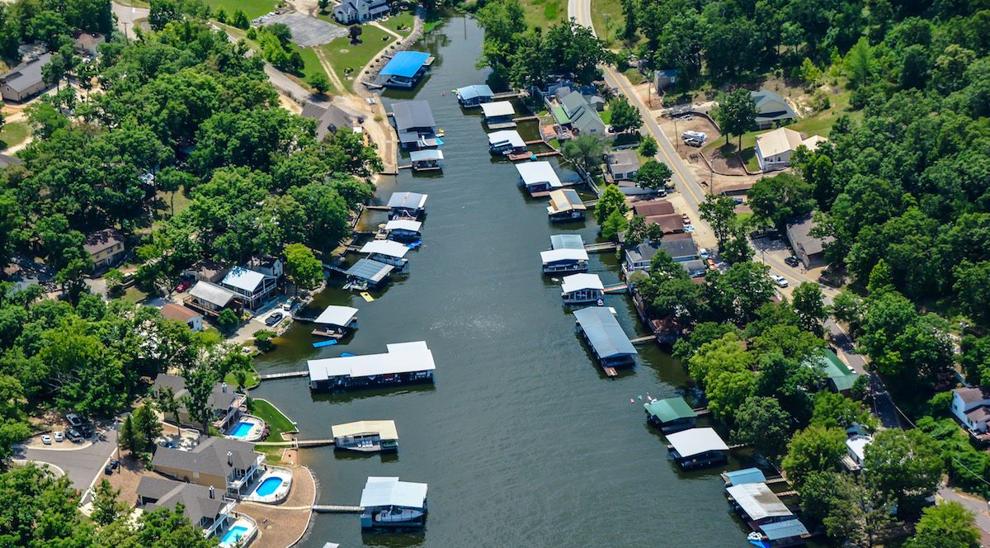 The proposal that would have banned swimming near docks is gone, but does improving dock safety require legislation, or just cooperation?