Missouri is one of 12 holdout states without a mask mandate, as Governor Mike Parson—despite pleadings and pressure from many—says he's leaving that decision to local communities, and will not implement a statewide mandate. No wonder: the mandates don't seem to be working anywhere else.
Covid-19 cases are at all-time highs across the country, and hospitalization numbers are up in many places, too. However, states that have had strict mask mandates in place for months are seeing dramatic spikes alongside states without them. And that begs a certain question... a question that will get you fact-checked on Facebook faster than sharing an Alex Jones article.
Here's a graph of L.A. County, California's Covid-19 case numbers this year, with indications where various attempts to mitigate the virus' spread were put in place. Credit to Ian Miller (@ianmSC on Twitter) for the chart.
Los Angeles County has followed all the experts from day 1, being one of the first areas in the country to mandate masks on April 10thOn that date, the 7-day average of cases was 55 per million. It just reached a new high of 824 per million, a 1398% increaseThe Science™ pic.twitter.com/PrG9PJr36b

— IM (@ianmSC) December 9, 2020
This is just awkward—the kind of thing we can all see, but nobody wants to really be the first to say. It's an "emperor has no clothes" moment.
How can one look at this data and, with a straight face, draw a conclusion in support of masking? The most one can say is, "It would have been even worse without masks"... but that statement is unprovable, unfalsifiable, and frankly not at all comforting. It's also no more provable or disprovable than a statement saying the exact opposite ("It would have been better had they not worn masks at all").
Masks alongside other mitigative measures were supposed to slow or even stop this thing from spreading, right? They clearly did not. In all sincerity, I cannot think of any other way to look at these charts and say mask mandates are a good and effective solution. Cases are spiking everywhere, it seems, regardless of mask mandates. In fact, an NPR article today notes the five highest-risk states currently are Rhode Island, North Dakota, Ohio, Indiana, and Alaska. The only state of those five that does not have a mask mandate is Alaska.
Ian Miller has 17 recent charts, showing other states and regions, here: https://rationalground.com/post-thanksgiving-mask-charts-still-no-evidence-that-masks-work/
Now, it's admittedly difficult to get an accurate measurement of mask mandate compliance, but a person can use their eyes. From what I see, nearly everybody's wearing one. And that's here at Lake of the Ozarks, where we have neither a statewide nor a local mask mandate, and most retailers—while they may have signage on the door—are not wont to hassle customers who opt out of a face covering. Yet, in any retail location I've visited in the past few weeks, I would estimate 90% or more of the customers were wearing masks (and of course all the employees were).
Again, all of this begs a certain awkward question.
Are we happy with the extent to which masks have helped slow the spread of this disease? I heard someone else ask it this way: What do you think the FDA would do if you asked for approval to sell cloth facemasks as an FDA-approved product for preventing the spread or contraction of coronavirus?
We could also ask whether the WHO and CDC's prior concerns are relevant here — specifically the concerns that incorrect facemask use may make masks more of a liability than an asset in stopping the spread of Covid.
If someone could show me a chart that looked even remotely like this one (which, to be clear, I just made up for this example) --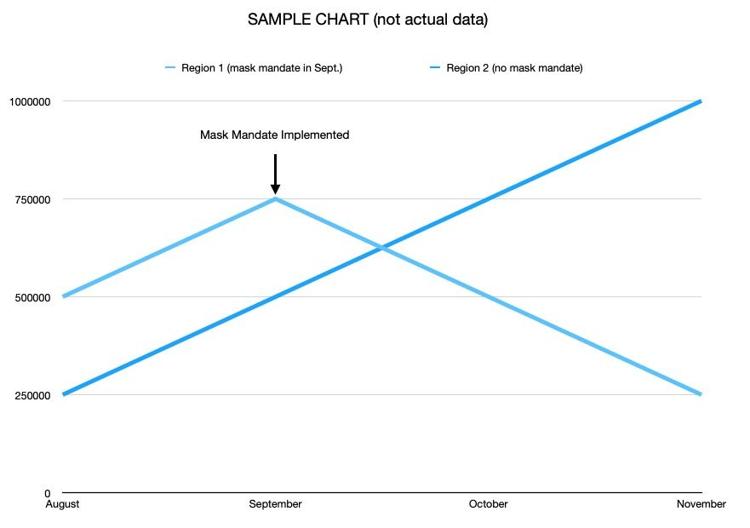 well, then, that would be interesting. I would then want to see several more data sets like that, ideally from different but comparable regions. And if we could observe a trend in which mask-wearing strongly correlated with any of these:
-a faster rate of case decline
-a slower rate of case incline
-a significantly reduced number of cases-per-million overall (comparing, perhaps, an area that does not wear masks with an area that does)
well, we might really be onto something. And with data like that, no government would need to mandate masks, because everyone would see plain as day that these things work. We'd all voluntarily wear them.
So where is that data?
Here's a helpful comparison. A business owner wants to sell more of a product whose sales are in sharp decline, so they deploy an advertising campaign. If, after a reasonable period of time, sales of that product are still falling as fast as they were before the ad campaign began—or are falling even faster than before—well, good luck convincing that business owner that the campaign worked. The desperate ad rep's "Imagine how much worse it would have been if you had done nothing" entreaty will fall on deaf ears. That attempt at gaining a result was clearly a failure.
You see where I'm going with that.
None of us wants anyone else to get Covid, or any other disease. So when we're told that wearing a mask might do some good, most people slap one on: it's an easy way to feel like you're helping. But when mask wearing is nearly ubiquitous even in non-mandated areas, and case numbers continue spiking in what can only be called a disdainful disregard of our efforts, can a person be blamed for wondering, "Is this really helping?"
It's just a question—one that will undoubtedly stir up plenty of emotions, but I can't keep from asking it. As Heidegger says, "Questioning builds a way," and surely we all want a way out of this. Maybe it comes through asking tough questions.
Here's one more. If masks are not really helping, could it be that masks—initially intended as a helpful tool—have become another vestment of virtue signaling, or a symbol of Americans' obeisance to duplicitous dictators and demagogues who have inched ever forward across our liberties, in this never-ending "state of emergency?"
-
As of Dec. 10, according to AARP, here are states with and without mask mandates:
MASK MANDATE IN PLACE
Alabama
Arkansas
California
Colorado
Connecticut
Delaware
D.C.
Hawaii
Illinois
Indiana
Iowa
Kansas ("but widely unenforced" according to AARP)
Kentucky
Louisiana
Maine
Maryland
Massachusetts
Michigan
Minnesota
Montana
Nevada
New Hampshire
New Jersey
New Mexico
New York
North Carolina
North Dakota
Ohio
Oregon
Pennsylvania
Puerto Rico
Rhode Island
Texas
Utah
Vermont
Virginia
Washington
West Virginia
Wisconsin
Wyoming
NO MASK MANDATE
Alaska
Arizona
Florida
Georgia
Idaho
Mississippi
Missouri
Nebraska
Oklahoma
South Carolina
South Dakota
Tennessee