After 44 years in business, Dick and Kym Ebling made the bittersweet decision to close Topsider and The Poop Deck, in 2017. The Lake of the Ozarks Convention & Visitor Bureau (CVB) recently honored the couple, who the CVB says has been instrumental in guiding tourism at the Lake. At the Annual CVB Dinner held at The Lodge of Four Seasons on March 15, the Eblings were awarded the Partners In Tourism Award for Topsider Nightclub, Poop Deck & Tiki Bar. This award is given to individuals who demonstrate leadership in the tourism industry. 
As young Mizzou graduates, Dick & Kym Ebling wanted to move to the Lake of the Ozarks. The couple was familiar with the area after working as camp counselors and Kym's family had also owned and run Kalfran Lodge. While Dick was exploring the landscape of business possibilities, he crossed paths with Robert T., the original owner of The Clown restaurant. Robert was looking to sell his business, however, he had a few hoops for any potential buyer to jump through before he would consider selling. "Robert told Dick he would have to work for him for six weeks with no pay before he would decide if he was the right person to take over the business," said Tim Jacobsen, Executive Director of CVB, at the award ceremony. A sign of his dedication and commitment to hard work, Dick agreed, earned Robert's approval, and he and Kym bought The Clown in 1975.  
This was just the beginning of the years of creativity and dedication they would show in their business. When the Eblings lost their home in a robbery and fire, they replaced it with a double-wide trailer and invested the rest of the insurance money into their work, and the Poop Deck was born in 1979. In 1981 they added Topsider and continued to improve the growing hotspot, adding a dance club in 1987, a pool in 1988, and an in-water bar in 1989. "44 years later I think everyone that knows Dick and Kym would agree they have been pioneers and visionaries that have led the way for various and many waterfront bars and restaurants the Lake has today," Jacobsen commended.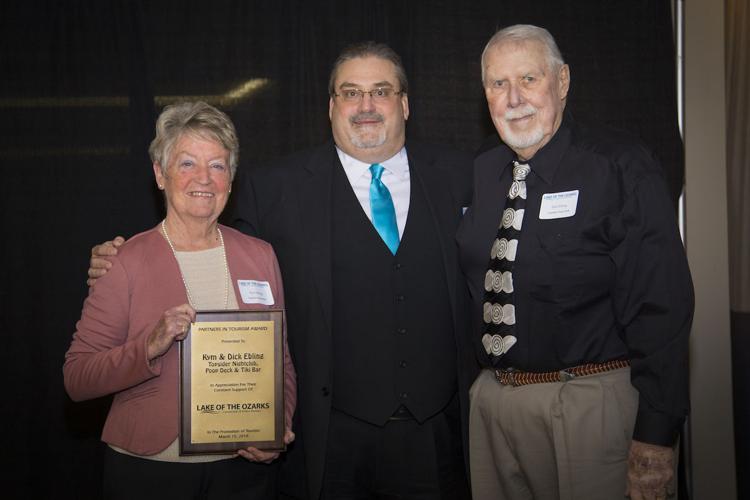 The couple accepted the award and expressed heartfelt thanks to the many people who guided and supported them on their 44-year journey as business owners at the Lake of the Ozarks. 2017 marked the final season for Topsider and the Eblings' bittersweet decision to retire, closing the door on decades of hard work, colorful memories and heartfelt dedication to their staff, their patrons and the Lake community. Even though their Topsider days are in the past, Dick and Kym move forward bolstered by the gratitude of the many people whose lives they touched along the way.