A Lake of the Ozarks family and real estate broker will be featured Sunday, June 17, on HGTV's "Lakefront Bargain Hunt," a show that helps people find waterfront homes on a budget. 
A crew from the show was at Lake of the Ozarks last September for several days filming with Cheryl and Troy Arrowood, their sons, Conner and Brock, and Annie Faulstich, owner-broker at Lakefront Living Realty at the Lake.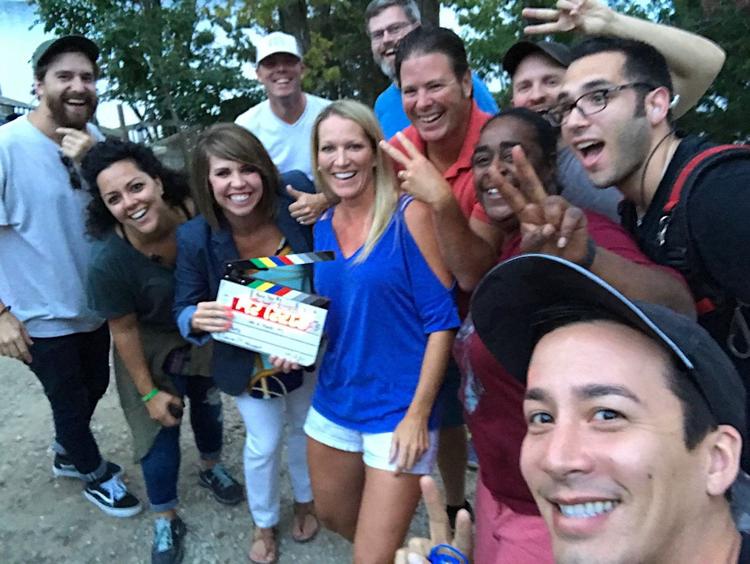 The Arrowoods moved to the Lake from South Florida in 2005. But last year they decided they wanted to sell their home on HH and buy something on the water. Meanwhile, their real estate agent, Faulstich had been asked by HGTV producers if she had any clients that would be a good fit for "Lakefront Bargain Hunt."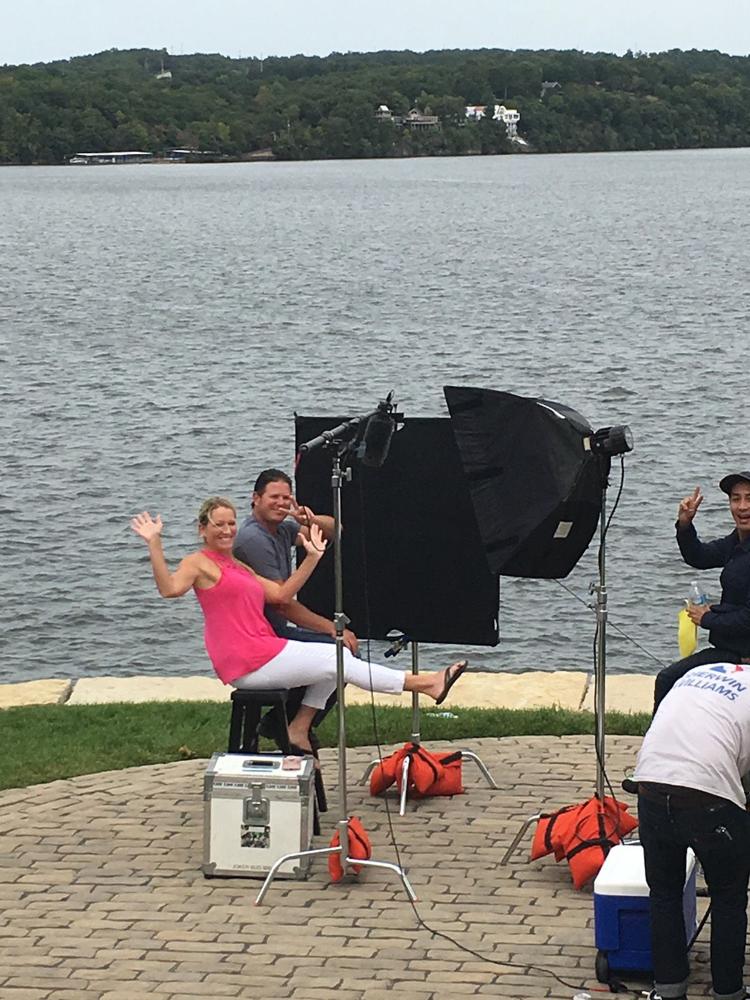 Faulstich thought the Arrowoods were perfect. Almost perfect, anyway. "They wanted somebody young, in their 30s with a family," said Cheryl Arrowood. "Annie asked them 'will 40s work?'" 
Faulstich pitched the Arrowoods, and HGTV producers interviewed them via Skype, so they could see if the family and Faulstich fit what they were looking for. Later, they asked more questions in a phone call. "After a while, they let us know they wanted to use us," Arrowood said. 
The Arrowoods had a budget of $250,000-$325,000, and Faulstich's job was to show them some lakefront properties from which they would choose their new home. 
The show was filmed over four days in September last year. Arrowood described the process as a combination of work and an equal measure of fun. It also was a bit unnerving at times. They weren't used to walking into a home for the first time and being greeted by lights and cameras recording their reactions and "every goofy or cheesy thing you say," she said.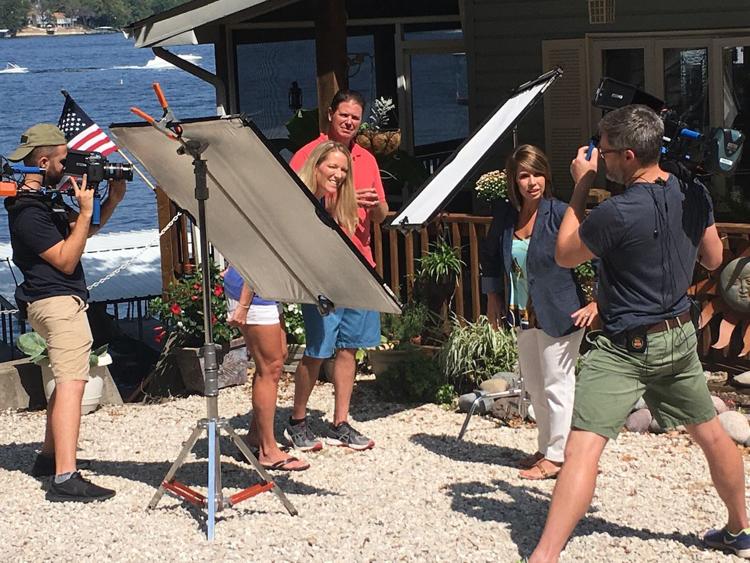 It helped, though, that the crew was a lot of fun. "We had some really long days, and they helped to make it bearable," Arrowood said. "We're kind of quiet, and we tend to stay in our little bubble of close friends. Having cameras pointed at you all day was not something we were used to." 
Conner, who's 15, and 10-year-old Brock were part of filming when the crew wanted to give viewers a taste of life on the Lake. The whole family spent a day at Bridal Cave, and another whole day riding PWCs and boating on the Lake. Brock took to the process more eagerly than did his older brother. "Brock wanted to be on camera as much as possible," his mom said chuckling. 
"We were able to get the crew out on the water while they filmed the Arrowoods enjoying Lake activities," Faulstich said. "I was surprised how accommodating, professional and fun the entire crew and producers were. We made some great friends over the course of filming."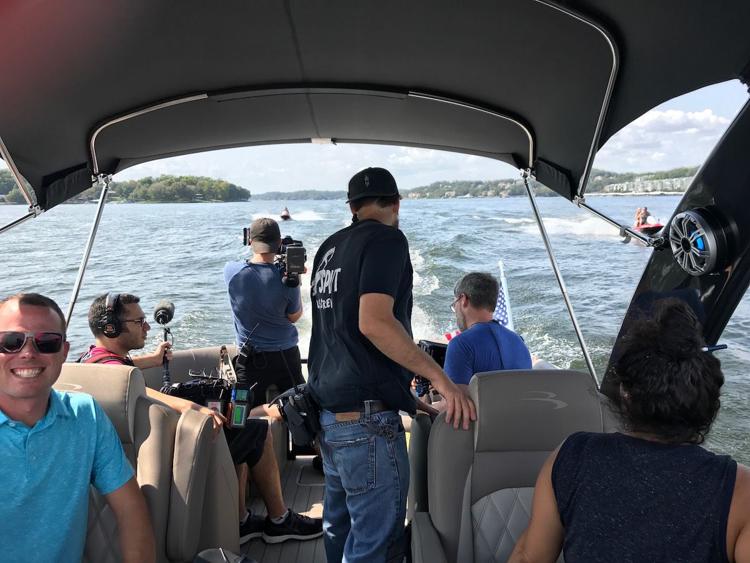 If you ask her what she loves most about the real estate business, Faulstich will point to the lasting relationships it creates and fosters. She was acquainted with the Arrowoods before working with them to sell their home on HH and buy their new house. The process bonded them, which was magnified by the unique experience of filming "Lakefront Bargain Hunt" at the same time. 
"After working together, we quickly became close friends," Faulstich said. "I knew the Arrowoods would be a fantastic fit for the show and that many viewers could relate to them and their story." 
She said it took a bit of convincing, especially Conner and Troy. "Brock was ready from the start!" Faulstich quipped. "I was so thankful they agreed to join me in this journey. It was such an honor to work with them and to watch their dream of lakefront living come true." 
Faulstich said filming the upcoming episode of "Lakefront Bargain Hunt" has established a relationship with the producers who look to real estate agents and brokers like Faulstich to bring them future clients for the show. A real estate agent since 2009 and a licensed broker since 2011, Faulstich in November became a franchisee for Lakefront Living Realty. Lakefront Living Realty nationwide has been part of four HGTV episodes of "Lakefront Bargain Hunt" and "Lakefront Renovations."
When asked what the best part of the process was, Arrowood points to two things: "Annie and I became really good friends through this process," she said. And the second thing? 
They love their new home, which is near The Falls Condominiums at the 2-mile marker of the main channel in Lake Ozark. 
"We live 10 steps from the water," Arrowood said. "We don't have a yard anymore, and I was worried that my boys wouldn't like having gravel for a yard. But they literally walk out the door and fish, jet ski, ride kayaks. They love it." 
Arrowood said they are the only full-time residents of their cove, which means they often have the entire cove to themselves. Even when the Lake is busy, their cove is blissfully quiet. 
"It's like a vacation every day," she said. 
The "Lakefront Bargain Hunt" episode featuring the Arrowoods and Faulstich is scheduled to air at 7 p.m. Central Time on Sunday, June 17, and re-air at 2 a.m. on Monday, June 18.