Lake of the Ozarks Bikefest brought more than 100,000 motorcyclists to Lake of the Ozarks in September, and plenty of those were Harley-Davidsons. But what most motorcyclists—and boaters—probably don't know is that, once upon a time, Harley-Davidson manufactured boats!
The article below, taken from Shore Magazine's 2020 issue, highlights the Harley-Davidson Tomahawk boat, and the Lake of the Ozarks boater who owns one.
-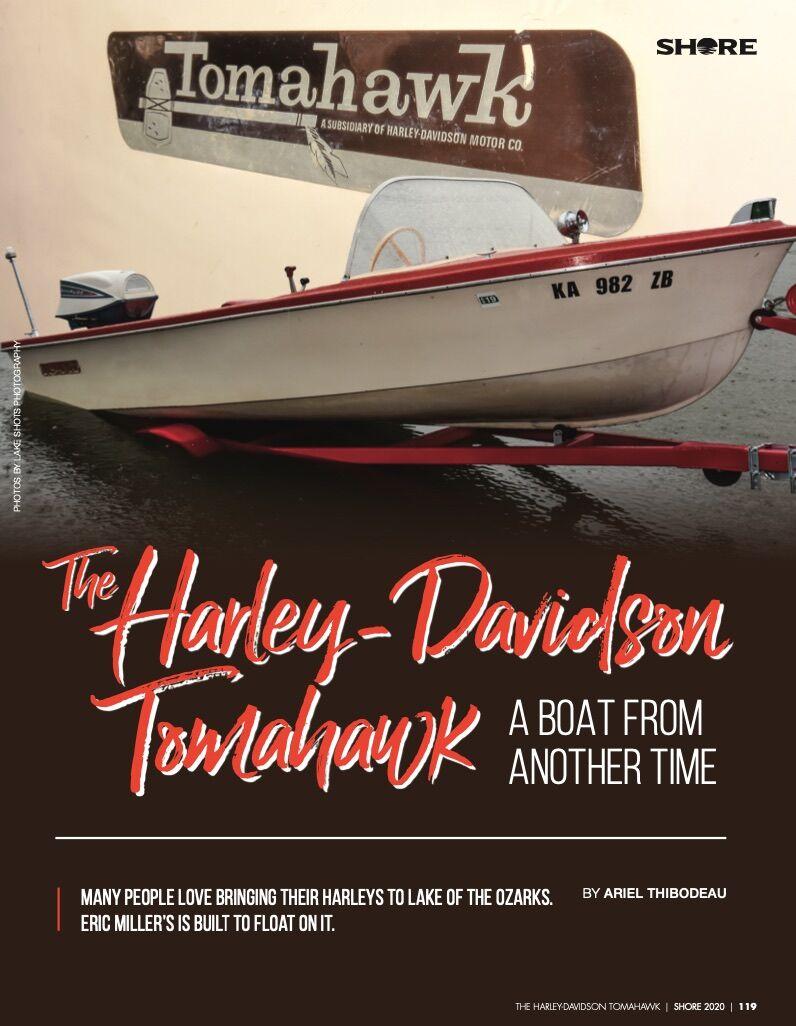 In the summer of 2016, Eric Miller's wife gave him a one-of-a-kind gift. Eric was at their home in Kansas City, Mo. while his wife Joleena and her parents visited their hometown of Tomahawk, Wi. on Lake Mohawksin. While there, Joleena drove two hours to Green Bay and secretly bought Eric a 1964 Harley Davidson Tomahawk boat. Yes, that's a boat manufactured by Harley Davidson, and no, there aren't very many of them.
Eric had found the Tomahawk on Craigslist and told Joleena about it. So when she bought the boat, wanting to keep it a surprise, she fibbed: someone else had purchased it, she told him. But something was fishy with her story, so Eric called the seller and asked about the boat. The man (not in on the secret) apologized, saying he had indeed already sold the boat to someone else. Eric pressed the seller for more details: was the buyer a woman and did she come in with an older couple? The seller was bewildered: how did Eric know that?
"I started laughing and told him that was my wife," Eric said later. "So I kinda ruined the surprise for me, but it was still a nice gift!"
Tomahawk & Harley Davidson
August 1945 marked the start of the Tomahawk Boat Manufacturing Corporation by partners Fred Dreger and Franklin P. Winter. The two men lived in Shawano, Wi., 100 miles south of Tomahawk. Paul Winter, the father of Franklin Winter, was chosen as the president; with his background as a banker, attorney, and politician, Paul seemed the perfect fit as the leader of their new company. Franklin Winter was the boat designer and vice president, and Dreger was selected for secretary/treasurer and sales manager. The first model—the Red Wing—was fifteen feet in length. That year, the company built 100 boats.
By the 1950s, fiberglass was transforming the boat-building industry, so Tomahawk stopped producing wooden boats in 1957 and focused entirely on fiberglass models. In the spring of 1962, the now-famous motorcycle dealership Harley-Davidson purchased a major part of the stock in Tomahawk Boat Manufacturing Corp. Tomahawk was operated as a wholly owned subsidiary, and the business also took on molding of motorcycle and scooter parts such as saddle bags for Harley-Davidson. Franklin Winter was kept as president and general manager.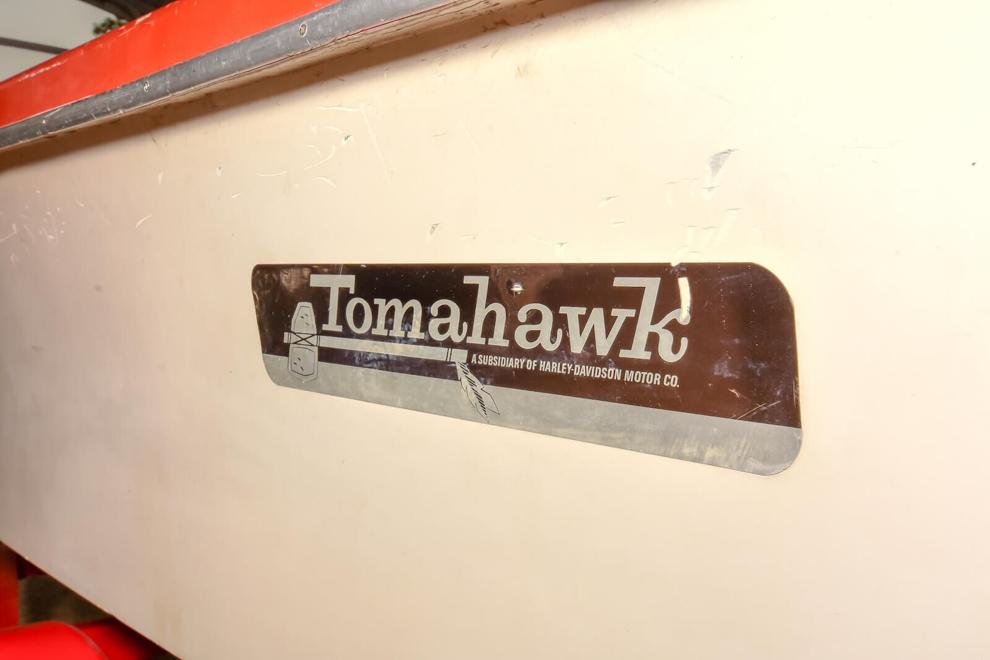 But less than a year later, Franklin Winter resigned as president and sold the rest of the stock to Harley-Davidson, making Harley-Davidson the sole owner of Tomahawk Boat Manufacturing Corp. For another two years, boats wore the emblem "Tomahawk Boat—A Division of Harley-Davidson." But the motorcycle company soon made the decision to get out of the boat business. In July 1965, Harley-Davidson officially shut down production of boats and narrowed their focus to only motorcycles. 
Back Down To The Lake
Eric was born and raised in Kansas City. And like many good Midwesterners, he vacationed to Lake of the Ozarks quite a bit as a kid, where his father taught him boating, and how to fish. Life happened: marriage, kids, and busyness, and Eric says they didn't make it to the Lake as often as he would have liked. Finally, in late 2017, Eric and Joleena bought a house on Lake of the Ozarks: at the 60 Mile Marker. His kids (18 and 20) have moved out for college, and they're finding a little more time to spend here.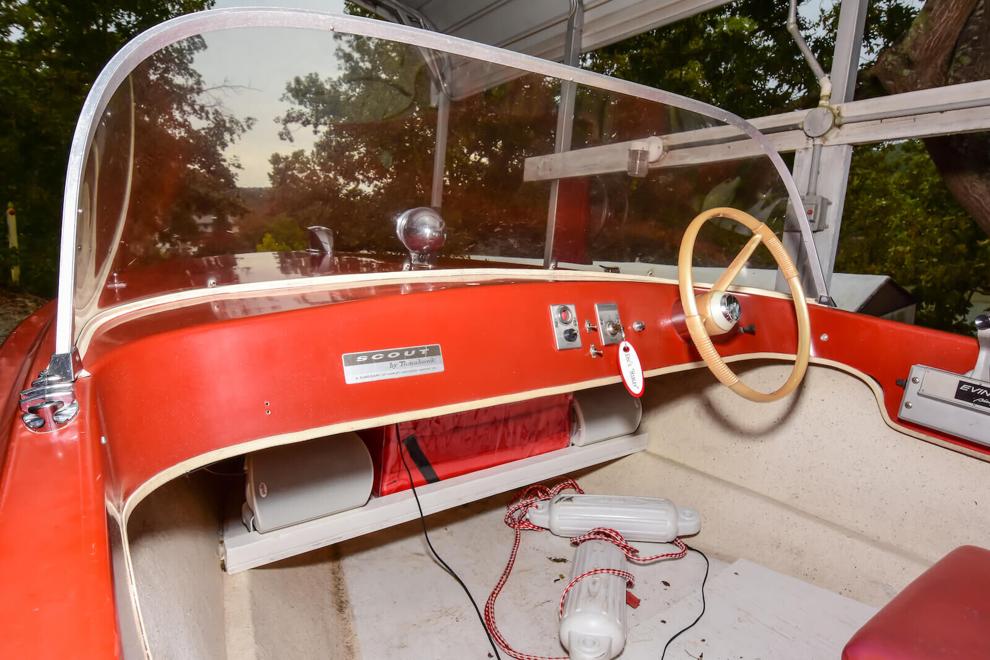 Joleena loves the Lake because it reminds her of the lakes back home in Wisconsin. "I really just enjoy the serenity of the Lake and how quiet it can be," Eric added. With their little Tomahawk, the Millers avoid the water during the busiest times on summer weekends, but they've learned waking up early on Saturday or Sunday mornings still promises a boat ride on glass.
They keep the Tomahawk in their garage in Kansas City, and trailer it down to the Lake. "My father had a Mark Twain boat that he bought in 1990, and as a kid, I thought that was ancient. And here I am with a Harley Davidson Tomahawk that is over 50 years old! I can't believe the irony of it," he laughed.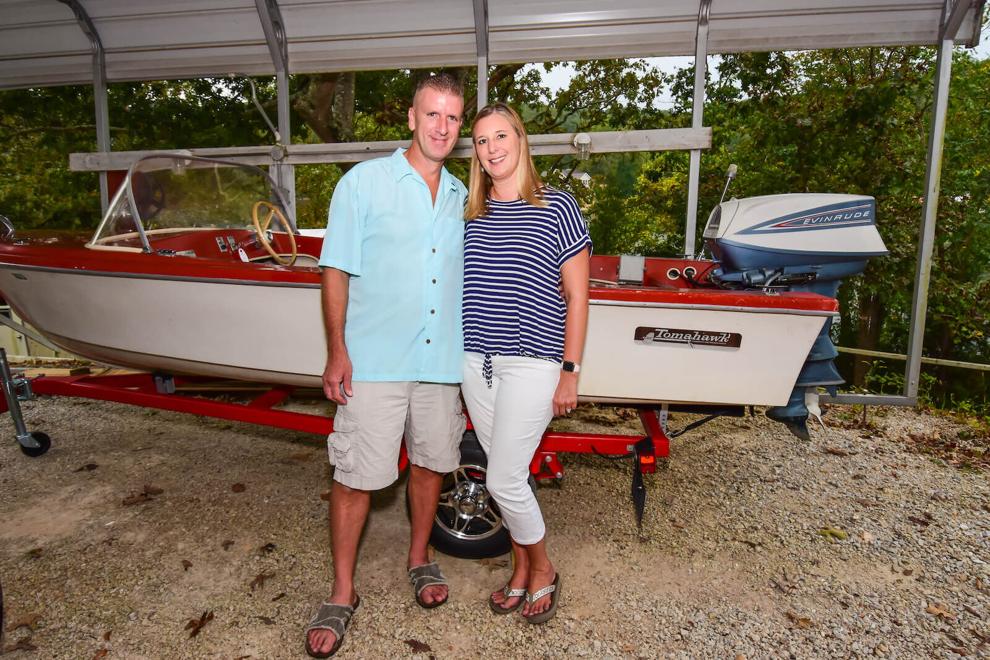 But as with any boat—and especially one that's half a century old—Eric's Tomahawk is in need of a little TLC. The Millers ran it in the summer of 2017, and then it started having engine trouble. Craving more of those cool morning rides with Joleen and his dreamboat, Eric took the boat to a Lake area mechanic and got it back in ship-shape. Now working again, Eric says his little Tomahawk is really more suited for off-season boating. "Just too small to take out in the summer months," he admitted. But they enjoyed the boat for several spring outings. Spring and fall are mostly quiet on the Lake, and they offer some beautiful boating weather. Maybe, not wholly unlike its motorcycle counterparts, this little Harley boat is best enjoyed while cruising in the perfectly pleasant temps of spring and fall.
-
Antique boat expert Andreas J. Rhude, who owns a non-profit antique boat company in Peshtigo, Wi., compiled the historical information in this article, and has assembled a timeline of Harley-Davidson's short venture into boat manufacturing along with a detailed history of the firm. Find it and more antique boat information at fiberglassics.com.
-
Read more one-of-a-kind stories and articles celebrating the Lake of the Ozarks boating lifestyle, at ShoreBoatingMag.com