LAKE OF THE OZARKS, Mo. — Covid-19 cases appear to be in decline across the Lake area and statewide.
Lake Regional Health System, the largest healthcare provider in the Lake of the Ozarks area and operator of the only hospital at the Lake, says their Covid-19 hospitalizations are trending downward after a spike over the summer.
In mid-June, Lake Regional says their Covid-19 hospitalizations began climbing, generally hovering between 15 and 25 inpatients. That number started to trend downward in mid-August, and as of Aug. 31, the hospital reported 12 Covid-positive inpatients. A graph provided by Lake Regional is below: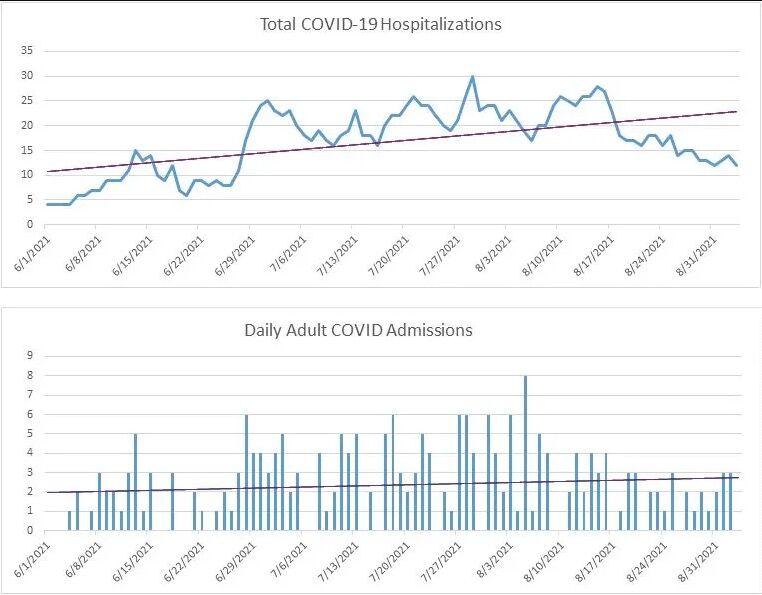 Improving In Missouri
Those numbers mirror what appears to be happening statewide, as Missouri's Department of Health and Senior Services says cases and hospitalizations are trending in the right direction.
At the height of Missouri's summer case surge, in early August, Missouri's 7-day average for cases was above 2,100 reported cases daily. On Sept. 3, the most recent available date for data, the state reported 1,096 new cases, with a 7-day average of 1,491.
Even in the past week, cases have seen a sharp dropoff: statewide, DHSS is reporting a 12% decline in cases from the past week, compared with the week before, and a 52% decrease in the number of deaths compared with the prior week.
The number of daily deaths in Missouri peaked in November and December of 2020, when the state experienced its largest spike in reported cases.
Statewide, Missouri is seeing Covid-19 hospitalizations decline, too, down from their peak in mid-August.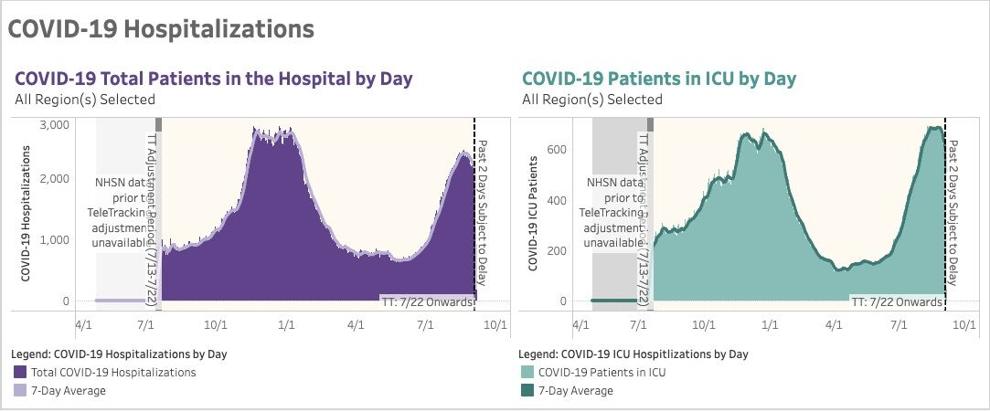 Vaccination Rates Statewide
The DHSS says 5.8 million vaccine doses have been administered in Missouri. The department says 52.2% of Missourians have had at least one dose of a Covid-19 vaccine, and 45.7% have completed their vaccination. The state's highest number of vaccinations occurred between March and early April. Over the past month, an average of 12,000–19,000 vaccines have been administered daily in Missouri.
By county, 26 of Missouri's 114 counties have a vaccination rate lower than 30% (no county has a rate lower than 20%, per DHSS) — this indicates individuals who have received at least one dose. The highest vaccination rates are in the St. Louis, Kansas City, Columbia, and Joplin areas. Boone County is Missouri's most-vaccinated, reporting 56.4% have received at least one dose. The city of Joplin reports 60% of their population has received at least one dose.