It's Missouri's 200th birthday this summer, and whether you get nostalgic about bicentennials or you just like another reason to celebrate, Lake of the Ozarks is the place to do it. The Lake community is focusing events throughout the summer on Missouri's birthday party.
Organizers are calling it the Best Dam Birthday Bash, since Missouri's bicentennial aligns with Bagnell Dam's 90th birthday. From car shows to ice cream & fireworks, here are the hot events visitors can attend across the Lake area.
---
Best Dam Car Show
When: July 31st, 2021
Where: Seven Springs Winery
You will love the planned festivities, there will be live music, specialty vendors, food, fun for all. Bring your lawn chairs to enjoy an afternoon of beautiful hot rods, classics, restomods, and many more.​
Pre-registration is open to cars, trucks, and motorcycles of all types. Be sure to register today!
Click Here For Registration Information
---
Best BBQ Birthday Bash
When: August 6th & 7th, 2021
Where: Laurie Fairgrounds
Sponsored by: City of Laurie
Download Sponsorship Opportunities
If you have never been to the Annual Laurie Hillbilly BBQ cook-off, you are missing out on what we think is one of the most beautiful fairgrounds in Missouri. The 28th annual event is back with two fun-filled days of BBQ and contests for kids and adults! If you have a BBQ recipe that can go toe-to-toe with these top-shelf entries, try out! Cash prizes totaling $6775.00 will be awarded to the winners.
---
Best Dam 5K Fun Run/Walk
When: August 7th, 2021.
Registration begins at 7:00 AM. Race runs from 7:30 AM – 11:00 AM
Where: Old Kinderhook Resort
Price: $25.00 (Complimentary to all Breast Cancer Survivors. Donations will be accepted on behalf of the American Cancer Society.)
Cash or Checks Payable To: American Cancer Society
Sign Up: FB Event "Best Dam Birthday Bash" or contact Jasen Jones at 314-401-5518 or at jasenjones17@icloud.com
Join us for Missouri's Bicentennial 5K Fun Run/Walk in honor of Missouri's Bicentennial 200 years. This will be a leisurely run or walk around the beautiful Lake of the Ozarks at Old Kinderhook Resort. No official times will be recorded, so run or walk at your own pace.
---
Best Dam Motorcycle Ride
When: August 7th, 2021. Ride begins at 9:00 AM
Where: Zack Wheat Post 624 American Legion in Sunrise Beach.
Sponsored by: Zack Wheat Post 624, American Legion Riders
Celebrate Missouri's 200th Birthday Celebration with a FREE Lake of the Ozarks Bike Ride. Breakfast and shirts will be available for a small cost. For more information reach out to Zack Wheat at the American Legion.
---
Best Dam En Plein Air Art Festival
When: Monday, August 9th – 14th, 2021
Where: Unique event sites will be featured each day during the festival at a variety of locations from local lodges, on the lake restaurants, wineries, historic sites, and surrounding towns. Artists will be spread out at 20 different venues around the Lake of the Ozarks.
The Lake Fine Art Academy & Galleria will be the initial registration site. The gallery will be open daily throughout the Best Dam En Plein Art Festival, as the registration and information center. On Friday, August 13th, the artwork will be delivered to a site (TBD) to be displayed for the Saturday Art Show/Sale/Gala/Dinner and Awards Ceremony. The public is invited to observe the artists at work at the various events, vote on viewer's choice awards and to view the art throughout the week. Please refer to www.LakeFineArt.net or the gallery's Facebook page for more information.
Register today at: https://lakefineart.net
REGISTRATION DEADLINE IS JULY 16TH, 2021
---
Missouri's Ice Cream Day
When: Tuesday, August 10th, 2021
The most important question at Lake of the Ozarks may very well be:
Andy's or Randy's?
We say both!
The ice-cream cone is Missouri's official dessert. So wherever you choose to get a local cup or cone, Aug. 10th is the day to do it. Celebrate Missouri's Bicentennial with some ice cream at your favorite local ice cream parlor. And since Aug. 10th is officially Missouri's "birthday," this will be the night of the fireworks show...
---
Best Dam Fireworks Display
When: Tuesday, August 10th, 2021
Where: 9 shows spaced out throughout the main channel of Lake of the Ozarks
There's nothing like a fireworks show over the water. Best Dam Birthday Bash organizers are planning 9 shows, to happen simultaneously across the Lake area. Normally holiday fireworks at Lake of the Ozarks are on weekends, but Missouri's birthday this year falls on a Tuesday. A great reason to spend the whole week at the Lake if you don't live here full-time; and a nice mid-week reason to celebrate for those of us who live where the Midwest comes to play.
Check out the map below to plan where you'll enjoy an amazing fireworks show: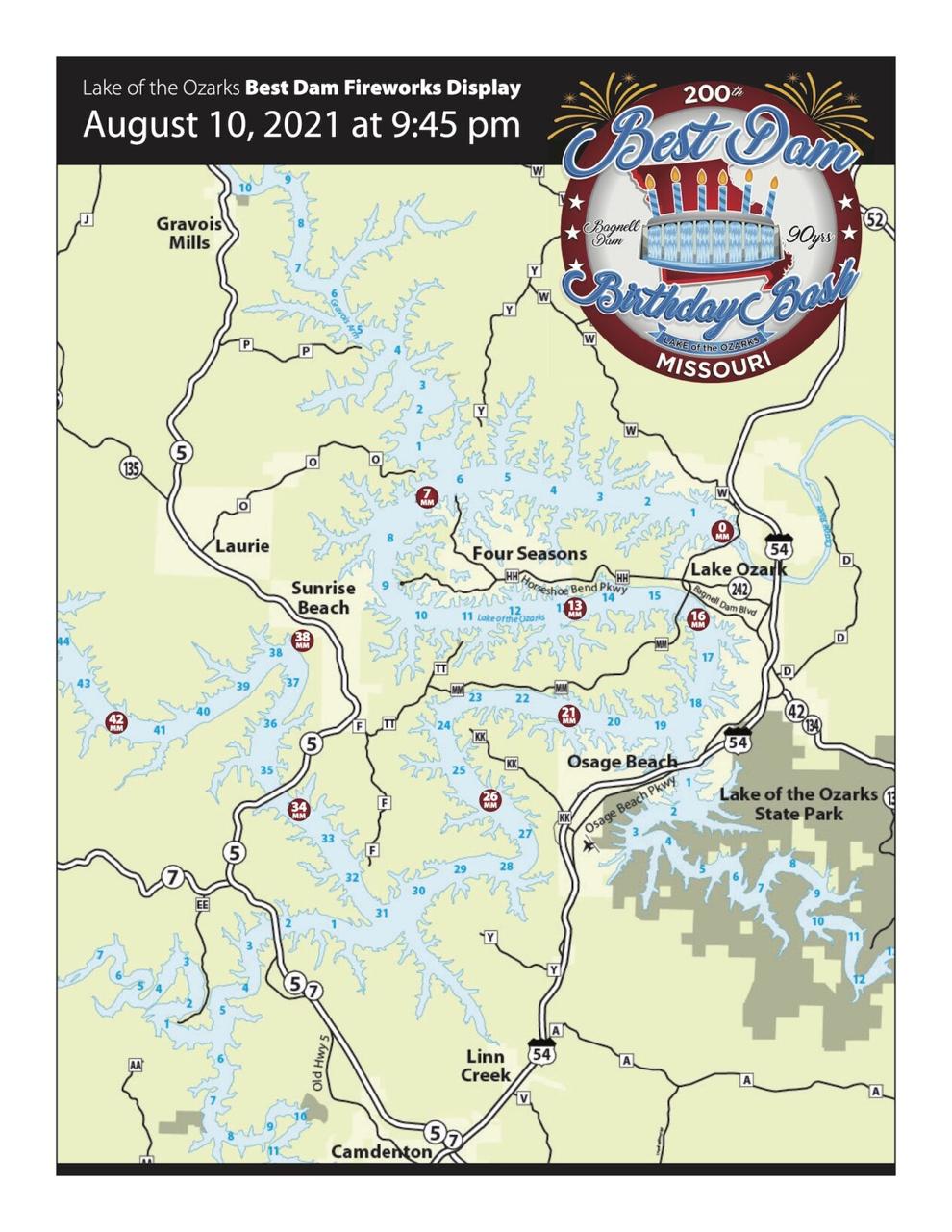 ---
Best Dam Birthday Bash
When: Wednesday, August 11th, 2021 – Shinedown in concert
Showtime: 8:00 PM
Where: Ozarks Amphitheater
Website: www.ozarksamphitheater.com/events/shinedown/
Come and see American rock band Shinedown performing live at the Ozark Amphitheater! This band will rock the house down with a hard rock performance!
---
Missouri Bicentennial 200th Birthday Party-Best Dam Birthday Bash Hot Summer Nights Car Show
When: Friday, August 13th 5 PM – 10 PM
Website: www.hotsummernightscruise.com
Hot Summer Nights Cruises has provided auto enthusiasts and spectators a fun, safe and family friendly setting while re-creating the nostalgic "American Graffiti" atmosphere that the Bagnell Dam Strip area is so famous for! It is all free and no registration is required! Just come and enjoy our down to earth Lake Ozark hospitality!
---
Best Dam Kids Photo Contest
Got a young photographer in the making? Give them a shot to win the Best Dam Kids Photo Contest! Top performing photographs in each category/age group will be printed and displayed for people's choice awards at local events.
Presented By: Studio T Images Presents Best Dam Kids Photo Contest
Deadline to submit: July 31st
Age Groups:
Up to 11 yrs
12 yrs. to 14 yrs.
15 yrs. to 17 yrs.
Categories:
Landscape/Waterscape: yard, park, lake, river, stream.
Insects/Wildlife: pets, or other interesting creatures.
Family/People: friends, neighbors, sports.
About The Images
Must be capable of being printed in a 4 x 6 format.
Digital images must be JPEG format
Must be your original work.
Must not contain nudity, copyrighted material, or illegal content. (G Rated is perfect!)
1 entry per category per photographer. (limited to winning 1 category)
To learn more visit www.bestdamphotocontest.com
---
Free Geocaching Tours
Explore Lake of the Ozarks with a FREE personal tour! With GuidiGO you have a choice between the Dragon Lake Tour which has different landmarks across the Lake Area or you can choose the Lore and Legends of Ha Ha Tonka. If you have time, do both! They are fun and will entertain the entire family!
GuidiGO is your personal tour guide to the world!
Use any smartphone or iPad
Search for these tours:
The Dragon Lake – View Preview
Lore and Legends of Ha Ha Tonka – View Preview
Download each tour from the App
Each game tour is an interactive treasure hunt fun for all ages to solve challenges, answer trivia, find characters in augmented reality, and more.