This summer, the father/son team of Casey and Jesse Boaz launched FJ Propeller Midwest, in Osage Beach: a new business using cutting-edge tech to keep boat props in top shape. Focused on performance, with a special emphasis on racing, Casey and Jesse are seasoned boaters and know how necessary it is to have boat propellers in meticulous condition. They believe that creating the perfect propeller is nothing less than an art form.  
The Boaz team is originally from the St. Louis area, but they have been vacationing at the Lake of the Ozarks for years. Before moving here permanently, Casey, who is a welder by trade, owned a lumber and hardware store in southern Missouri. Jesse has an extensive background in graphic design, web design, and photography. Casey has been avidly racing performance boats since 2000, which fuels his and Jesse's passion for perfection when it comes to propellers.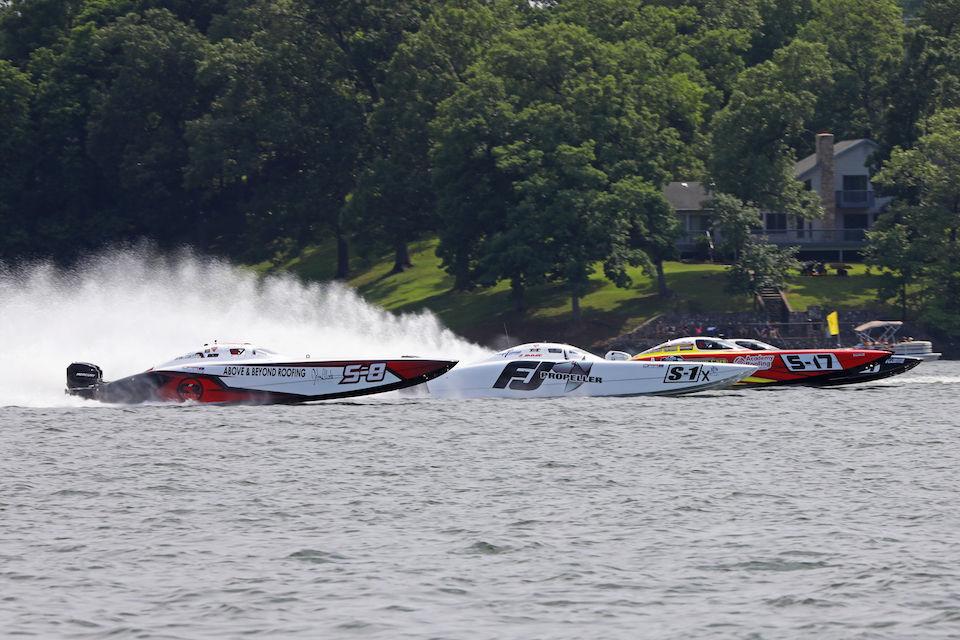 Casey's 32-ft Doug Wright Catamaran with 300 Stock XS Mercury Racing Outboard is named CR Racing, a reference to Casey and his racing partner Rob Unnerstall. This duo has competed in local races such as the Lake of the Ozarks Shootout and Lake Race, and international races such as the Superboat International Cleveland Construction Grand Prix in Mentor, Ohio where they placed first last year. There, ironically enough, CR Racing beat out their new namesake, the FJ Propeller boat. In another weird twist of fate, at the 2018 Lake of the Ozarks Lake Race, Casey and Rob flipped CR Racing while trying to eke out another win against FJ Propeller's equally-matched 32-ft Doug Wright Catamaran. The CR Racing boat was behind FJ Propeller on a turn and the edge of the right-side sponson caught FJ Propeller's wake, sending CR Racing into a barrel roll. Both men were fine, just a bit bruised, and their onboard camera caught an incredible perspective of the crash. Video below…
Casey and his son Jesse even competed together as a father/son team against Casey's racing partner Rob and his son Nick Unnerstall in the 2017 Lake of the Ozarks Shootout in a friendly competition to earn bragging rights and a one-dollar prize.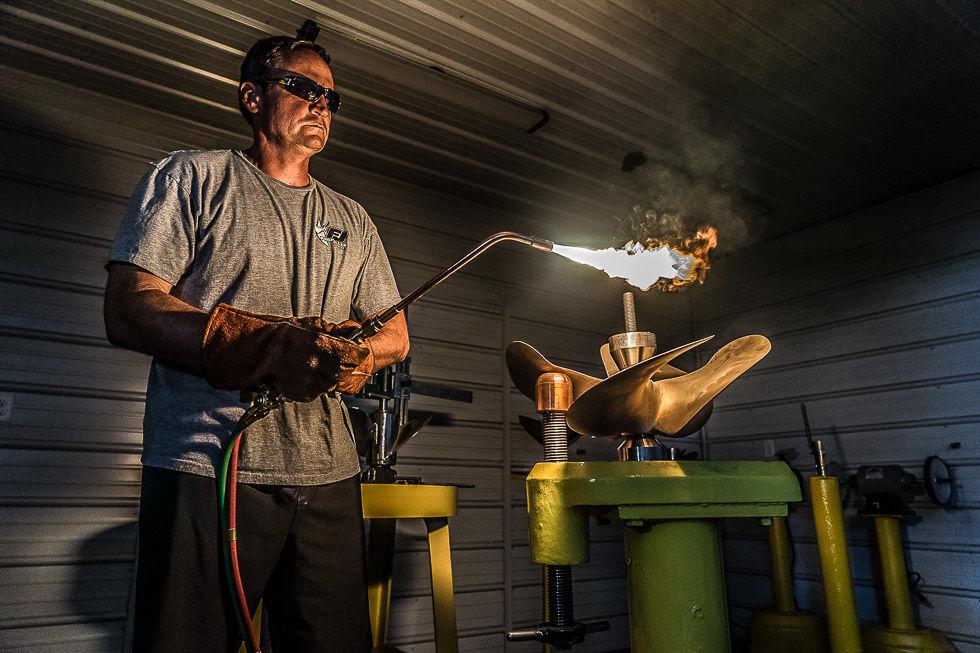 FJ Propeller Midwest opened in June 2018. The name comes from a mutual agreement with the widely respected FJ Propeller located in Fort Lauderdale, Fla. Casey and Jesse trained with owner Jimmie Harrison's staff, which has helped turn the company into what's now the largest and most respected propeller shop in the country. FJ's difference is their technology, that hones boat propellers to perfection; Jesse points out even the slightest fault in a propeller blade can mean a 10-15 percent decrease in gas mileage and performance.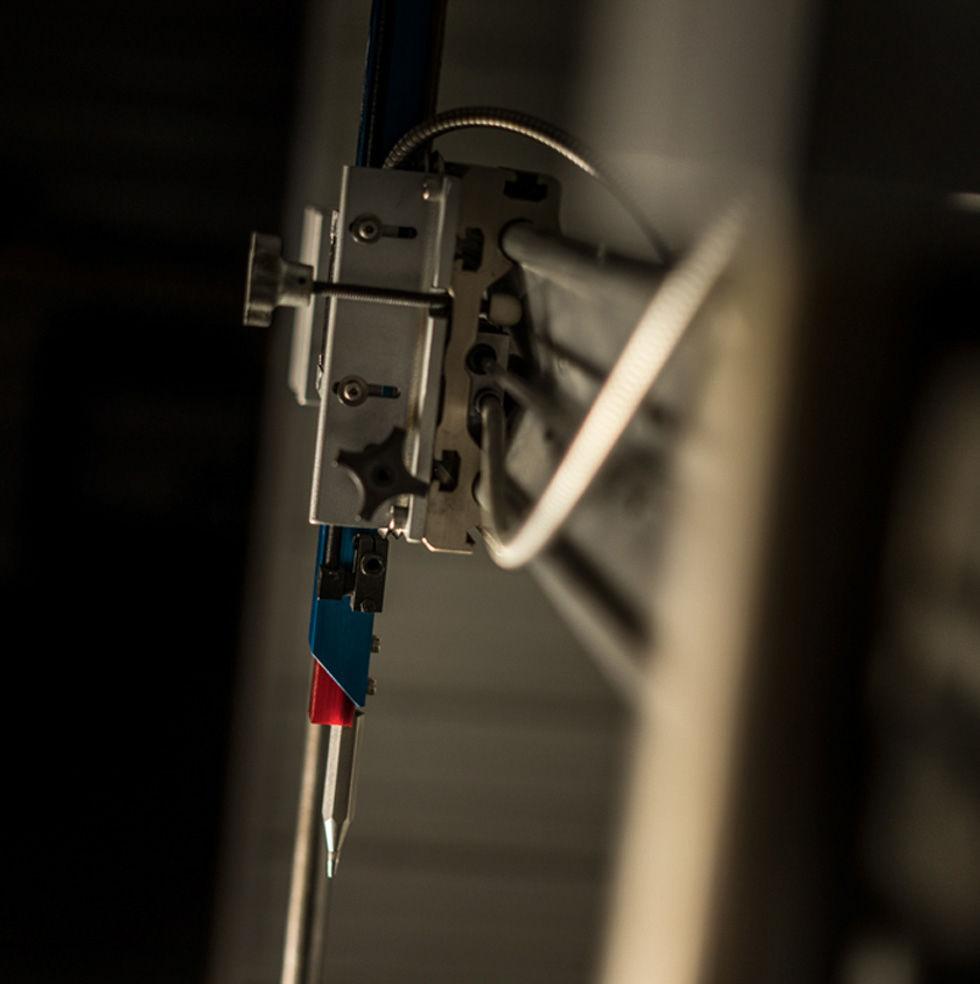 FJ's 3-D scanning machine scans propellers, giving Jesse and Casey numerical data to analyze exact propeller issues and flaws, whether bends or cracks, rather than just sitting propellers on top of pitch blocks. Amazingly, even propellers that are factory new are rarely true, Jesse explains: blades rarely match each other perfectly. This 3-D scanning system points out even the most seemingly minute differences. Using this system, Jesse and Casey can see propeller damage that could quite possibly go unnoticed by the naked eye.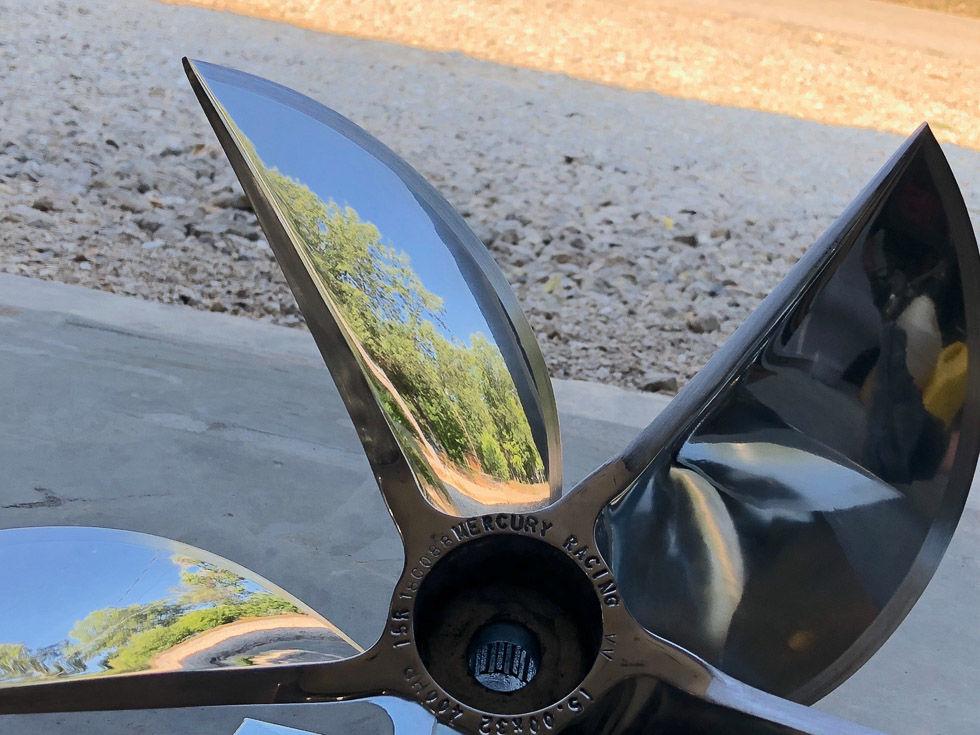 FJ also has the only three-axis computer balancer in a five-state radius. Jesse says this dynamic/computerized balancer is the most accurate balancing system available. Vibrating propellers are a big problem for boaters, and the only accurate and scientific way to analyze, measure, and correct propeller damage such as twisting and coupling is through the use of a true, multi-plane dynamic balance analyzer.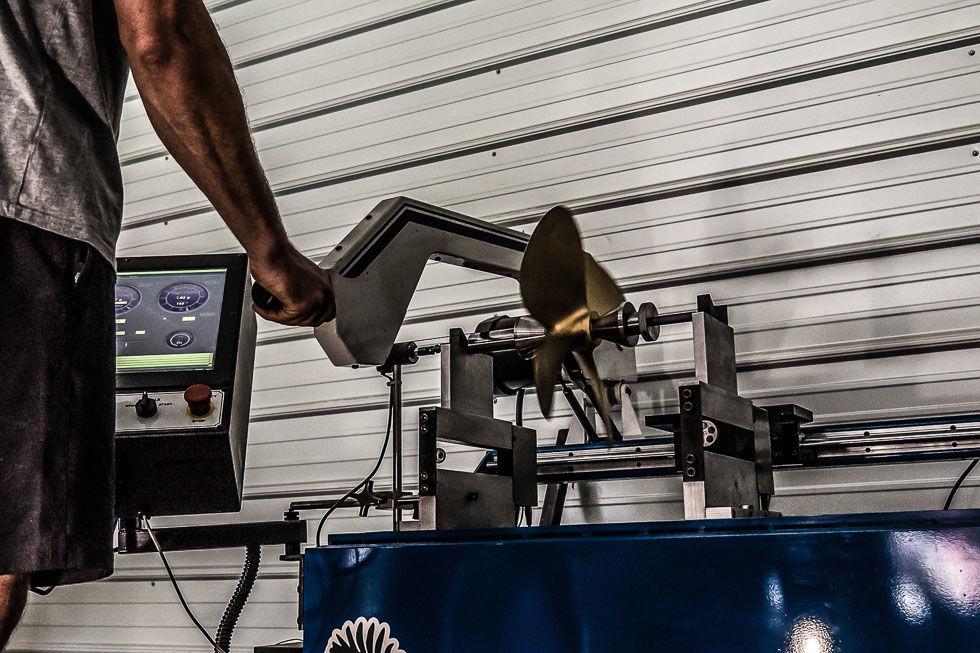 The technology that FJ Propeller Midwest offers is nothing short of impressive, but their customer service is just as important. Jesse and Casey provide consultations to prospective customers to find out precisely what they need in their propellers' performance. Beyond putting each propeller back in perfect shape, FJ takes extra steps to make sure they're polished up to an even-better-than-factory-new mirror shine. 
When Jesse and Casey talk about FJ Propeller Midwest, their enthusiasm and pride in their work is clear. Their combination of tech and know-how promises cutting-edge quality for boaters who expect nothing but the best.