LAKE OF THE OZARKS, Mo. — Less than an hour after racing began, tragedy struck the 2014 Shootout when a Outerlimits catamaran driven by Joel Begin and throttled by Mike Fiore crashed at the finish line.
It was only the sixth run of the day, at about 10:30 a.m. The water along the 34 Mile Marker was calm, with minimal winds. The run started well, but just as the brand-new Outerlimits approached the finish line at the end of the one-mile course, the bow began to lift dangerously high. Suddenly, the boat flew out of the water, flipping end-over-end, reaching an estimated 50 feet in the air.
View more images of the crash.
The closed-canopy catamaran landed upside down, but somehow righted itself. The boat was clocked at 179 mph just before the crash.
Emergency personnel descended on the scene. Begin reportedly climbed out of the boat, but the Missouri State Highway Patrol reported he received serious injuries. He was taken by ambulance to Lake Regional Hospital. However, Fiore's condition appeared to be more dire; an eyewitness reported he was in and out of consciousness. His helmet had reportedly flown off during the crash, and he had come out of his seat.
Fiore was airlifted to be treated at University Hospital. His condition is unknown at this time.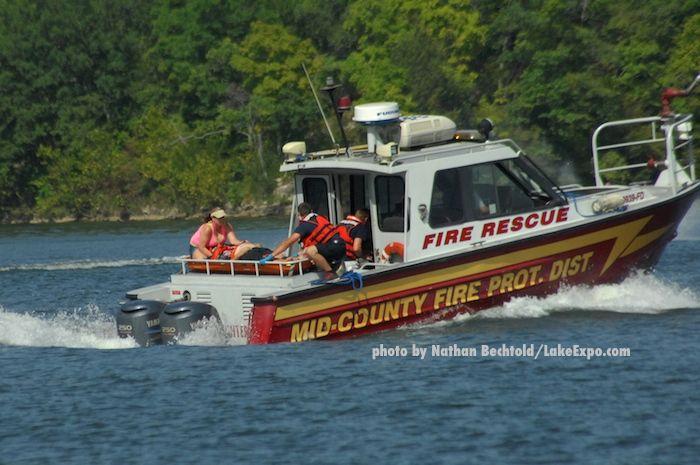 The course was shut down for nearly an hour, as the boat was towed to a nearby ramp, debris was removed from the water, and spilled fuel dissipated. The races then resumed, and there were no incidents for the rest of the day.
In its 26-years, the Shootout has been noteworthy for its high level of safety and lack of serious crashes. Saturday's incident is the most serious the race has seen. Only one other serious crash has ever occurred.
Catamarans such as Begin's Outerlimits gain their incredible speed by "packing" air between the two hulls. As the boat picks up speed, the air lifts it out of the water, allowing it to gain maximum velocity with minimal drag. However, a sudden gust of wind or other unpredictable factor can quickly lift the entire boat out of the water, spelling catastrophe.
The Outerlimits crash occurred directly after Sheikh Hassan bin Jabor Al-Thani attempted a new Shootout record in his 96 Spirit of Qatar catamaran—an attempt which was thwarted by a parachute malfunction. (Hassan later broke the record of 224 mph set by Bill Tomlinson in My Way in 2013; Hassan's boat hit 244 mph.)
Joel Begin hails from Quebec, Canada and is no stranger to the Shootout, having won Top Gun in the Top Professional V class in 2012. He owns several businesses in Canada; he is married to Guylaine and they have three daughters.
Fiore is from Bristol, Rhode Island, and is the founder and owner of Outerlimits Powerboats. He has a wife, Shonda, and three children.