Missouri has more than 7,400 documented caves; so its nickname, "the cave state," is well-earned. Most of the caves are located in the central part of the state and the Ozarks, positioning residents and visitors at Lake of the Ozarks in the middle of the highest concentration of large, open-to-the-public caves in the Missouri.
According to the Missouri Caves & Karst Conservancy, an estimated 100 caves are discovered in Missouri every year! And while discovering a cave might be a good item for the bucket-list, if you're looking for a good introduction to the abundant caves at Lake of the Ozarks, it's a good idea to start with the area's largest (known) and most beloved. Here are all four, and a couple bonus caves for when you're ready to take your spelunking to the next level.
Missouri's Caves At Lake Of The Ozarks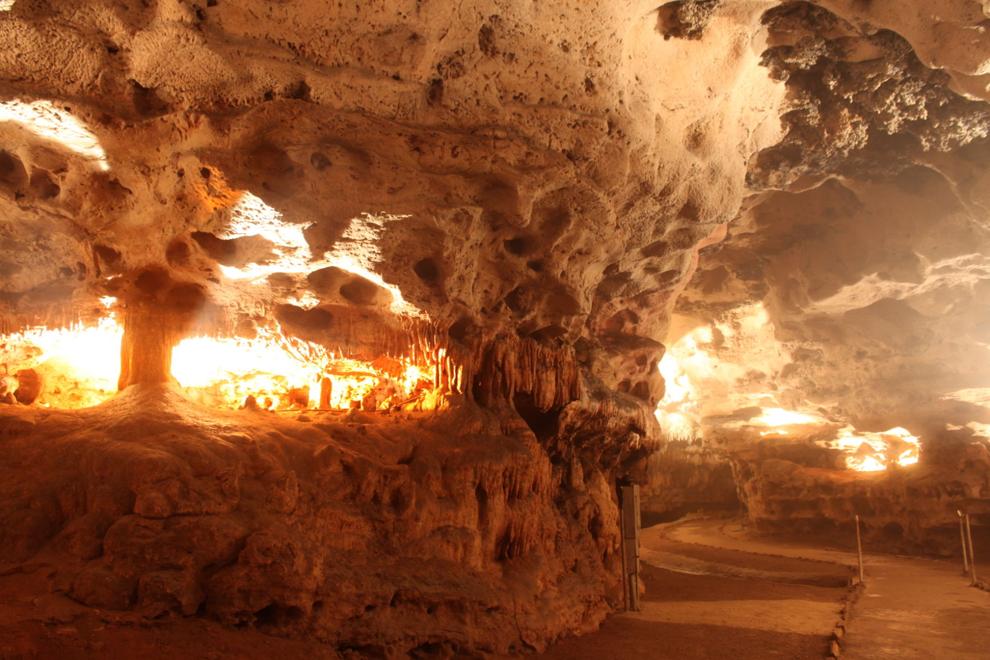 The first and largest cave commercialized in the Lake area is Jacob's Cave, located between Versailles and Gravois Mills off MO Hwy TT. At a constant 53 degrees, walk-through tours are a mile long, fully guided, and handicap accessible. On these tours, guests have the opportunity to see evidence of six ice ages and three earthquakes, as well as various cave formations such as "soda straws," stalactites, columns, helectites, reflective pools, prehistoric bones, and the world's largest geode. It has been known to man for 139 years and open to tourists for 82 years. 
Jacob's Cave is also the site for "Jacob's Cave Swapping Days," a popular small animal swap meet that began in June 1979 and is held three times a year.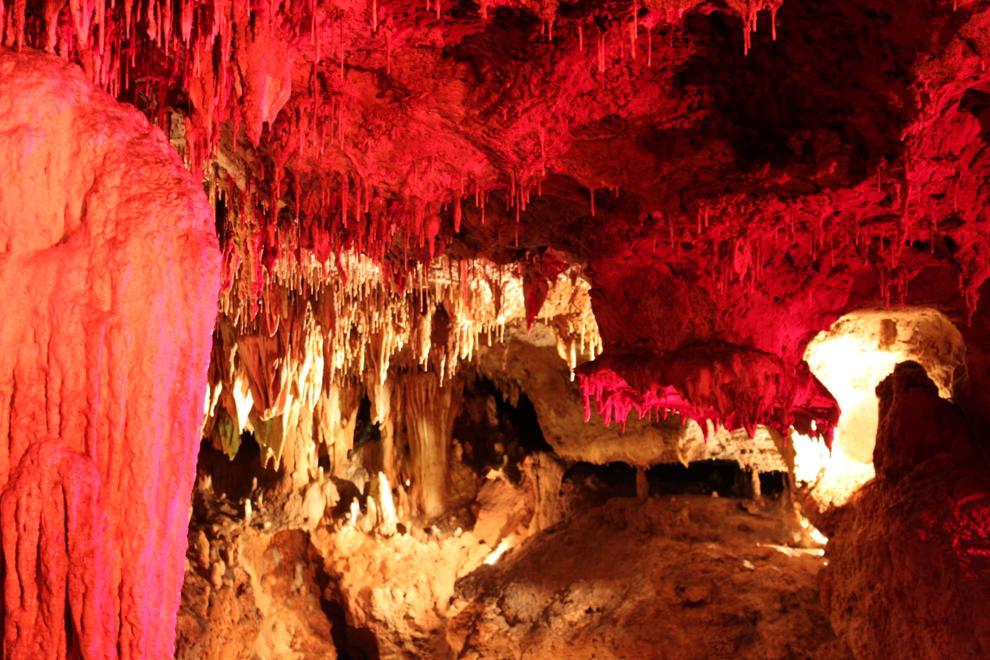 Jacob's Cave welcomes schools, Scout troops, and other organizations, and offers a Wild Cave Crawl and other activities to these larger tour groups. RV/Primitive and lakefront camping sites are available to guests. During the spring and summer, tours are available from 9 a.m. - 5 p.m. and then from 9 a.m. - 4 p.m. in the fall and winter. Rates are $18 for adults, $9 for ages 5 - 12, and free for children under 4. Discounted rates are also available for groups that include at least 15 adult admissions. More info.
Ozark Caverns is an unlit cave located within the south side of the Lake of the Ozarks State Park, eight miles east of Linn Creek, off Route A that boasts standard geological wonders normally found in caves such as soda straws, helictites, and stalagmites. However, Ozark Caverns also features an unusual cave phenomenon known as "Angel Showers," which is a never-ending shower of water that seems to pour out of the solid ceiling of rock. It also serves as a home to four species of salamanders, four species of bats, and sixteen species of invertebrates, four of which only live in caves.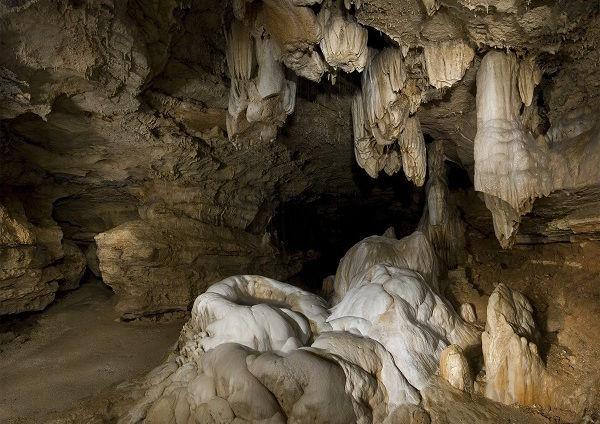 Ozark Caverns offers both traditional and children's tours to their guests. Since the cave is unlit, visitors are provided with lanterns to light the way. Traditional tours  are interpretive and last about an hour and are a half-mile round trip. Topics frequently discussed include general cave development, cave life, and anything else "cave related" that visitors want to discuss with the guide.
Though the traditional tour is appropriate for all ages, Children's Tours are designed for children ages 5 and up in that they only last 30-45 minutes, are a quarter-mile round trip, and give little ones a chance to learn and explore the cave on a more basic level. Children's tours are only offered Jun. 1 - Aug. 15.
A third tour option is a self-guided journey along the Coakley Hollow Trail, which is a one-mile interpretive trail that beings and ends in parking lot where visitors cross various habitats and can enjoy wildflowers and other plant life.
Ozark Caverns are open for traditional tours from mid-May to mid-Sept., and hours of operation fluctuate throughout the summer. The caverns are closed to traditional tours from Sept. 16 - May 14.
The regular cost of admission is $10 for adults, $8 for kids ages 13-17, $6 for kids ages 6-12, and free for children under 6.  Group rates are available for educational organizations. More info.
Well-known for hosting weddings, Bridal Cave is a gem of cave whether you are getting married there or just exploring. It boasts a long and mysterious history in the area, along with beautiful mineral formations and a stunning underground lake.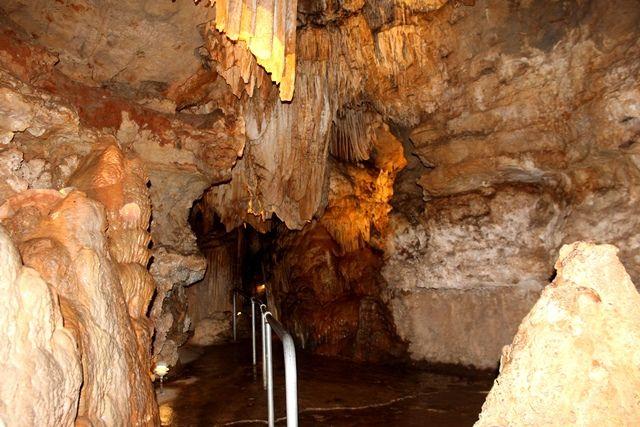 Standard guided tours leave every few minutes and last about an hour. Guided lantern tours last 75 minutes and details the adventure of what cave exploring used to be before electric lights were invented. You guide will give you a detailed history of Bridal Cave while you explore, using only hand held lanterns to see. Adults receive an LED lantern and children receive a souvenir LED Cavers helmet.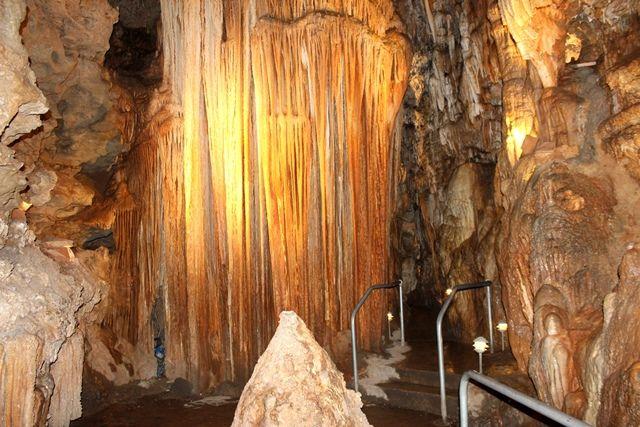 Bridal Cave is open year-round. Hours of operation are:
-January 2 - March 6, 9 a.m. - 4 p.m. (start of last tour)
-March - June 5, 9 a.m. - 5 p.m. (start of last tour)
-June 6 - August 23, 9 a.m. - 6 p.m. (start of last tour)
-August 24 - October 16, 9 a.m. - 5 p.m. (start of last tour)
-October 19 - December 31, 9 a.m. - 4 p.m. (9 a.m. - 5 p.m. (start of last tour)
Lantern tours are only available on Saturday evenings at 7 p.m. Memorial Day - Labor Day weekend.
Tickets for a standard tour cost $20 for adults, $10 for visitors ages 5 - 12, and children 4 and under are free. Lantern tours cost $29.95 per person. More info.
Stark Caverns is the largest cave in Miller County. The cave boasts unusually beautiful geological formations such as soda straws, flow stone, stalactites, stalagmites, helictites (bent soda straws), and giant, beautiful columns. The entire cave tour is lit and paved, and 90 percent of the tour is handicap-accessible. The temperature inside also stays around a mild 57 degrees year-round. Stark Caverns's standard tour is well-worth experiencing, but several other tour options and events exist too.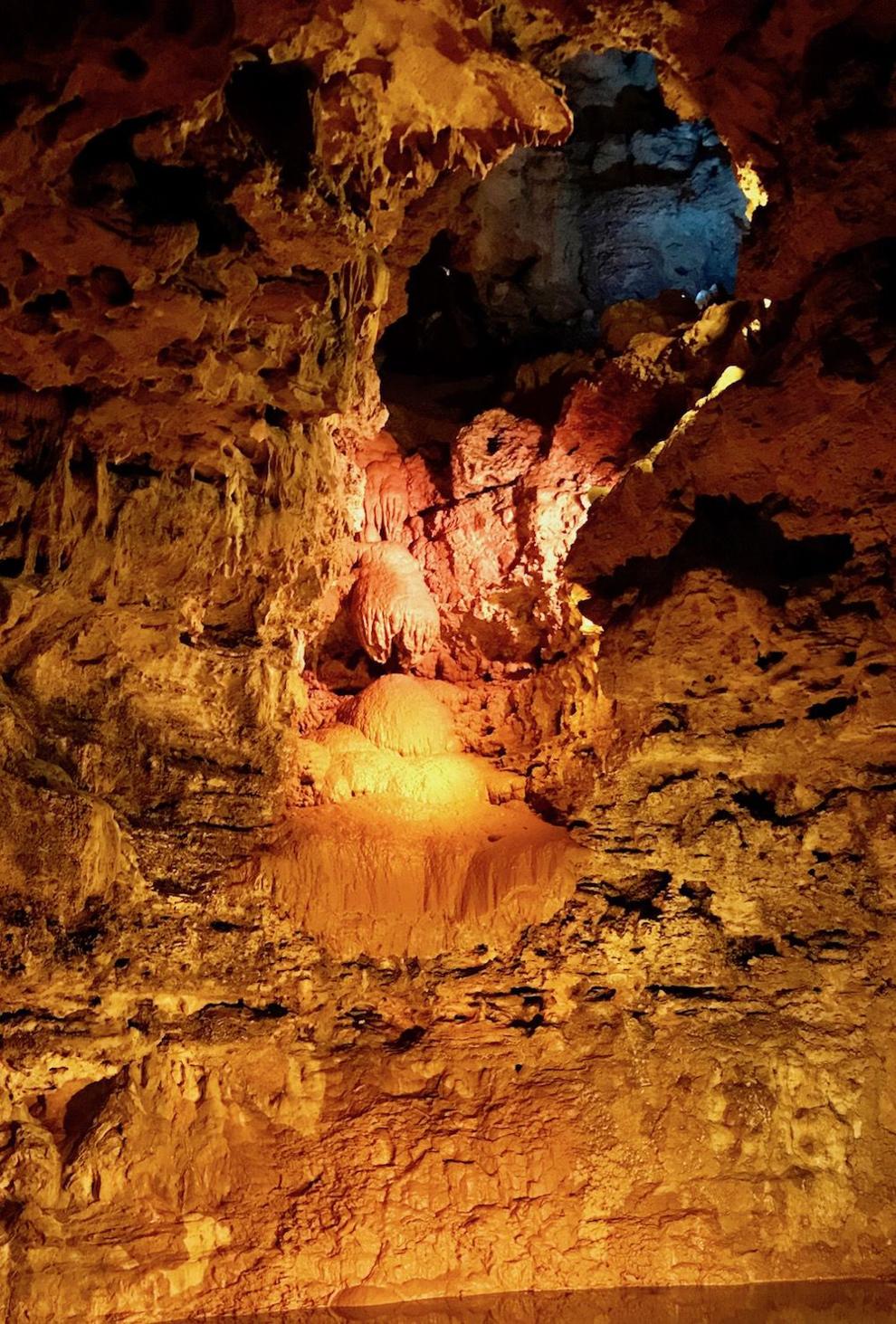 In the past, Stark Caverns has partnered with Lake Escape to create a unique, new escape room inside the cave. Summer 2019's escape adventure theme was "The Grimm Tale," which featured four familiar fairy tales including "Jack & The Bean Stalk" and "Hansel And Gretel."
This past spring, guests of the cave were able to start seeing the Caverns in a whole new light... literally. The black light tour illuminates the science and beauty of fluorescent minerals, as well as formations that are not normally visible in the standard tour but pop out in the black light where there are increased concentrations of calcite. Stark Caverns' black light tour is one of just a few across the country.
Other activities available at Stark Caverns are classes on bats and minerals, a yoga class, camping, and other special events such as Carols in the Caverns at Christmastime, Teachers Night Out, and a Wine Pairing Tour that was offered this Valentine's Day! More info.
Stark Caverns is open year-round and regular guided tours are giving daily at 10 a.m., Noon, 2 p.m., and 4 p.m. Black light tours are available by reservation only.
Tickets for a standard tour cost $20 for adults, $18 for senior guests (60+) and those with military ID, $10 for visitors ages 5 - 12, and children 4 and under are free. Black light tour tickets cost $23 for adults, $20 for senior guests (60+) and those with military ID, and $11.50 for visitors ages 8 -12. Due to safety concerns, children under the age of 8 are not allowed to participate. More info.
Next-Level Caving In The Lake Area
Ready to take your Lake-area cave exploration to another level? The next step is to join the Carroll Cave Conservancy. In doing so, you'll gain access to Carroll Cave located near Montreal, Mo.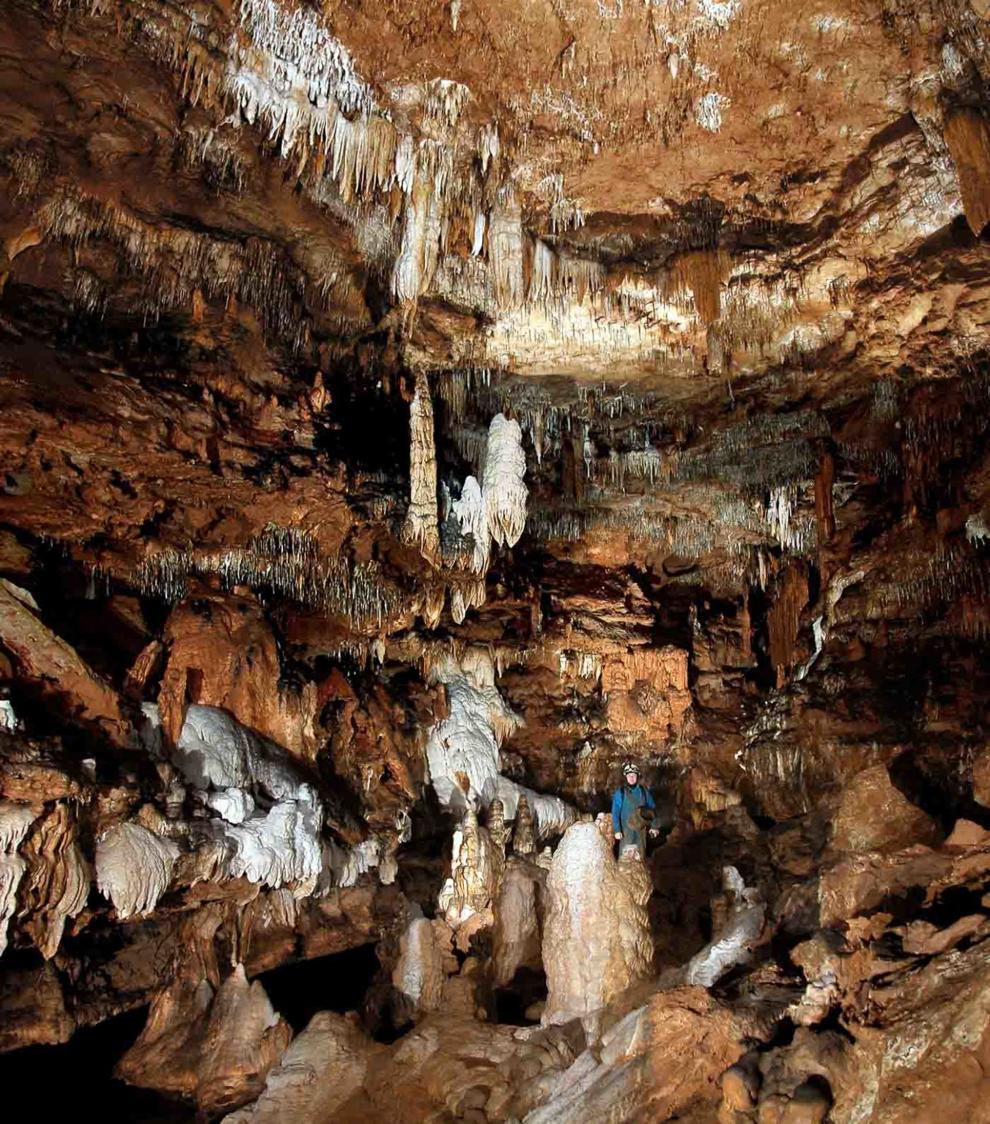 Carroll Cave is the third-longest cave in Missouri. The cave is managed by the Carroll Cave Conservancy (CCC), a regional non-profit with a mission to preserve, protect and study the Carroll Cave watershed. The known biodiversity of the cave includes salamanders, numerous species of bats, the world's largest known population of Southern blind cave fish and many other life forms.
Only conservancy members are allowed in. But Hines emphasized that all who are interested in caving are welcome to join the CCC for a $15 membership fee; members are allowed to occasionally explore the Carroll Cave.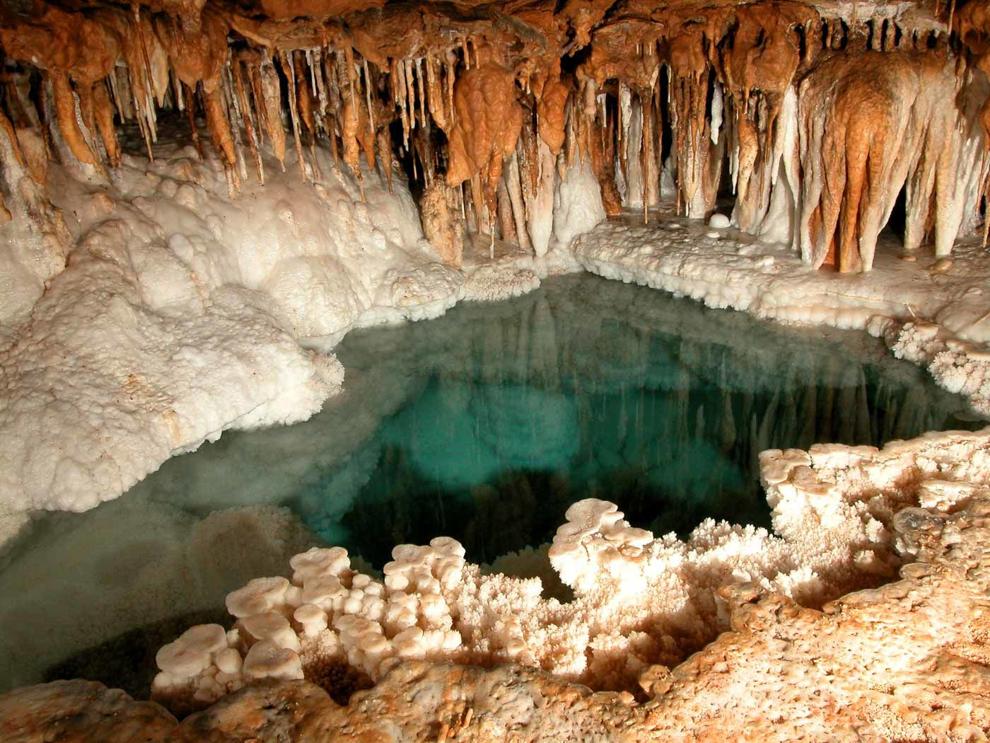 Every year landowners are given the opportunity to explore the cave via access through the shaft entrance. This "back door" entrance was constructed by the CCC with the help of Dr. Paul Worsey of Missouri University for Science and Technology (Rolla), and Jim Stamper, a local well driller. After a nine-inch pilot hole was drilled into the cave, Dr. Worsey, a mining and explosives expert, assisted the CCC in carefully creating the three-foot-in-diameter vertical shaft 120 feet straight down into the cave. More info.
CAMDEN COUNTY, Mo. — A cave with 20 miles of passageways and breathtaking formations, just s…
Long used as a trash dump, Goodwin Pit in Laclede County links to an enormous cave system, that actually eventually empties into Ha Ha Tonka Springs, at Lake of the Ozarks, 10 miles away. Conservationists have been cleaning out the pit for years, and hope some day to be able to explore and survey the cave connecting the pit and... whatever else it adjoins! If you've got a love for caves and want a way to help preserve, protect, and explore on the front-lines of Missouri's caves, contact the Goodwin Pit Conservation Manager to see how you can help. More info.
To get involved in preserving Missouri's caves, learn more at the Missouri Caves & Karst Conservancy website.
LACLEDE COUNTY, Mo. – A sinkhole – long used as a community dump – has been dye-traced to Ha…