LAKE OF THE OZARKS, Mo. — The Missouri State Highway Patrol just made a large stretch of Lake of the Ozarks idle-only for big boats. A brand-new limitation beginning at the 9.5 Mile Marker of the Big Niangua Arm prohibits boats 40 feet and longer from creating a wake anywhere upstream of the 9.5 Mile Marker (the Big Niangua Arm turns to the Niangua River around the 16 Mile Marker). 
That means Class 3 boats (40 feet and longer) will be required to navigate at idle speed—generally a max of about 4 or 5 mph—in that area, which includes access to the popular Ha Ha Tonka Cove (15 Mile Marker). The request by a homeowner to adopt the Limited No-Wake designation for this 6.5-mile stretch of the Lake was approved at a June 15 public hearing held by the Missouri State Highway Patrol (MSHP). 
Many in the boating community have responded to the news with shock and outrage. A Facebook thread discussing the issue brought a few praises for the move, but plenty more voices of frustration. Brian Jeffrey lives with his family on the Big Niangua Arm, near Bridal Cave. They have a 19-foot ski boat and a 29-foot performance boat, so Jeffrey says the new wake regulation won't directly affect his boating habits. "But that's not the biggest issue," he said. There are thousands of boaters and lakefront residents in the newly-designated Limited No-Wake area, and Jeffrey points out the Patrol's decision was made essentially without their input.
No-Wake coves are not new to Lake of the Ozarks, but "Limited No-Wake" coves are. The concept was introduced with a bill sponsored by then-state representative David Wood. After a series of compromises between the many interested parties, the idea of "Limited No-Wake" coves was created, which carved out a middle-way for the Patrol: some coves can be designated No-Wake for big boats but not all boats. (Read the full text of the new law at the end of this article.)
For a cove to go "No-Wake" completely, residents could already petition the Patrol; in that case, 75 percent of the property owners in the cove have to agree to it and sign a petition. Once that's done, and the buoys are placed, no boats are allowed to create a wake in that cove. 
For the Limited No-Wake designation, however, only one person has to bring the request to the Patrol. Then the agency will consider the issue at a public hearing and make a decision based on whether it would enhance public safety and based on testimony at the hearing. On June 15, 2020 the Patrol made the determination about the new, lengthy Limited No-Wake designation on the Niangua Arm. 
However, many boaters say they never knew about that hearing, and stakeholders in the Lake of the Ozarks marine industry, who worked with Wood on the bill, said their understanding was all the affected property owners in the area would be consulted for any new Limited No-Wake designation. "One guy snuck it in at a meeting and got it approved, and affected thousands upon thousands of residents… not to mention potential economic impact," Jeffery said.
The difference lies in how the law was written, versus how the Patrol wrote rules for its enforcement. (The text of the Patrol's rules for Limited No-Wake coves can be viewed at the end of this article.) MSHP Water Patrol Division Captain Matt Walz explained the Patrol has statutory authority to write rules consistent with their internal practices and guidelines, based on the laws that are passed. In the case of Limited No-Wake areas, the Patrol takes several factors into consideration before making a determination, including boating traffic in that area, overall safety, and property damage concerns. Walz says the highest number of complaints about boat wakes come to the Patrol from homeowners on the Niangua Arm. "We routinely get complaints about large boats, particularly cruisers, that are going up to Ha Ha Tonka, and they're plowing through these narrow areas," Walz said.
A silver lining for some boaters: the restriction, Walz said, is really focused on cruisers. He emphasized the Patrol would not be stopping large (Class 3) performance/offshore boats for going above idle-speed in the area as long as those boats are on plane and not plowing.
READER POLL
What do you think? Is the new Limited No-Wake designation a good or bad thing for the Big Niangua Arm?
You voted:
Making A Wake
Large cruisers are infamous on Lake of the Ozarks for the damage they can wreak on docks, due to the especially large wakes they leave behind. Boats essentially have three types of speed: idle, plowing, and on-plane. At idle speed, boats leave a negligible wake, and at on-plane speeds, the wake is more substantial but still not very large. However, at plowing speeds, the boat is pushing through the water rather than riding on top of it, so the large amount of displacement results in potentially massive waves heading to the shoreline on either side. In wider channels, those waves have time to mostly dissipate before hitting the shore, but in narrow channels or coves, things can get rough when cruisers are plowing through.
For the most part on Lake of the Ozarks, boats 40 feet and longer tend to fall into two categories: yachts/cruisers and performance/offshore. Walz said the Limited No-Wake restriction is really targeted at yachts/cruisers, not at performance/offshore boats. "If there's an offshore boat that's traveling 30mph, barely on plane, causing very little wake, I don't anticipate we're going to stop that boat," he clarified, pointing out, "Boating laws are not as cut and dry as traffic laws on the highway. There are a lot of grey areas." He pointed out most cruisers 40 feet and longer are unable to get on plane in a way that would significantly cut back on their intrinsic large wakes.
Walz says when cruiser captains plow through narrow areas, "It's just not courteous boating." And had boaters been courteous, he says, there may not have been need for these new restrictions.
Cruising Elsewhere
The new rule will make cruiser captains count the cost before heading toward the popular Ha Ha Tonka cove, since they will now be required to idle for nearly an hour to reach the cove once they hit the Limited No Wake area. Jeffrey says that could have a ripple-effect on the Big Niangua: within the new Limited No-Wake area are multiple large condo complexes, and those will no longer appeal to potential buyers who own a 40+ foot boat, once they learn they may have to idle for the better part of an hour just to get halfway out of the Niangua Arm.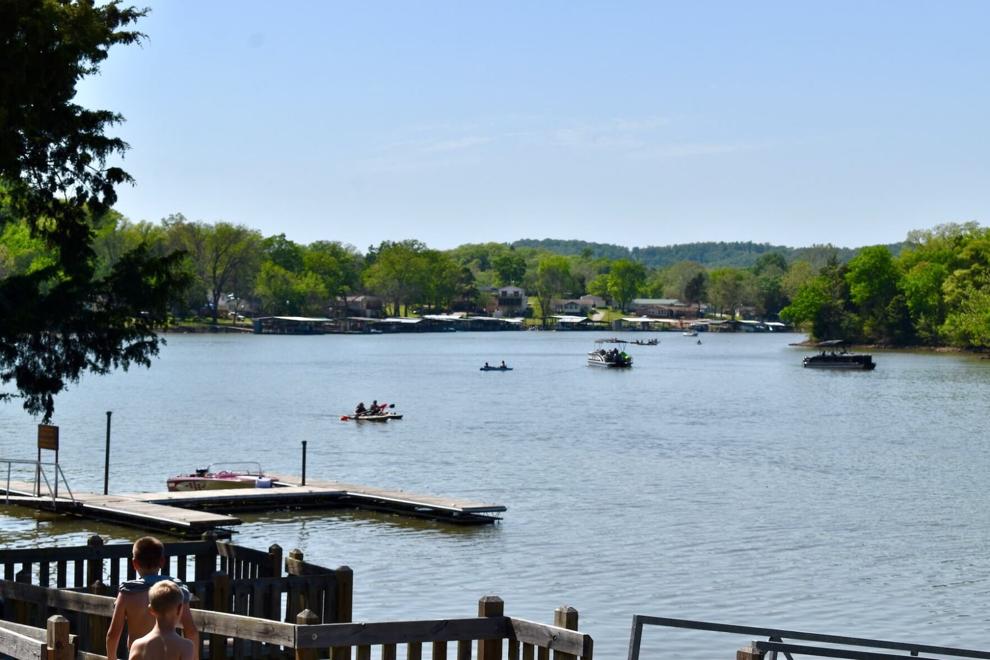 He acknowledges there are discourteous boaters out there who cause real problems and whose wakes do damage docks. "I get it," he said. "I get frustrated with people that are coming through, 15 miles an hour with their bow straight up in the air… I spent six hours the other day welding my dock." But he points out most boaters already self-regulate on the narrow bend where the new Limited No-Wake begins. A more limited approach, perhaps a quarter-mile No-Wake designation in that narrow area of the channel, might have solved the problem without shutting down big boats on a six-mile stretch of the Lake. "I would have zero issue with that," he said. "My biggest concern about the whole thing in general is that one guy can in effect shut off an entire arm to a large consumer base, and nobody else can do anything about it."
Current Limited No-Wake Coves On The Lake
Main Channel:
-Jennings Branch Cove
-Lynch Hollow
Gravois Arm:
-Much of Indian Creek Cove
-Back half of Mill Creek Cove
Glaize Arm:
-Watson Hollow Cove ("Girl Scout Cove")
Niangua Arm:
-9.5 Mile Marker and up to the Niangua River
What's Downstream?
Currently, Lake of the Ozarks has six Limited No-Wake coves, and more are likely on the horizon. But none will be added this year. The Patrol holds hearings in November, January, March, and May, and Walz said they have decided not even to consider Limited No-Wake requests in November, since there are plenty of buoy requests at that time. In addition to coves, could more navigable channels be on the docket? Two coves on the Gravois Arm have already received the Limited No-Wake designation. And if the same thing were to happen on the increasingly busy Gravois Arm, it could potentially crush several waterfront businesses that depend on cruiser traffic. Walz said the Patrol does hear complaints about wakes from the Gravois Arm, but he said for the most part the Gravois is significantly wider than the Niangua Arm. 
Jeffrey worries about the precedent this could set for the future. David Wood's bill specified coves, but when the Patrol wrote their rules based on the bill, they also allowed for channels to be designated as Limited No-Wake. "This could kill Warsaw," he said, referencing the city at the most upstream and narrowest portion of Lake of the Ozarks. "They have been working so hard to build up that end of their arm, to get people to come there." What if the Patrol shut down a 10+ mile stretch of the Lake in the narrow areas leading to Warsaw, Jeffrey mused. It would essentially prevent any big boats (read: big money) from coming even close to Warsaw.
Whatever's next, Walz acknowledges these decisions tend to leave some people happy and others upset.
The Patrol has the authority to create a marking system, which includes regulating waterways, but Walz points out that until last year, the agency had not made any changes since 2004. "So it's not something we take lightly or that we do on a whim," he said. "We had a mandate from the legislature to do something about class 3 boats. We adopted that mandate to fit within our uniform marking system that is already in place."
"We are very cautious about not overstepping our authority," he said.
-
RSMo 306.125.4
The department of public safety shall promulgate all necessary rules and regulations for the implementation and administration of a no-wake cove for class 3 vessels in a cove with its main juncture less than 800 feet, measured from shore to shore, at the main channel. Any rule or portion of a rule, as that term is defined in section 536.010, that is created under the authority delegated in this section shall become effective only if it complies with and is subject to all of the provisions of chapter 536 and, if applicable, section 536.028. This section and chapter 536 are nonseverable, and if any of the powers vested with the general assembly pursuant to chapter 536 to review, to delay the effective date, or to disapprove and annul a rule are subsequently held unconstitutional, then the grant of rulemaking authority and any rule proposed or adopted after August 28, 2018, shall be invalid and void.
State Rule - 11 CSR 50-3.010 (3) O
Applications may be submitted by property owners located on a waterway narrowing to less than eight hundred feet (800') in width to restrict vessels forty feet (40') in length or greater to no wake. To ensure uniformity, the eight hundred feet (800') width eligibility applies to coves or main channel areas. Waterways eight hundred feet (800') or greater in width will not be considered for this restriction unless the volume of boating traffic is significantly disproportionate to similar areas on the same body of water, or boating traffic accident data support the need for the restriction. This restriction may be indicated by buoy markers, signage on docks, or signage on the shoreline, as specified in the permit by the Water Patrol Division. Applications where signage is a requirement on docks or shoreline property, are to include proof of ownership and written consent from each owner where signs will be posted. Applications under this clause will be heard by the Water Patrol Division at a public hearing. Petitions from property owners in the affected area are unnecessary for this limited no wake restriction. Approval is based on the enhancement of public safety in the proposed area and testimony provided at the hearing. If approved, the permit holder is responsible for maintaining the buoys and/or signage as indicated in the permit.