LAKE OF THE OZARKS, Mo. — During February's Arctic blast, Bagnell Dam ran at nearly full generation for days, helping keep Missourians' lights on and furnaces running. But that came at a cost: Lake of the Ozarks dropped dramatically and quickly, with the water level reaching a low point the Lake had not seen in five years. That quick water-level drop combined with the rare complete freeze-over of the Lake — with ice multiple inches thick — damaged countless docks.
Many dock owners have reported some minor-to-moderate damage to ramps, cables, or other connections. But other docks have been totaled, according to local dock companies. Some will require a total rebuild.
Ameren explained that Bagnell Dam was a key part of keeping the power grid stable (read more here), but some Lakefront home and dock owners have wondered: was Truman Dam doing everything it could? Truman Lake feeds into Lake of the Ozarks, and while that dam's six generators can't match the flow from Bagnell Dam's eight generators, might Truman operators have mitigated at least some of the damage Lake of the Ozarks dock owners experienced? Lake of the Ozarks is home to more than 30,000 docks, according to Ameren, which owns and operates Bagnell Dam and permits docks on the Lake; whereas Truman Lake and Truman Dam are owned and operated by the Army Corps of Engineers.
When asked about the question many Lakefront homeowners have been pondering, Paul Simon, hydraulic engineer in the water management section for the Army Corps of Engineers (ACOE), explained that it wasn't as easy as simply releasing more water into the Lake of the Ozarks, in part because it wasn't entirely the ACOE's decision to make.
The Corps owns and operates the dam, but the Southwestern Power Administration (SWAPA) is a government entity that manages and markets hydroelectric power from power stations across the Southwest.
"That's pretty much for SWAFA to generate power as they see fit. So it wasn't really ours to release. We tend to let them operate that because it's pretty important that we don't have problems on the power grid," Simon said.
Releasing too much water could have triggered power grid problems. Truman Dam's "power pool" — which refers to the water elevation the dam needs in order to efficiently generate power — is between 706 and 704. If the water goes above 706, dam operators generally start releasing water for flood control, but if the water gets below 704, regulations state that the dam is no longer allowed to generate power.
"So if we ran it all the way down to 704 and then they [SWAPA] have a real need for power, they would have to declare a power emergency," Simon explained. "And at some point, the generators can only operate down to a certain differential head."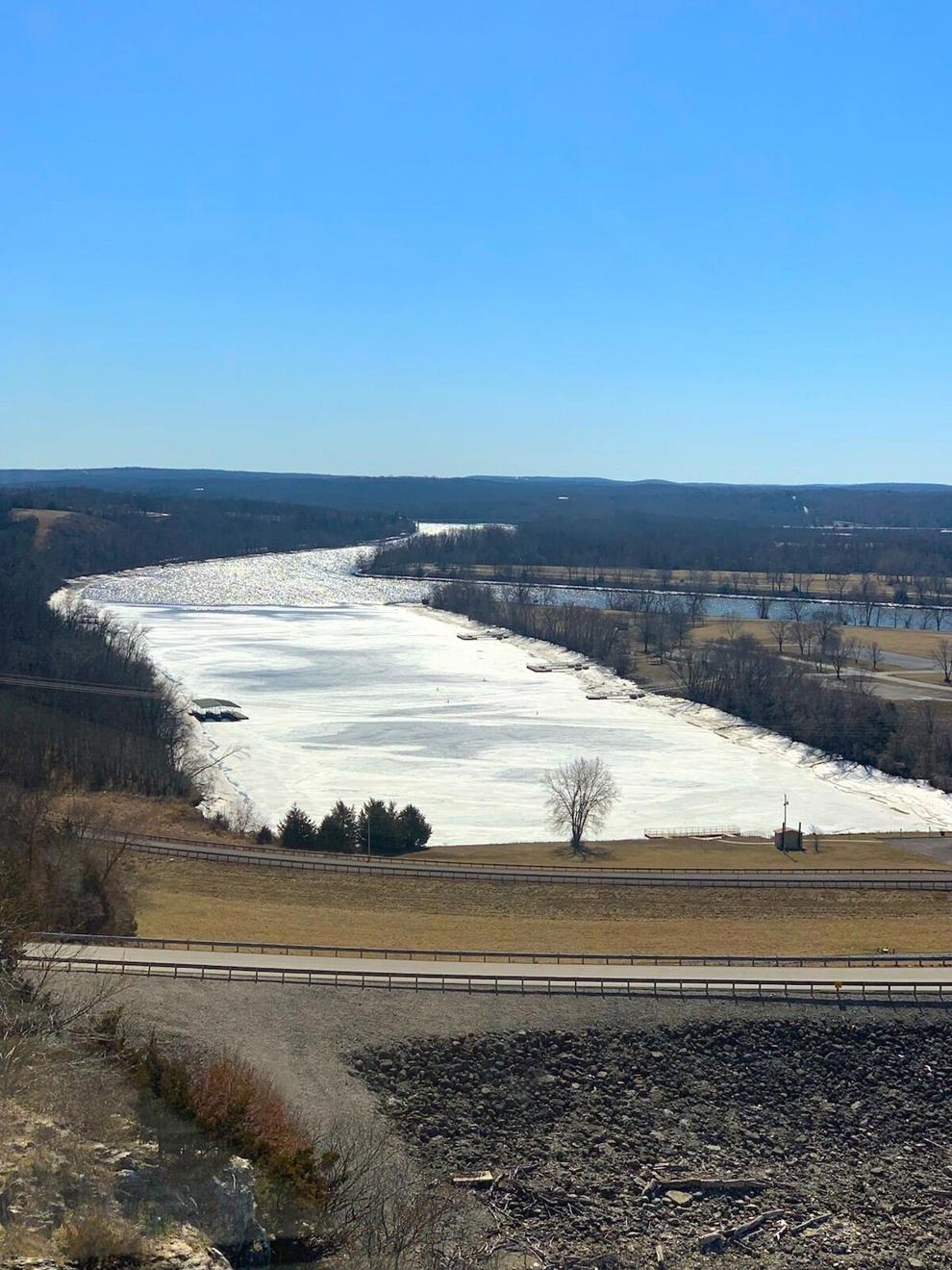 Truman Dam did release water to help water levels on the Lake of the Ozarks, going down from 705.9 on Feb. 14 to 704.7 on Feb. 20, ranging between 4,900 and over 17,000 cubic feet per second (cfs) of discharge, on average. But with Bagnell Dam's eight turbines churning at near full capacity, it was discharging more than 30,000 cfs from Feb. 14 through mid-day on Feb. 17. High discharges continued intermittently for the next several days. Truman simply could not keep up.
When asked about the unique situation, Ameren responded, "Ameren Missouri works closely with the Army Corps of Engineers, and we're appreciative of the positive working relationship we've had over many years. Working together, we were able to keep the grid stable and keep our customers warm during some of the coldest conditions we've seen in years."
Paul Simon expressed a similar sentiment, saying, "I've always been very impressed with the folks at Ameren and their ability to balance tough decisions. They're very good to work with. And even if we don't have the answer they want based on our regulations, they understand that and we do everything we can to support them anyway."