American Ethanol climbed the ladder at the 33rd Annual Shootout this year, clinching the Top Gun trophy for the seventh year in a row. The 51-foot Mystic catamaran made five total runs across two days down the 3/4-mile race course, each one faster than the next. In the end, even American Ethanol's first run, at 175 mph, was enough to win the trophy. In their fifth run, driver Tony Battiato and throttleman John Cosker hit 193 mph.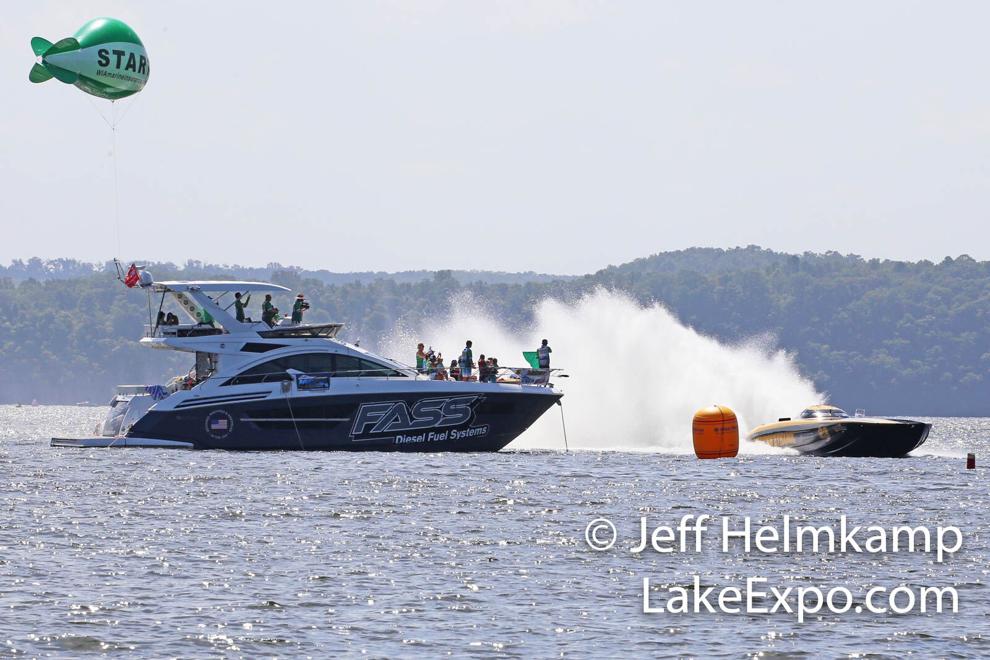 That's 9 mph slower than the boat's fastest speed since the course was shortened in 2017, but still remarkable for the 51-foot Mystic with quadruple turbine engines powered by ethanol, considering it only has 3/4-mile to reach that speed, from the 40 mph max limit at the start line.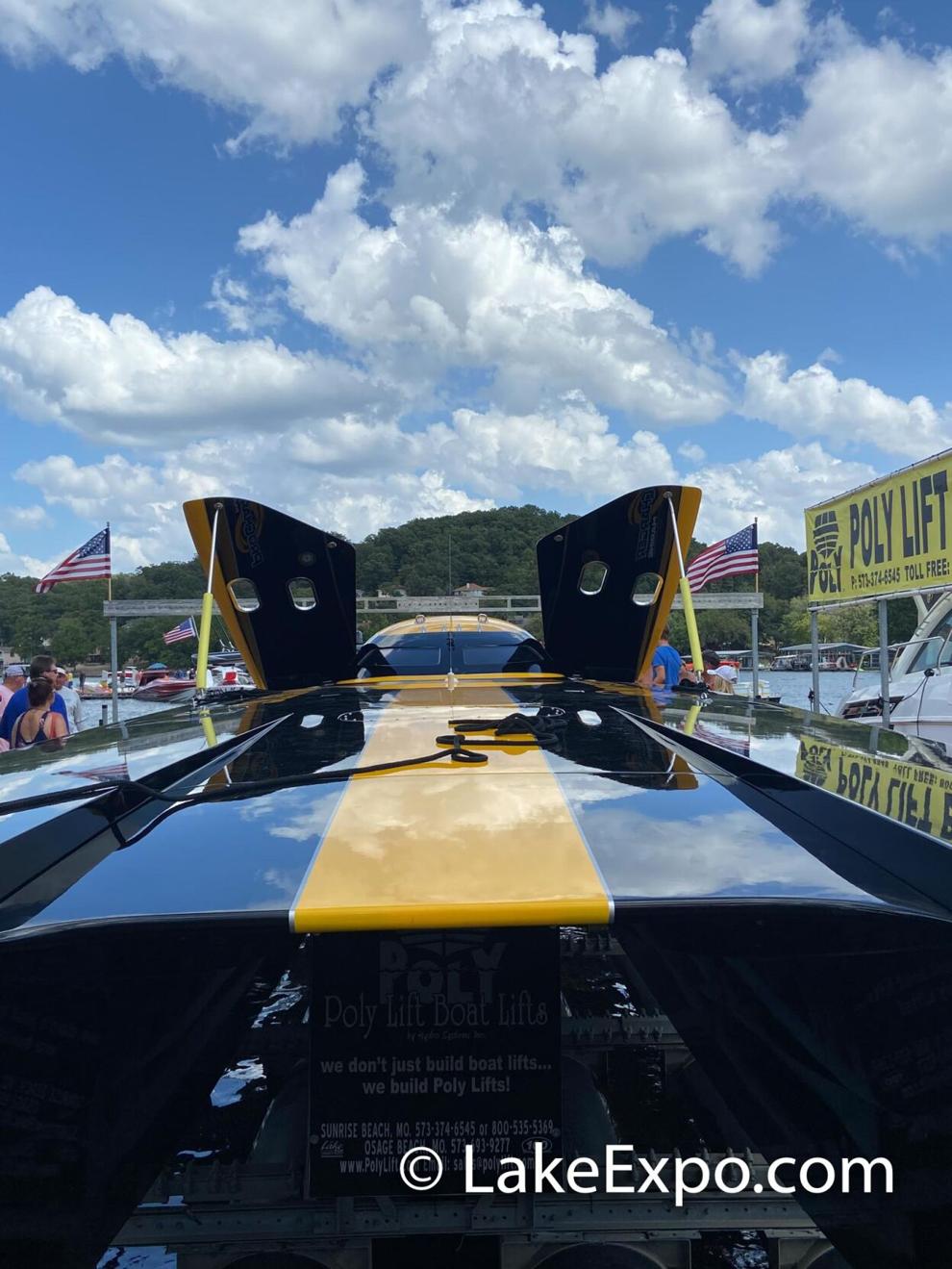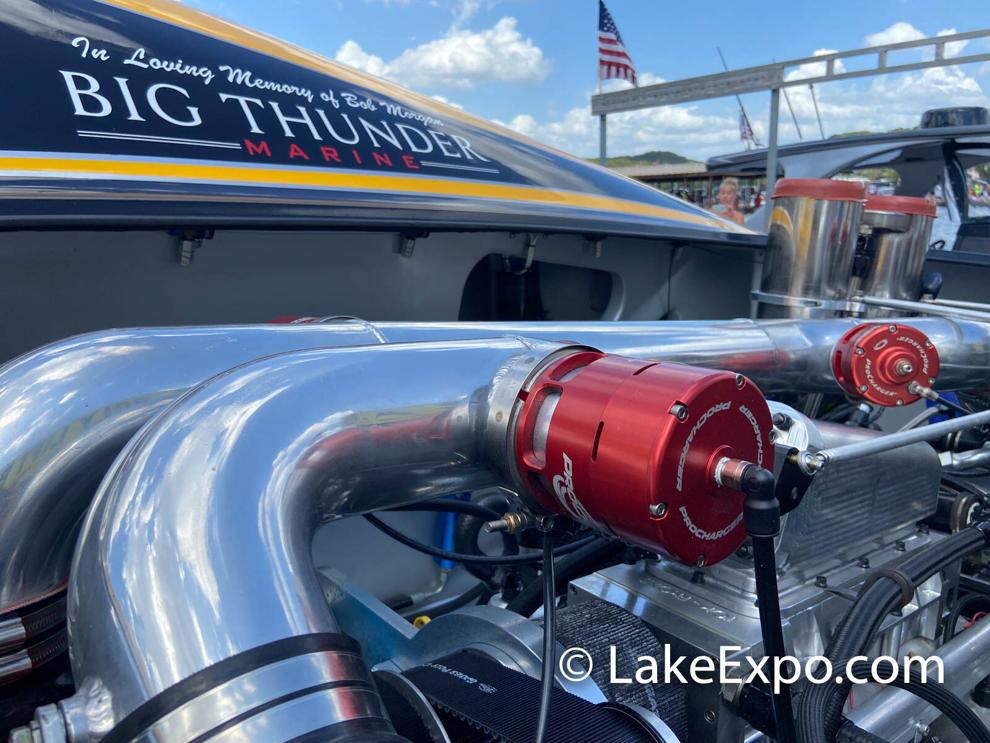 A total of 95 boats ran at the 33rd annual Shootout this year, a new record for the event. There were 253 total runs, compared with only 189 in 2020 (last year's event ran into bad weather). Rumblings of a 200 mph contender in Alex Pratt's Good Boy Vodka Mystic catamaran had many spectators eager to see a battle for Top Gun; however the cat threw a propeller into the hull the day before the race. So while American Ethanol effortlessly retained its dominance, new winners emerged in almost every other major Shootout class. 
Shootout race classes abound, with the major variations being Professional/Non-Professional/Manufacturer (unmodified), and Catamaran/V-Bottom/Center Console/Pontoon/PWC. That's just for the "Top" win categories; but the classes are stratified even further, by boat specs and number of engines. That means some of the classes may only have one competitor, while others have several.
A breakdown of the major Shootout classes is below. Full results are available at ShootoutResults.com.
While it's difficult to get an accurate spectator count, aerial photos reveal this year's event brought massive crowds by water and by land to enjoy the largest unsanctioned boat race in the nation.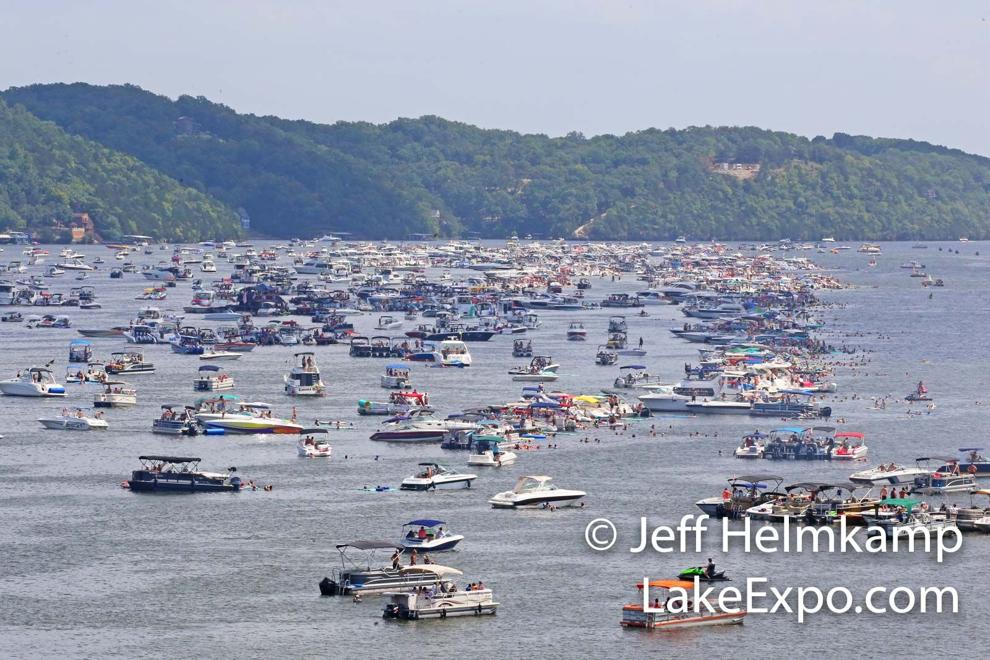 **Watch LakeExpo.com for Shootout Poker Run & Race Course photos this week.**
Fastest 'Toon: Return Of The Plumber
Last year, Mike Misplay took the "Top 'Toon" title from reigning champ Brad Rowland, with an 82 mph run. But Rowland, an Illinois plumber who knows how to push a pontoon to the limit, came roaring back this year in Tooned In II, his South Bay pontoon with triple 300hp Mercury outboards.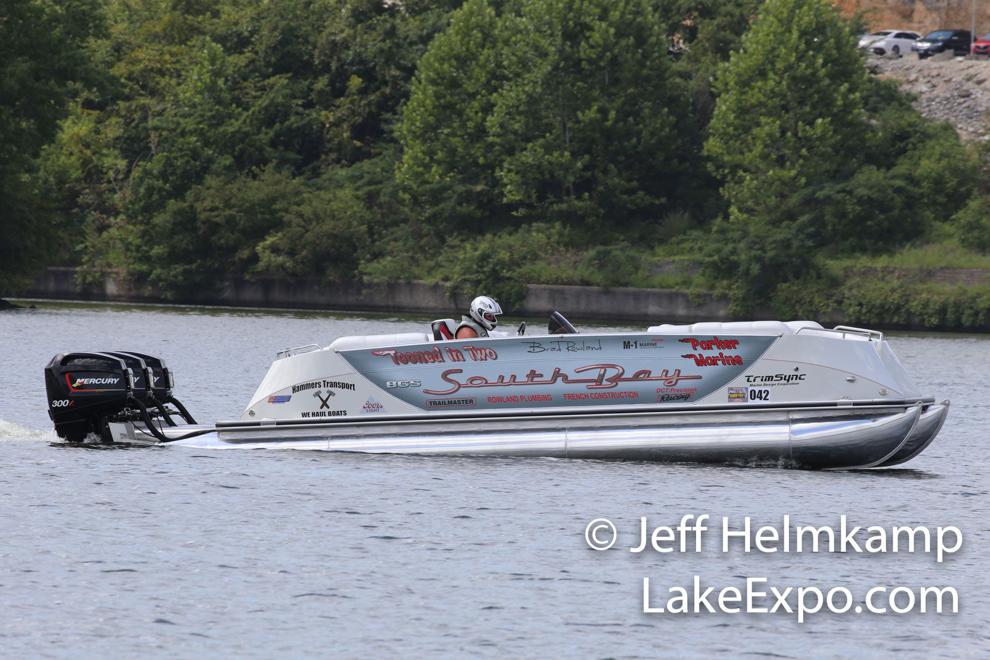 Rowland set a new record for pontoons on the 3/4-mile course, with a blistering 113 mph run. Rowland's cheering squad, all sporting matching "Tooned In" t's, celebrated at the Shootout docks, and then headed back to the Rowland family's dock for their annual post-Shootout party.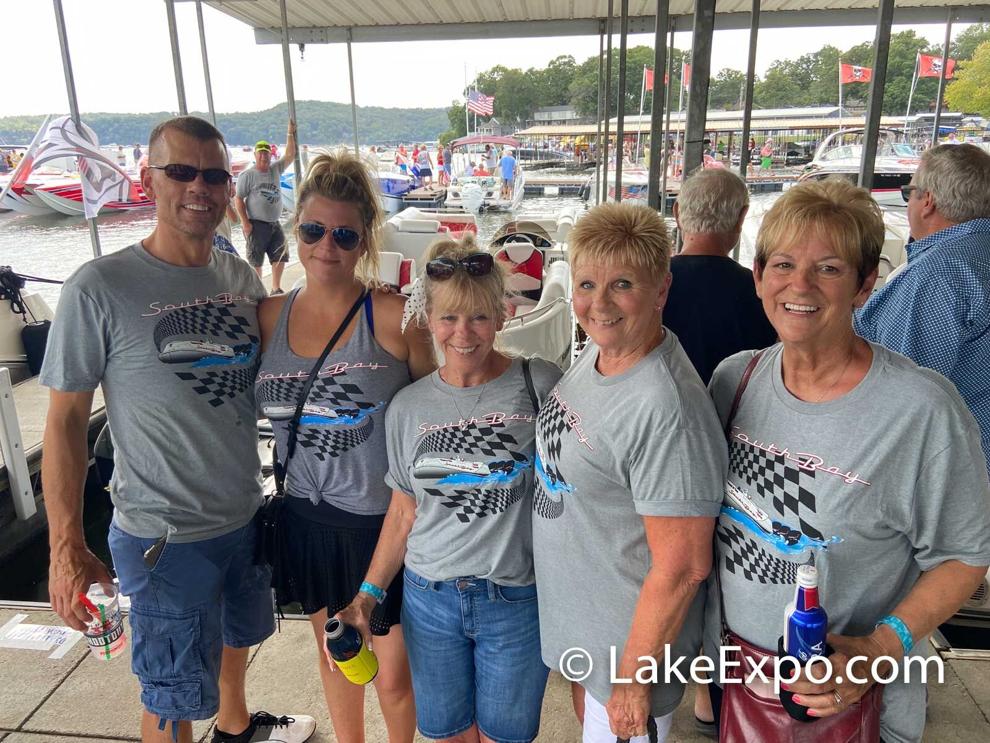 Still-Crazy-Fast V-Bottom
Jim Schultz's 51-foot Outerlimits Factory Billet was far and away the fastest v-bottom at the Shootout with its 161 mph run. In fact, it was the second-fastest boat at the race, edging out Shootout newcomers Jamin Jones and Curtis Morris in Morris' colorful Team Yahoo 36-foot Skater catamaran, by 1 mph. Schultz won the Top Professional V category in 2020 as well.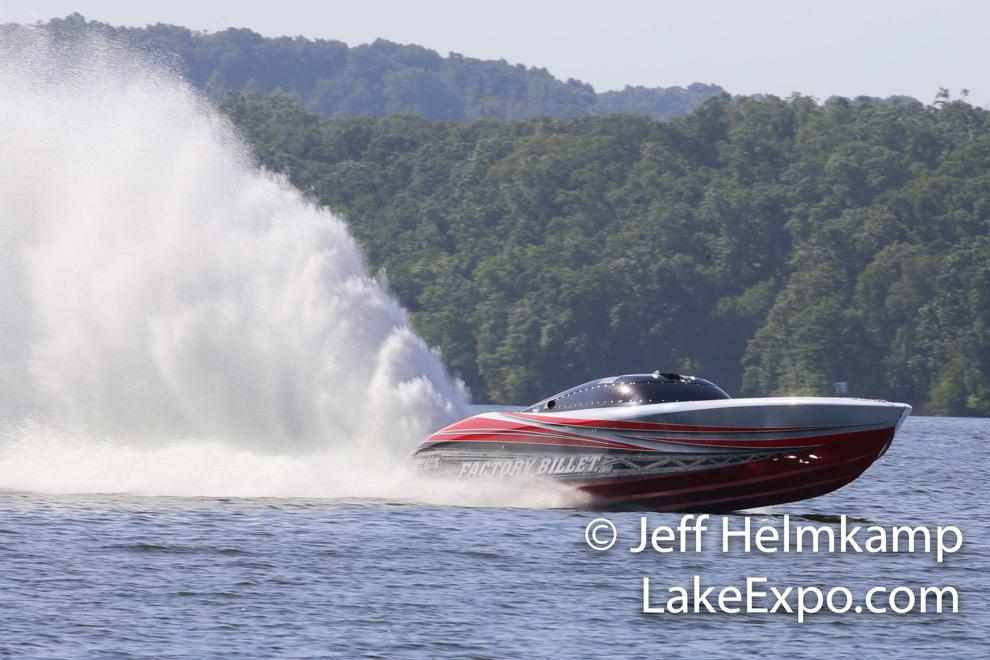 Neck-And-Neck Competition In The Professional Cats
Pro racers Myrick Coil and Rusty Williams in the 32-foot Doug Wright Performance Boat Center/FASS Diesel catamaran and Ron Unnerstall and Casey Boaz in their Doug Wright cat CR Racing battled it out, mph-by-mph, through the weekend.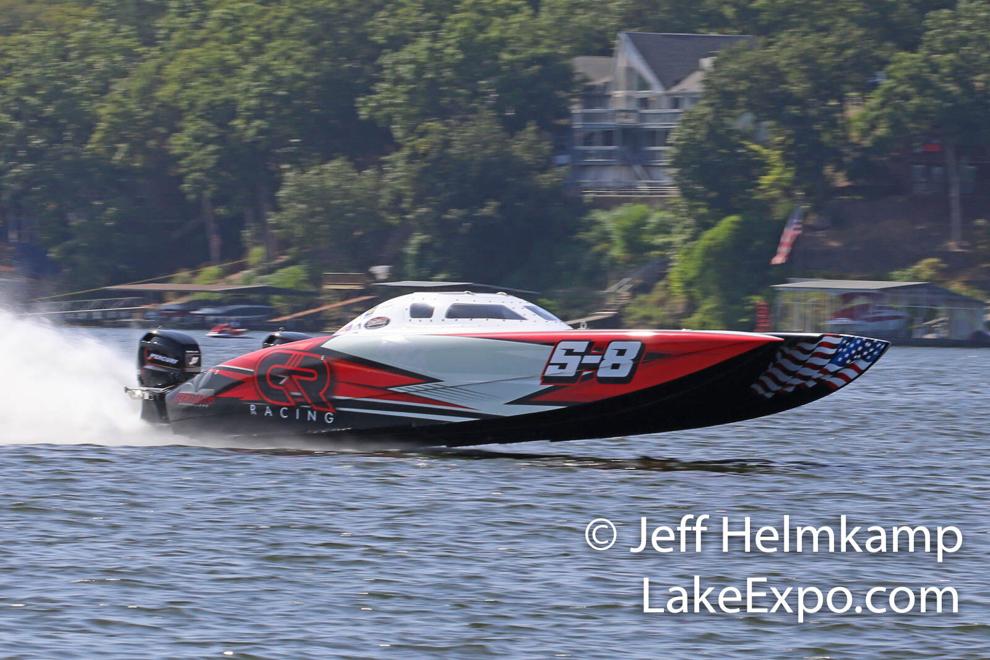 Coil/Williams hit 113 mph, and then Unnerstall/Boaz reached 116. In the end, Coil/Williams found a little more and hit 118 mph, and that was enough to get them past Unnerstall/Boaz.
The Slowest Boat Is Getting Pretty Fast
Electric-powered boats made their debut at the Shootout in 2018, with a 25 mph run by Randy Vance in Calypso. Now, three years later, the Vision Marine Technologies-powered Bruce 22 hit 49 mph in its final run.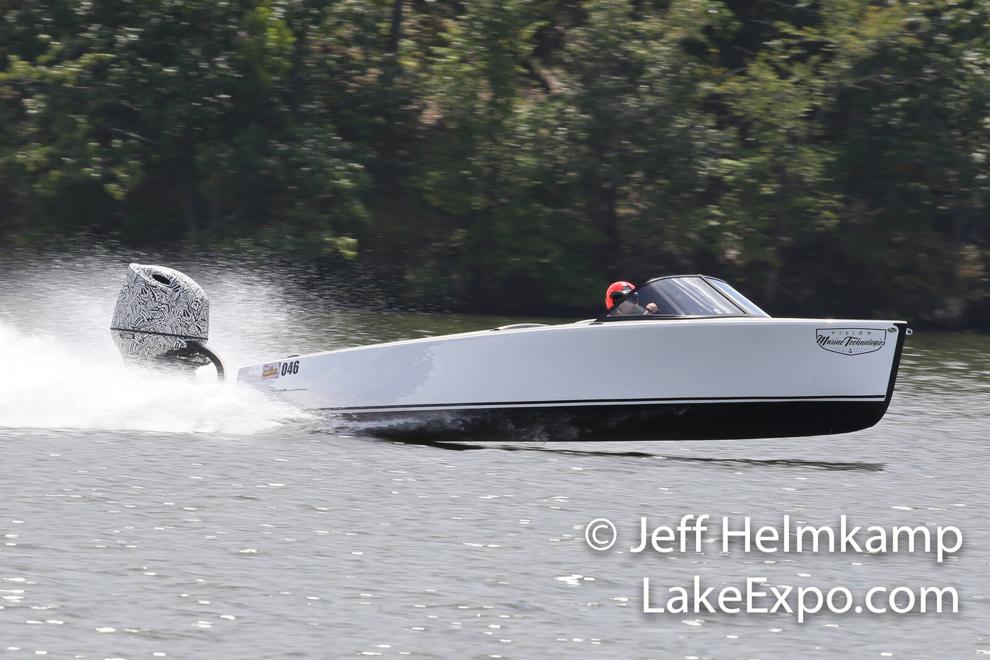 Vision Marine CTO Xavier Montagne was at the docks, and told LakeExpo the boat was a glimpse into the very-near future. Electric boats are coming to the consumer market soon, he said, and the Lake of the Ozarks Shootout was an exciting opportunity for Vision to debut their E-Motion™ outboard motor.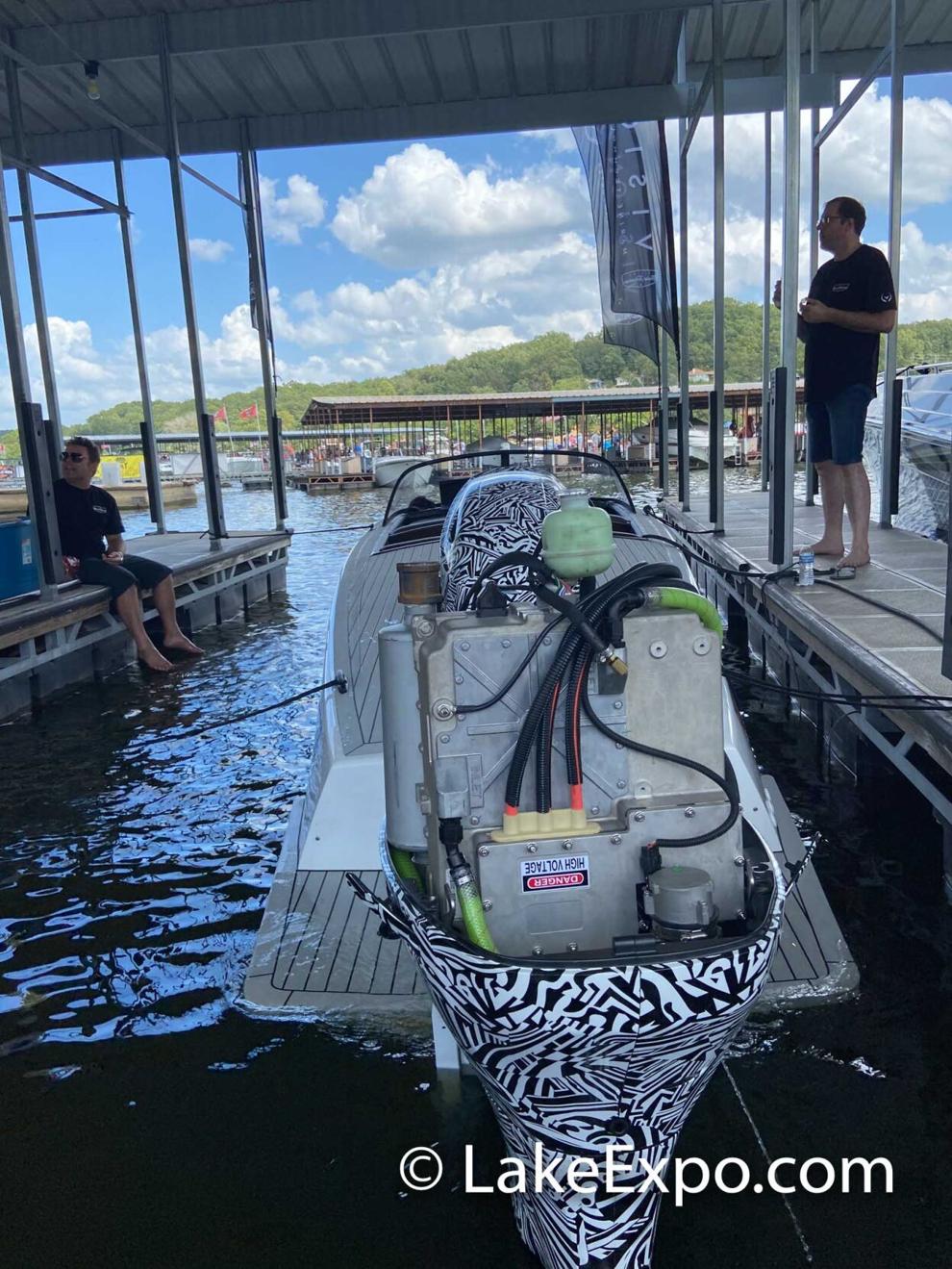 ---
Major Class Winners: 
Overall Top Gun — 'American Ethanol' — Tony Battiato & John Cosker — 193 mph
Top Professional Cat — 'American Ethanol' — Tony Battiato & John Cosker — 193 mph
Top Non-Professional Cat — Mark Cooper — 136 mph
Top Manufacturer Cat — Taylor Scism — 120 mph
Top Professional V — Jim Schultz — 161 mph
Top Non-Professional V — Bob "The Bullet" Pulte — 135 mph
Top Non-Professional Center Console — Mark Brick — 76 mph
Top Manufacturer Center Console — Tracy Kowalski — 80 mph
Top 'Toon — Brad Rowland — 113 mph
Top PWC — Daniel Gogel — 80 mph