Ballparks National may still be a rookie in the lineup of Lake of the Ozarks attractions, but they're already knocking it out of the park!
With its grand opening last fall, Ballparks National was the dream of long-time friends Bob Ramsey and Jeff Vernetti, both accomplished sports broadcasters from St. Louis -- and baseball dads.
They wanted a place for families to come and play ball, and they chose to bring the facility to Lake of the Ozarks so that teams could enjoy a tournament along with all the family fun that the Lake of the Ozarks has to offer.
"When they have downtime before or after the tournament or in between games, there's no better place for a team of families to be than Lake of the Ozarks," said marketing manager Keith Lucas.
Ballparks National (BPN) is a privately owned youth baseball and fastpitch softball complex located off Hwy 54 in Camden County, between Macks Creek and Camdenton. After less than a year at the Lake, this state-of-the-art tournament facility is already making big waves in the youth baseball and fastpitch softball tournament industry by selling out nearly every weekend and being 93% sold out for the entire season. Ballparks National staff say they expect numbers to be just as strong for the fall 2021 and the 2022 seasons.
THE ALL-TURF FIELD ADVANTAGE
Not many complexes can say they didn't have a rainout tournament this year, Ballparks National can… in fact, they didn't even lose games in events because of the abnormally wet season of 2021. No one likes to travel to an out-of-town tournament, only to have it rained-out because it is too muddy. The all-turf fields of Ballparks National mean teams can play before and after rain, and even during light rain. They only pause games if there is lightning or the rain is coming down hard and play is deemed unsafe by umpires. This is huge for parents and coaches because they spend a good amount of money on lodging, food, and transportation to get to events.
NO STAY-TO-PLAY & NO GATE FEES
While all complexes and tournament providers charge teams a registration, most also charge the parents and other spectators a fee to enter the gate. Their all-inclusive registration fee means no extra fees for your fans.
"If you playing at other places, they charge not only the team but also every parent or fan that comes," Lucas said. "We don't do that. It's great because you see a lot of extended families that come because they can come here for free and bigger families that may not have come otherwise because they would have been charged."
Other parks tell you where you HAVE to stay, Ballparks National tells you where you SHOULD stay. No one likes what the industry calls "stay-to-play," where you have to stay somewhere specific in order to play. Ballparks National has a dedicated guest service manager that helps teams and families find great lodging options from a list of preferred lodging partners, as well as recommends restaurants, attractions, and other businesses. This also opens up non-traditional lodging options to these lake visitors like condos and RV parks.
Ballparks National is making a point to involve the Lake community with staff who are dedicated to connecting newcomers to local hotels and restaurants and selling tickets to local events and sites. Plus, they set up fun, themed events for players such as the recent Ballin' and Brawlin' weekend, where Ballparks National set up a professional wrestling ring and hired professional wrestlers to wrestle during the games. Kids who weren't swinging a bat were gathered around the ring, whooping and hollering and having a blast.
"The coaches were just amazed. On a video I posted on our Facebook page, you can hear a coach say, 'What a weekend, you get the Lake and there's ball and there's wrestling!' and he wasn't even talking to me, he was just talking to a coach next to me," Lucas said.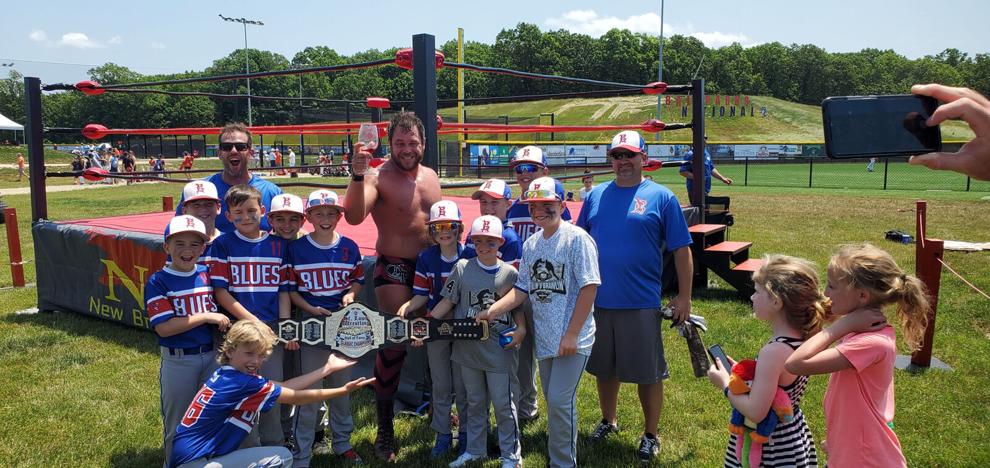 GREAT FOOD & DRINKS
Ballparks National prides itself on not having your typical youth sports park concessions. While they serve the staples such as hotdogs and burgers, they also have things like pulled pork nachos, walking tacos, and more. They also have a full bar located on a large deck that overlooks our bounce houses and the ballfields. Parents can relax while the kids play!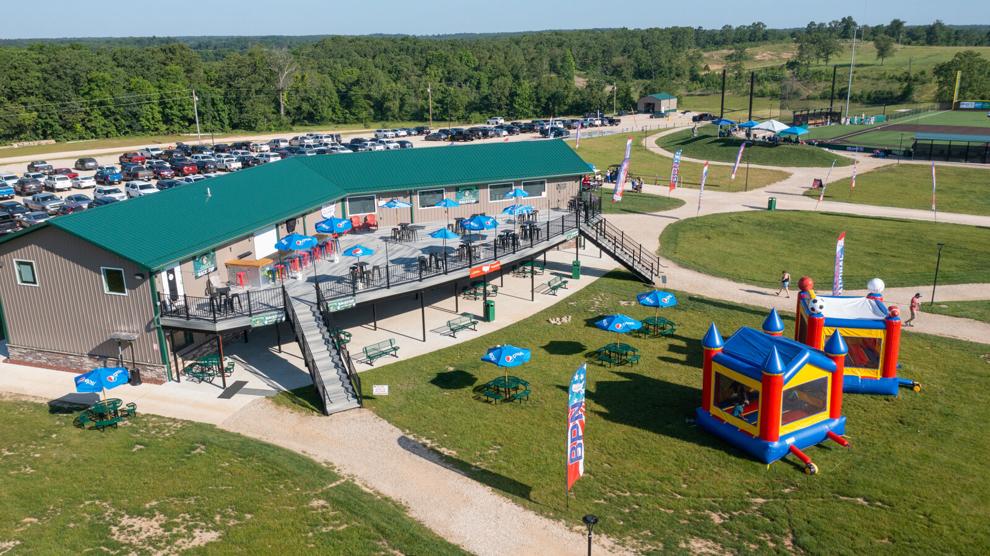 ATTENTION TO DETAIL & A COMMITMENT TO EXCELLENCE
No baking in the sun on metal bleachers; Ballparks National has custom-designed, tiered seating and hills on each field that were made for camping chairs, tents and blankets, which is what most travel ball families bring to games and prefer. Each of the five fields have a safe, pro-style layout and feel… the green padded backstop and sides give the athletes the atmosphere of a professional field. The fields are also spread out to prevent balls from other games coming onto the field and injuring someone.
The fields are sized for fun and excitement… kids love to hit homeruns and parents love to cheer for them. With fences 200-230' ft deep, they are perfect for all ages of softball and baseball up to age 12, and age 13 with wood bats.
The overwhelming theme behind the complex's design and operation is to go above and beyond the industry's standard and exceed expectations. Another example of this attention to detail is the not-so-typical dugout with big league-style front rail and seating, and they are angled towards the action, giving the prefect view of the pitcher. There is also a drink rail in the standing area just past the dugout for those nervous parents to watch and enjoy a beverage.
With a premier baseball and softball experience and plans to expand, it's not surprising that Ballparks National is bringing in a whole new demographic of future Lake-goers. Plenty of families who had never considered coming to the Lake are finding it, thanks to Ballparks National. They come to play ball, and they leave having fallen in love with the whole Lake area.
They'll be back.