Cole Anderson is a 22-year-old electrician's apprentice, former state mountain-biking champ, and avid fisherman obsessed with catching big bass on big swim-baits. Last weekend on Lake of the Ozarks, Cole reeled in a $100,000 fish.
It was his first time to visit Lake of the Ozarks, and he came equipped with KGB Swimbaits, his 2017 Tracker with a 60hp outboard ("That's all you need"), and a healthy dose of excitement about the chance to win serious cash at the AFTCO Big Bass Bash. The event is held annually in April and October on Lake of the Ozarks, but this year's spring Bash had been cancelled, and plenty of anglers—about 3,000, says organizer Charlie Terrell—spent last weekend frantically fishing Lake of the Ozarks. The Bash offers more than $250,000 in total payouts, with the money all hinging on catching a single big fish. The biggest fish of the weekend wins $100,000, and the top 35 fish from each of the weekend's eight weigh-in time slots also pay out, with the largest fish in each time slot winning $1,500 and the 35th-largest winning $180.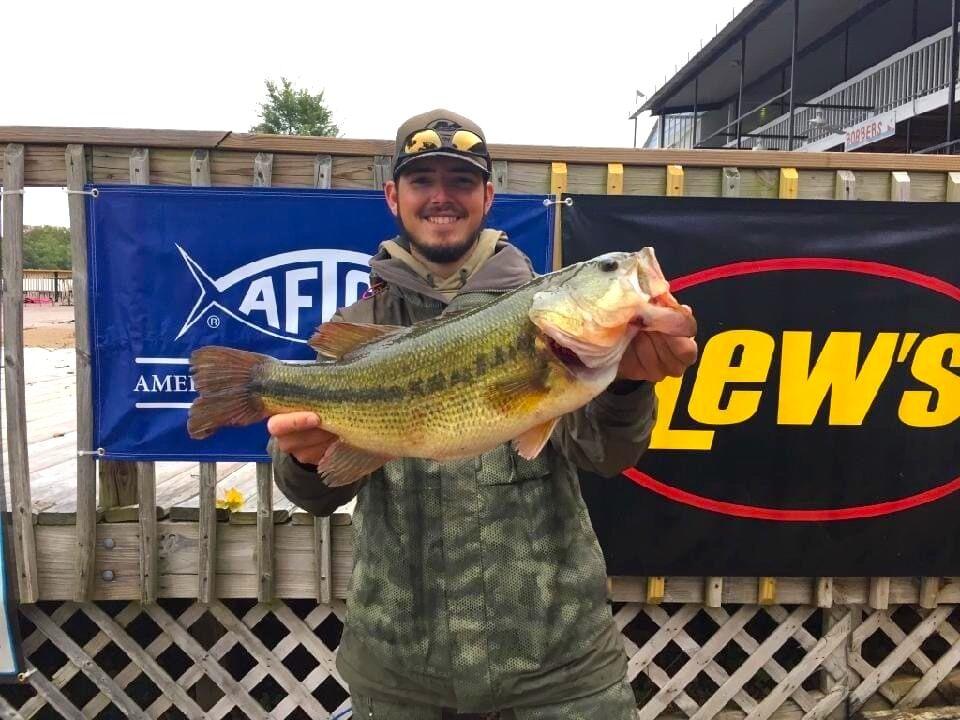 Cole and his fishing partner Brennan Banks agreed beforehand: they'd split all their winnings down the middle. So when Cole landed a 6.67-lb bass at 8 a.m. on Saturday (day one), they were thrilled when it won 1st place in the 7-9 a.m. time slot. The $1,500 paid for their entry, lodging at the Lake, fuel and travel from their home in Bentonville, Ark. "We had no idea that this would win," Cole said, adding, "We had thought we would beat that fish, when we caught it!"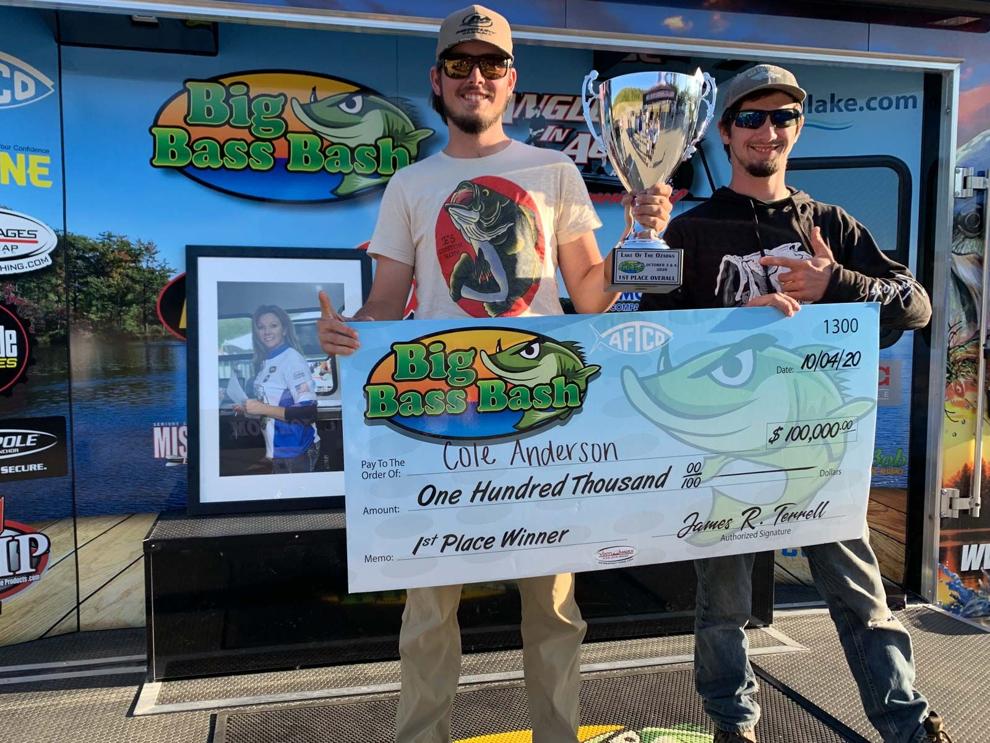 He follows a "go-big" school of thought when it comes to lures, so Cole is accustomed to landing lunkers. The KGB Swimbait lures (www.kgbswimbaits.com) are made by a friend of Cole's, Kevin Brightwell, a firefighter, avid angler, and lure-maker who can't keep his stuff in stock. Brightwell recently upgraded his shop; Cole says every time a fresh batch of KGB Swimbaits becomes available online, they sell out within a few minutes. For the tournament, Cole and Brennan mainly used the KGB Legend, a nine-inch glidebait they threw in shad patterns. Brennan caught a 5.92-pounder on Sunday with that bait, winning another $1,500 as 1st place in the 9-11 a.m. weigh-in slot. Brightwell was fishing the Bash last weekend too, and he won 3rd place in the 1-3 p.m. slot on Saturday, with a 5.45-pounder caught on the Legend lure. For anglers catching big bass on big lures, it's not about quantity, it's about quality.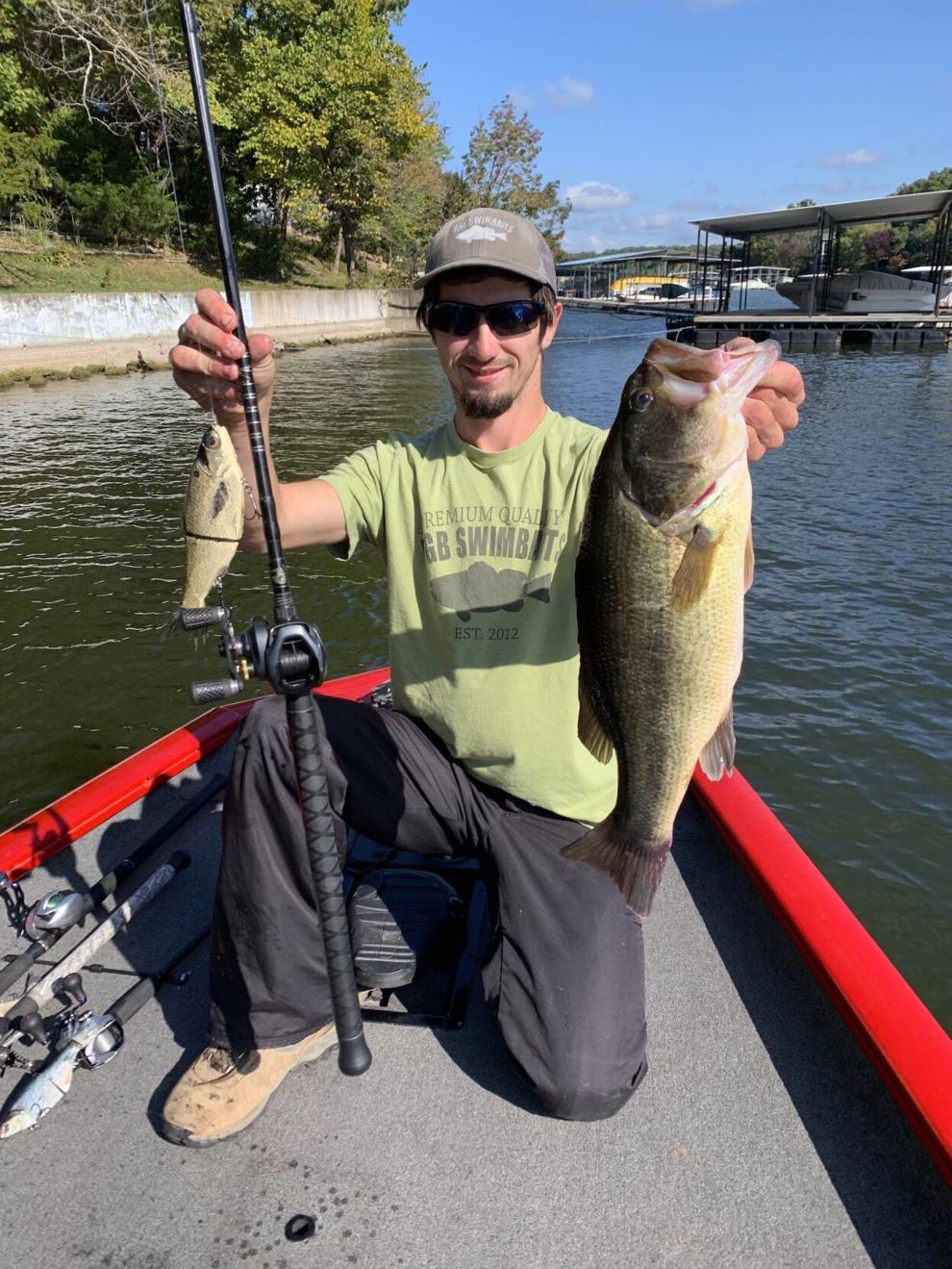 Cole has been fishing since before he can remember: he started at age two, on a farm pond in Iowa. After a mountain biking accident a few years ago, he decided to shift his energy away from that sport and more into fishing. A month or so ago, Cole says he caught a 10.5-lb bass in Texas; he says his biggest-ever bass tipped the scales at 12.56 lbs.
In recent history, bass in the 6.5-lb to 8-lb range have won the Lake of the Ozarks Big Bass Bash, so Cole's fish was certainly big enough. But still, he thought surely the seven-pounders would be rolling in, as the weekend fishing went on. Fortunately for Cole, he was wrong.
"It's all caught me so off-guard," Cole said, talking about the win. He thinks it all hasn't quite set in yet: this is by far the most money he's ever won in a fishing tournament. For Cole, fishing is largely about having a great time; but the money sure doesn't hurt.
Cole and Brennan split the winnings, and the timing couldn't have been better for Brennan, whose truck just went kaput. But for now, Cole plans to just hang onto his half. "I'm not that worried about the money," he said, adding he might set it aside until it's useful in furthering his fishing career. "I just want to be able to fish as much as I can, wherever I want."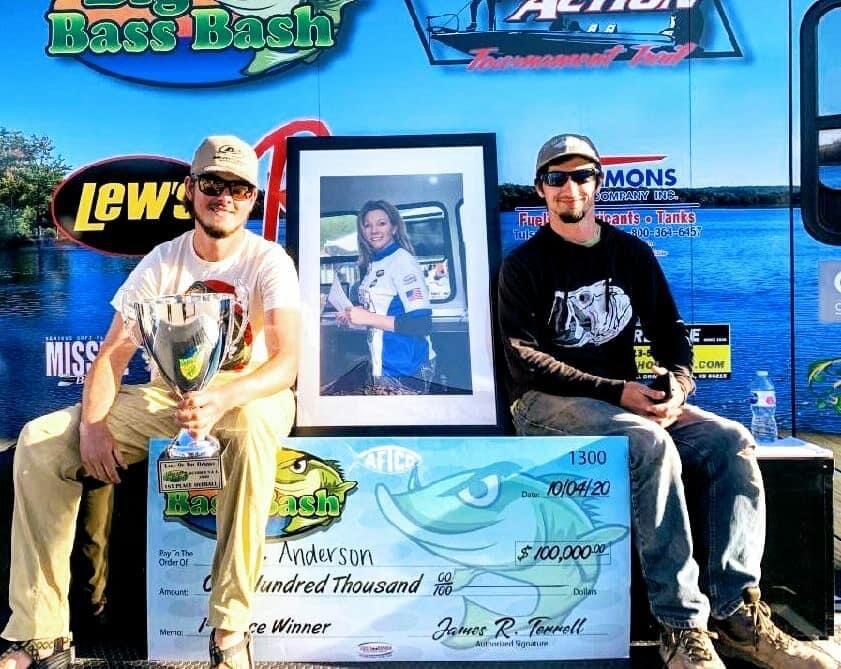 Thanks & A Memorial
"Everything went as good as it could," said Charlie Terrell, who organizes the event. Charlie emphasized his thanks the event's title sponsor, AFTCO, and the anglers who took part in the tournament. He added, "I want to thank Alhonna Resort, Red Oak Resort, Point Randall Resort, Ivy Bend Resort, for the accommodations and the weigh-in stations. I also want to thank Bassing Bob for all their help."
Charlie's family went into the weekend with a heavy heart: his sister Marie was killed in a boating accident on Lake of the Ozarks this summer. The driver of the other boat is now facing felony charges related to Boating While Intoxicated. Marie's absence was felt acutely last weekend, as she had always helped to organize the Bass Bash. Charlie voiced his thanks "to the entire fishing community down there for all the support and the condolences throughout the weekend."
A GoFundMe Page for Marie's husband and daughter—who were also injured in the boat crash—has raised over $100,000 for the family. A petition for justice for the family was also going around the participating anglers last weekend; Charlie said it has about 800 signatures on it. They plan to have a digital version of the petition on the Big Bass Bash's Facebook Page and website by the end of this week, for more people to be able to sign.