A new restaurant is coming to the Lake of the Ozarks Gravois Arm! Daddio's Soda Shop is a combination ice cream shop, burger joint, old-school boardwalk and classic American Dive Bar located on the 6.5 Mile Marker of the Gravois Arm. Decked out in red, white, and blue, Daddio's Soda Shop is celebrating the "old normal" approach with a simple mission to make the Lake more fun for everyone.
Jason Hughes was as an e-commerce executive working with large enterprises with their technology strategy and investments. When Covid hit, he was faced with a career change that prompted him and his wife Lisa to come down to the Lake of the Ozarks and open a soda shop.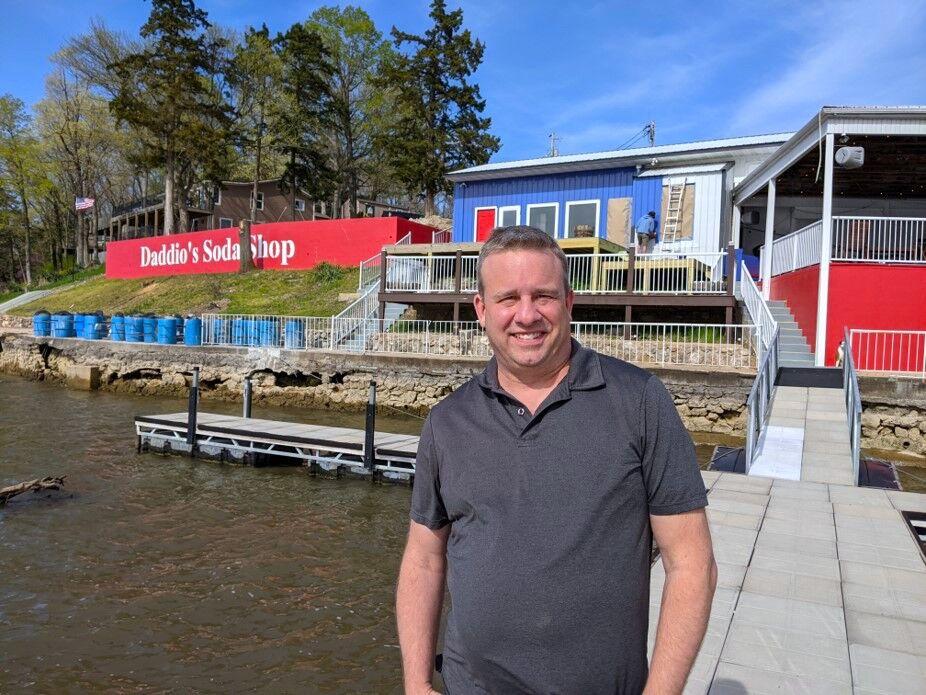 "I was simply done with corporate life. My career in technology required a ton of travel and it kept getting more and more complicated. Adding the COVID thing to the mix was the last nudge I needed to pursue an independent business and independent lifestyle. It's hard to change the world from the top because it's such a mess up there, but by working with local and independent people and providers, we can make this small place on our tiny peninsula what it aims to be – an authentic soda shop and American dive bar combination that makes the Lake more fun. I think everybody of all age groups will enjoy this place. It's designed for families like mine, where I can both take my kid and enjoy a cocktail while they are enjoying an awesome shaved ice; or I may just come with some friends and play some pool and listen to music on a world-class patio."
So in the midst of the lockdowns, Daddio's Soda Shop was born!  Jason and Lisa Hughes bought the building that is known formerly by locals as "The Dummy" or "Fishtails" on the 6.5 Mile Marker of the Gravois, just across the channel from Coconuts. With a new Americana yet modern look, Daddio's is bringing the best of a boardwalk and a soda shop, complete with a refurbished, 70's-era bumper cars ride that will appeal to the kids, and a full bar with frozen cocktails for the adults.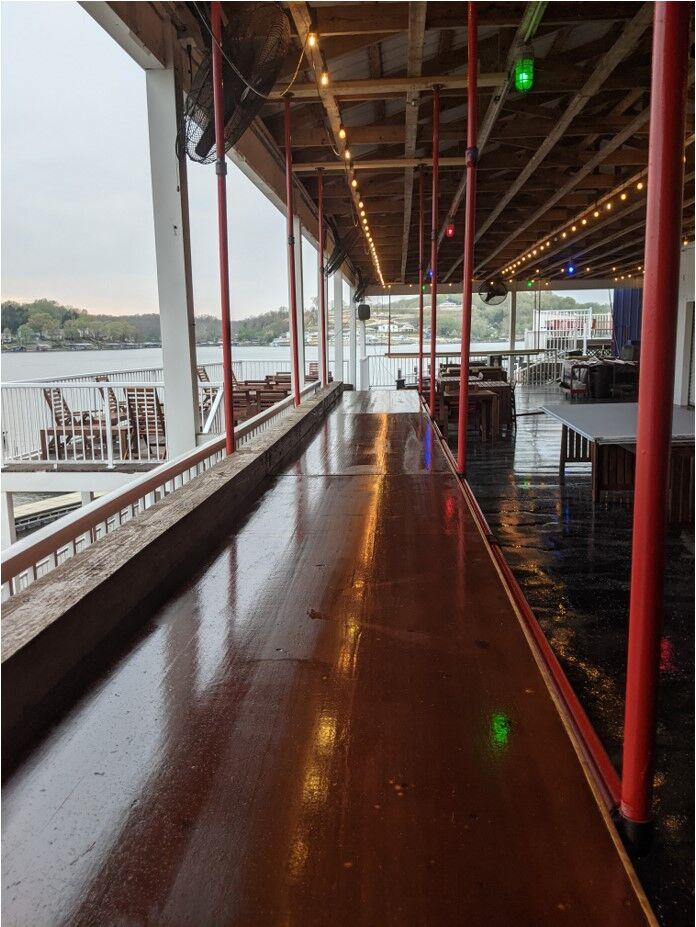 The dockside space delivers incredible views, comfortable patio furniture, and a stadium sound system that will invite local musicians to plug in and sound their best. The space is a world-class covered patio that now includes a sleek overhanging bar, providing stunning Lake views while you sip on your favorite drink as the kids munch on a shaved ice or ice cream treat.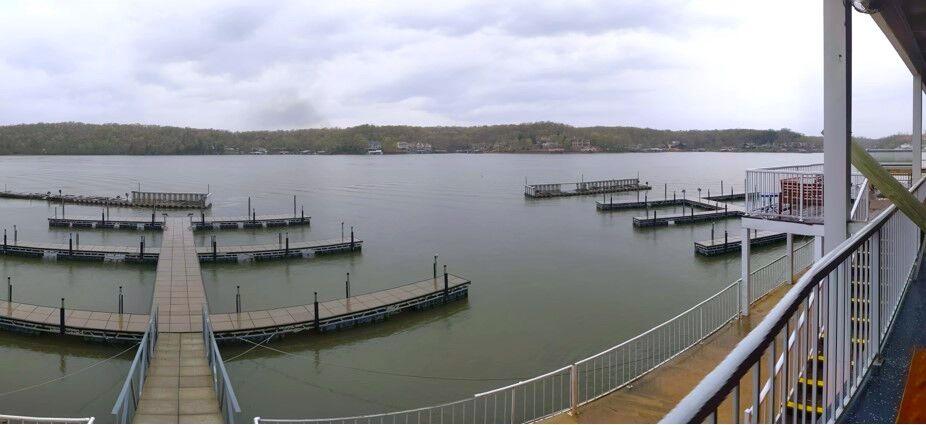 Early in the process, Hughes recruited two young chefs from Winter Park, Colorado that are experienced with whipping up Americana fare at a high level. "Judson Sherell and Wyatt Townsend are two up-and-comers with culinary skills that will get people charting course to our docks," Hughes said. "They are building a straightforward menu from simple ingredients and baking our buns and pretzels in-house and from scratch. Our burgers and bratwursts are are being sourced from independent producers. And the guys will be delivering a a variety of paninis and pies of the week among the core menu items. As the season progresses, they will be playing with 'Chef's Blue Basket' specials to mix it up a bit. The overall menu is designed to be simple, reasonably priced, yet elevated in terms of quality of the food we serve. We like to know where our food ingredients come from and we want to keep focused on local providers whenever feasible."
"Our side and stretch of the Lake is really hurting for a breakfast place," Hughes says he noticed when talking with people from the neighborhood. "So we decided to open at 7:30 and give people a solid option for good food, coffee, and a place to meet in the mornings. Our breakfast menu includes dressed waffles, paninis and breakfast burritos. Just simple good stuff throughout the day."
The "soda shop" side of Daddio's Soda Shop is a traditional ice cream and shaved ice stand, complete with a variety of toppings and syrups. Some of the treats will be made onsite and packaged for retail include fresh roasted nuts, kettle corn, and house made ice cream sandwiches. 
"Whether someone wants a full meal, an ice cream treat, a cocktail, or some packaged beer to go; there's something here for everyone. At the bar, we will certainly be concocting a variety of alcohol-infused ice cream and slushie drinks. It all works together. We want to do things simple, but at a high level in whatever we do."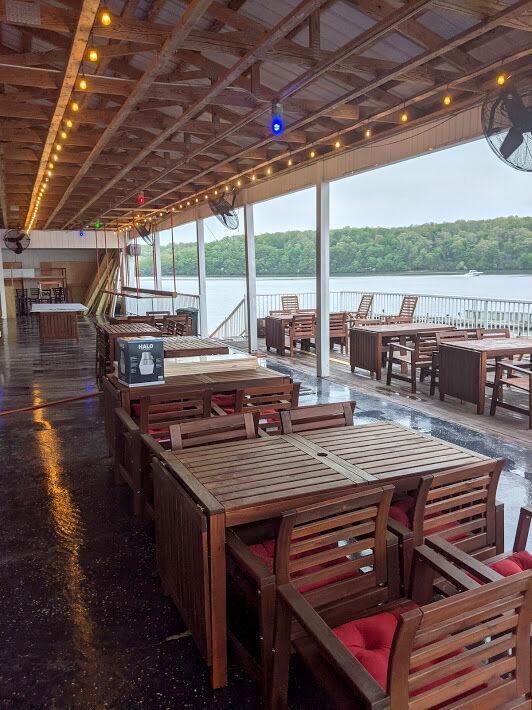 "The coolest thing about the Lake is that you can be both a family ice cream shop and an American dive bar in the same location, and it's totally cool for everybody and it works!" Hughes said. And he's right: the Lake is a place where all ages come to play and — especially at places like Daddio's — there's plenty of fun for everyone.
Daddio's has a soft-opening planned for May 10. They are currently finishing work on the wave breaks and sea wall to make it easier for boats to get in and out. The Bumper Cars should be operational by Memorial Day if all goes according to plan. To find more information about Daddio's Soda Shop as it unfolds, check out their website here: https://www.DaddiosSodaShop.com