It likely won't be visible from Lake of the Ozarks, but if you're in Iowa, you might catch a glimpse of the Aurora Borealis on Friday night.
According to the National Oceanic and Atmospheric Administration's (NOAA) Space Weather Prediction Center, a powerful geomagnetic storm due to a solar flare—known as a Coronal Mass Ejection—will extend the visible range of the Aurora Borealis into the northern U.S. The aurora may also be visible Saturday night across the region as well. View the NOAA's 3-day aurora forecast.
The Aurora may be visible in parts of Illinois too, though Michigan and Minnesota have the best chance of seeing it, among states in the Midwest. The geomagnetic storm caused by the flare is rated at G3, which is considered strong (on a scale of G1 – G5). G3 storms are also pretty rare, only occurring on about 130 days per 11-year solar cycle. During the strongest G5 storms—which only occur across an average of four days per 11-year cycle—the aurora has been seen as far south as Florida and southern Texas.
A G3 storm only poses minimal issues for electronics; the NOAA says it could cause minor voltage irregularities, trigger false alarms on some voltage-protection devices, and could have a small impact on HF radio propagation and GPS systems.
Want to see the northern lights? The further north you are, the better, for this Aurora Borealis viewing in the U.S., and this time around, Iowa is in the southernmost region of visibility. So it won't be like the photos you've seen of the northern lights illuminating Alaskan nights. But this solar storm has already lit up the atmosphere on Wednesday and Thursday night this week, and on social media some Iowans have already reported seeing the faint green lights on the horizon. The best chance will be between the hours of 9 p.m. and midnight (CDT), under clear skies and away from city light pollution.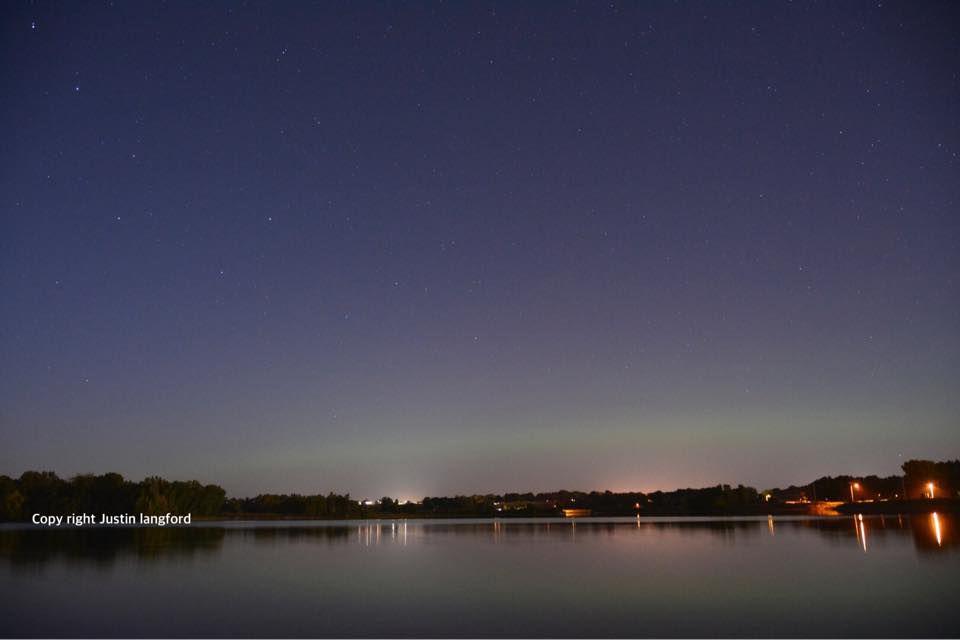 But the moon will rise around 9 p.m., so by midnight, its light could drown out any visible aurora. As for cloud cover, the National Weather Service forecasts partly cloudy skies for the Quad Cities area tonight, which means there's still a chance the lights will be visible. But with an overnight low temperature of 54 degrees, viewers might want to grab a light jacket if they plan on spending much time looking for the northern lights!