LAKE OZARK, Mo. — As creeks swelled with floodwaters across Missouri on Tuesday night, two people were saved from high waters, by Lake Ozark Firefighters, in the Meads Flats area north of Lake Ozark.
The Lake Ozark Fire Protection District (LOFPD) received an emergency 911 call at 11:50 p.m. on Tuesday, April 30 to a report of a car immersed in the water, at a low-water crossing on Cat Rock Drive, off Highway 54, in Little Gravois Creek.
According to Lake Ozark Fire Protection District Assistant Fire Chief Matt Birdsley, arriving units found a car that had been swept off a low water bridge during the flooding. The occupants who had been in the car were nowhere to be found. "The water was running very swiftly," Chief Birdsley said.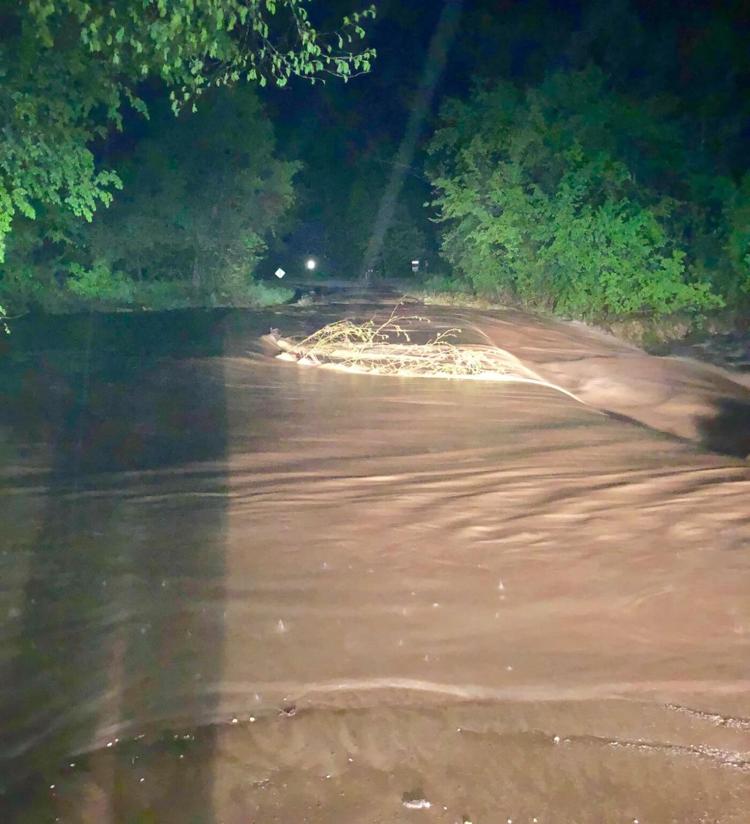 Swift Water Rescue Team Deployed 
The Lake Ozark Fire Protection District Swift Water Technical Team were deployed. The team set up an operational command center on the bank of the river and search was initiated to locate the missing victims: one male and one female passenger.
The Osage Beach Fire Protection District, Moreau Fire Protection District, the Eldon Fire Department, Miller County Sheriff, the Missouri State Highway Patrol, Osage Beach Ambulance and Miller County Ambulance all aided in the response. Eldon Fire Dept. Engine #1 assisted by setting up lighting on the V Road bridge downstream, in hopes of spotting anyone who may have been carried downstream.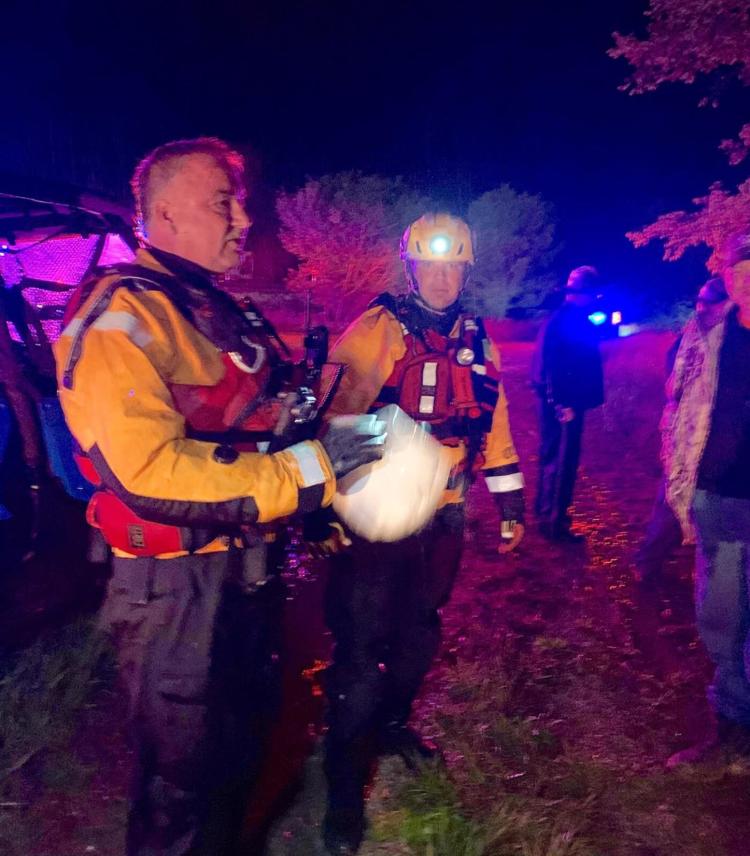 The Lake Ozark Fire's Swift Water Technical Team combed the water and walked the river banks in search of the victims. Four LOFPD personnel assisted the technicians in the water, and three Osage Beach Fire Protection District personnel assisted with the search in the surrounding fields, using a thermal imaging device. "We just purchased swift water equipment that was key in making this rescue a success," Chief Birdsley said.
The male was located first, sitting on the bank. He was evacuated to safety by the team. At 1:05 a.m., the woman was located by LOFPD Swift Water Technical Team Two, hanging onto a tree, downstream. Team two made contact with the woman, and team one performed a shallow water crossing maneuver, and loaded her into a stokes basket (rescue stretcher). She was then extricated from the rushing creek, and Lake Ozark Fire's UTV transported her to the ambulance. Miller County Ambulance transported the woman to Lake Regional Hospital with moderate injuries.
According to Chief Birdsley, the bridge was completely submerged under swift running flood waters. Crews had not located the vehicle as of the morning of Wednesday, May 1. "We will wait until the floodwaters recede, to continue the search to locate and remove the vehicle from the river," Chief Birdsley explained. 
LOFPD responded with five swift water technicians. All units cleared the scene at 1:45 a.m. No EMS personnel were injured in the incident.
"This is exactly the reason why motorists should not attempt to cross a road or bridge that has moving water on it," Chief Birdsley reminded. "Turn around - don't drown."