LAKE OF THE OZARKS, Mo. — A line of severe thunderstorms and 45 to 60 mph winds toppled trees, overturned docks and knocked power out on Saturday afternoon at the Lake of the Ozarks.
The wild weather on Saturday had people at Lake of the Ozarks buzzing about the possibility of a tornado, but nothing has been confirmed yet. "There are no official reports of tornados at the Lake of the Ozarks at this time," NWS Meteorologist Eric Wise said at 9 p.m. on Saturday evening. "We will do further investigation." 
Wise said heavy rain lead an edge of strong winds that moved swiftly through the lake area in a matter of minutes. "The rain did not last long enough to cause flooding," Wise noted. There were also several reports of water spouts at the Lake and hail in Lebanon, Mo.
Overturned dock
Jana Smith took a picture of a dock across her cove at the 31 Mile Marker in Sunrise Beach. "I saw a water spout lift the dock up out of the water and twist it," Smith said. "I ran to the basement after that." A boat and two jet skis were on that dock. She also reported the windows were blown out of a home located on the point in her cove. "Co-Mo Electric said it would be awhile before power is restored," she said, adding, "Everyone is safe." Another neighbor on the 31 Mile Marker said his jon boat was blown off his dock. Several people posted on social media that they suspected the damage at the 31 Mile Marker was caused by a tornado.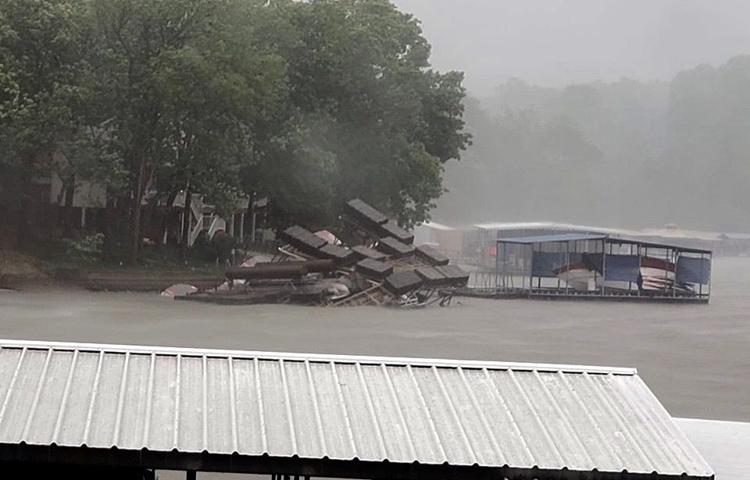 Damage at Camp Bagnell 
The Miller County Sheriff's Department also reported storm damage at Camp Bagnell in Eldon, Mo. Brittany McGinnis took a picture of that damage. "I was at work," Brittany said. "At first, all you could see was debris flying around. All of a sudden it picked up and things started flying everywhere. Trees were broken, mailboxes were picked up and scattered. There is trash everywhere. Some of the campers were damaged too," she said. There were no reports of injuries at this location.