-
With a view to stately sails gliding upon the water and sunlight glistening on a quiet cove, Ozark Yacht Club (OYC) beckons both members and the public. OYC serves delicious foods from the kitchen stylings of Chef Chris Whitehurst, now in his 3rd year at OYC's Lakeside Café, which has been redesigned and expanded for the 2018 season.
Ozark Yacht Club is tucked into Jennings Branch Cove, on the 1 Mile Marker by water, or at 500 Yacht Club Landing in Lake Ozark, by land. Featuring black and white checked floors under sleek black furniture, the new space is bright and inviting. Walls rise in soft gray to new chandeliers evoking a ship's anchor. Accent walls are in vivid royal blue as are the walls of an expanded kitchen, redesigned for better workflow and transparency. Guests can watch their food being prepared, if they wish, or they can enjoy views of yachts and sailboats anchored in the cove. 
Lakeside Café now offers more seating, and with a more efficient floor plan in the kitchen space, diners can expect shorter food preparation times. Chef Whitehurst's menu features fresh ingredients and made-to-order items.
One breakfast feature is a daily treat: All You Can Eat Homemade Biscuits and Stiglmeier Sausage Gravy for $7.99. The dish consists of two biscuits, baked to a golden, flaky finish, as the base for creamy sausage gravy.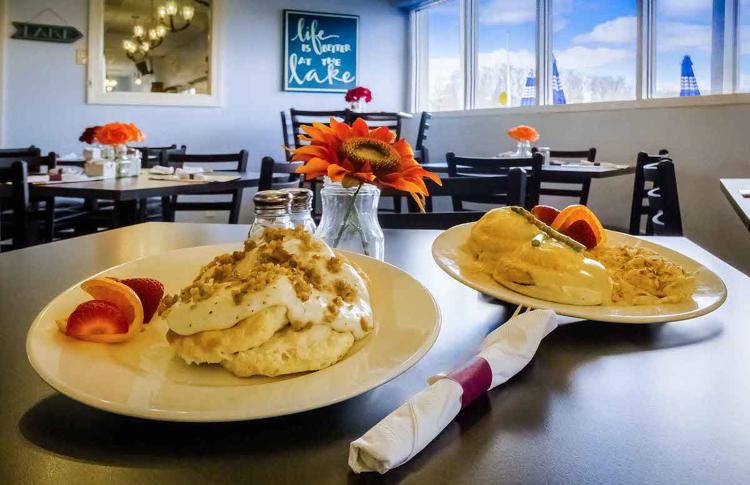 Eggs Benedict, tweaked the Whitehurst way, start with garlic-butter-toasted English muffins. Honey-brown sugar ham steaks, cut on site, top those muffins, lending substance and salty goodness below a creamy, lemon-yellow Hollandaise. Accenting the generous serving are asparagus spears sautéed in garlic butter. Fresh-cut (and never-frozen) hash browns and fresh fruits in season complete the dish.
For lunch, Lakeside Café serves a Caribbean Salad with a Caribbean Mango vinaigrette. Candied walnuts add texture while sliced strawberries and blueberries add sweet, garden flavors to the fresh greens. Feta cheese crumbles deliver creamy, rich protein.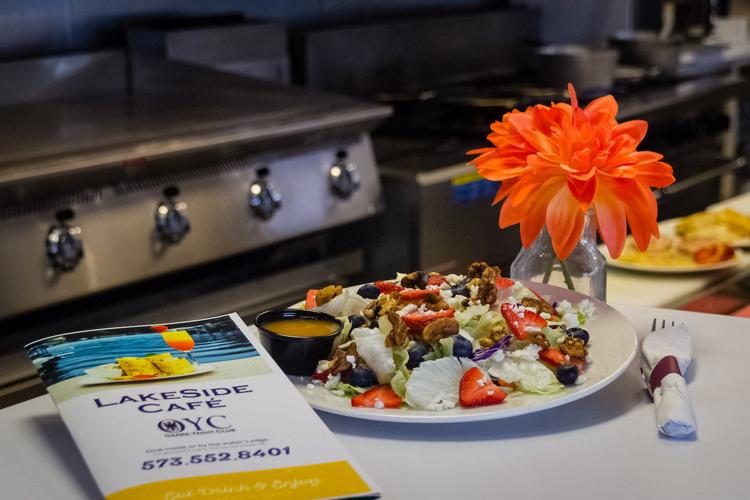 Returning in 2018 is Lakeside Café's most popular lunch dish from 2017: Torpedo Tacos made with grilled whitefish as well as Lakeside's unique homemade slaw, chipotle aioli, and Sail Away Salsa. That salsa, featuring a medley of berries, mango, kiwi and apples lightly sweetened, is available as an appetizer, too. 
Chef Whitehurst's Bang N Shrimp will also be back for the 2018 season. This menu item blends lightly battered, fried shrimp with a South-of-the-Border sauce to deliver a spicy, tasty kick.
OYC's new General Manager, Brian Thompson, helped redesign the new Lakeside Café. With an extensive background in cross-managing multiple services, including marine services, personnel management, and restaurants, Thompson has the right stuff for the many amenities offered by Ozark Yacht Club. These include social memberships to meet individual needs and interests, a heated pool and patio, a private sandy beach and play area, a fitness room, and boat rentals. Foremost among the amenities is the Lakeside Café with new décor for the same excellent foods overseen by Chef Whitehurst.