Boaters at Lake of the Ozarks love cruising right up to a dock and stepping on land for lunch or dinner. 
Waterfront hotspot Shorty Pants Lounge and Marina has been a boaters' favorite for years: the Cajun food is second-to-none, and boaters say Shorty Pants' gas dock is the best at the Lake.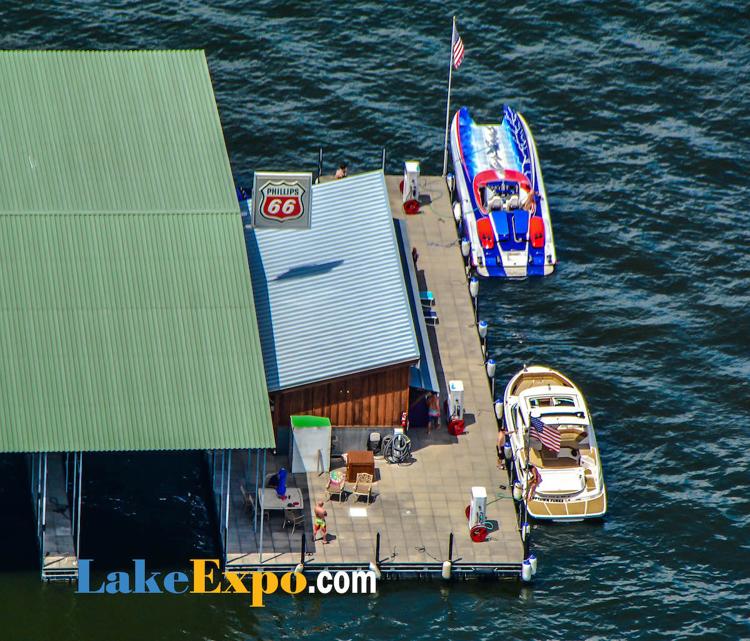 General Manager Lance Marler says that's thanks to owners Mark and Brian Barrett. They deliver excellence. They also pitch in whenever and wherever there is a need, whether they wield a wrench or a platter of fine foods in the Cajun and Creole style. The Barretts work shoulder-to-shoulder with staff to build a close-knit team. Their enthusiasm infects customers, too. "Positivity is contagious," says Marler, and it brings customers back season after season.
Shorty Pants invites customers to dine on an expansive deck, with high-top tables offering unobstructed views of the Lake. Patrons can opt for a cozier setting near the wood-burning fireplace, with a roof overhead, but even that is open on one side and affords a fine view of the water. 
Chef Scott Munsterman makes the Shorty Pants kitchen go. He learned the art of food flavors and presentation through decades in local restaurants and has worked with the Barretts for 20 years: first at Dog Days, then at Wobbly Boots. Now he's Executive Chef at Shorty Pants where he's developed its signature Cajun-Creole cuisine, thanks in part to a New Orleans mentor and chef who trained Munsterman in traditional spices and ingredients. Since then, Munsterman has embellished and adapted those traditions to create a cuisine that is unique and excellent.
At Shorty Pants, diners can expect fine Cajun-Creole cuisine in a casual setting. Blackening spice blends and sauces are made on site in the Shorty Pants' kitchen and the food is, of course, made fresh, when ordered.
A popular appetizer is Alligator Eggs, a tasty twist on cheese-stuffed jalapeños. The peppers are plump and large, with a spicy kick. Inside is a blend of four cheeses, nicely balancing the jalapeño's Scoville (heat) score. Surrounding the pepper is thinly sliced prosciutto that brings a salty note to the stuffed pepper. A sweet Raspberry Habanero dipping sauce accompanies the pepper platter for those who crave a sweet finish with spicy foods.
Shorty Pants' crab cakes are also a hit: made with shrimp and lump blue crab bound together in a hearty cake with bread crumbs. Two large cakes arrive at the table under a seafood sauce of heavy cream, rich and smooth, characteristic of the French influence in Creole cooking.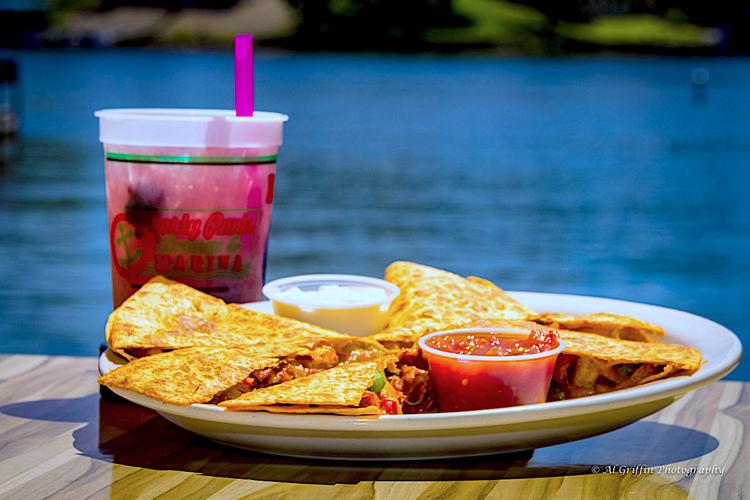 The Signature Dish: The Creole Quesadilla
The Signature Dish featured for the 2017 season is The Creole Quesadilla, fusing Mexican and Cajun cuisines. In both cultures, with ports and waterways open to the sea, shrimp is a common ingredient, but the shrimp flavor at Shorty Pants is far from common. It bursts with salty tastes from the sea.
Completing that substantial seafood filling are a mild Andouille sausage, direct from Crescent City, Louisiana in the heart of Creole country, and crawfish tail meat, packed with earthy flavors. Together the meats represent the best of sea, fresh waters, and land.
Sautéed onions and peppers add sweet, buttery flavors to the three protein ingredients while blackening spices and good, melted pepperjack cheese add zest. A tomato tortilla provides the top and bottom for this satisfying fused Creole Quesadilla with sides of sour cream and salsa. It's a full platter, sized to share as an appetizer or as an entrée for those with a giant appetite.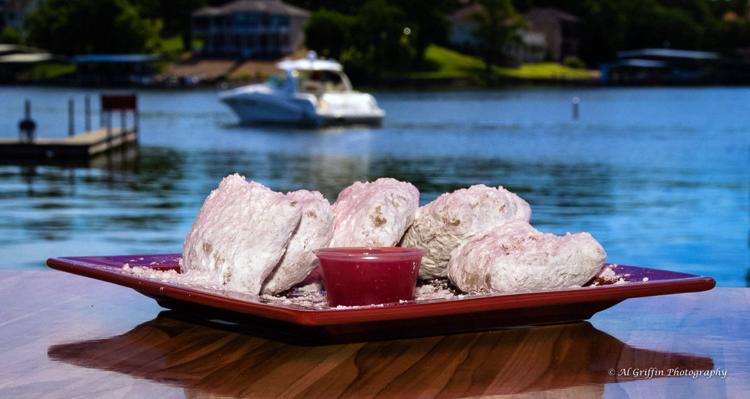 For dessert or anytime-indulgences, Shorty Pants makes the French inspired, New Orleans pastry known as beignets. Cutting into one, diners will find light layers resembling puff pastry. Outside, however, is a blizzard of powdered sugar, and on the side, a raspberry dipping sauce that heightens the sweet sugar because of the raspberry's tart notes. They make a delicious start or finish to a meal at Shorty Pants.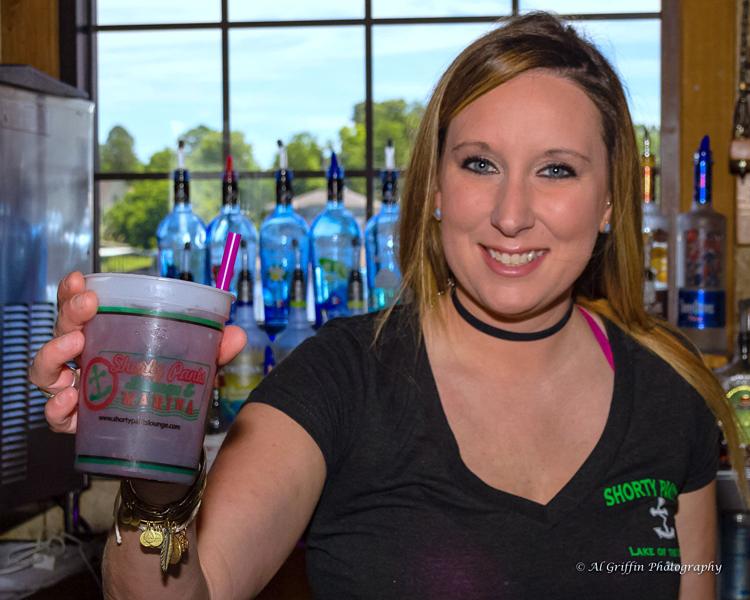 The Signature Drink: Blackberry on Beale Street
A summer berry well known at Lake of the Ozarks is the blackberry, and it's the star in the featured drink for Shorty Pants Lounge and Marina in 2017. Prepared by Bartender Courtney Johnson, the Blackberry on Beale Street begins with muddled blackberries, simple syrup, freshly squeezed lime juice, and Deep Eddy's Ruby Red Grapefruit Vodka. 
Poured over that sweetened, but tangy base is a 50-50 blend of Freixenet Blanc du Blanc sparkling wine and a citrus soda. The result is a memory of summer's goodness, fresh and refreshing all at once.
Shorty Pants Lounge and Marina's Experience
People arriving at the 21 MM by boat will find a welcoming marina selling gasoline in two grades and diesel, and nearby, a fully stocked convenience store. And just up the walkway: fine dining in a casual setting.
By car, Shorty Pants is easy to access, off Highway KK and Three Seasons Road. Multiple vacation rentals are within walking distance of the restaurant.
Open for lunch and dinner daily at 11 a.m. through the season, Shorty Pants's authentic Cajun-Creole menu offers gumbo and jambalaya along with appetizers, soups, burgers, Po Boys, tacos, and salads with an international flair, thanks to Chef Munsterman's adaptations of the world's cuisine. The chef's mission--indeed, Shorty Pants' mission--is to please individual customers consistently with beautiful food and unexpected flavors.
On Tuesday, Friday and Saturday nights, Shorty Pants amps up the entertainment with live music accompanying fine foods. Every day and every night, the service is personal and efficient. Everyone at Shorty Pants wants customers to feel comfortable and welcomed. Awards and reviews prove Shorty Pants is achieving its goal to be the Lake's finest waterfront dining destination with a casual, comfortable vibe.