I've been to Paradise Bar and Grill with friends a handful of times over the years and have always thoroughly enjoyed myself. They frequently provide live music, and the friendly staff, three bar areas, and energetic atmosphere ensure that nighttime patrons have a great time. However, the mission of my most recent visit wasn't to have a fun "girls' night out" – it was about absorbing all that Paradise has to offer its guests (ESPECIALLY the exceptional food and specialty drinks), so this time I saw it from a different perspective.
The amazing view that Paradise provides is second to none. No matter where you sit or stand on their ample deck space, you're guaranteed to have a majestic backdrop to enjoy with your experience.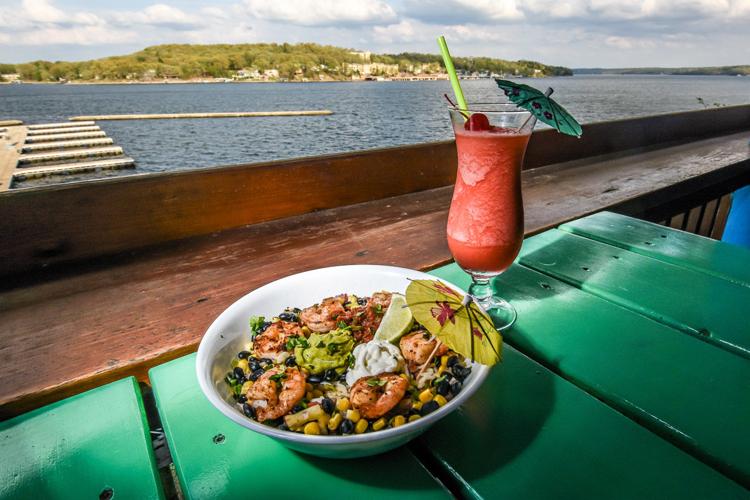 Though Paradise has phenomenal food, uniquely delicious drinks, amazing atmosphere and live music, the staff is what made my visit especially enjoyable. They treated me like they had known me for years and really helped to create a friendly, comfortable environment. Not a single employee walked past me without smiling and saying hello. 
If you're familiar with the restaurant, you'll notice Paradise's VIP room is being revamped and moving down to the lower bar area, which will allow more room, for more people, in a more ideal location. In place of the former VIP room, there's now a game room! Being a mom, I was thrilled to see this. A place built for kids to enjoy makes parents even happier, because a night out on the Lake is so much better when everyone is having a good time!
Here's what I got to taste from the food and drink menu at Paradise (and what I highly recommend!)...
(Click here to view the full menu)
With a view of the water, there's nothing better than surf-and-turf, and at Paradise, they call it "King's Ransom." A truly luxurious meal, the King's Ransom boasts a perfectly prepared filet served beside a cold water lobster tail. Head chef Larrisa Cook pairs this delectable entrée with garlic mashed potatoes and fresh, seasoned green beans.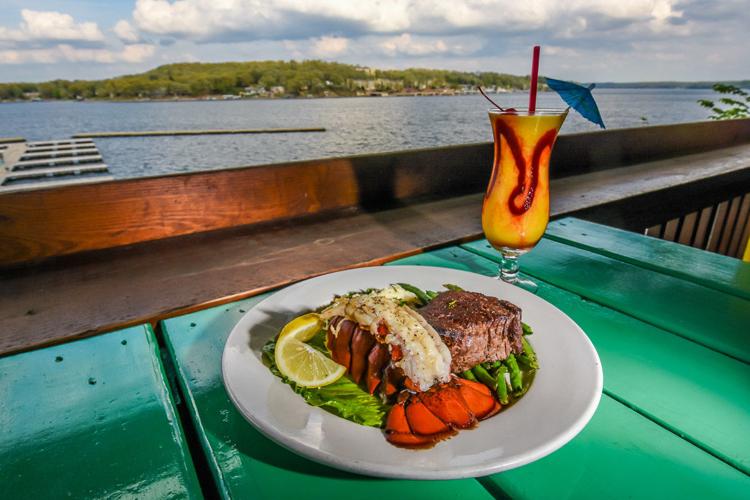 The fork-tender filet and meaty lobster tail both burst with flavor and practically melted in my mouth. The side items that Larrisa selected were the perfect choice as well. I absolutely love mashed potatoes, but these were probably the best I've ever had. Just enough garlic is used to give them an extra zing while not being overpowering. I'm not typically one to get excited about green beans, but Larrisa's were fantastic. She used just the right amount and combination of seasonings to make them just as appealing as everything else on the plate.
But if you're looking for something other than the priciest (yet so-worth-it) item on the menu, I also fell in love with the Baja Shrimp Bowl. The portion size is stunning. And the bowl explodes with flavor and colors: a rainbow of bright and fresh elements can be both tasted and seen. Here are the rest of my ravings on the Baja Shrimp Bowl.
But such a colorful meal calls for colorful drinks! General manager Josh Vogt was training his new bartender Dustin on how to make several of Paradise's specialty frozen drinks, and he invited me to sit with them and sample some of Dustin's handiwork. 
Dustin slid across the bar a wild-looking frozen drink: the "Jamaican Ten Speed"! It's a combination of Malibu coconut rum, Hiram Walker Melon Liqueur, Banana Liqueur, fresh banana, coconut, and pineapple juice blended with ice. The Jamaican Ten Speed is similar to a piña colada, but the addition of the melon liqueur adds a little extra pizzazz to the ordinary classic.
And though the "Jamaican Ten Speed" was absolutely delicious, I got to taste another that I enjoyed even more. Paradise's signature drink, "Nectar of the Gods," is… well… like a peach party in your mouth! Made with white rum, Hiram Walker Peach Schnapps, and mango that's blended with ice and drizzled with strawberry puree, its name does it perfect justice, because it definitely tastes like heaven.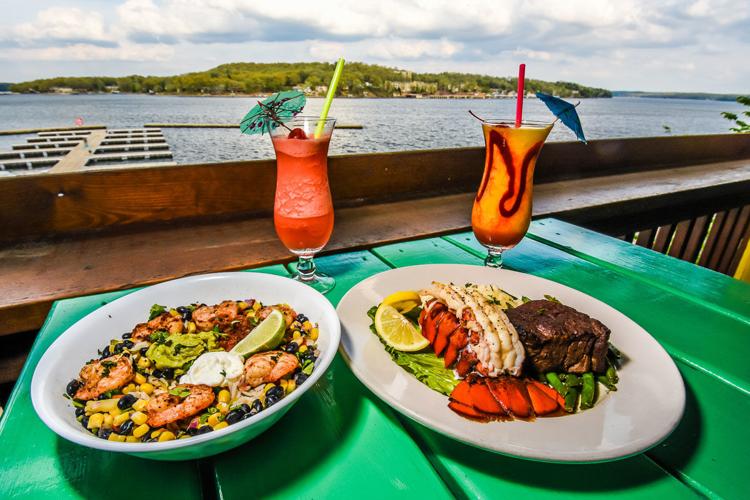 Whether you live at the Lake of the Ozarks year-round or are a vacationer, if you've not been to Paradise Bar and Grill, it's time to put this one on the short list! Visit once, and you'll keep going back.