Open-air seating on a deck above Bagnell Dam Boulevard at Tucker's Shuckers Oyster and Tap is just the view George Tucker had in mind when he began working on the new restaurant on The Strip in 2015.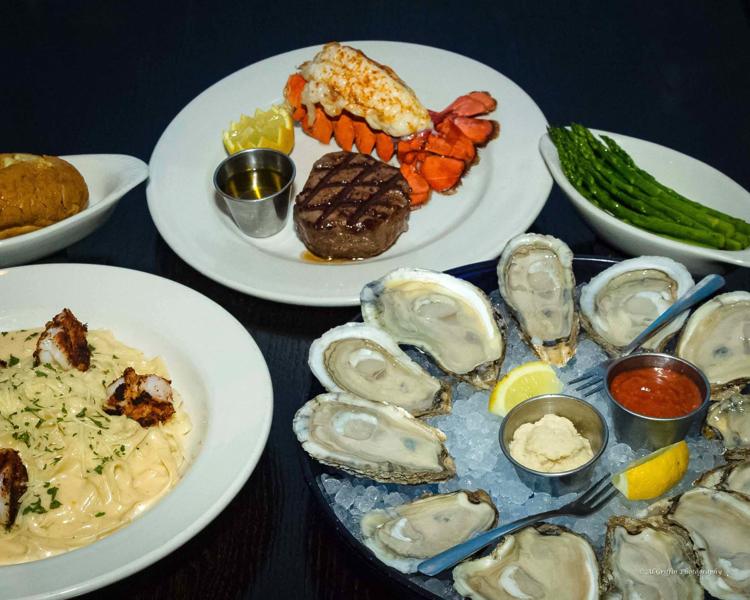 The deck provides a unique look at passing parades along the Strip below, and in some seasons, guests can see the Lake of the Ozarks through treetops across the way. Since it opened, Tucker's Shuckers has become a year-round destination for fine dining, good times, and celebrations.
Inside, managing the kitchen since January 2018 is Chef Chris Bond, an Illinois native who relocated to the Lake after graduating from Apicius Culinary School of Florence (Italy). He was sous chef for one year, then head chef for two at another Lake restaurant. Now he delivers Tucker's extensive menu featuring fresh seafood, burgers, sandwiches, salads, and steaks handcut in house. He also delivers the flavor and high standards that customers have come to expect from Tucker's Shuckers.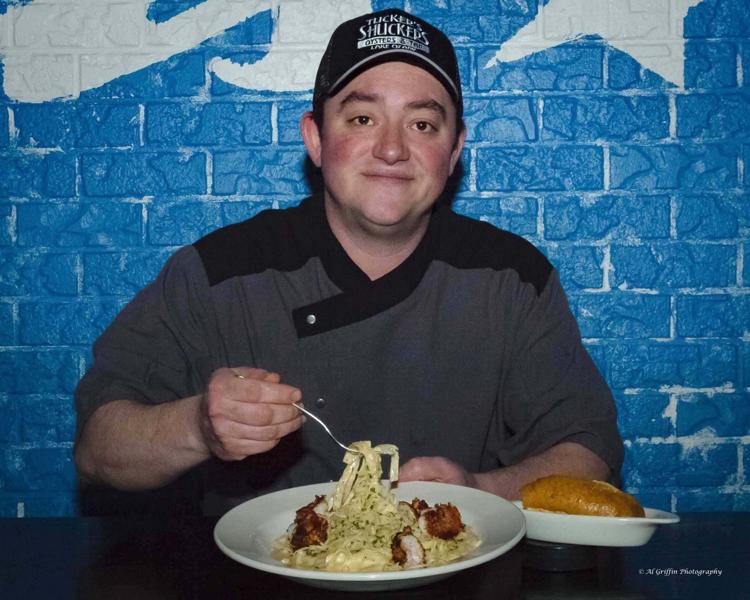 The Tucker's Shuckers Oyster and Tap Experience
Customers count on 28 beers on tap when they choose Tucker's Shuckers. They can even sample four by choosing a Tucker's flight. For $8, a guest can choose four beers, each served in an 8-ounce glass. From those four, he is likely to find a favorite.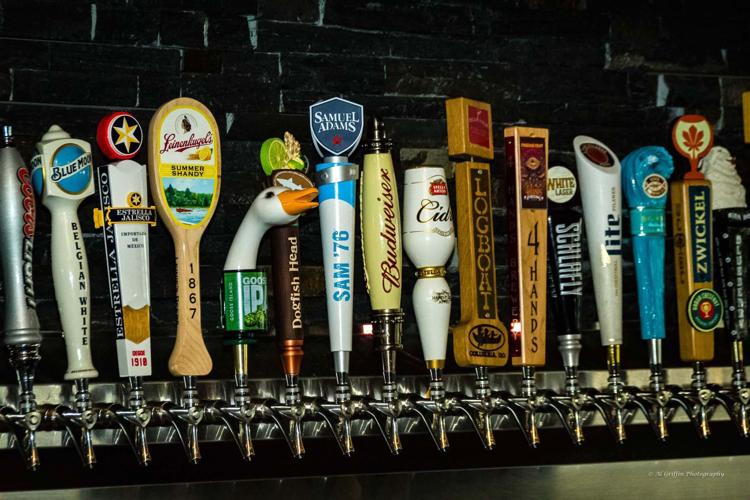 Servers are also well-versed in the brews on tap and will guide customers to different styles, if asked.
Above all else, customers know Tucker's Shuckers serves fresh seafood, including featured oysters when available. These could be the House oysters from the East Coast, Pink Moon oysters from Prince Edward Island, Canada, or Totten Inlet oysters from Washington.
Tucker's Shuckers' Happy Hour, Monday through Friday from 3:00 to 6:00 p.m., is an opportunity for customers to enjoy specials for the day at half-off. On "Steak Tuesdays," between Labor Day and Memorial Day, Tucker's features an 8-ounce sirloin aged 21 days. On Thursdays, Tucker's Shuckers promotes its seafood boil all day.
The Tucker's Shuckers' experience is also an intersection of fine dining and fun. On Friday and Saturday nights, live music adds to the party happening year-round on the Bagnell Dam Strip.
Tucker's Shuckers' Signature Dish: Surf and Turf
The name of the restaurant includes "oysters," and oysters are Tucker's Shuckers' specialty without doubt. A dozen East Coast oysters on the half shell with lemon and housemade horseradish cocktail sauce is a complete meal or an appetizer to share and savor. Extra horseradish on the side allows customers to amp up the aromatic spice to taste.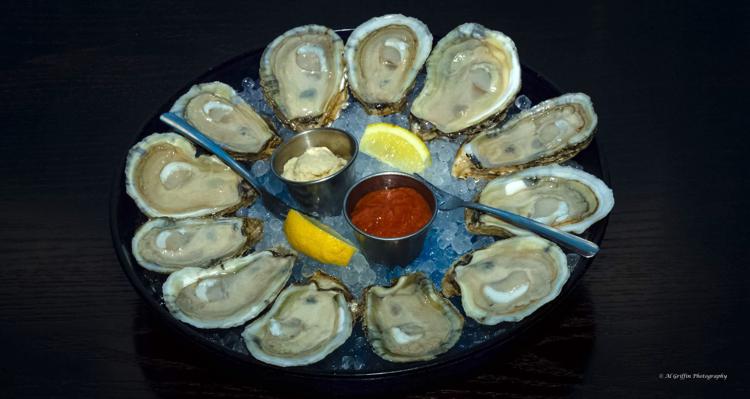 An entrée to savor, too, is the rich and elegant Surf and Turf, starring a North Atlantic lobster tail, its shell robust and beautifully fanned for dining pleasure. An eight-ounce center-cut, tender filet completes the feast.
Even without dipping pieces of lobster into drawn butter on the platter, each bite is rich and delicious. The filet just enhances the lobster as it enhances the beef. On the side is a generous serving of asparagus, heated and tenderized in olive oil, salt, and pepper. That vegetable highlights how fresh the entire entrée is.
An equally rich choice on the menu at Tucker's Shuckers is Blackened Shrimp Alfredo. Both pasta-lovers and those who eat for the spicy heat will enjoy this one. It's creamy with a Cajun-spice kick on the blackened shrimp and stirred into the Alfredo sauce. Make your own at home with Chef Bond's recipe.
Tucker's Shuckers' Signature Drink: Bloody Shuckin' Mary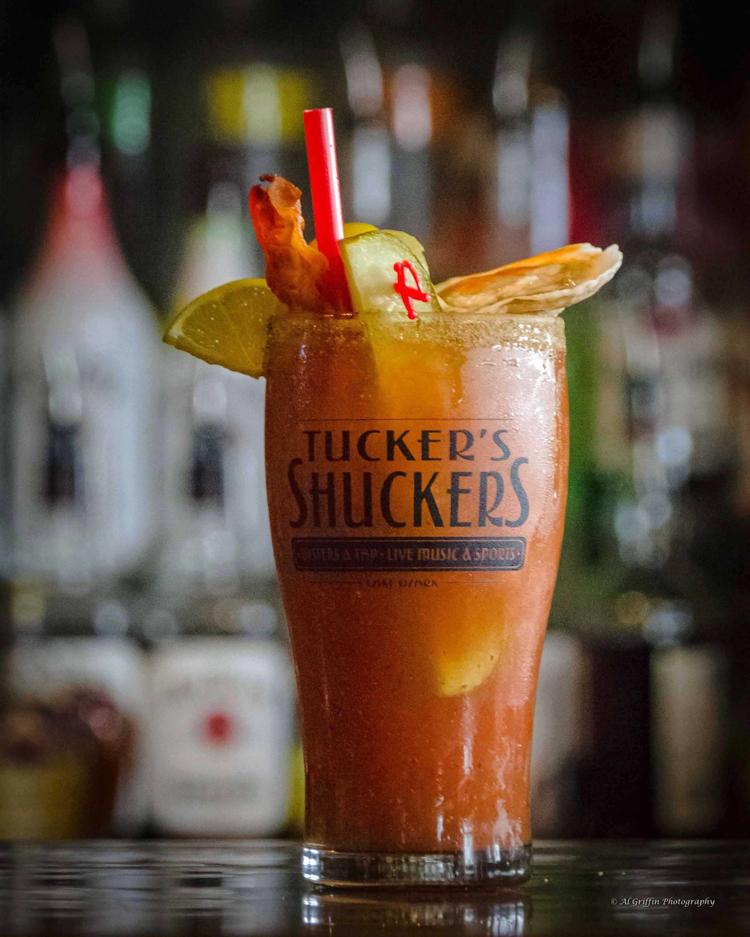 The restaurant and bar's signature drink delivers a spicy kick of its own. Made with Zing Zang Bloody Mary mix and topped with a splash of Tabasco on an oyster floating in a sea of vodka, the Bloody Shuckin' Mary is a zesty thirst-quencher--even a meal in a glass when the pickle spear, green olives, and a whole slice of bacon bobbing in vodka are taken into account. A celery-salt rim completes the flavors that Bloody Mary fans expect.
Make Your Own – Bloody Shuckin' Mary Recipe 
These aren't just plain ole' cocktails. Tucker's Shuckers bartender Tommy Taylor is mixing u…
Another Tucker's Shuckers' customer favorite is the Mango Habeñero Margarita, made with a simple syrup delivering sweet mango notes and habeñero heat. A mango-infused salt rim adds to the pleasure.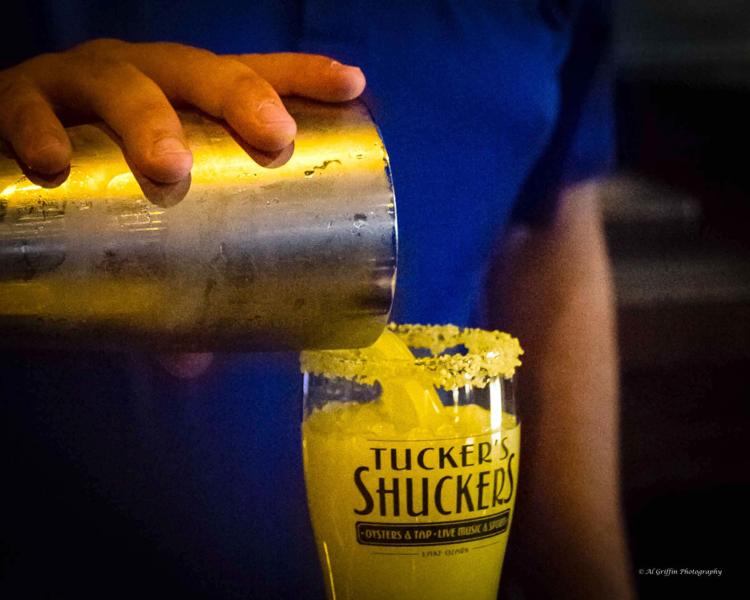 That salt rim was inspired by Bar Manager Tommy Taylor. He requested a sweet touch of mango at the lip, and Chef Bond delivered. With nearly ten years' experience in Lake of the Ozarks restaurants and bars, Taylor has learned that special touches enhance the customer's experience. For this Eldon native, a great customer experience is his job, and he enjoys it.
--
Tucker's Shuckers is located on the Bagnell Dam Strip, at 1339 Bagnell Dam Boulevard, Lake Ozark, MO. Check out their menu.