The grand Lake of the Ozarks inspires people to return year after year. Sunlight dancing on the water's surface or painting it in fiery colors at sunset hold an unending allure.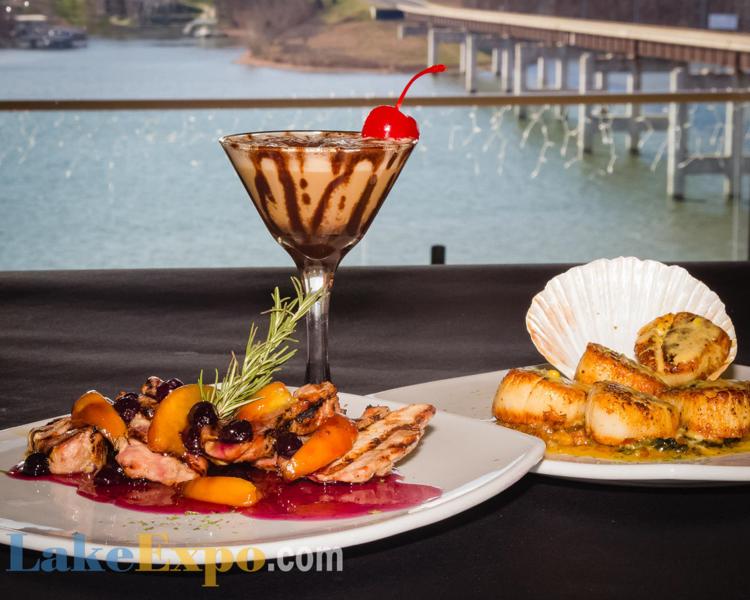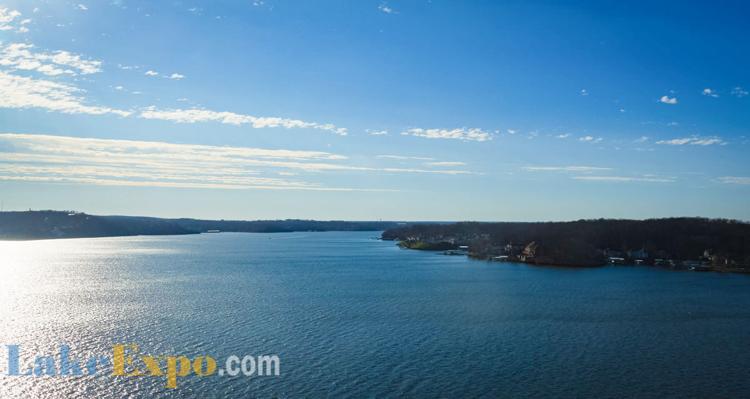 JB Hook's in Lake Ozark serves up those spectacular, panoramic views of the Lake every day, alongside excellent cuisine, to craft memorable dining. Chef Bill Ferguson believes that is quite simply what the restaurant does better than any other, and his colleagues Heather Smith at the bar and Gina Garriott, Assistant Manager, agree: JB Hook's enriches all the riches at Lake of the Ozarks.
Signature Dish at JB Hook's: Scallops Rockefeller
Chef Ferguson is a native who learned his craft in Lake kitchens. He credits JB Hook's with training him in the art of fine dining, and he took those lessons to heart while serving as a prep cook several years ago. He worked his way up through the ranks and will celebrate four years as head chef in May 2018.
Make your own award winning Scallops Rockefeller with this recipe. 
Enjoy a taste of JB Hook from the comfort of your own home? Try your hand at Chef Bill Fergu…
One of the first menu items to which Ferguson added his own touch four years ago was Scallops Rockefeller. It is still a favorite, thanks in part to the quality of the scallop as well as the preparation. JB Hook's uses fresh, never-frozen scallops flown to Missouri daily, never treated with chemicals to retain their freshness. This difference ensures the most tender, tastiest scallop, enhanced by Ferguson's choices in spices and sauce.
A Sweet Vermouth Cream Sauce provides a base for the Scallops when presented at the table. A fresh, bright Hollandaise adds both color and tanginess to a scallop with a refreshing touch of the sea in every bite. Served on a seashell, the entire dish seems fit for Neptune and Ariel. It's an elegant dish filled with excellent flavors.
Every entrée at JB Hook's is a multi-course meal beginning with Lahvosh Crackers served with smoked tomato-basil cream cheese. Diners then choose between a salad or soup and a side of potato, vegetable, or rice, so the dining experience is both elaborate and filling.
JB Hook's Pork Tenderloin medallions are a light, tangy celebration of summer's flavors year-round: grilled to tender, tasty perfection and finished with a blueberry peach reduction made with the House White Peach Sangria. That sangria is a favorite for Happy Hour, Sunday through Friday--or any day really.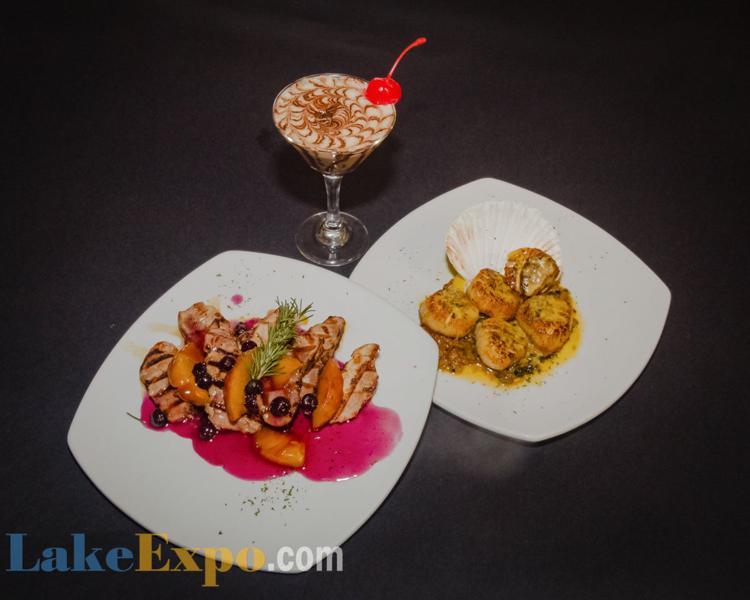 Signature Drink at JB Hook's: Espresso Martini
There's an art to a good cocktail: blending spirits while adapting classic cocktails to keep pace with modern trends. Heather Smith, the director at JB Hook's bar, takes pride in both. In fact, the Espresso Martini is one of her own adaptations--one that she meticulously prepares so it is pleasing to see and sip.
Here's the recipe to make your own JB Hooks Espresso Martini.
Make it a JB Hooks Happy Hour anytime with their Espresso Martini recipe!
Presentation is key. At the top of the glass is the artistic swirl familiar to cappuccino fans. Muted chocolate tones fill the glass, accented by a bright-red cherry, of course. The martini is rich on the palate: sweet chocolate goodness and cream with roasted coffee notes.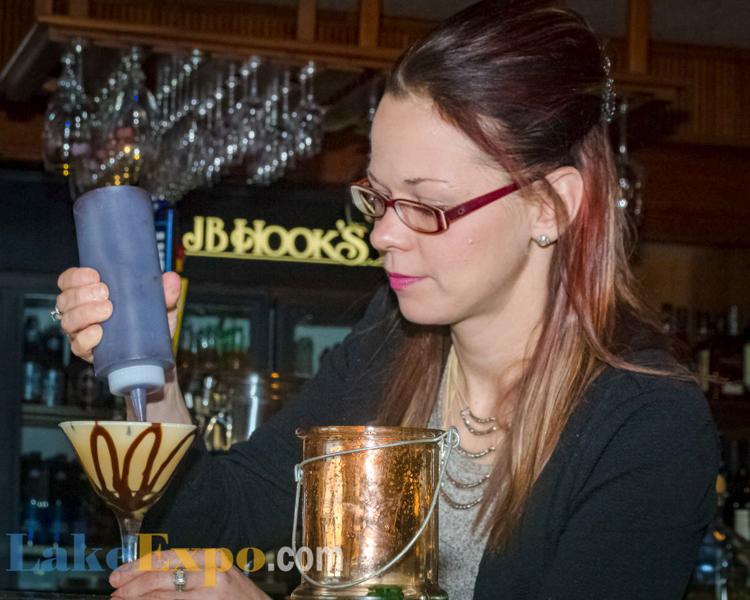 When you finish the drink, at the bottom of the martini glass rest three coffee beans representing Health, Happiness, and Prosperity. JB Hook's hopes everyone will raise a glass to these as they enjoy a special day at the Lake with health, happiness, and prosperity are in view, both near and far. Across the water: palatial, shoreline homes; across the table: friends enjoying a memorable day. 
The Espresso Martini is but one way in which JB Hook's customers can enjoy those three. It is, however, a wonderful way. 
Another treat from JB Hook's, while supplies last, is Opus One, an exceptional wine with an exceptional price for those with discerning tastes. JB Hook's received one of only six cases made available for the Lake region.
In addition to a full menu of cocktails, beer, and wine, the bar prepares house sangrias, both red and white. They are popular at all times, but especially during Happy Hour!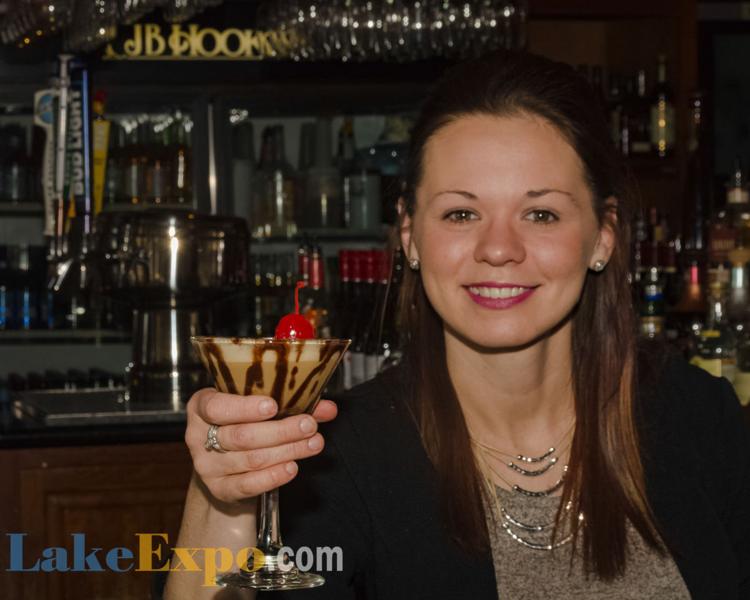 For Happy Hour, considered to be one of the best at the Lake, house wines and well drinks are half price and Miller or Bud Light draws are $3. Appetizer choices are also extensive. 
The JB Hook's Experience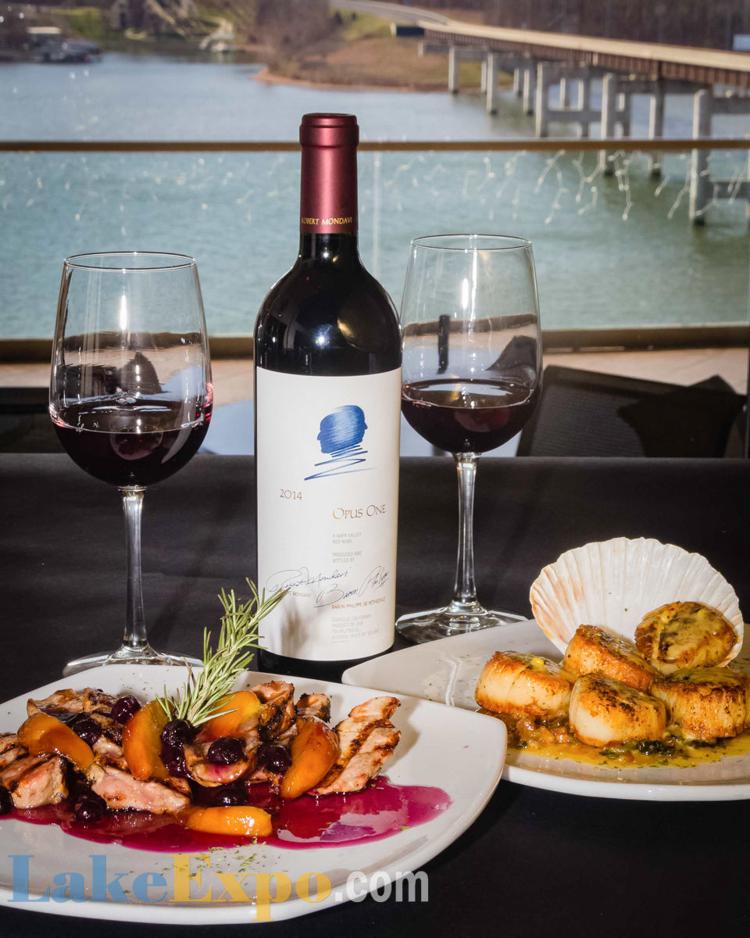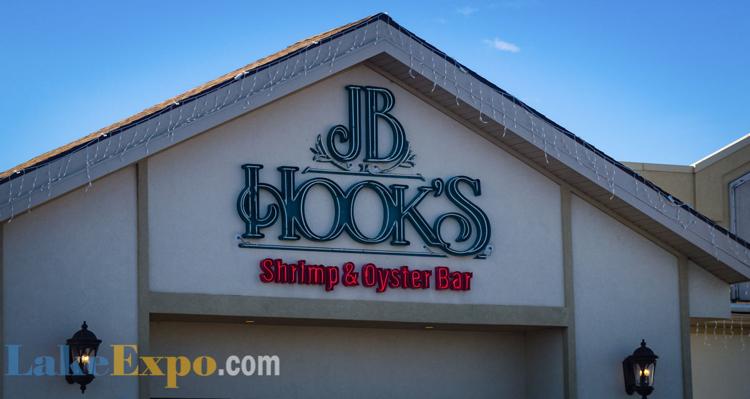 JB Hook's is the perfect place for an impressive business lunch, date night, and special occasions at both lunch and dinner. Book Clubs and Chamber events are held in the Garden Room seating 30 or the Sunset Room seating 65. Families and businesses also reserve these spaces for birthday and anniversary parties as well as conventions or retirement festivities. Guests can even special-order the menu for those events by working with the JB Hook's excellent staff, some of whom have been JB Hook's team members for 26 years. They believe in the JB Hook's experience and promise its quality with efficiency and first-rate customer service.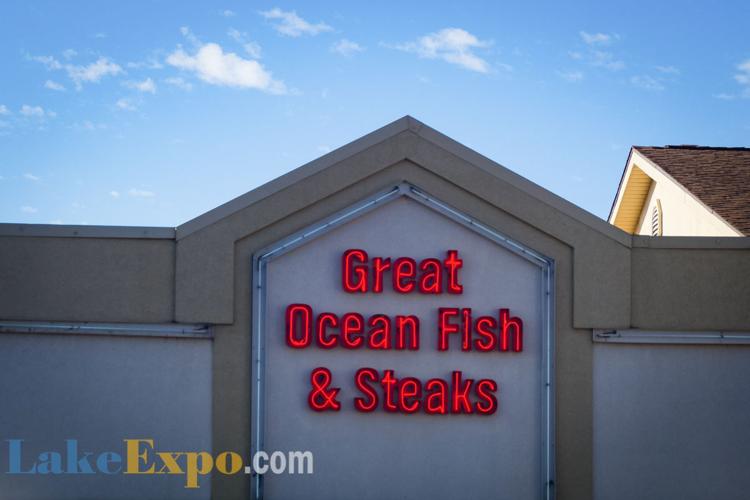 Everyone remembers the view. Lakeside, the restaurant and bar is glass, affording views 14 miles up and down the lake. The Community Toll Bridge is an architectural feature to admire, but it's the boats traveling the lake and leaving beautiful white water in their wake that delights. In June, when the Lake Race takes place, JB Hook's offers a prime vantage point to see incredible boats warming up on the Lake for a weekend of speed.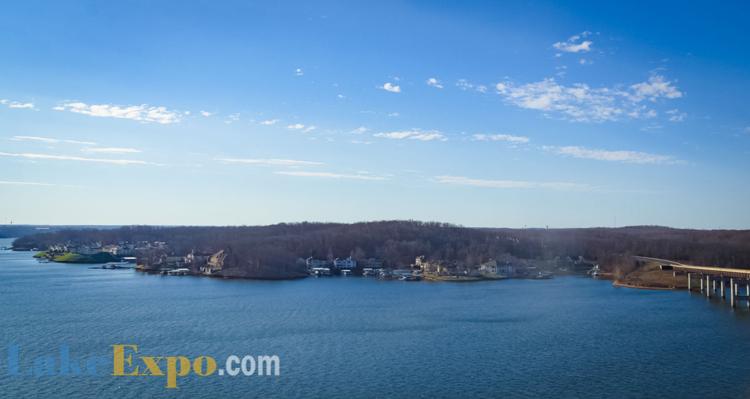 Finally, what many people respect is JB Hook's consistency. From the moment they enter to their exit, staff strives to see them and personalize their experiences. They will serve quality ingredients prepared carefully and presented beautifully. Monday through Saturday for dinner, guests enjoy live music and for all open hours, an elegant ambiance.
Looking for the best places to eat at the Lake? Look no further!