On the Lake of the Ozarks Westside, JJ's at the Copper Pot crafts fresh, classic foods with international flair.
Owners Joseph Cope and Sara McElwee have created a restaurant for all occasions. Classic favorites such as a pyramid of sweet, yellow onion rings dressed up with JJ's special seasonings to more advanced culinary offerings like ceviche demonstrate the range and variety from the kitchen.
While there is something for everyone, Joseph adds flair from his travels to provide an ever-evolving menu. Duck Curry, Portobello Wellington, and Chef features prove the restaurant's mission: to "step outside the box" and boldly go where other recipes may not go.
The Copper Pot experience begins at the building's façade. Looking more like a private home than a commercial business, guests experience a warm welcome upon entering. Gracious staff, soft lighting, and a décor in earth tones create a cool, shady spot for business meetings, celebrations, and a simple evening out together. Extensive food and drink choices from traditional to experimental encourage guests to "open [their] senses to a whole new world."
The Dishes:
Ravioli Stuffed with Rabbit and Goat Cheese on a Nest of Sautéed Kale and Vegetable
Sautéed Salmon with Hollandaise and Grilled Asparagus over Risotto
At JJ's At The Copper Pot, each dish arrives as a feast for the eyes and promises to be delicious. That promise is never broken.
JJ's Handmade Ravioli offers unique variety. On one day, braised and shredded rabbit meat mixed with goat cheese and diced, sautéed vegetables may fill the tender house-made pasta. Later in the week, diners may find sausage as the protein inside. No week is the same, and the variety proves the chef's skill and art.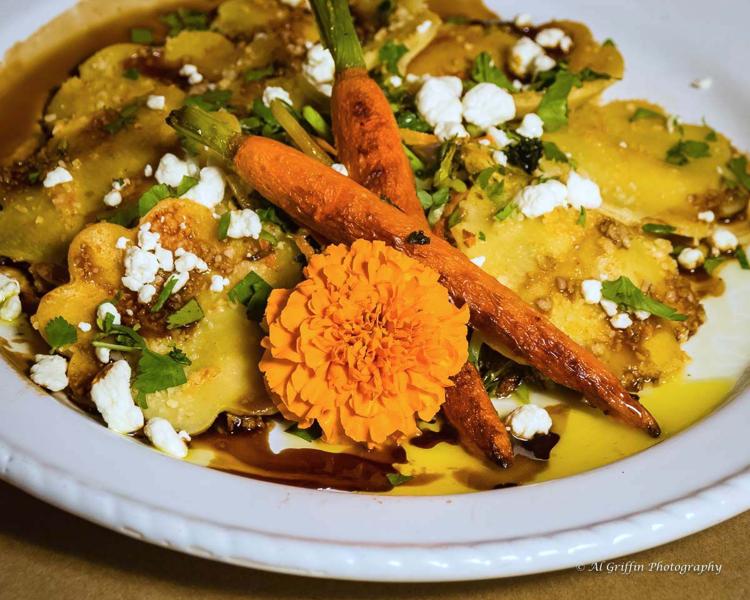 Ravioli stuffed with rabbit and goat cheese is a dish both mild and buttery rich. The rabbit is lean and as heart-healthy as its goat cheese companion (lower in fat than cow's milk cheeses). Sautéed, chopped spinach and bell peppers stirred into the rabbit-cheese mixture add rich flavors complementing the nest of julienned vegetables below. A drizzled balsamic vinegar glaze dresses the whole and adds sharp, aromatic flavors to every bite.
(Want to try you hand at JJ's-style handmade ravioli? Click here for the recipe!)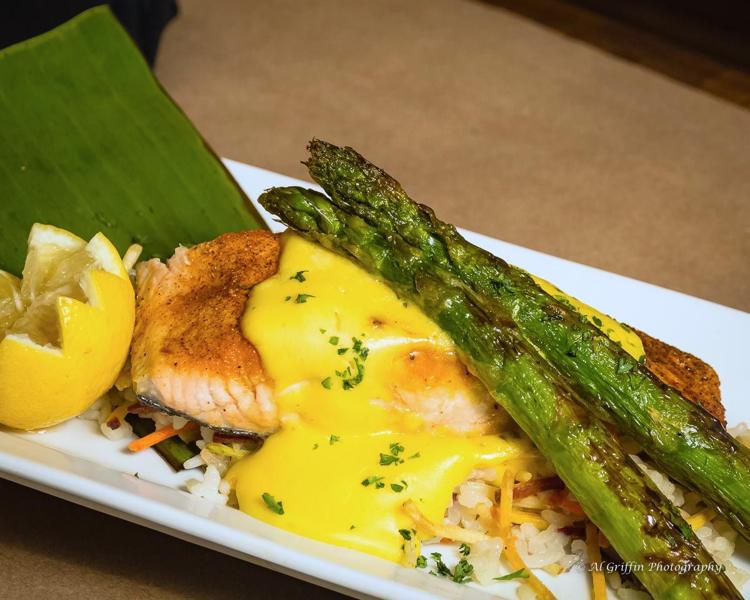 Sautéed salmon proves another of JJ's missions: to provide the freshest ingredients in mid-Missouri with whole sides delivered on ice. For this dish, the salmon fillet is lightly sautéed--just to the point of being flaky, still tender, and still carrying the nuanced flavor from its home waters. The Hollandaise is thick and creamy, bright yellow with egg yolk and a hint of lemon. The asparagus accompanying and adorning the salmon are large, but perfectly tender. Under all is risotto seasoned with fresh, lightly sautéed vegetables.
The Drinks:
A Classic Aviation
A Copper Pot Wine Cocktail, the Slingshot
Behind the bar for five years, bartender Charlotte Mades has collaborated with Joseph Cope to expand and broaden the "wonderful world of libations" at JJ's at the Copper Pot. The result is a 33-page Beverage Book with several pages devoted to more than 160 different bottles of wine, showcasing the idea of international exploration. Ten glass pours change constantly; the list of beers in stock, liquors, and spirits is worth perusing, too.
Two pages describe cocktails. One is for classic cocktails once popular in supper clubs when guests dressed elegantly for dinner. The other is for Copper Pot Cocktails, specializing in "old school techniques" stirred--not shaken--with "new age thinking."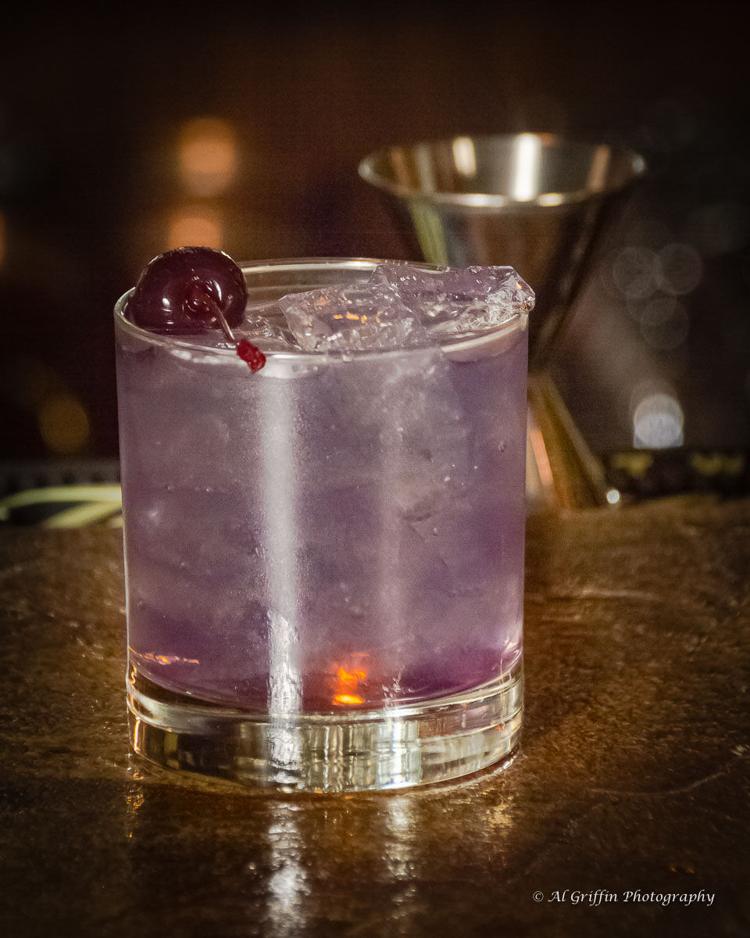 The Aviation
The Aviation is a Classic cocktail using gin, Maraschino Liqueur, lemon juice, and Crème de Violette. It's garnished with a marinated cherry, but characteristically, JJ's at the Copper Pot doesn't depend on standard cherries often found behind the bar. JJ's identified a marinated Bing Cherry, still quite close to its fresh flavors and textures. These arrive by special order from Washington, and they make all the difference in both appearance and taste. Served over ice, an Aviation is refreshing and cool.
(We got the recipe too! Find it here)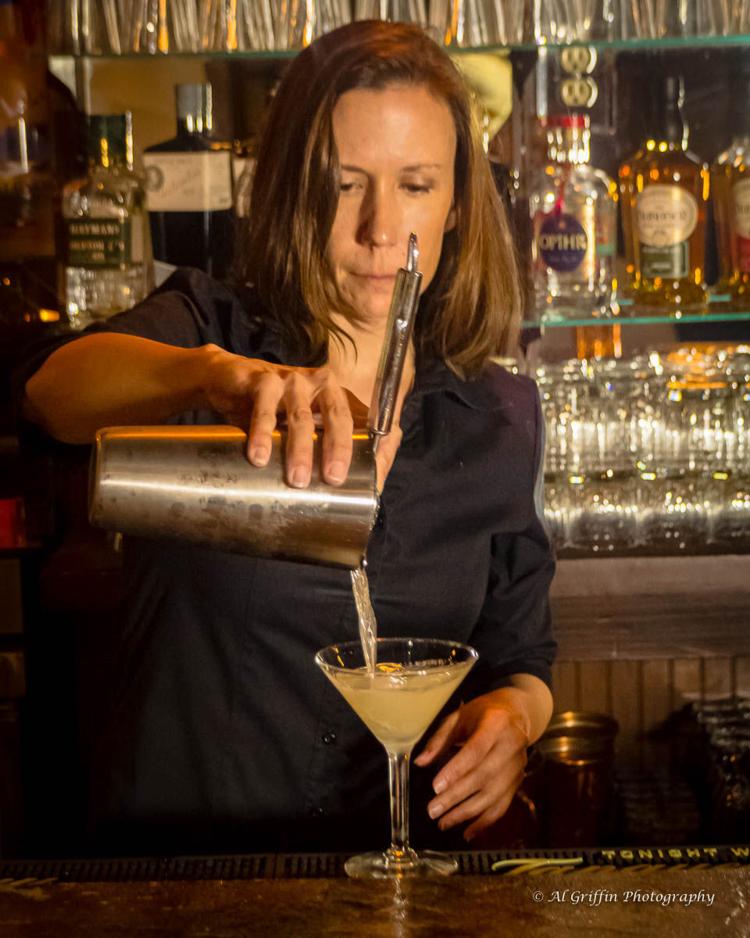 The Slingshot -- A Wine Cocktail
The Copper Pot cocktail known as a Slingshot begins with muddled cilantro. Poured over it are Absolut Lime vodka, St. Germaine, and Riesling. The garnish is basil. Like the Aviation, the Slingshot is fresh on the palate and aromatic. Its floral notes please all the senses.
(Looking to make a Slingshot? Find the recipe here)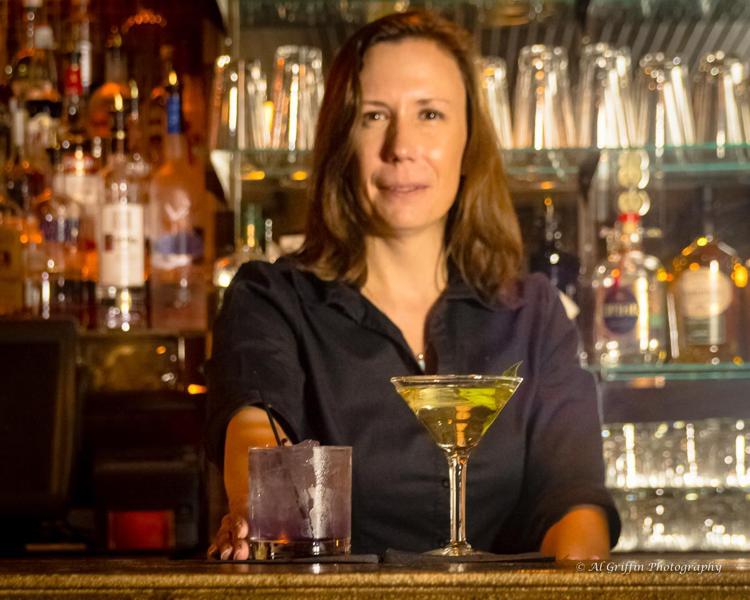 The Experience
JJ's at the Copper Pot welcomes diners and drinkers of all ages and tastes whether dressed in shorts or evening attire. The restaurant serves classic, traditional dishes such as steak, prime rib, and seafood, but also available are fresh twists and turns on classics, made with fresh ingredients, including the Handmade Stuffed Ravioli and the New Zealand Rack of Lamb marinated in lime and roasted with honey.
For dessert, JJ's fries slices of bread pudding and provides inventive house-prepared cheesecakes. The bar offers an array of cocktails, wines, and spirits to pair with small plates, dinner, and casual conversation. In the bar, Bryan Winters provides covers for tunes from Frank Sinatra to today's top hits, enhancing the JJ's experience from front door to exit. The Copper Pot family is looking forward to the upcoming season and the guests it will bring.