At Wobbly Boots, BBQ is the backbone of the menu. Their smoked and charbroiled beef, pork, turkey, chicken, and sausage are an easy win for anyone hungry for a savory BBQ lunch or dinner.
But Wobbly Boots also offers catfish, shrimp, and salmon: less-known, but still excellent options. For a change of pace, we tried the Brown Sugar Salmon.
It begins with salmon, filleted and skinned in the Wobbly Boots' kitchen, then cut into a 7-ounce steak. A brown sugar glaze brings out the meat's rich flavors, resulting in a centerpiece that is both sweet and savory. A side of Texas toast, crisp, golden, and buttery, completes the fine balance of tastes.
Mashed potatoes are a smooth starch to compliment the fish, and for a burst of summer-garden freshness is a side of Spring Beans sautéed with diced red onion and minced garlic.
*DINING TIP: One of the most popular Wobbly Boots appetizers is their Onion Rings with Chipotle Ranch dipping sauce. Chef Tom Livingston insists that those onions be hand-cut on site before being breaded and fried. Diners will only see a mountain of rings--a crisp exterior enclosing tender, translucent onion. That breading is perfectly balanced between salt and white pepper: zest springs from each bite. The dipping sauce kicks up the spice level nicely for those who want a little extra.
Open year-round at 11:00 a.m. and closed only on Christmas Day, Wobbly Boots Roadhouse is the go-to for casual dining, business lunches, or just anyone looking for flavorful BBQ.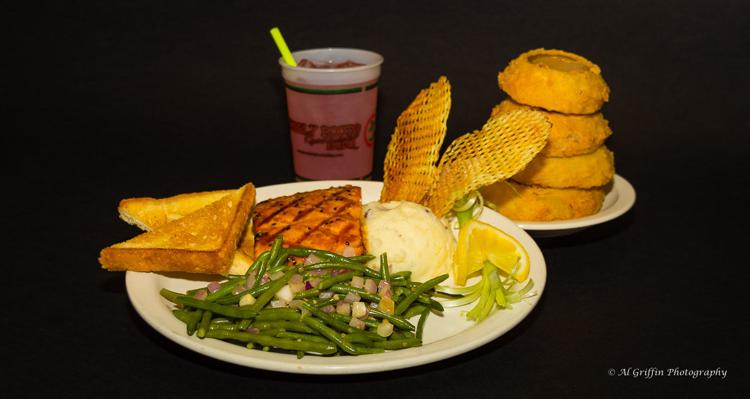 THE RECIPE: Spring Beans from Wobbly Boots' Brown Sugar Salmon Dish
The brown-sugar salmon recipe is a chef's secret, but we managed to nab the recipe for the excellent Spring Beans side dish that complements the meal!
Select Haricot Vert Beans, a variety of green bean generally longer and slimmer than green beans, but garden green beans may be used.

Snap the ends from the beans and use approximately 1 ½ handsful for a single large or double serving.

Dice red onion; the amount will vary according to personal preference.

Mince garlic; the amount will vary according to personal preference, but at least 1 Tsp should be used.

In a sauté pan, heat approximately ½ cup light oil.

Toss in beans, diced onion, and minced garlic.

Over medium to high heat, cook the beans for 2 ½ to 3 minutes--just until the rich green color begins to fade to a deeper hue.

Pour over the greens 2 to 3 Tb of white wine to intensify and brighten the flavors.

Remove from heat and serve as the vegetable to accompany any meat of choice.