Dog Days, the undisputed go-to hotspot on the Grand Glaize Arm of Lake of the Ozarks, has made the Avocado the star of the Starter menu. Dog Days Chef Kevin McCowan has crossed a fusion of Cajun, Mexican, and seafood flavors in The Avocado Relleno.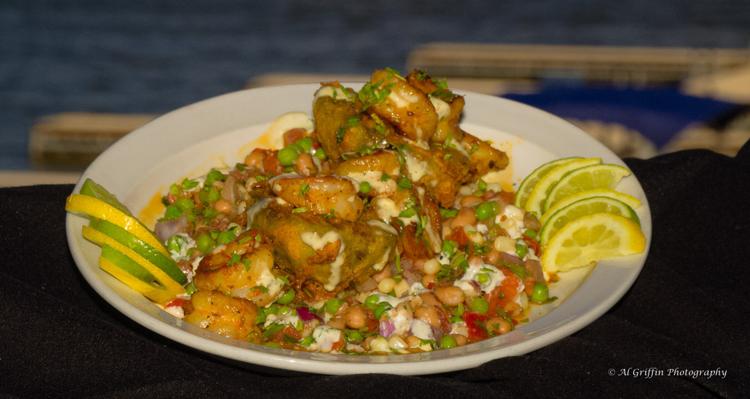 The "nest" for that vegetable and shrimp appetizer that would make a fine entrée, too, is Texas caviar, made with onion, red pepper, tomato, shoe peg corn, green peas, black-eyed peas, and fresh chopped cilantro. By itself, that base brings fresh-from-the-garden flavors as well as hearty, satisfying goodness. It's a confetti of color and taste.
Resting on that "nest" of vegetables is a whole avocado wrapped in a light, crisp breading. Sautéed, plump shrimp perch atop the avocado and provide a full rich bite of tender avocado and savory shrimp.
Overall and throughout the ingredients is a luscious Roasted Tomato Jalapeno Cream that sparkles with the gifts that citrus brings to seafood and with a delicate spiced kick. Every bite from shrimp on top to Texas caviar below is rich with this creamy sauce.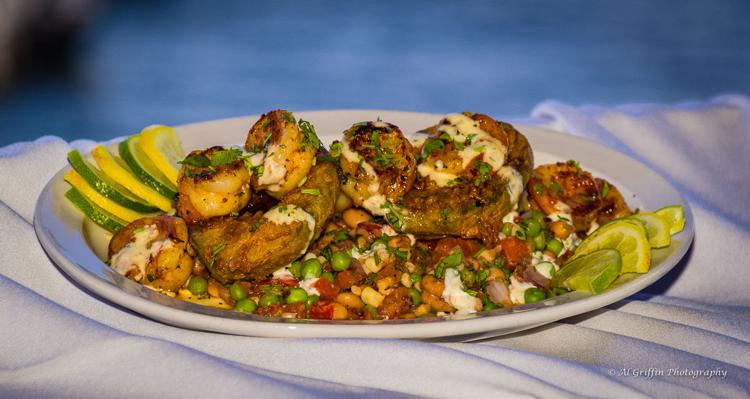 Recipe for Texas Caviar, the Base for Dog Day's Avocado Relleno
In a large bowl, add:
• 1 whole diced red onion
• 1 whole chopped red pepper
• 1 whole diced tomato (Use heirloom when possible to match Dog Days' flavors)
• 1 cup Shoe Peg Corn, drained
• 1 cup bright green peas
• 1 cup black-eyed peas, drained
• 1 Tb chopped cilantro
• 1 Tb sugar
• 1 Tb chili powder
• Salt and pepper to taste
Toss. Serve as a side with chips or crackers or as a base for a dish such as Avocado Relleno.
**THE RECIPE**
Roasted Tomato Jalapeno Cream, dressing Dog Day's Avocado Relleno 
Begin by roasting a whole tomato and a whole jalapeno over a charbroiled for 1 minute. Then:
• Core and remove seeds from the tomato and jalapeno.
• Purée the tomato and jalapeno.
• Add 1 cup Ranch dressing and 2 Tb limejuice, freshly squeezed if possible.
• Purée all until smooth.
• Add salt and pepper to taste.
Stir into Texas Caviar, if desired, or pour over Avocado Relleno as made by Dog Days.
Chef McCowan strives to introduce nutritional, healthy options on the menu. American tastes have shifted toward them. Monthly menu inserts often include such options. In May and through mid-June, Bowl Appétit was the theme with more bowls similar to those on the menu under the "Beach Bowls" heading.  The Korean Beef Bowl and the Thai Chicken Bowl prove the international flair that Dog Days brings to Lake foods.