Bearded Brewmaster Chris Byars fell in love with uniquely crafted beer when he tried Czech pilsners in Europe. He came back to Missouri and never found a pilsner he liked, so he started making his own.
For more than a decade, Byars used his science background to develop the crisp, clean taste he sought. He studied pitching rates and various strains of yeast. He analyzed temperatures, brewhouse efficiencies, water quality, and oxygen rates. Now he's sharing all that he's learned and the beer he loves at Lake of the Ozarks, with patrons at Bee's Knees Ale House, the Lake's only craft brewery, located at 106 West Jasper Street, Versailles, just west of the old courthouse on the south side. Byars refers to himself as Bee's Knees' "CBO" -- Chief Beer Officer.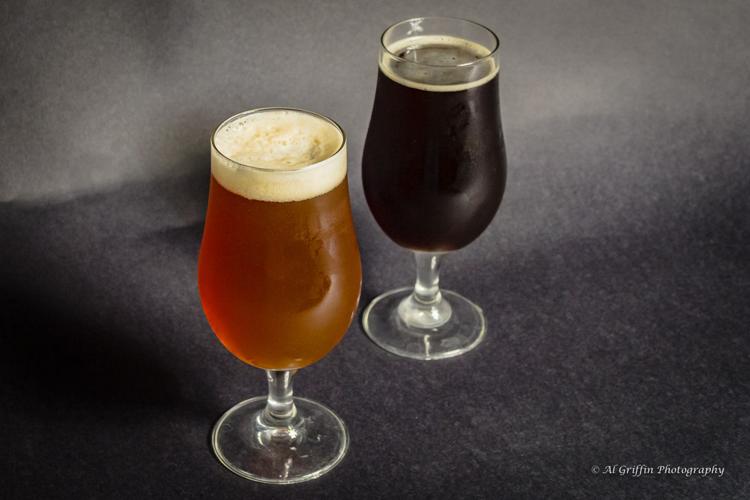 Bee's Knees Ale House Signature Drink: Oktoberfest
The seasonal debuting for Versailles' Olde Tyme Apple Festival, October 7, is the Oktoberfest. A Brown Ale will also be available in keeping with the rich, deeper flavors people crave as temperatures grow chill. Bee's Knees will be serving both from its Tap Trailer parked at Morgan County's fairgrounds on festival night and throughout the fall season from its restaurant in Versailles.
The Bee's Knees' Oktoberfest is deep amber in color resulting from a blend of carefully chosen malts to balance the hops. It is in the style of a traditional festival Oktoberfest or Marzen with an Alcohol by Volume (ABV) rating of 5.3%.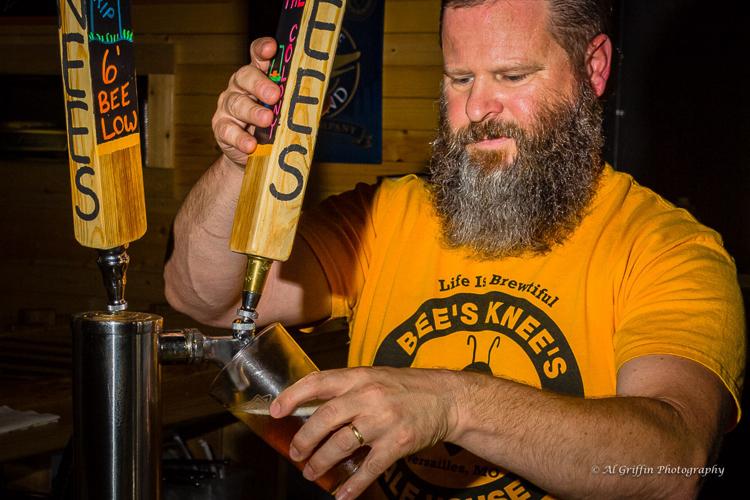 Brewmaster Byars uses unfiltered products in brewing the Oktoberfest, as filtering can strip some of a beer's color, flavor, and body. He strives for rich amber or even darker colors as well as deep, complex tastes.
The Oktoberfest is a blend of:
German Pilsner Malt
Vienna and Munich Malts (to add depth of color)
Caramel 60 Malt (just a touch)
Liberty Hop
Yeast
Water
In addition to the Oktoberfest, Bee's Knees Ale House will offer a seasonal, the Brown Ale, to complement Autumn's colors and cool temperatures. This one is in the style of a Northern English Brown ale that Byars developed in collaboration with a friend, another homebrewer. Together, they have achieved a dark, full-bodied ale with chocolate notes and a smooth mouth-feel, using Two Row, Caramel 60, Caramel 80, and Black Malts plus East Kent Goldings Hops to deliver a hearty ale at 4.7% ABV.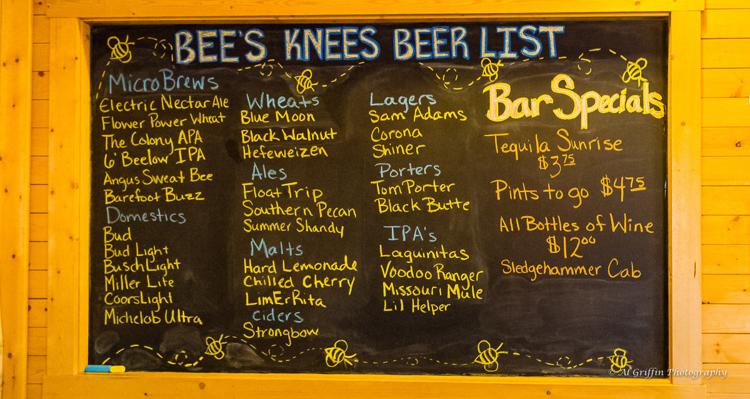 Business partners Michael Garber and Ryan Seigfreid opened the Ale House in a 100-year-old building restored and put to good use with an urban industrial interior and brewery. Since February 2017, Byars' brews have been handcrafted and sold there in a one-man, one-barrel system producing 31 gallons per brew, the equivalent of 250 pints.
Since then, Bee's Knees has been one baby step ahead of demand, and in September 2017, began an upgrade to the system. Soon, Bee's Knees will be a 10-barrel system, producing approximately 300 gallons per brew or 2,500 pints of beer--ten times their current capacity for their five core beers, always on hand year-round, and for their rotating seasonal brews.
By 2018, fans of Bee's Knees craft brews can expect to find them in bottles on shelves, on tap at restaurants and bars, and at Bee's Knees Beech House as the brewery expands its operations in quantity and beyond their doors into the wholesale market.
For Byars, beer is about community. It accompanies family gatherings and fall festivals. It is a drink for socializing, but it is also a perfect companion for pizza and sandwiches on a menu overseen by Seigfreid and Garber who is, like Brewmaster Byars, a native of Versailles. Garber represents the fourth generation in business there.