You don't have to be Sonny Crockett to dig this Lakeside staple.
The Miami Vice is one-half Strawberry Daiquiri and one-half Piña Colada. Each pours side-by-side in a Hurricane glass, rich pink on one side, creamy white on the other. Over time, while sipping, the two colors and flavors blend, but sippers can stir them vigorously together with a straw to deliver refreshing strawberry-coconut flavors all at once.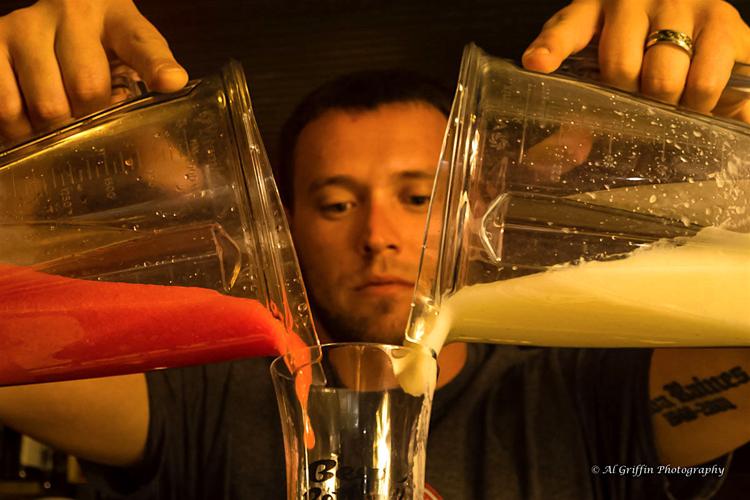 Fresh ingredients are essential, bartender Korey Sheets says. The Miami Vice begins with fresh puréed strawberries and freshly squeezed lime juice for both halves of the finished drink. He says in seven years' time as bartender, he's perfected the art of pouring each blend from two separate blenders to present the drink. Many novices, who make it at home, prefer to fill the bottom with one blend and top off the glass with another before serving.
For a single serving of Strawberry Daiquiri
• Purée 3-4 strawberries with 1 Tb powdered sugar in a blender
• Add ice
• Pour the next four ingredients over the strawberries and ice
• 1-2 ounces Strawberry Rum (Bear Bottom recommends Bacardi's Dragonberry, a strawberry flavored rum)
• ¼ ounce Grenadine for a splash of tart and sweet
• ¼ ounce freshly squeezed lime juice to kick up the tart flavors a bit more
• ¼ cup lemonade (Bear Bottom uses commercially prepared lemonade to kick up the sweet tastes and balance the entire drink's flavors)
• Blend until smooth and creamy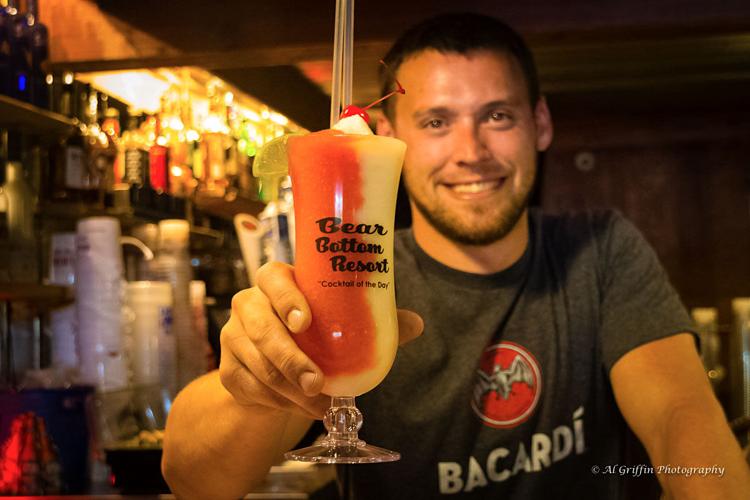 For a single serving of Piña Colada
• Add ice to a second blender
• Pour over ice the next four ingredients
• 1-2 ounces Coconut Rum (Bear Bottom uses Rum Haven's Coconut Rum, made with real coconut water and currently unavailable for home sales in this area)
• 1 ½ ounce Cream of Coconut
• ¼ cup Pineapple Juice
• ¼ ounce freshly squeezed lime juice
• Blend until smooth and creamy 
Fill a glass with half Strawberry Daiquiri and half Piña Colada to make Bear Bottom's Miami Vice at home. Enjoy.
The Miami Vice, like many Bear Bottom beverages, can be made without alcohol for those underage or those who prefer fruity or frothy concoctions without adult ingredients.