LAKE OF THE OZARKS, Mo. — A unique development could be coming to Shawnee Bend, and the three brothers who have bought the waterfront acreage say they want neighbors to know what is in the plans, and what is not.
The developers, three brothers named Doug, Brad, and Ryan, will be going before the Camden County Planning & Zoning commission this week to ask for the property, at the 13 Mile Marker in Sunrise Beach, to be changed from single-family residential to multi-family residential. That change will allow them to build a development they say is in many ways exactly what the area needs.
Doug explained the general plans are to build:
-Luxury Villas — two-level, one on top and one on bottom, 1,500 sq ft apiece
-"King" Recreational Villas — 26x80 downstairs storage (for a boat or other vehicles), with a living-area loft, and some with multi-bedroom living spaces above
-"Queen" Recreational Villas — Doug explained the layout for these will be two garages in the middle, and on either end, a separate living space
-20 tiny-home/cottages, about 350 sq ft — rentable, and Doug says he expects these will often be used as overflow for people who own one of the villas and are hosting friends or family.
-20 RV parking spots
-Helicopter pad
They're calling the development "The Kingdom."
"This is a very diverse build in an effort to meet the needs of a lot of people," Doug said, adding, "It's going to accommodate a lot of needs for people in the Ozarks." He noted the property, currently undeveloped, has multiple issues: unmaintained woods and fields, piles of debris from prior structures or trash, and a creek that neighbors complain is feeding sediment into the community's cove and slowly making it shallower from the back. Doug says he and his brothers' plans will fix all of that, even the creek: they plan to clean it up and create a large fishing pond accessible to residences within the development.
Here's an elevation for the Queen Recreational Villa: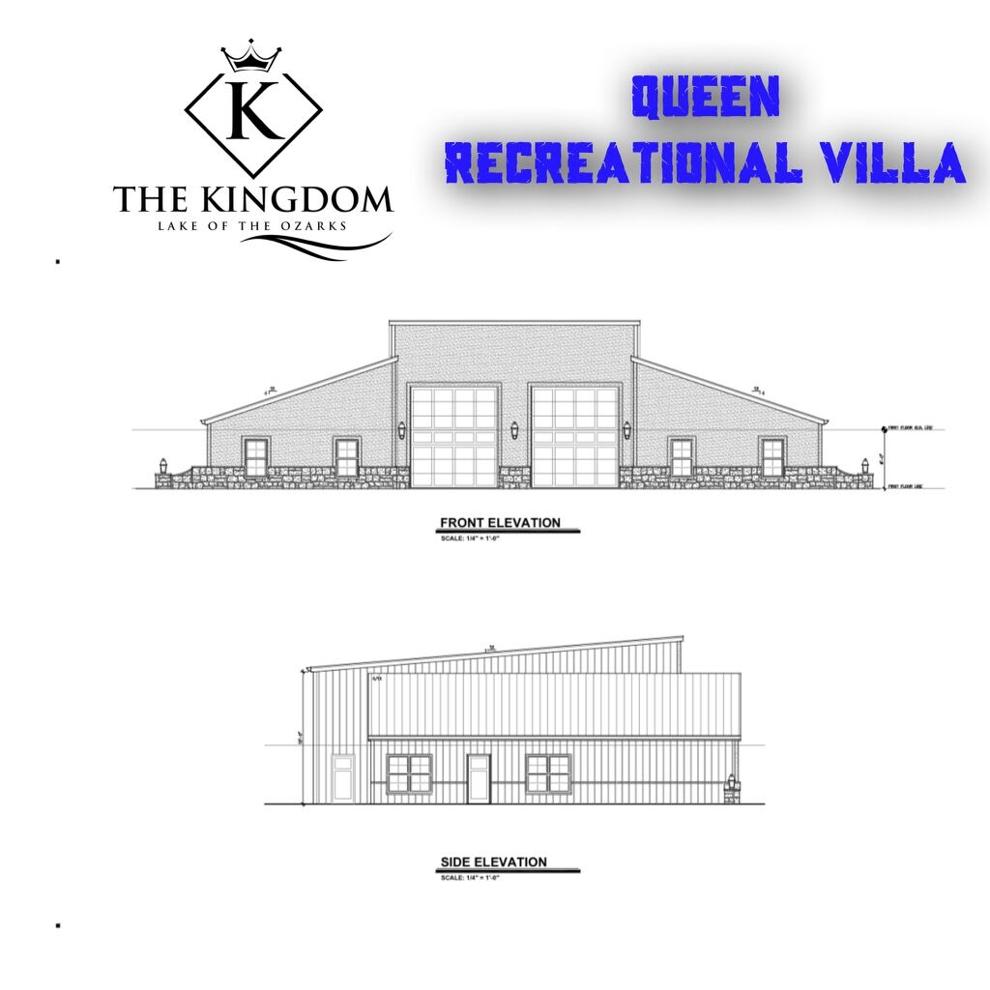 Doug also emphasizes that the residences will be in a price range that's reachable by the middle class, though he worries that some in the surrounding neighborhood have gotten the wrong idea. He stresses this is not a "workforce housing" complex. "These aren't million-dollar homes, but they're not hundred-thousand-dollar homes. They're something a working family can afford without being multi-millionaires," Doug said.
The idea is to develop in a way that doesn't key-in on giant houses, but rather on accommodating the many things people seek when they come to the Lake: space for adventure, room to store your boat, and a place to live without having an enormous home to maintain.
They expect the development, once complete, could bring between 85-100 families to the Lake.
"There has been some positive feedback, there has been some negative feedback, but we want to make certain there is no misinformation driving what is going on, so people are well-informed," Doug told LakeExpo. He and his brothers have been coming to the Lake for decades, and he emphasizes they are locals: not out-of-area developers without a sense for what makes the Lake special. "The Lake is an incredible gem. And when people find it, they're so happy that this is part of their life," he said, adding that development helps keep the door open for more people to enjoy this place.
But Doug, Ryan, and Brad say the majority of the concerns they've heard about the development are based on confusion about what they actually have planned. While the public will have an opportunity to ask questions and give feedback before the zoning change is voted on, the brothers have put together a set of Q&As, in an attempt to respond to what they say is misinformation or confusion about the development they hope to bring to Shawnee Bend.
We have published the Q&A they submitted, verbatim, below. For more information visit kingdomadventureproperties.com or check out their Facebook page: https://www.facebook.com/thekingdomlakeoftheozarks
---
---
Q-  What is Kingdom Adventure Group, LLC?
A-  Kingdom Adventure Group is a partnership of three brothers.  Since 1964, our family has been involved in real estate through farm and residential sales, as well as developments.  We were born and raised in a small town in central Illinois, and for the last four decades, the Lake of the Ozarks has been part of our upbringing. 
---
Q-  What is that name of your project?
A-  The Kingdom "Lake of the Ozarks"
---
Q-  It is recently understood Kingdom Adventure Group, LLC is amidst a residential development project in the Sunrise Beach, MO area.  Why did you choose this location?
A-  We already have investments in the area.  As brothers, we own property in close proximity to the project found near Mile Marker 13, in Sunrise Beach, MO.  When our project property came for sale, we saw it as a perfect opportunity for many reasons.  Understanding change is inevitable and that progress helps maintain, as well as increase property values, we were able to secure the neighboring parcel.   With an interest in or our own investments, as well as our neighborhood, securing the neighboring property gave us the opportunity to improve the surroundings.  As the property currently sits, it is zoned commercial as well as single family residential. 
---
Q-  What is your vision for this project?
A-  Over the course of the last 40 years, the same challenges have presented themselves in that housing, storage, and lake access are limited.  We wanted to focus on a population with an insatiable desire for adventure.  With the lake itself as a main attraction, we wanted to address the housing shortage, specifically in the area of Sunrise Beach by bringing more availability.   
---
Q-  Can you tell me about some of the amenities you will be offering. 
A-  As a private gated community governed by HOA guidelines, we plan to offer a clubhouse and resort style pool, helicopter pad, on-site boat ramp with floating walkway, stocked fishing pond, boat concierge service, as well as enclosed storage for those that rely on their toys for entertainment.  For our residents, there will be Tiny Home purchases and rentals, as well as a limited number of RV accommodations, in the form of both long-term lease and short-term rentals.  The project will feature higher end finishing's, uniformly resembling the appearance of the surrounding community.    As feature designs, we have waterfront Luxury Villas and both King and Queen model Recreational Villas.  
---
Q-  How many families or persons do you anticipate will be able to benefit from housing with this project?
A-  Our current design anticipates an estimated 76-100 families, of which approximately half may be residents as home owners of our Villa designs.  We are in the beginning stages of this project and updates will be released at kingdomadventureproperties.com
---
Q-  When do you plan to start construction and how soon do you anticipate having housing available for sale?
A-  Construction is anticipated to begin in the next couple months and housing will be available this year, in 2021.