Prescription Drug Monitoring Passes Missouri House, Here's How Lake-Area Reps Voted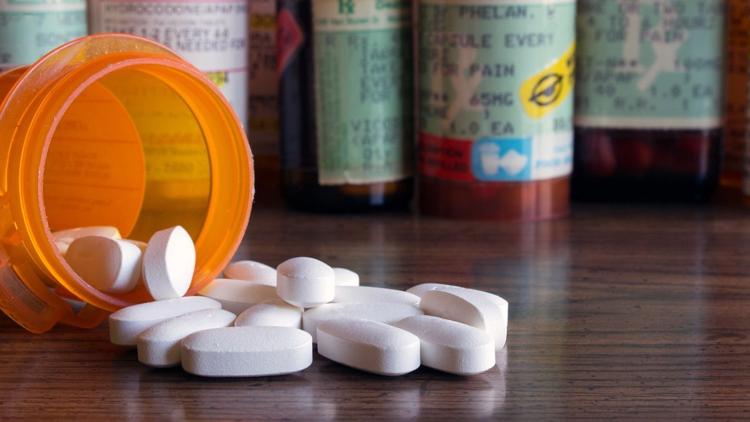 The Missouri House of Representatives voted on Monday, Feb. 11 to approve a statewide Prescription Drug Monitoring Program (PDMP) with House Bill 188, by a vote of 103 to 53. However, the issue is currently considered to have little chance in the state senate.
A similar bill (SB 155) sponsored by freshmen Senator Tony Luetkemeyer R-34 failed in committee because Senators remain concerned about privacy issues associated with any governmental database.
If HB 188 were approved by the Missouri Senate, the Narcotics Control Act would allow the Department of Health and Senior Services to establish a statewide Narcotics Control Program (often referred to as a Prescription Drug Monitoring Program, or PDMP) for monitoring the prescribing and dispensing of all Schedule II, III, and IV controlled substances to all Missouri citizens. Missouri is the only state in the U.S. that does not have a PDMP. 
Nineteen amendments to HB 188 were written. Seven were filed, and all seven were defeated.
From the Lake of the Ozarks area, Rep. David Wood (R-58) and Rep. Rocky Miller Rep. (R-124) voted Yes on HB 188. Rep. Suzie Pollock (R-123) voted No on HB 188. Click here to see how your representative voted
A few counties in central Missouri are among the last holdouts against a prescription drug m…
Opponents of HB 188 say PDMPs have not worked in other states, arguing government monitoring of individuals' prescription drug purchasing is an invasion of privacy and Fourth Amendment violation, with no useful outcome. Their main contention is that the private health information of law-abiding citizens could be compromised, sold, and possibly used against them.
PDMP advocate Missouri Representative Holly Rehder (R-148) is the sponsor of HB 188. Rehder testified in the House that the private prescription medication information of all Missouri citizens will be collected for use in Missouri and added to a national database.
Rehder claims HB 188 will combat prescription drug abuse, which is one of fastest growing epidemics in the U.S. She believes it will provide prescribers a tool to find and address abuses and subsequently cut down on "doctor shopping" (the practice in which drug abusers go from doctor to doctor to obtain more prescriptions).
However, according to The National Survey on Drug Use and Health: 2017 only 1.5 percent of all prescribed drugs were from prescriptions obtained from multiple doctors. In that case, out of 11.1 million misusers, or only 166,500 names nationwide would be flagged by a PDMP. At the same time, all law-abiding U.S. citizens, with legitimate health issues, would be monitored, under this new law.
In Missouri, many counties currently participate in a monitoring. program administered by St. Louis County, but Camden and Morgan counties do not.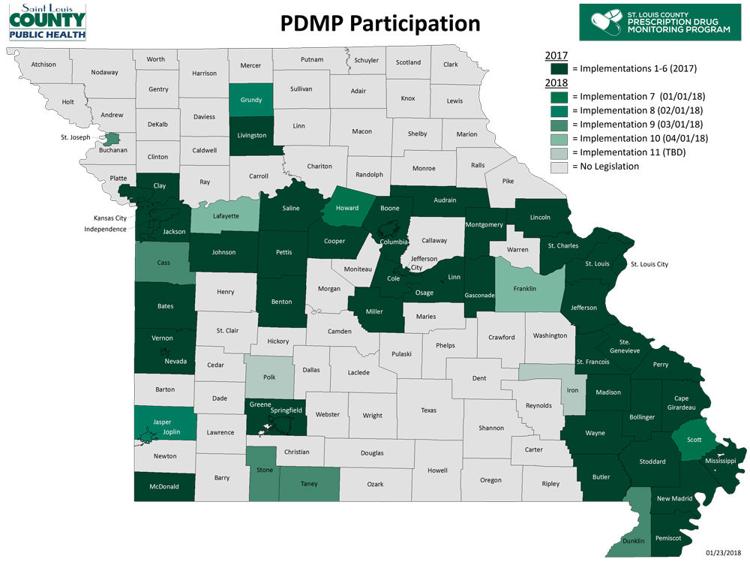 Dispenser Violation
HB 188 states that the DHSS must review information sent by dispensers and if there is reasonable cause to believe that a violation of the law or a breach of professional standards may have occurred, law enforcement, or the appropriate professional licensing board, must be notified. The dispenser could be fined $1,000 per occurrence.  
The Chilling Effect
Monroe County Commissioner Ron Staggs has testified in 10 PDMP hearings. "Setting up a database will not save lives, it will do just the opposite," Staggs said. "It will kill more people due to unintended 'chilling effect' consequences. The doctor will get nervous with all the scrutiny and cut back on the amount of prescriptions given to those who really need it. When the patient runs out of pain medications, they will suffer, or go to the black market to buy it, or worse, switch over to heroin and overdose." 
Opponents also say a PDMP does nothing to treat the underlying cause of why a person is abusing drugs, or the underlying cause of their emotional or physical pain.
"We need more drug treatment options," Missouri Representative Jared Taylor (R-139) said. "The best way to deal with the drug deaths is to catch it in the emergency room. Most people who die from an overdose had at least one former visit to the ER. Identify them there and treat them. Doctors can already access that database."
Rep. Rehder says PDMPs have proven to be successful in increasing patient care and lowering overdose rates.
"If PDMP works then why does the Center for Disease Control data reveal that the death rate from prescription drugs soared to record highs in 2017, after the implementation of a PDMP in St. Louis County?" Taylor questioned. According to the CDC, out of 50 states, Missouri ranks 27th in opioid deaths, despite being the only state without a PDMP.
In his legislative newsletter to constituents, Wood downplayed opponents' concerns, saying the program was worth the "risk" that someone might see what prescription drugs he is using.
"The opposition is worried that information will be used inappropriately if a database is created and a small number of Senators have been able to stop the bills [sic] progress," he wrote.
"I have supported it each time and I have a few constituents that do not agree with that decision. I have talked to medical professionals in the district and all over the State and they believe this is necessary. 
"I have attended conferences to learn about and how to deal with our opioid crisis and everyone recognizes that the PDMP is an important tool in our fight.  
"I made the statement when I spoke in favor of this bill that if I have to risk someone finding out that I have a legal prescription that I am using in a legal way in order to find someone that needs help with an addiction then that is worth it."
Sharing Private Information
Each drug dispenser covered by the bill would be required to electronically send dispensation information to the database, including the prescription and patient information of each drug dispensed. "The information sent will be confidential and the department will maintain procedures to assure the privacy and confidentiality of the information," Rep. Rehder assured. She insisted no PDMP database had ever been breached.
But according to Politifact, Virginia's prescription drug monitoring database was hacked in 2009. The hack and subsequent ransom note first appeared on the FBI has confirmed the PDMP database in Virginia was breached. The Associated Press reported on the story, but to date no arrests have been made. "They had to notify more than 400,000 people that their data had been comprised and offer them indemnity for their issues," Staggs said.
"There are also several lawsuits pending against St. Louis County for breach of data," Staggs added. "The HIPPA violations will cost them $50,000, per occurrence."
If HB 188 is signed into law, however, some predict that lawsuit would be moot.
Rep. Mike Moon (R-157) filed an amendment that would have fined the department $25,000 if a person's information was disclosed, in addition to compensatory economic and non-economic damages, attorney fees and court costs. His amendment was voted down. 
Who Has Access to the Information? 
The bill states that the department may provide information collected to the dispensers, a professional licensing board, law enforcement and MO HealthNet. This information would be accessible to persons working in those offices as well. 
"A nurse in any doctor's office can gain access to a patient's private medical records and they do not even have to be their own patient," Staggs said. "This could ruin a person's career through the distribution or selling of that information to the wrong people."
Rep. Taylor pointed out that pharmaceutical companies are also very interested in obtaining the prescription information of private citizens for marketing purposes.
"The Fourth Amendment protects individuals from unreasonable search and seizure by the government," Rep. Taylor reminded his colleagues.
Some opponents cite concerns that the government would use a prescription drug database to determine who might have a mental illness, and seize their firearms.
Language specified in the bill states the information "cannot be used to prevent an individual from owning a firearm," but many legislators disagree.
"If your name is on the database because you take these prescription medications, due to recent changes in the law, the FBI can use the PDMP database for background checks when you attempt to purchase a gun," Staggs said. "One of these drugs may be for an injury and could exclude you from the ability to purchase a firearm and/or possibly cause the legal confiscation of your firearms." He said if a person stops taking the medication, the government still might not return the firearms, alleging the person is mentally unfit to own one.
The department may contract with another entity of their choosing to develop and maintain the Narcotics Control Program. Any program already in effect that is being operated by a political subdivision can continue to operate until the state-wide program is available for use. If the bill is approved, the proposed effective date will be Thursday, Aug. 8, 2019.
The bill will go through committees and a perfecting process and if approved it will then go before the Senate for a final vote. Senate contact information can be found at senate.mo.gov.