Missouri primary elections are Tuesday, Aug. 7: there, voters have the opportunity to choose a partisan ballot and vote for which candidate they would like to represent that party in the November general elections.
At Lake of the Ozarks, a range of candidates and issues (including proposed levies) will be on local ballots (which vary by county and municipality). LakeExpo.com contacted candidates in some of the more high-profile contested races with an opportunity to answer a handful of questions, and help voters understand where each candidate stands on issues general and specific.
Below is the list of five questions that were sent to Missouri Senate District 16 Republican Candidates, followed by their responses. Senate District 16 encompasses Camden County at Lake of the Ozarks, as well as Pulaski, Phelps, Crawford, and Dent counties to the east. View district map. Candidates' responses were limited to a word count, and are displayed below verbatim, unedited.
QUESTIONS:
1. What is your personal/professional background?
2. What is your connection to Lake of the Ozarks?
3. What do you think are the most important issues facing Lake of the Ozarks?
4. What, in your mind, is the role of government?
5. What bill(s) do you plan to file or issues do you plan to support in 2019, if elected?
--
CANDIDATE RESPONSES
--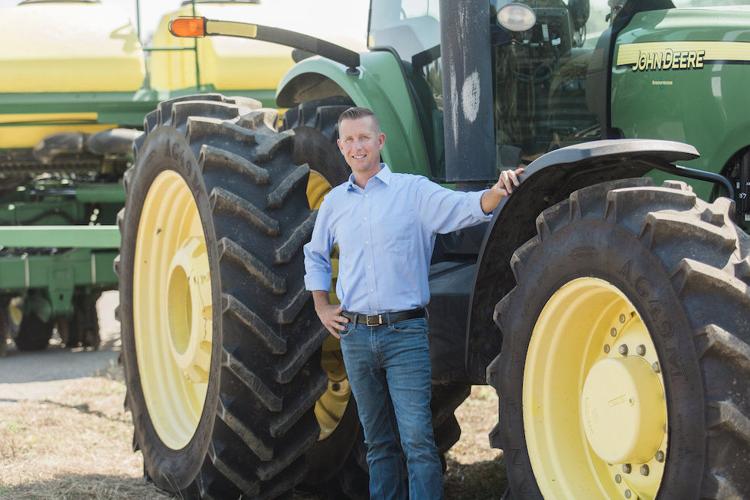 JUSTIN DAN BROWN
1. I was fortunate enough to be born, raised, and educated in Missouri. I began my career as a commercial loan officer specializing in agricultural loans. For the next 13 years, I serviced commercial loans while also owning and operating a family farming business. Currently, I farm around 2,000 acres of leased land while also maintaining a cow-calf operation on the family farm. I am an active member of the Dent/Phelps County Cattlemen's Association and the Missouri Cattlemen's Association; the Missouri Beef Council; and the Phelps County Farm Bureau. I also serve as a leader for the Elk Prairie 4-H Club, a member of the Masons Lodge #814, and we attend Greentree Christian Church.
2. Having lived in this area my entire life, I am familiar with the tourism, energy and hotel-restaurant needs for the Lake of the Ozarks area. This area presents unique challenges for legislation as it relates to boating and short-term home rentals. I am committed to fighting for the needs of the Lake in the Missouri Senate.
3. Tourism can change overnight. Without proper care, a destination like the Lake of the Ozarks can become stale. We must work with regional and statewide leaders to ensure this area continues to be a destination for travelers and that the unique needs of the Lake are met. Property values must also be maintained by balancing the needs of the hotel-motel industry and the opportunities for homeowners to have short-term rental opportunities.
4. I support Donald Trump's agenda and will be an advocate for his priorities on the state level. The role of government should be very limited, in my opinion. My opponents have voted to implement Obamacare exchanges in the state. Every time I am presented legislation I will ask myself three things: First, is this good for the family? Second, is this an appropriate role for government? And third, is this good for the state as a whole?
5. I have never ran for public office and I am a political outsider, so I approach things differently. I am endorsed by Missouri Right to Life and have an A rating from the NRA.; my first priority is to represent the values of the Ozarks in the Missouri Senate. Secondly, I want to be sure that we are reducing the role of government, not growing it – so instead of proposing a lot of new laws that restrict our freedoms, I'll be watching for big government ideas to block in the state senate.
--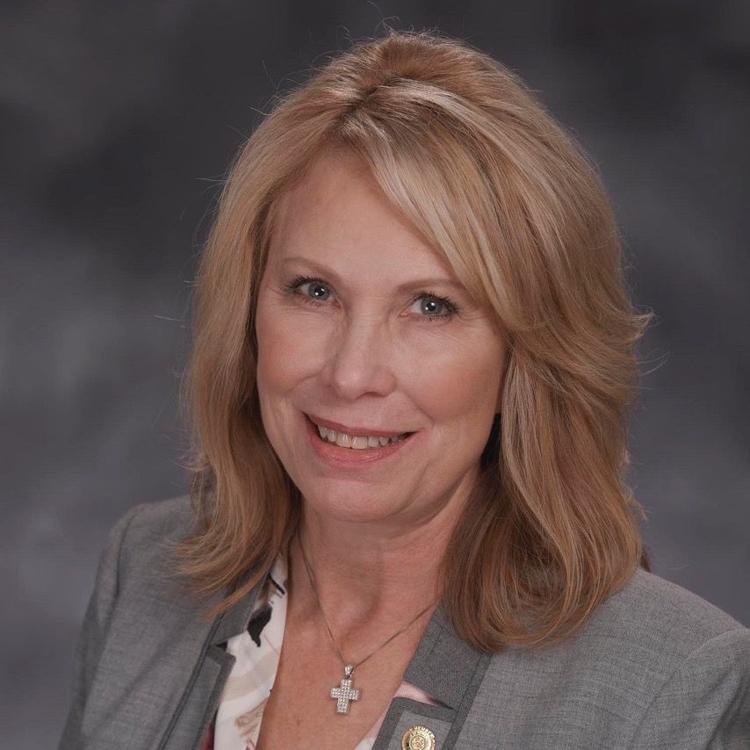 DIANE FRANKLIN
1. For most of my adult life, I worked with my late husband, Dr. Chris Franklin, both, in his medical practice and on our family farm where we raise cattle. Since 2010, I've served as a conservative State Representative for Camden County where I've been a champion of protecting innocent life, defending our Second Amendment, stopping illegal immigration and fighting for Lake area economic opportunities and values.
2. I was born and raised in Camden County. I grew up working in my family's bait shop and, along with my husband, raised my family here. We built his medical practice, operated our family farm and have been actively involved in our church and our community. As your State Representative, I've fought for our jobs, our economy and our values in the Missouri House of Representatives.
3. In the State Senate, my top priority will be fighting for our economic opportunities and our shared values. I will promote tourism opportunities, support regulatory reform to get government off the backs of job creators, and work to create more jobs with higher wages. In addition, I'll continue to fight for my pro-life, pro-gun and pro-secure border values in the Senate. I'm proud to have been endorsed by Missouri Right to Life and received the highest possible rating from the NRA for my record of defending our values.
4. The role of government is to preserve our liberties. That's why I've fought to limit the size of government and defend our conservative values in the Missouri House of Representatives and what I'll do in the Missouri Senate. 
5. I'll continue to support efforts to stop abortions, enhance our 2nd Amendment rights, and push to eliminate job-killing regulations on our area small businesses. That's what I've done and that's what I'll continue to do in the Missouri Senate.
--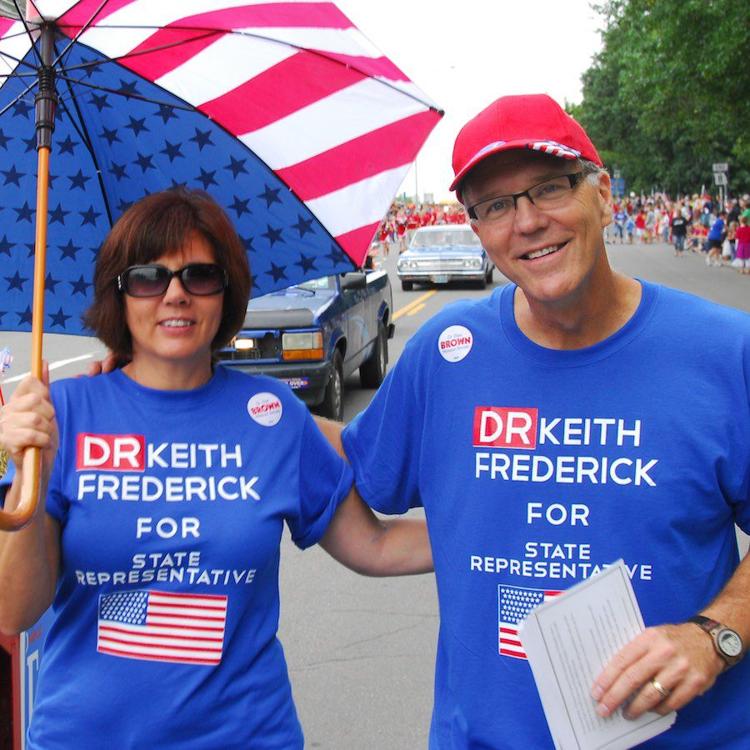 KEITH FREDERICK
1. I received my B.S in Pharmacy in 1976 at the St. Louis College of Pharmacy, which was a 5 year program. I attended Graduate School at Mizzou 1976-77, I graduated from the Chicago College of Osteopathic Medicine in 1981. I completed 5 years of Orthopedic Residency in 1986, and entered practice at the Lake and established the Osage Bone & Joint Clinic on KK in Osage Beach. I served as Chief of Surgery and Chief of Staff at Lake Regional Hospital. I was elected President of the Missouri State Orthopedic Association. I have lectured and given surgical demonstrations on knee replacement surgery in the US, France, Spain and Germany. I was elected to the Missouri House in 2010. I currently serve as Chair of the Committee on Health and Mental Health.
2. I became the first fulltime orthopedic surgeon at the Lake when Marilyn and I moved to the Lake to start Osage Bone & Joint Clinic in 1986. At that time there was not a stoplight at KK and 54. We hired Bill Johnson to build the medical office building on KK in 1988. We lived at the Lake for almost 20 years, and in 2004 we moved to Rolla. We were Co-Owners of the BullPen. We raised three children while at the Lake, and they attended Osage Beach Elementary and Camdenton High School. Our daughter Catie played in the Band. Our son Ben also graduated from Camdenton High School. I was a member of the Athletic Boosters for a number of years, and provided medical coverage on Friday nights for the Lakers football games.
3. I believe the protection of the tourist industry is a major priority, and if State Government establishes the mechanism whereby Vacation Nightly Rentals can be sharply curtailed, as is the stated goal of the Hotel and Lodging Industry nationally, then not only will tourism suffer as people will not be able to find the type of accommodations some have come to expect at the Lake, but Real Estate values will decline. In addition, businesses will see fewer people patronizing their businesses because of the houses that remain empty instead of full of tourists. Go to DocFrederick.com/RealEstate for a video on this topic.
The second issue that should be a priority at the Lake is to address the opioid epidemic. I believe there is good evidence that the way to reduce the deaths that are occurring is to make treatment more available. I sponsored legislation that passed this year that will do just that. Personally I oppose the Prescription Drug Monitoring Program because of mounting evidence that these make the problem worse by driving people to the street for fake pills containing deadly Fentanyl, and also because I believe it is a violation of law abiding citizens' 4th amendment rights to be surveilled without probable cause.
4. I believe the role of government is to secure the people's rights, including those God given rights Life, Liberty and the Pursuit of Happiness. That's what the founders believed since those words are in the Declaration of Independence.
5. I plan to re-file the bill I sponsored last session to protect the property rights of owners of Vacation Nightly Rental property. I plan to re-file legislation to prevent unlawful use of a cell site simulator such as a Stingray or a Hailstorm which are used to intercept citizens phone calls. I plan to re-file legislation to reform Medicaid using free market principles. Go to DocFrederick.com/HealthCare for a video on Health Care Freedom. For a video about Dr Frederick go to DocFrederick.com. To follow our campaign text DOC to 53445, text and data rates may apply.