Missouri's new medicinal marijuana law opens up treatment options for qualified patients suffering from disorders or pain that have not been successfully treated with traditional medication. While the law took effect December 6, there are still a number of procedures and regulatory issues that have not been resolved.
However, individuals and businesses are eager to capitalize on the opportunity. According to the Department of Health and Senior Services (DHSS), as of Feb. 20, the state of Missouri has already collected over $3 million in prefiling fees for marijuana cultivation, dispensaries, and manufacturing facilities.
DHSS has hosted two forums, and has four more planned, to get Missourians' input on rules and regulations for the program:
5-8 p.m., Feb. 27 in Poplar Bluff - Three Rivers Community College, 2080 Tinnin Fine Arts Center
5-8 p.m., Feb. 28 in St. Louis - TBA
5-8 p.m., March 6 in Kansas City - TBA
5-8 p.m., March 7 in Springfield - Ozarks Technical Community College
Video from a recent public forum is below:
As DHSS finalizes the details, LakeExpo.com took a deep dive into Amendment 2, speaking with law enforcement, sponsors of the bill and legal experts on cannabis. The information below is the result of those interviews, as well as information taken from DHSS' medical marijuana FAQ page.
How Can I Legally Posses Medicinal Marijuana in Missouri?
The new law allows for a Qualifying Patient or a Primary Caregiver to possess medical marijuana.
How Do I Become a Qualifying Patient?
1) Obtain physician certification after being diagnosed with a qualifying medical condition
2) Apply for Identification Card from DHSS
How Do I Get A Physician Certification?
A Physician Certification is simply documentation that a medical or osteopathic doctor believes a patient has a "qualifying medical condition" and would benefit from medicinal marijuana treatment. According to Amendment 2, section 1… paragraph 13 this document can be "handwritten, electronic or in another commonly used format" but must be signed by the physician. Patients will need to get an updated certification from their doctor each year. 
How Do I Get A Qualifying Patient Identification Card?
Applications will be available by June 4 and can be submitted starting on July 4, 2019. The DHSS has 30 days to either approve or deny applications. The cost $25
All applications are obtained through the Missouri Department of Health and Senior Services.
How Do I Get A Primary Caregiver Identification Card?
1) Primary caregivers must be 21 or older 
2) Have "significant responsibility for managing the well-being of a Qualifying Patient" - section 1, part 1, paragraph 13.
3) Serve as the Primary Caregiver to no more than three Qualifying Patients
4) Apply and obtain a Primary Caregiver identification card from DHSS. Applications available by June 4, 2019 and can be submitted starting on July 4. The DHSS has 30 days to either approve or deny applications. 
5) A Primary Caregiver ID costs $25
Who Can't Have Medicinal Marijuana?
Current federal law prohibits licensed gun owners from using medicinal marijuana, even if it is legal in your state. More on this issue coming from LakeExpo.com soon, but in brief, a letter from the Bureau of Alcohol, Tobacco, Firearms and Explosive (ATF) referenced that "Federal law, 18 U.S.C. § 922(g)(3), prohibits any 'unlawful user of or addicted to any controlled substance (as defined in section 102 of the Controlled Substances Act (21 U.S.C. 802))' from shipping, transporting, receiving, or possessing firearms or ammunition." The letter goes on to say that, "Therefore, any person who uses or is addicted to marijuana, regardless of whether his or her State has passed legislation authorizing marijuana use for medicinal purposes, is an unlawful user of or addicted to a controlled substance and is prohibited by Federal law from possessing firearms or ammunition."
What Happens After I Apply?
DHSS has the right to request applicants submit their fingerprints to the Missouri State Highway Patrol for state and federal background checks. 
Can I Grow Marijuana At Home?
Missouri's card-carrying Qualifying Patients and Caregivers will be allowed to grow medicinal marijuana at home, with some restrictions. Amendment 2 allows a patient or caregiver with an DHSS issued Qualifying Patient Cultivation identification card to grow up to six plants in a "appropriately secured facility." According to amendment language this secured facility is defined as a locked and enclosed area that ONLY the Qualifying Patient or primary caregiver can enter. Section 1, Part 7, Paragraph 9.  John Payne of New Approach Missouri, said the facility needs to be covered and locked, adding that a greenhouse could be a suitable facility as long as it is covered and has a reliable lock. Qualifying Patient Cultivation ID cards cost $100 and must be renewed each year. 
Two Qualifying Patients with cultivation ID cards can grow up to 12 plants in the same facility. If a third person is a Primary Caregiver who also has a Qualifying Patient ID card, they can also grow on the same property allowing up to 18 medicinal marijuana plants in one place.
How Does A Person Start Home Growing?
Until dispensaries are selling legal marijuana seeds for cultivation there is no legal way for home or commercial growers to get seeds or starter plants into the state without violating federal law. While 33 states now allow for the medicinal use of marijuana, the US Drug Enforcement Administration (DEA) still considers it a Schedule I drug. In the eyes of the feds, marijuana has, "no currently accepted medical use and a high potential for abuse." This classification means it can't cross state lines, even if state government is managing that transportation. Transporting it across state lines is also a violation of Missouri state laws, according the Missouri State Highway Patrol. MSHP says until DHSS has issued the appropriate cards law enforcement will be treating any marijuana in the state as illegal.  
It would be logical to assume the best way to get a crop started is to buy seeds from a legal grower or dispensary in another state; however, businesses who ship out-of-state put themselves at risk. Lewis Koski, a partner in the government consulting firm Freedman & Koski and former Director of Colorado Marijuana Enforcement Division, explained, "A business could have their license revoked. The members of the company could face criminal charges." Chris Lindsey, a legislative analyst for the Marijuana Policy Project which supports regulated marijuana nationally, agreed: "there isn't much of an option for states except to look the other way and understand that there has to be a way for regulated businesses to operate." (http://www.cpr.org/news/story/licensed-medical-marijuana-growers-must-break-law-get-first-seed)
This chicken-or-egg conundrum has been widespread as states have legalized marijuana, mostly recently discussed in Oklahoma, Ohio and Maryland.
What is the earliest I can buy from a Missouri Dispensary?
The DHSS estimates the earliest a Qualifying Patient can purchase medicinal cannabis from a dispensary will be January 2020. The Missouri State Highway Patrol says until Department of Health has issued the appropriate cards, troopers will be treating any marijuana in the state as illegal, because it would have to have come across state lines illegally.
How Much Can I Buy?
DHSS can and likely will, set a maximum limit to the amount of dry marijuana a Qualified Patient can buy in a month. Legally the limit cannot be less than four ounces of the dried material. 
How Much Can I Carry?
The DHSS can also set a limit on the amount of dried marijuana a Qualifying Patient can carry. They cannot limit it to less than a 60-day supply or eight ounces. 
What If I Need More Than The State Allows?
Purchase and possession limits can be adjusted to accommodate a Qualifying Patient who has written certification from two separate physicians that state why they need more than is legally allowed. Without the proper certification a patient with twice as much as they are legally allowed to have could lose their identification card, pay a fine up to $2,000 and face up to one year in prison. 
Where will dispensaries be? And how many?
DHSS can control the number of dispensary licenses issued, but by law they must allow at least 24 licenses in each Congressional district. With eight congressional districts statewide, the law allows for 192 dispensaries in Missouri.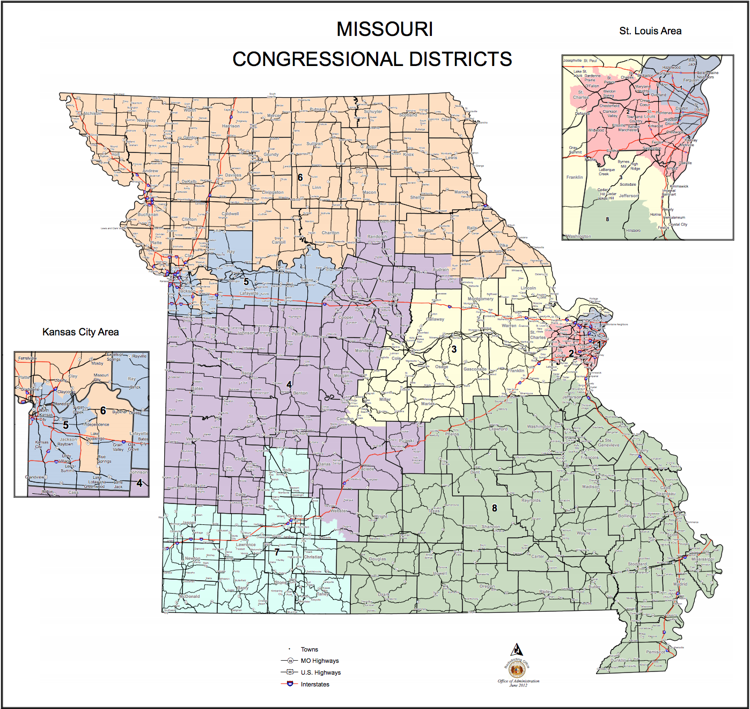 Where will marijuana-infused product making facilities be located?
Amendment 2 allows for one marijuana-infused product making facility per 70,000 people in the state. Based on the last census in 2010 and population estimates in 2017, the state will need to make room for at least 4,000 cannabis-infusion operations.
Can I Have Medicinal Cannabis In Missouri If I Have An Out-Of-State Medicinal ID Card?
Yes and No. As of February 2019, no. Eventually an out-of-state ID card will allow a patient to buy from dispensaries within the state, meaning possession of medical marijuana grown in Missouri will be allowed. However currently there are no legally grown medicinal marijuana options available in Missouri. So if you have an out-of-state card and are carrying medicinal marijuana, law enforcement can assume you transported it into the state illegally and will treat it as such.
Dispensary facilities are not permitted to sell until they have their license, which they can apply for on August 3, 2019. DHSS must approve or deny applications by December 31. Since home-grow operations are not yet legal and patients cannot legally bring marijuana into Missouri across state lines there isn't currently a legal way for an out-of-state-card holder to possess medicinal marijuana.
Once I Get My Card Can I Legally Carry Weed In Other States?
Not necessarily. Some states will recognize your Missouri status as a Qualified Patient, but others will not. Be sure to check regulations before trying to buy medical cannabis out-of-state in order to be in compliance with that state's laws.
Can I Use It In Public?
No. The new law does not allow for public use, driving, working or attempting to work while under the influence of marijuana.
Can medicinal marijuana be shipped across state lines?
Nope. While the herb is now legal in the state of Missouri, it is still listed as a Schedule I drug on the Controlled Substance Act with the US Drug Enforcement Administration and federal law does not allow any restricted substance to move across state lines.
Who Started Amendment 2?
The main sponsor for Amendment 2 was New Approach Missouri, an advocacy group with the goal of placing medical marijuana treatment in the hands of doctors, not government. [http://www.newapproachmissouri.com/] The group has a diverse array of employees, board members and advisors including campaign managers, research analysts, attorneys, change advocates, business specialists, physicians, nurses, medical and osteopathic doctors, as well as researchers and law enforcement.
What Does The Amendment Consider Medicinal Marijuana?
Amendment 2 definition of marijuana includes: Cannabis indica, Cannabis sativa and Cannabis ruderalis, as well as other hybrids, strains and extracted resins. The law also specifies that hemp products with less than .03 percent THC (tetreahydrocannabidnol) are not considered marijuana. Other products that are acceptable under the new law include: capsules, teas, oils, food and other infused products, vaping, topical ointments, balms, skin patches and suppositories.
How Do I Start A Commercial Grow Operation?
While applications for facility licenses to cultivate, manufacture, test, transport, seed-to-sale, or dispense have been available since January 2019, the DHSS won't begin to accept applications until Aug. 3, 2019. Applicants will hear from the state within 150 days of submission. Meaning, applications submitted on Aug. 3 will be approved or denied by Dec. 31, 2019. Approved licenses are valid for three years.
The application fee for growing medicinal marijuana is a non-refundable $10,000 with an annual fee of $25,000.
How Do I Start A Dispensary or Marijuana-Infused Manufacturing Facility?
Both will require a $6,000 non-refundable application fee and a $10,000 annual fee. Just as with cultivations facilities, applications became available in January 2019. The DHSS will begin accepting applications Aug. 3. Applications will be approved or denied by Dec. 31, 2019. Approved licenses are valid for three years.
January 5, 2019 - Facilities can pay their applications FEE, but applications won't be available
June 4, 2019 - Patient applications available
July 4, 2019 - Patient applications accepted for review
August 3, 2019 - Medical Marijuana Identification Cards issued for first applicants.
Facility license applications accepted for review.
January 2020 - Approved patients buy medicinal cannabis legally from licensed distributors.

What Can I Do Now?
The first step to legally using marijuana for its medicinal benefits is to have your doctor certify that you are a Qualifying Patient. This physician certification must be obtained before you can apply with the state.
What Are The Qualifying Medical Conditions?
Cancer,
Epilepsy,
Glaucoma,
Intractable migraines unresponsive to other treatment,
A chronic medical condition that causes severe, persistent pain or persistent muscle spasms, including but not limited to those associated with multiple sclerosis, seizures, Parkinson's disease, and Tourette's syndrome,
Debilitating psychiatric disorders, including, but not limited to, post-traumatic stress disorder, if diagnosed by a state licensed psychiatrist,
Human immunodeficiency virus or acquired immune deficiency syndrome,
A chronic medical condition that is normally treated with a prescription medication that could lead to physical or psychological dependence, when a physician determines that medical use of marijuana could be effective in treating that condition and would serve as a safer alternative to the prescription medication,
Any terminal illness, or
In the professional judgment of a physician, any other chronic, debilitating or other medical condition, including, but not limited to, hepatitis C, amyotrophic lateral sclerosis, inflammatory bowel disease, Crohn's disease, Huntington's disease, autism, neuropathies, sickle cell anemia, agitation of Alzheimer's disease, cachexia and wasting syndrome.
If you have questions about this process you can email the Department of Health and Senior Services directly at: MedicalMarijuanaInfo@health.mo.gov