Lake Ozark, MO. —Volunteers showed their strength during Ameren Missouri's Annual Fall Adopt-the-Shoreline Cleanup. More than 21 tons of trash and debris from the Lake of the Ozark's shoreline were removed by 109 volunteers from 15 shore-adoption groups.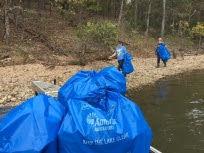 "Our volunteer groups removed some of the heaviest debris ever recorded in a cleanup effort," said Ameren's Missouri's Bryan Vance, the Adopt-the-Shoreline coordinator.The cleanup this fall was certainly needed. Volunteers removed 15 tons more trash and debris this year than the previous year.
Items included derelict dock parts, wood decking and extremely heavy waterlogged encapsulated floats.
"Many of these items were secured by Lake residents throughout the summer and removed by volunteers during the fall cleanup," Vance said. "We really appreciate and thank residents for helping keep the lake free of loose floating debris." 
The mission of Adopt-the-Shoreline is to enable and assist interested groups and residents to preserve the environment around the Lake by maintaining a shoreline clean of debris and litter. Adopt-the-Shoreline volunteers have removed over 5.6 million pounds of trash from the Lake's Shoreline since the first cleanup in 1992.  
Adopt-the-Shoreline is sponsored by Ameren Missouri, which provides administrative support and trash bags and pays for disposal of debris and trash. The program is part of Ameren Missouri's continued commitment to serving as a responsible steward of the Lake of the Ozarks and its surrounding environment. To learn more, visit AmerenMissouri.com/ATS or contact the Ameren Missouri Shoreline Management Office at 573.365.9252.
Ameren Missouri has been providing electric and gas service for more than 100 years, and the company's electric rates are among the lowest in the nation. Ameren Missouri's mission is to power the quality of life for its 1.2 million electric and 127,000 natural gas customers in central and eastern Missouri. The company's service area covers 64 counties and more than 500 communities, including the greater St. Louis area. For more information, visit Ameren.com/Missouri or follow us at @AmerenMissouri or Facebook.com/AmerenMissouri.