A new medical flight company began servicing the Lake area in July. Air Medical Services' helicopter crew conducted a training on Monday, July 1 at the Woods Supermarket helipad in Sunrise Beach. 
Lake Regional Hospital and University of Missouri Health Care (MU) previously partnered with Staff for Life Helicopters, but when their contract expired, they chose to contract with the new MU Air Medical Services. The new service, however, will continue to use the same helicopter flight crews that have been lifting emergency patients to area hospitals.
MU Air-2 traveled to the area and introduced local EMS personnel to the 'new to the area' aircraft, and they presented a portion of planned ongoing training to keep EMS crews abreast of new policies and guidelines. Personnel were introduced to new features, restrictions and emergency safety mechanisms, in an effort to keep everyone as safe as possible. The helicopters are equipped with safety systems, such as night vision goggles, terrain awareness and warning system (TAWS), advanced global positioning systems (GPS) and avionics to help the pilots and crews arrive quickly and safely.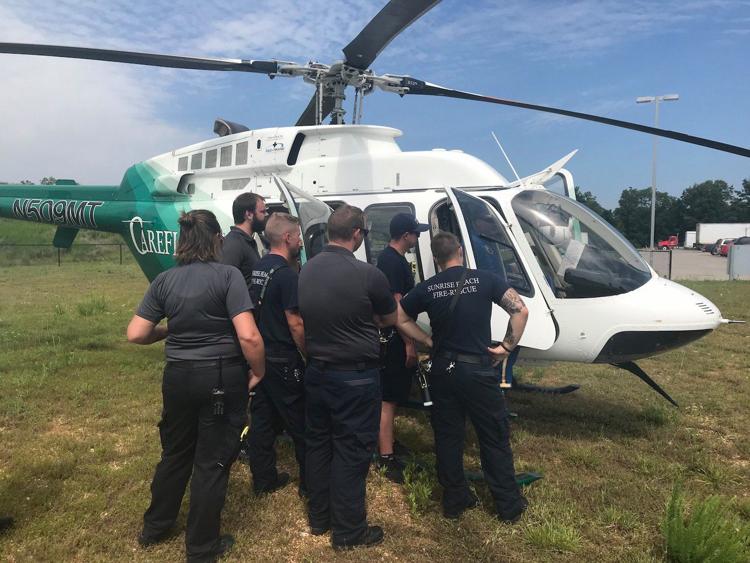 Time Critical Injuries 
According to Lake West Ambulance District Operations Manager, the district transports approximately 20 patients a year to a life flight helicopter. "If it is a time-critical injury, burn or major trauma and they have to go to a specialty hospital, a life flight will improve the outcome," Blackburn said. She used strokes as an example, saying, "Time is brain." According to the American Stroke Association and National Institutes of Health, the two most important steps in successfully treating a stroke are early identification and rapid transport to a certified Stroke Treatment Center. A 2006 study in Stroke Journal indicated that the typical patient loses 1.9 million neurons each minute in which stroke is untreated. As a result, treatment even en route is crucial for improving patient outcomes.
The Helicopter Service offers:
Blood Administration
In-Flight Ultrasound
Laboratory Quality Blood Testing
Advanced Respiratory Care
Balloon Pump Transport
STEMI Activation
Stroke Activation
Neonatal Transport
MU Health Care is the only Level I Trauma Center in central Missouri. The MU trauma team includes surgeons, neurologists, orthopedic specialists, nurses, respiratory therapists and other specialists.
The MU multidisciplinary trauma team treats more than 50,000 people every year. Their experts offer complete care for traumatic injuries, including:
Burn and wound care general surgery 
Neurological trauma surgery 
Plastic and reconstructive surgery