Netflix is promising Ozark will go out with a bang in Season 4 of the Emmy-winning drama. In fact, that's pretty much all they're saying about it for now, with a Ozark-esque mysterious and sparse announcement on Facebook, Tuesday, June 30.
According to Deadline.com, Laura Linney will be the co-executive producer for the final season, which will be 14 episodes, broken into two 7-episode segments.
Netflix also announced in May that Jason Bateman's Aggregate Films would be producing the romantic comedy Your Place Or Mine. In 2018, Netflix announced a multi-year deal with Aggregate, covering film, television, and documentaries. Jason Bateman executive produces, stars and directs Ozark.
**SPOILER ALERT** — Details about Season 3 below.
*
*
*
*
*
The end of Ozark Season 3 left a host of unanswered questions that viewers can hope will be wrapped up in Season 4.
Specifically, the violent final moments of Season 3 left Marty and Wendy spattered in the blood of Helen, who had been vying—in competition with Wendy—for power and influence with cartel leader Omar Navarro. With Navarro's shocking murder of Helen, where do Marty and Wendy stand with the cartel?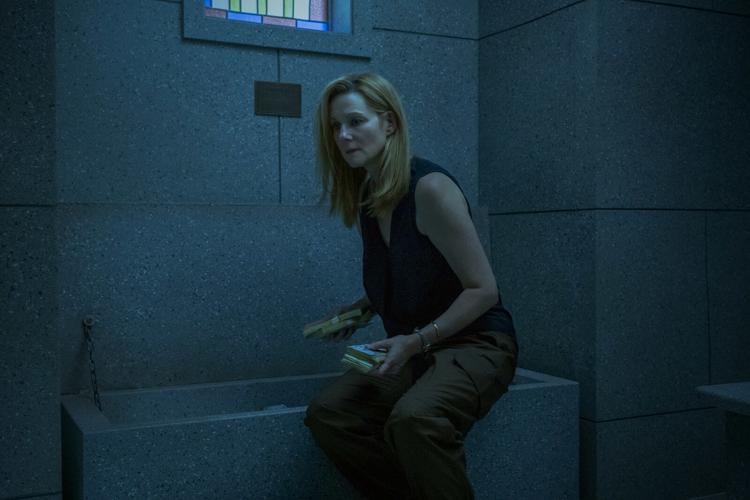 This question touches on another key plot element in Season 3 that will likely play itself out in the final season: Wendy's thirst for power and influence. Will her drive to dive deeper into crime ultimately drive a wedge between Wendy and Marty and their kids? Can Wendy come back to the good side, especially after her involvement in the murder of her brother in Season 3?
Another plot element that will likely factor into the Byrde's machinations in Season 4: Darlene Snell. Having partnered (in… multiple ways) with Wyatt Langmore and trying to wrench Ruth's loyalty away from the Byrdes, Darlene is making a play to be the narcotics queen in the Ozarks. Will she successfully be able to ally with the cartel and the Kansas City mob?
More philosophically, will any of Ozark's main characters find a modicum of redemption, or peace? This whole messy saga began with Marty trying to simply save his family. By the end of Season 4, will any of them not be lost?