Today is the day. On Thursday, Dec. 6, 2018 Missouri's new medicinal marijuana law goes into effect. But, don't think you can suddenly smoke a doobie and not get busted.
Can you at least get some seeds started for your four in-home-grow plants? The Missouri Department of Health and Senior Services (DHSS) is the government entity handing out applications and approvals for "Amendment 2." (Read the full Amendment text here) They will issue identification cards and certify growers, distributers and dispensaries. And to the home-grow question, they're currently ambiguous on the answer as to "how" and "when." Amendment 2 does state that the department will issue a card (annually renewable for $100) that allows residents to grow up to six plants at home, but it's currently unclear when those cards will be available. Meanwhile, the DHSS website agrees home growing will be allowed but only "with the appropriate identification card and in an appropriately secured facility." It's unclear what the parameters for an "appropriately secured facility" are, and DHSS was unable to answer that question when asked on Dec. 6.

Some have asked whether a person with an out-of-state ID card for medical marijuana can now legally use it in Missouri. The DHSS says "no." From their website:
Can someone with an out-of-state medical marijuana card or a physician certification possess medical marijuana in Missouri on December 6? No. The reason is that while the possession is technically allowed, there will be no marijuana available for legal possession.  There will not yet be any licensed dispensary facilities to purchase marijuana from; cultivation identification cards will not yet have been issued; and transportation of marijuana into Missouri from another state or purchase of marijuana from street dealers is prohibited under state and federal law.
The process for issuing applications and approval guidelines will take time to implement, but DHSS does have deadlines to meet according to the new law, which means today the clock officially starts. Here's what the new law says needs to happen before one can legally medicate with marijuana:
Get a physician certification
Apply and receive an Identification Card
Buy medical marijuana from a state-licensed dispensary
What's The Timeline?
The new law requires DHSS to make applications for Identification Cards available with 180 days of the law taking effect. So, if your doctor thinks you have a health condition that medicinal marijuana could help treat, applications will be available June 4, 2019 and the Department will begin accepting applications a month later, July 4. DHSS hopes to have an online application process as well as a paper one. The ID cards will cost $25 and may take up to 30 days to receive. The first applicants in the state could be card-carrying medicinal marijuana patients by Aug. 3.
Does this mean that by August 3 you could be rolling a joint legally? Nope. All legal marijuana in Missouri will have to come through certified growers and dispensaries. While applications will be available beginning Jan. 5 for facility licenses to cultivate, manufacture, test, transport, seed-to-sale, or dispense medicinal marijuana, the DHSS won't begin to accept applications until Aug. 3. Applicants will hear from the state within 150 days of submission. Meaning, if you get your application on Jan. 5, 2019 and submit it on Aug. 3, 2019, it will be approved or denied by Dec. 31, 2019.
Then, and only then, can a grower (legally) begin growing!

The application fee for growing medicinal marijuana is a non-refundable $10,000 with an annual fee of $25,000. Dispensaries or medical marijuana-infused manufacturing facilities will pay a non-refundable $6,000 application fee, with an $10,000 annual fee. It's worth noting that the application fees are not refundable, even if you are denied the license.
 Important Dates To Know...
 

| | |
| --- | --- |
| January 5, 2019   |  Facility license applications available  |
| June 4, 2019 |  Patient applications available |
| July 4, 2019 |  Patient applications accepted for review |
| August 3, 2019 |  Receive Medical Marijuana Identification Card |
|   |  Facility license applications accepted for review |
| |  Approved patients buy weed legally from licensed distributors |
 The following image provided by the Department of Health & Senior Services: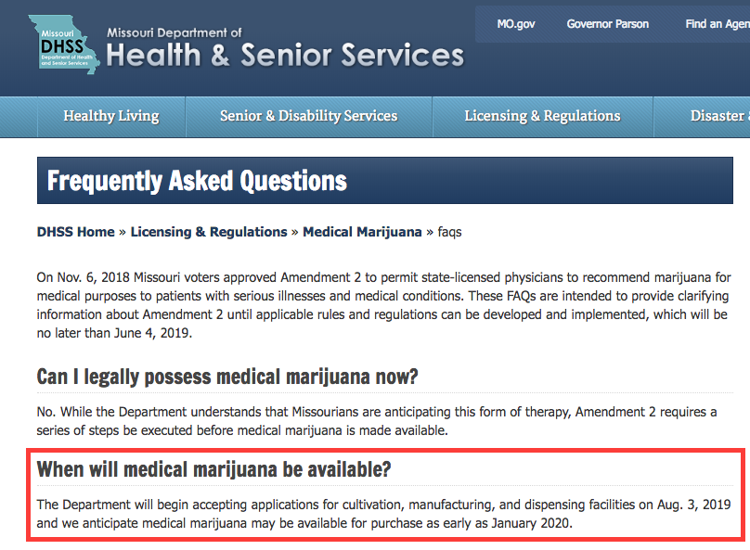 What Can You Do Now?
The first step to legally using marijuana for its medicinal benefits is to have your doctor certify that you qualify as a patient. This physician certification must be obtained before you can apply with the state.
Qualifying Conditions
Cancer
Epilepsy
Glaucoma
Intractable migraines unresponsive to other treatment
A chronic medical condition that causes severe, persistent pain or persistent muscle spasms, including but not limited to those associated with multiple sclerosis, seizures, Parkinson's disease, and Tourette's syndrome
Debilitating psychiatric disorders, including, but not limited to, post-traumatic stress disorder, if diagnosed by a state licensed psychiatrist
Human immunodeficiency virus or acquired immune deficiency syndrome
A chronic medical condition that is normally treated with a prescription medication that could lead to physical or psychological dependence, when a physician determines that medical use of marijuana could be effective in treating that condition and would serve as a safer alternative to the prescription medication
Any terminal illness or
In the professional judgment of a physician, any other chronic, debilitating or other medical condition, including, but not limited to, hepatitis C, amyotrophic lateral sclerosis, inflammatory bowel disease, Crohn's disease, Huntington's disease, autism, neuropathies, sickle cell anemia, agitation of Alzheimer's disease, cachexia and wasting syndrome.
But if you have one of those conditions, and want to legally use marijuana, most folks will have to suffer a bit longer, since it does not look like there is really any way anyone will be legally using legally-grown-and-dispensed medical marijuana in 2019. Depending on how DHSS handles the home-grow situation, it's possible some people could home-grow and use home-grown marijuana at some point in 2019.
If you have questions about this process, email the Department of Health and Senior Services directly at: MedicalMarijuanaInfo@health.mo.gov