The 80s tribute band Members Only is returning to Lake of the Ozarks in July for a local run at a couple of the Lake's live entertainment hotspots.
Jake Simpson and the gang will be performing on the fourth of July at the Boathouse Lakeside Bar & Grill at 107 Village Marina Road outside of Lake Ozark down State Highway W. Members Only will take the stage at 7 p.m. on Saturday night. Then on July 11th, Members Only will rock the crowds with their tribute to hard rock bands of yesteryear at Fat Polly's Pub in Lake Ozark from 8 p.m. until midnight.  
Simpson was seen regularly at Fat Polly's last summer with a different band, The Mai Tais. The former 2003 Star Search winner has grown into a superior nationwide entertainer, singer-songwriter, and recording artist. Jake works in the music business between his hometown of Crocker, Mo. and Los Angeles, Cali. He was recently launched on Pandora with a Jake Simpson radio channel featuring his amazing rendition of Stevie Wonder's Signed, Sealed, and Delivered I'm Yours and Isn't She Lovely, along with other similar artists such as Katherine McPhee. He modestly jokes about the appearance of the Pandora channel. "I had no idea that was a thing!" Simpson shares about his channel on the popular music streaming service.
With Members Only, Jake appears a bit different, in late-eighties hair band style. Members Only features the music of hard rock bands Bon Jovi, Prince, Def Leppard, and Guns & Roses. Jake plays keyboards, and other members include Aaron Cummings on drums, Zach McClease on guitar, Jim Vannoy on bass, and Brent Thorton on lead vocals... all donning spandex and hairspray-elevated wigs. Besides Jake, the rest of the rockers hail from Springfield, and tour the entire Midwest.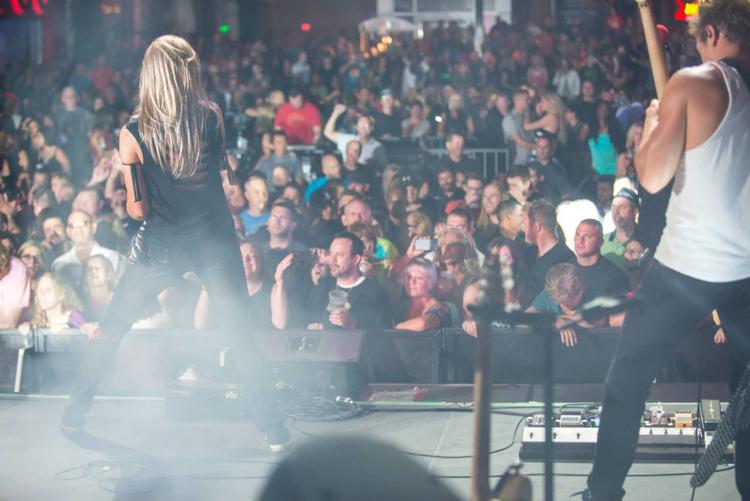 They have received awards from 417 Magazine for six years running in the "Favorite of 417" category. Not only playing hard rock, the band brings in influences of R&B and pop from the eighties, such as Prince, Michael Jackson, and Journey, giving a very danceable, high-energy show. Even CBS's Big Bang Theory actress Mayim Bialik, who plays Amy Farrah Fowler on the show, couldn't help but dance at one of their shows in Missouri in 2013.
She told KVeller.com, "The band at the wedding was a local 80s tribute band called Members Only. The clips on their site do not even do them justice. They played non-stop every awesome 80s song at full performance value and full intensity for hours. I resisted dancing (since I am pretty shy) but once they started with' Bust A Move,' I was putty in their hands. It was so much fun."
The band formed in February 2008 to celebrate the 80's experience of big hair and epic movies with a fun sense of humor, as seen in their live videos on Facebook that can be viewed here: https://www.facebook.com/membersonlytribute/videos/294939001659227/?t=3
But they aren't all about partying; Members Only is also humanitarian minded. Last year, the band participated in benefit concerts, and even launched their own local microbrew beer-Members Only Session IPA from 4 by 4 Brewing Company in Springfield. A portion of the profits from Members Only Session IPA benefits The Foundation for Springfield Public Schools.
Members Only will make an appearance on their Midwest tour at the Missouri State Fair on August 14th, 2020.