OSAGE BEACH, Mo. — Philip Kurle, M.D., has been named Lake Regional Health System's 2018 Physician of the Year. Dr. Kurle, a neurologist at Lake Regional Neurology, received the award at Lake Regional's annual Doctors' Day banquet, held March 22.
This annual award is determined by a committee of Lake Regional staff, medical staff, administration and board members. The committee reviews nominations from employees, auxilians, board members and physicians.
"This award honors physicians who demonstrate professionalism, integrity, a collaborative spirit and a positive attitude," said Dane Henry, CEO of Lake Regional Health System. "Dr. Kurle sets a strong example for each of these traits. We admire and thank him for his commitment to caring for patients and being a strong leader for our staff."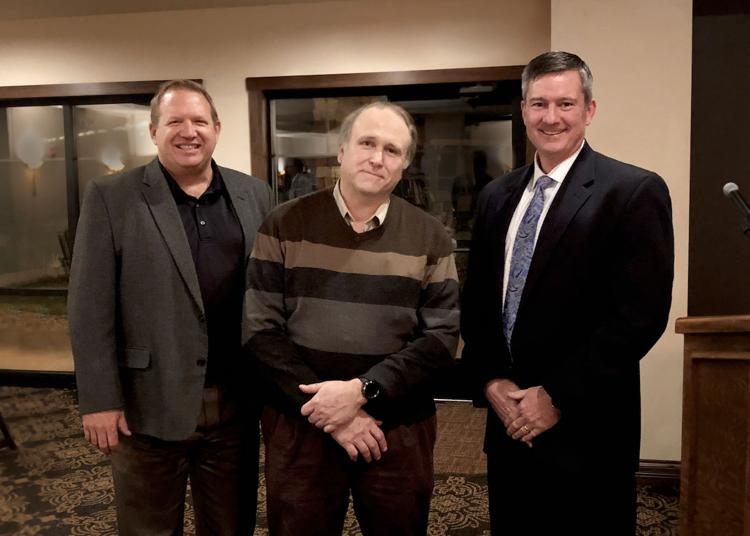 In addition to nominations, recipients must also receive positive feedback from patient satisfaction questionnaires and from others within the health system or community.  
In his nominations, Dr. Kurle was commended for his skill, dedication and calming presence.
"Dr. Kurle goes above and beyond for each and every patient who comes in the door," one nominator wrote. "He works extremely long hours [because] that is how much he cares for his patients and staff. He spends time answering questions for staff, patients and their families. He is amazing."
Another wrote: "Dr. Kurle is very kind, patient and has great empathy for people." 
Still another wrote: "Dr. Kurle is one of the most dedicated physicians I have ever met. He is very thorough and spends a lot of time with his patients explaining what is going on and what is going to happen throughout their treatment."
Dr. Kurle began working at Lake Regional in 2010. He received his medical degree from the University of Illinois College of Medicine at Rockford, and he completed a residency and fellowship at the University of Wisconsin Hospital in Madison. He is board certified in neurology.
Dr. Kurle lives in Osage Beach with his wife, Suzanne Kercher, and children, Sophia and Philip. His wife has a PhD in botany and teaches science at Camdenton High School, where Philip is a freshman and Sophia is a junior.
In addition to the Physician of the Year, the following Lake Regional physicians were honored at the Doctors' Day Banquet for years of service: 40 years — Clemens Haggerty, D.O., family medicine; and Robert Mason, D.O., family medicine; 30 years — Timothy Lischwe, M.D., ophthalmology; 25 years — Robert Nielsen, D.O., obstetrics and gynecology; 20 years — David Cathcart, M.D., FAAFP, family medicine; John Dymond, M.D., radiology; and Michael Vierra, M.D., radiology; 15 years — Zubair Khan, M.D., FACC, cardiology; and Steven Haas, M.D., pathology; 10 years — Linda Jabbari, D.O., family medicine; James Neill, M.D., family medicine; Shari Neill, M.D., FAAP, pediatrics; Crystal Strickler, DDS, dentistry; and Baron Adkins, D.O., radiology; and 5 years — Josh Brickner, D.O., hospitalist; Christine Livek, M.D., family medicine; and Donald Hockman, D.O., emergency medicine. 
Lake Regional Health System has more than 100 providers caring for Lake area residents and visitors in the hospital and its seven primary care clinics, 21 specialty clinics and three Express Care locations. Lake Regional Hospital is accredited by The Joint Commission and is a three-time recipient of the Missouri Quality Award. Lake Regional Health System also operates rehab therapy clinics, retail pharmacies, and home health and hospice services throughout the lake area.