The Best Recreational Lake in the Nation has plenty of ways to keep even the hardest-to-please of children entertained on vacation. Generations have been enjoying the variety of family-friendly activities at Central Missouri's Lake of the Ozarks. Here are just a few options to get the vacation wheels turning as you plan your trip. 
IN-THE-WATER FUN
For on-the-Lake activities, the options are almost as numerous as the number of coves where you can play.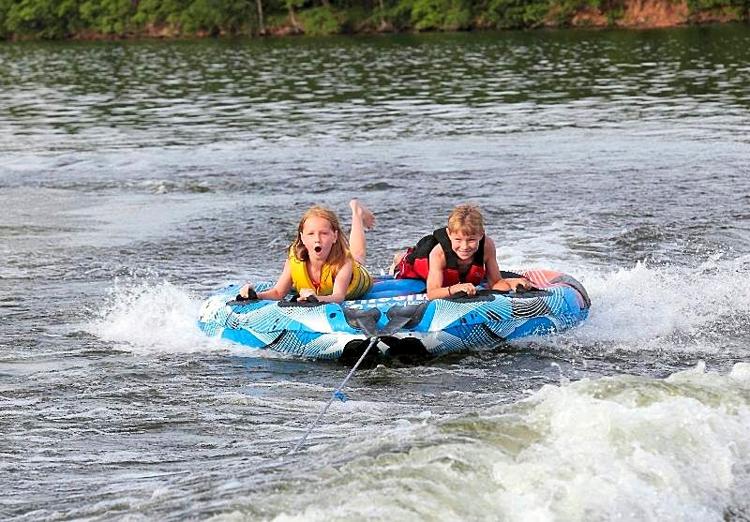 With over 50 marinas dotting the shoreline, there's no shortage of opportunities for families looking to rent a boat and pull-behind tubes and rafts for several hours, or days, of fast-action fun on the water. Depending upon the marina, visitors also can rent water skis, wakeboards, kayaks and stand-up paddleboards.
For those wanting to learn how to stand-up paddleboard, Super Dave's Paddlecraft Adventures, 1028 Deer Valley Park in Sunrise Beach, is a great place to start. Each paddleboard rental comes with personalized instructions from one of the owners, either Dave or Lisa Bertels, where they teach their customers how to safely and successfully get on the board, stand up on the board, paddle efficiently and control their board before making their way into the quiet cove. This can take anywhere from five to 15 minutes, depending upon the customer, and additional assistance and coaching is provided if necessary. More information can be found on Super Dave's Facebook page. Looking for paddleboarding somewhere you can grab some food and drinks too? Franky & Louie's rents paddleboards, has a protected cove for swimming, and offers some fantastic fare on the menu too...
White sand beaches and an enclosed pool for wading and splashing make Franky and Louie's a p…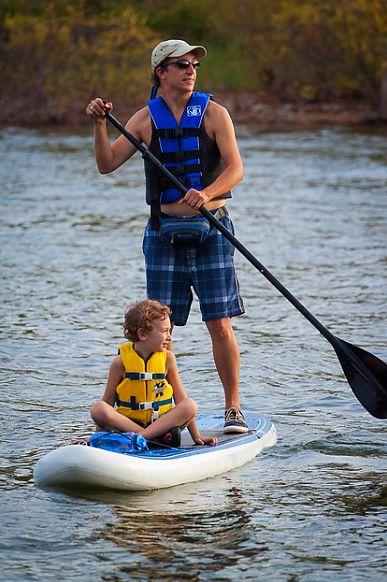 SugarLoaf Vineyard Kayaking, 66 Feline Lane in Camdenton, offers their guests the opportunity to head out on the water in sit-on-top single or tandem kayaks, which are great for beginners or the seasoned veteran. The tandems, especially, are great for pairing parents with children for a relaxing day on the water. If kayaking is a new experience for the family, the proprietors, Barb and Ward Morris, are happy to provide a quick lesson on paddling techniques and also will provide a map with the location of the explorable Onyx cave, Ha Ha Tonka State Park, swimming holes and great places to beach and picnic along the Little Niangua River. For more details, visit www.SugarLoafWinery.com.
Many Lake-area resorts also offer the use of kayaks, canoes, paddleboards and paddleboats to their guests. Vacationers should check with the lodging properties of their choice to see what on-the-water amenities are offered. Additionally, most lakeside resorts have swimming docks, swimming pools, float noodles and other fun water accessories for kids of all ages.
Of course, fishing is a favorite pastime of many Lake of the Ozarks vacationers. There are over half-a-dozen professional, local fishing guides that delight in taking families fishing and teaching children how to be successful anglers. Additionally, Lake guides have the boat, rods, reels, tackle and knowledge to provide fun and successful fishing adventures for half- or full-days on the water. For a complete list of Coast Guard-certified fishing guides, click on the "fishing" tab at www.FunLake.com.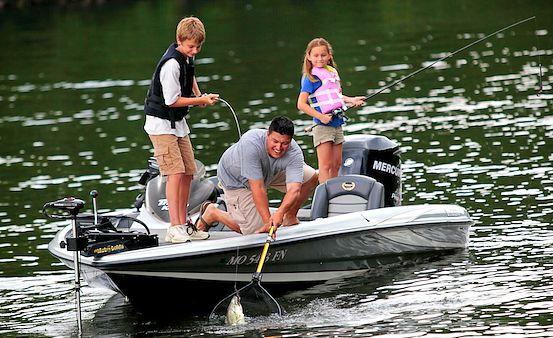 MAKING A BIG SPLASH
Two popular waterparks keep kids of all ages happy year round at the Lake of the Ozarks. Big Surf Waterpark, 954 State Road Y in Linn Creek, is an outdoor splash park open Memorial Day through Labor Day. It's easy to spend a full day enjoying all the water features at this park. The Activity Pool and its lily pad bridge can keep the kids busy for hours and Zambezi Falls, essentially a three-story high half-pipe of rushing water, delivers lots of adrenaline-pumping thrills.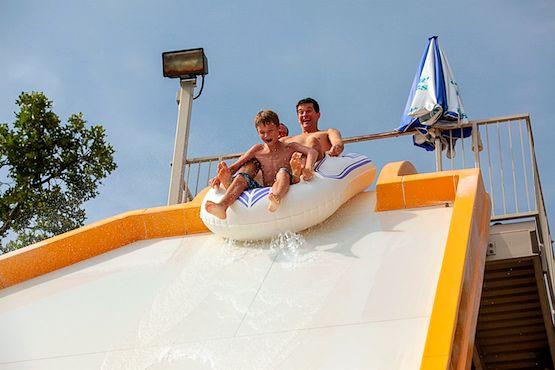 The Challenger Flumes are dueling 300-foot water slides, twisting and turning their way down to a catch pool. The yellow flume is open on top while the enclosed blue flume sends guests sliding through the darkness adding suspense to the speed and fun. Visitors also can float leisurely around the Lazy River or choose The Rapids for a white water float. Other attractions include a large wave pool and the Space Bowl, which was the first-of-its kind in the country. The Tropical Splash Island is perfect for younger children and a beach area allows for fun in the sand. Learn more at: www.BigSurfWaterpark.com.
LAKE OF THE OZARKS, Mo. — There's a place at Lake of the Ozarks that's known for its crystal…
For a splashing good time any season of the year, Tan-Tar-A Resort's Timber Falls is always a family hit. This indoor waterpark is centered on a three-story wilderness tree house. The indoor fun includes 600 feet of waterslides, an activity pool and a relaxing lazy river float. The giant bucket on the tree house tips every minute, spilling 600 gallons of water on those below. Tan-Tar-A Resort is one of the Lake area's original full-service resorts, offering a bowling alley, horseback riding, tennis, putt-putt golf, and other family-friendly amenities, including 27 holes of championship golf and a spa. More information is available at www.Tan-Tar-A.com.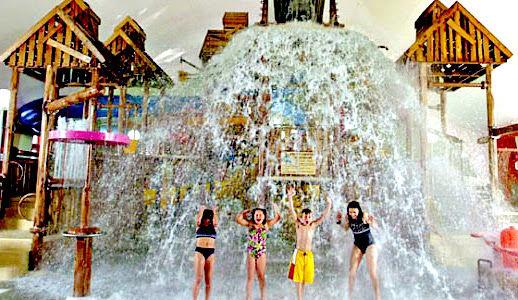 FUN ON LAND AND IN THE AIR
Miner Mike's Indoor Family Fun Center, 4515 Osage Beach Parkway, is known to bring out the kid in adults, too. Miner Mike's offers 35,000 square feet of miner-themed activities and 150 token-operated arcade games. The Runaway Mine Train Roller Coaster flies over dips and bends and through a rock tunnel while the Chuck Wagon Ferris Wheel takes riders two stories into the air for a birds-eye view of the entertainment complex. There is also a miner maze with tubes and tunnels and Gold Mine Bumper Cars. In addition, the complex features Buster's, named after Miner Mike's mule, an arcade with 12,000 square feet of high-tech fun for older kids and adults. Buster's features more than 80 of the latest video games and simulations that let young visitors race a high-speed NASCAR stock car or ride a Harley Davidson and more.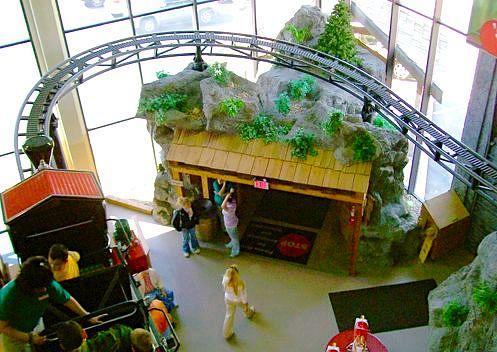 And, newly opened this summer is Buster's Garage Route 66 Indoor Go-Karting. Located next to Miner Mike's, this unique, elevated metal and concrete indoor race track will be the largest of its kind in the country. The theme and decor of Buster's Garage is Route 66-focused with memorabilia and relics from the heyday of America's "Mother Road." For more details on Miner Mike's and Buster's Garage, visit www.MinerMikes.com.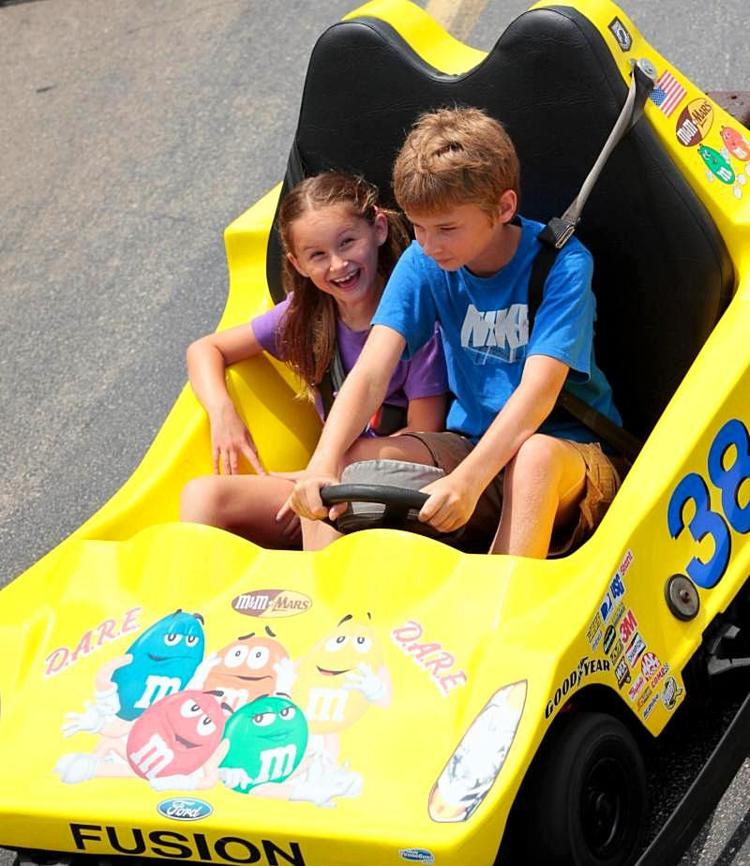 Gran Rally Go Karts, 5730 Osage Beach Parkway, offers more high-action racing fun. Gran Rally offers single- or double-seated cars so mom and dad can race against or race with the kids along the paved track.
Visitors looking for an old-fashioned arcade experience will appreciate a trip to the Dogpatch Arcade located near the Dogpatch store, the Lake's original kitschy souvenir stop. The Dogpatch Arcade, 1482 Bagnell Dam Boulevard in Lake Ozark, keeps vacationers entertained with old-school skee ball machines and other arcade classics as well as video games, simulators and more.
If miniature golf is on the itinerary, there are three fun courses to choose from around the Lake of the Ozarks. Putt N' Stuff, 5440 Osage Beach Parkway, features two different 18-hole tracks with caves, waterfalls and rivers coming into play as well as offering one of the few remaining bumper car tracks at the Lake. Pirate's Cove, 5850 Osage Beach Parkway, offers "swashbuckling fun for the whole family." Pirate's Cove also features two 18-hole courses in an 18th century setting with pirate memorabilia to read and enjoy as golfers make their way from hole to hole. Sugar Creek, 3001 Bagnell Dam Boulevard in Lake Ozark, has been challenging families for 30 years and offers the choice of two shady 18-hole courses in a park-like setting with many hazards to test golfers' skills.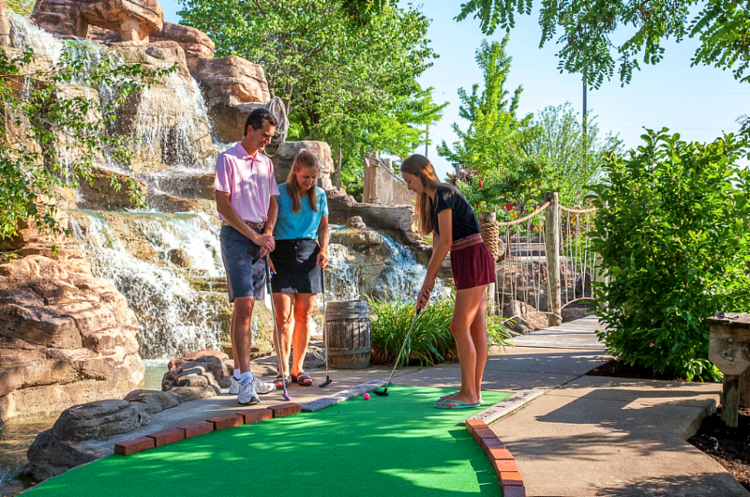 For high-flying entertainment, Jetz Trampoline Park, 5730 Osage Beach Parkway, is the place to go. Guests at Jetz can partake in a number of trampoline-based activities and games including the foam pits, dodge ball, basketball, "battle" balance beams, a "Top Gun" ninja course, a slack line and a "Little Jet Jump Zone" for littler kids. For more details and ticket prices, visit www.JetzTrampolinePark.net.
Looking for higher-intensity fun, for older kids? Fort 54 Paintball, on Highway D just outside Osage Beach, is the Lake's newest outdoor paintball facility. Military-fort themed, with plenty of equipment to rent and paintballs to purchase, Fort 54 is a great place for an afternoon of competitive excitement, or a party/event. They're open by reservation only: call 573-692-2255
This just begins to scratch the surface of the fun things for kids and families to do at the Lake of the Ozarks. Four show caves, parasailing, hiking in state parks, horseback riding, flying through the air on a zipline, cruising in a pirate ship, getting a birds-eye view in an airplane or helicopter, playing sand volleyball, renting bikes to take out on local trails, ice skating in the winter and much more all await you on your next visit.