As one of the few veterinary clinics in the Lake of the Ozarks region offering 24-hour limited emergency services, Lake Ozark Animal Hospital veterinarians have to be available outside the posted open hours, for emergency calls. One of those calls was for a tiny Maltese with a serious leg wound. Dr. Katie Rericha, who owns Lake Ozark Animal Hospital with her husband James, determined the wound had likely been caused by a copperhead snake.
The leg was in very bad shape, but the dog's owner Chris Bothwell and many staff believe Dr. Katie's diligent and meticulous treatment saved the dog's leg. Bothwell now recommends Dr. Katie and Lake of the Ozarks Animal Hospital.
Another emergency called Dr. Katie to the clinic just five days after her first son was born. She arrived, baby nearby, and helped.
The Rerichas' commitment doesn't end with an animal emergency, however. When weathermen forecast an ice storm for the lake region, the Rerichas made sure someone was on site at LOAH to insure that hospitalized and boarded animals were fed and warm even if the power went out. Often times this means the Rerichas themselves are at the hospital. They intentionally bought a home nearby so Dr. Katie would have quick and easy access to her patients at all times.
People who share their lives with a dog or cat want the veterinarian who cares for that pet to be dedicated and knowledgeable. They also hope the doctor will care about their pets as they do, seeing their "fur kids" as little miracles filled with boundless love.
Dr. Katie has been in residence at LOAH since 2013 and proud owner since May 2016. She and James have been investing for the good of animals and their owners ever since and they have recently made some changes to better serve their clients and patients.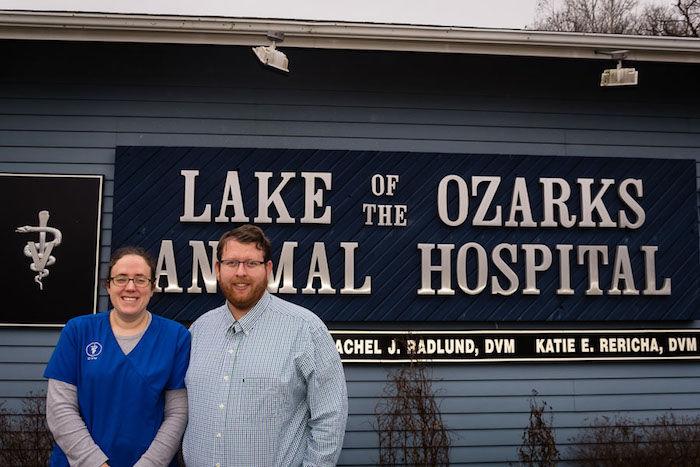 Dr. Katie's clients say her endless compassion is one of the things that makes her a fantastic veterinarian. This is never more valuable than in a crisis or end-of-life stage. Clients say she truly understands how emotional euthanasia can be. That is why Lake of the Ozarks Animal Hospital now offers in-home euthanasia services. For some pets a visit to the hospital can be stressful, especially when they are already sick. Dr. Katie feels this allows nervous and sick pets to pass away in a more calm and comfortable environment.
New office hours now open the front doors earlier and close later making it more convenient for clients to pick-up/drop off animals, pick-up prescription or preventative medications. The new hours are Monday through Friday, 7:30 to 5:30 and Saturday, 7:30 to noon. Veterinarians see patients Monday through Friday, 8:00 to 4:30 and Saturday, 8:00 to 11:00 a.m.
While the hospital still accepts walk-in patients as they always have, clients who prefer can make appointments to better accommodate their schedule. LOAH is the only Lake-area walk-in clinic for dogs and cats. Except for non-emergency surgeries, grooming, and boarding, no appointments are necessary. This was the business model when the Rerichas bought the clinic. Dr. Katie loves the variety, flexibility and quality of care that open up with a walk-in clinic. She and the other two veterinarians, Dr. Jennifer Leffel, and part-time Dr. Barry Leek can spend as much time as needed with each patient without being pulled away for an appointment.
Dr. Katie dreamed of being a veterinarian as a child and believes her mother, Deborah Koelling, helped her make that dream come true. From her mother, Dr. Katie learned how to work hard and achieve goals. She also believes the work ethic she developed in high school band sustained her through an undergraduate degree in biology and veterinary school.
Katie and James have a two-year-old son and and 11-month old son who are very much a part of animal hospital activities. The Rerichas' oldest son is proof of Dr. Katie's dedication to her patients and their humans. Nine days before the baby's due date, Dr. Katie responded for an emergency. Annette Heavey's aging Labrador needed torn stitches put right, and Dr. Katie didn't hesitate. Ms. Heavey has also observed Dr. Katie's obvious love for her work and the animals as she regularly sits on the floor to greet dogs so that they can give her kisses.
Sharon Anderson was a customer at LOAH when the former owner retired. Her dog is now under Dr. Katie's care. Ms. Anderson transitioned her pet to Dr. Katie because of the good words being shared about Dr. Katie's level of care for animals as well as her up-to-date knowledge of medicines and medical advancements.
The Rerichas place a great deal of importance on keeping all staff current with constantly improving veterinary medicine by supporting their continuing education. In 2017, LOAH staff spent more than 400 hours in classes updating their skills and knowledge. As business owners, Dr. Katie and James also proudly financially support their assistant technicians' educations as they study to become certified veterinary technicians.
LOAH is the only animal hospital in the area to offer digital dental x-rays and ultrasound diagnoses. LOAH also invested in new lab equipment producing better, more accurate results on site.
Dogs boarding at LOAH have a the comfort that animals consistently appreciate. The kennel runs, that are spacious enough for large animals to rest comfortably and move about, provide in-floor heat during the winter to keep the dogs cozy, and stay cool in the summer for a place chill out after a run outside. Along the back of these runs is a walkway the technicians can access to release one pet at a time three times daily into a grassy, fenced exercise yard.
Lake of the Ozark Animal Hospital, led by Dr. Katie, is there when pets are in crisis, need a warm place to stay, or need to be groomed. Dr. Katie and James Rericha are two young professionals dedicated to raising the bar in patient care from the preventive services they offer to diagnostics and treatment they can provide. The hospital's abilities to treat without delay or referral are increasing as building renovations and equipment acquisitions continue. More knowledgable staff and up-to-date equipment are furthering the Rerichas' goals to provide loving and high-quality care for pets. You can learn more about their team by following them on Facebook, Twitter or visiting www.lake.vet. Give them a call 573-346-5733 or walk-in to experience their team firsthand.
As victims of Hurricane Harvey recover, storm-stricken pet owners are trying to find a place…
If you're a dog lover, the best event at the Lake is this weekend: Canine Cannonball at Dog …
LAKE OF THE OZARKS, Mo. — Local firefighters rescued a dog that got tangled in fishing line …
LAKE OF THE OZARKS, Mo. — Cats gone wild are becoming a problem on the Westside, and local c…