CAMDENTON, Mo. — Fire destroyed a Camdenton home in the early hours of Wednesday, Nov. 6, and authorities say at this time it appears no one was home.
At 12:57 a.m., the Mid-County Fire Protection District (MCFPD) was dispatched to the area of Cedar Heights Condos on Highway 54, west of Camdenton for a fire in the trees. Firefighters arrived in the area to find a large fire burning in the woods on the hillside behind Cedar Heights Condos, but after a brief search, they located a residential structure fire on Good Neighbors Lane.
The large two-story residence was fully involved with fire and the roof had already collapsed. Firefighters started an attack from the exterior, and the fire was brought under control approximately one hour after firefighters arrived on scene. No fire hydrants were present, and the home was too far from the lakefront to use fire boats, so tankers were utilized to shuttle approximately 37,000 gallons of water to the scene.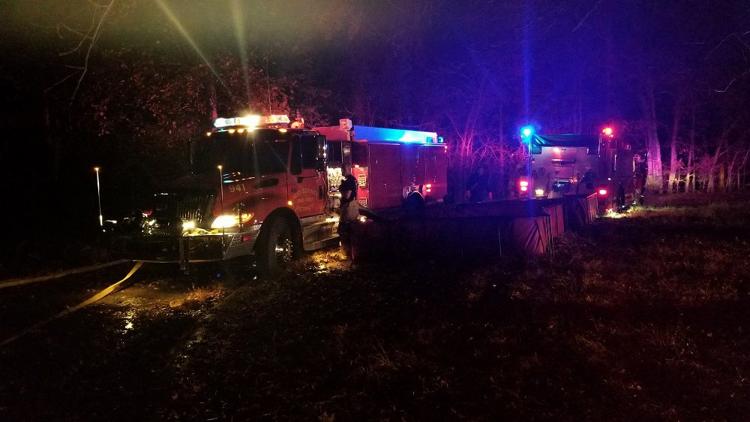 According to an MCFPD press release, "At this time it appears that no one was home at the time of the fire. The residence and the contents were a complete loss."
The cause of the fire is currently unknown and is being investigated by the MCFPD Fire Marshal's office and the Missouri State Fire Marshal's Office. Any further information about the investigation will come from the Missouri State Fire Marshal's Office.
The MCFPD responded with 1 Engine, 1 Squad and 4 Tankers. MCFPD was assisted at the scene with an Engine from the Osage Beach Fire Protection District, a Tanker from Sunrise Beach Fire Protection District, a Tanker from Southwest Fire Protection District, the Camden County Ambulance District, the Camden County Sheriff's Department and Southwest Electric Cooperative. Additionally, an Engine from the Lake Ozark Fire Protection District responded to MCFPD Station #1 in Camdenton to provide coverage for any additional calls.
There were no injuries reported with this incident.
All firefighters cleared the scene at 5:30 a.m.