High winds and steep terrain challenged firefighters and conservation personnel battling a fast-moving wildland fire on Thursday, November 19, off Route RA, in Laurie. According to Gravois Fire Protection District (GFPD) Fire Chief Ed Hancock, the initial fire started at approximately 3:30 p.m., on Great Lakes Drive and extended north to Denrod Road, in Camden County.
A fire danger warning was issued for the entire region on Thursday, due to a combination of dry fuels, low relative humidity, and gusty-southerly winds.
According to Chief Hancock, the first arriving unit reported, "A rapidly spreading fire, with at least five structures in danger." The fire started on the bank of the Lake of the Ozarks, in the middle of a residential subdivision.
"Initial actions were not to engage the fire," Chief Hancock said. "But to go into structure protection. With the high wind, humidity and steep terrain, and the number of homes in danger, mutual aid was requested."
Sunrise Beach, Versailles, Moreau, Ivy Bend and Mid County Fire Protection Districts, the Missouri Department of Conservation and Lake West Ambulance responded to the call.
According to Chief Hancock, high winds intensified the fire, causing it to climb a steep hill and jump from the top of one ridge to another.
"As we progressed through the evening, we secured the structures and got a break in the wind intensity. At that point, resources were deployed to other functions, to begin containing the fire."
Firefighters built control lines, using leaf blowers, rake crews and water lines to clear the property in the path of the fire. "With the intensity of the moving fire, there was no certainty our lines were going to hold, and we didn't see any success in actually containing it, until three hours into the fire." Personnel put in wide lines, cleaned debris, and cut down old burning trees, to prevent the fire from moving and igniting again later.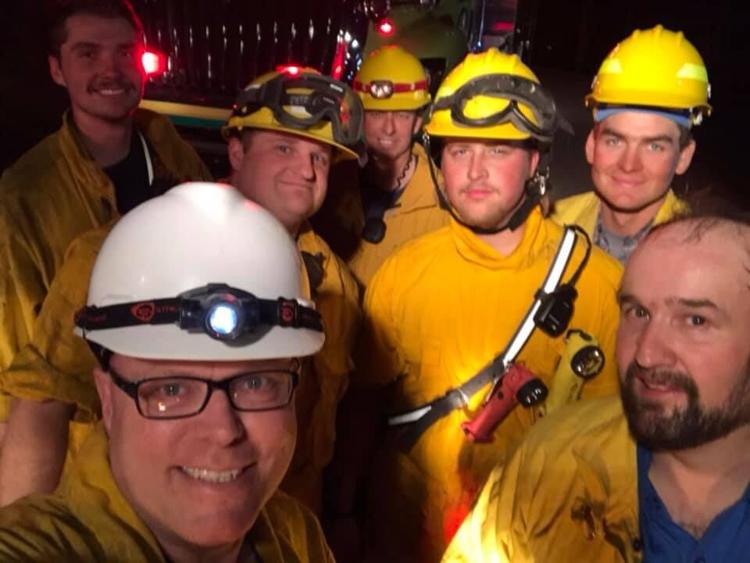 "Twenty-acres were destroyed in this fire. One shop building took a small amount of fire staining along the bottom, and a boat trailer was scorched, but completely salvageable," Chief Hancock said. 
According to Chief Hancock, the cause of the fire was due to trash burning.
Heightened Fire Danger
"A red flag warning was issued," Chief Hancock said. "Based on the National Weather Service humidity reading, it should have been set at moderate, but we held it at high, due to high wind and history in the area." A high fire hazard means there are dangerous fire conditions. 
No Outside Burning
When in a high danger fire warning, the district recommends property owners do not conduct outside burning. If the humidity is above 40 percent and there are no, or low winds, then burning is permissible. 
Burning Bans 
Each fire district has their own ordinances pertaining to issuing fire conditions, permits, advisories and bans. "We set fire warnings based on current conditions, not laws or bans," Chief Hancock said. The fire districts board of directors can evoke a ban when conditions are dangerous. 
Criminal Charges
"If you start a fire when an advisory or ban has been issued, you are responsible for that fire and liable for any damages, injuries, or deaths that result," Chief Hancock warned. "If a fire escapes control, we will put it out and forward a complaint to the county prosecutor for further action. Depending on the findings, he may file for negligent or careless burning, which can bring a criminal charge, if someone is hurt." 
Take Precaution
In a heightened fire danger warning, property owners are advised to avoid outdoor burning, as these weather conditions can cause fires to spread rapidly. Smokers are advised to be sure to extinguish cigarettes before disposal, and to never throw a burning cigarette out of a car window. Property owners can do their part to prevent fires by bagging up trash, clippings, and other easily flammable items.
"The GFPD wishes to thank our wonderful lake area Mutual Aid partners for their help!" Chief Hancock commended. The Camden and Morgan County dispatch also assisted with communications. 
There were no injuries reported. Firefighters left the scene at approximately 8 p.m.