CAMDENTON, Mo. — A girl perishes in an alcohol-related crash, as local high school students watch emergency responders pull her from a wrecked vehicle: this was the scene at a recent docudrama staged by Camdenton High School.
Since 2007, the school has hosted a docudrama for juniors and seniors just before prom in six separate school years. When not performed in Camdenton, the School of the Osage has hosted the same event to help students choose not to drink at all, and certainly not to drink and drive.
Each performance requires coordinating police and fire crews, student actors and their family members, school schedules, medical personnel, and the media--all with one goal in mind: to do everything they can possibly do "to prevent drinking" before or after prom, especially drinking and driving or drinking and riding in a car driven by a driver who's been drinking.
Camdenton's School Resource Police Officer Chris Williams is responsible for planning this event, and he's happy to be involved. He hopes to help students choose not to drink and certainly not to drink or ride with someone drinking.
Media coverage is important to the Docudrama because organizers hope the news stories will prompt parents to begin a conversation about their expectations about prom. At home, parents can listen as students tell about their reactions to the performance, and parents can add their own warnings about the dangers of drinking and driving.
The hands-on portion of the drama portrays an alcohol-related crash. Emergency personnel dramatize cutting away the car to free those trapped inside. One girl in the drama does not survive, and this year, relatives of the girl who played the deceased also took part, showing the emotions and pain of discovering that their beloved child had been lost.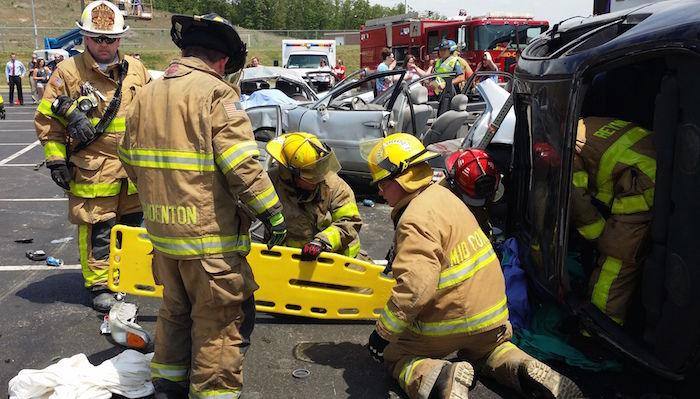 The guest speaker portion of the drama included a nurse from Mercy Hospital. She shared the blunt truth about trauma and the effects of alcohol. In addition, a video provided by Missouri Safe and Sober featured a girl who now lives with the consequences of drinking and driving.
Camdenton's docudrama took place Monday, May 5, just days ahead of the prom. Officer Williams is grateful for the community's help in bringing this valuable program to juniors and seniors. School patrons, students, the Camdenton police, and firefighters cooperated to send an important message: drinking and driving is never a good or correct choice.