CAMDENTON, Mo. — Speculation has been in high supply, as a demand for answers about the content of presentations given at two assemblies in Camdenton schools has surged around the Lake area.
The district has said it has no available recording of either assembly—the only means by which the allegations of religious references and controversial topics in Tina Marie Griffin's message could be verified.
But a recording has recently surfaced. And LakeExpo.com editorial staff has determined it is indeed from Griffin's Jan. 31 presentation at Camdenton High School, around which controversy has swirled for more than a month.
The audio reveals Griffin did indeed speak about topics such as premarital sex, violent video gaming, aggressive behavior and violent crime. However, Griffin says the district requested she talk about some of those very topics.
As for the religious references: they were no more than a person might hear in a celebrity interview on television.
Griffin has requested for personal and professional reasons that the entirety of the audio recording not be published. However, she has consented to the publication of clips selected by LakeExpo.com staff.
What Was Claimed
Local media outlets have reported parents and students have taken issue with several topics discussed in Griffin's presentation.
A few individuals allege Griffin made the following claims:
1) Students who play violent video games will become serial killers
2) Students could regain their virginity by wearing a purity ring for two weeks
3) Popular TV shows and singers are satanic
It has also been suggested that parts of Griffin's message were religious in nature.
What Was Said
The audio of Griffin's presentation at the high school reveals she did indeed reference the aforementioned topics, but her stance on them was far from what has been claimed.
1) "There is an escalating rise in teen crime. And the majority… I believe, is coming from our violent video games," Griffin asserted.
Throughout her presentation, she pointed teens to what she says is hypocrisy in the media industry: a disconnect between the products those in the industry produce and what they let their own children consume. "Remember, it's your choice to play or not," she reminded. "Just know while you're playing it that the people creating these video games are sheltering their own kids from playing these games."
Griffin cited examples of recent violent criminals, including the Navy Yard shooter, the shooter who killed 77 people in Norway in 2011, the Aurora, Colo. shooter, and the Sandy Hook shooter. All of them, she said, had played violent video games.
"You can't tell me violent entertainment does not make people snap in a negative manner," she said.
However, Griffin never drew a necessary causal connection between playing violent video games and committing violent crimes.
"It's not just entertainment," she acknowledged, "But that's a big [influence]."
She encouraged students who play violent video games and who are not doing well in school and are being aggressive to "Ask yourself what's causing you to feel like this."
2) Griffin says she discussed abstinence at both assemblies, and says the concept of "secondary virginity" was addressed at her middle school talk.
As for the allegation that Griffin had told students they would regain their virginity after wearing a purity ring for two weeks, the recording of the high school presentation contained no such language. Griffin asserts she never said it and says others who were at the event concur. "Secondary virginity," she explains, is the idea of a behavioral change, not a physical one.
"I talk about the fact that physically, obviously, you're no longer a virgin, but I focus on making better choices from that day forward and not having sex until your wedding night, if you choose to do that," she said.
3) Regarding pop music, Griffin simply urged students to take two specific singers' words seriously.
She played an audio clip of Katy Perry, in which the singer says that despite making a gospel album when she was younger, "I sold my soul to the devil" after her desire to make music like Amy Grant "didn't work out."
"She's not just saying that," Griffin said.
She also vaguely referenced pop icon Beyoncé. The singer has in the past referred to her alter-ego, Sasha Fierce, as "that thing that takes over" when she gets on stage. Of Beyoncé, Griffin said, "What happens to her when she jumps on stage to sing… it is a lot deeper than just some negative lyrics, people."
Then she reiterated, "I want you guys to do the research… I'm not gonna come here and tell you how to live your lives."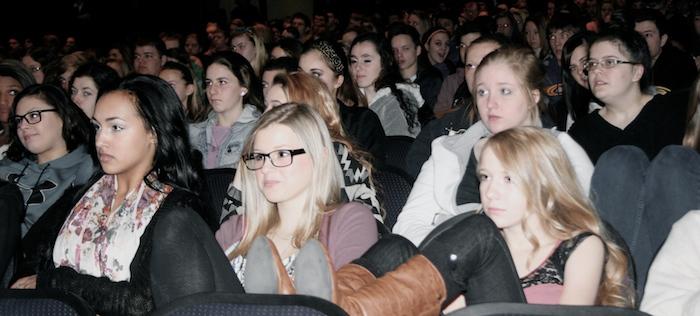 Religious References?
Griffin says the few complaints about religious undertones in her message have mainly centered on her encouragement of students to pursue abstinence before marriage.
However, in none of Griffin's discussion of abstinence did she use explicitly religious language.
In fact, her only uses of the word "God" came in three quotes from three celebrity interviews.
Griffin quoted the following three celebrities:
Denzel Washington: "We've all been given a gift. The challenge is to decide what you're going to do with the gift you've been given. Are you going to stand for good or evil?… Me, I'm standing on the side of God."
"He does positive movies," Griffin asserted.
Kevin James: "I'm involved in my faith… if you have a platform, you don't want to do anything that doesn't glorify God."
"That's his true feelings," Griffin added.
Tyler Perry: "When Hollywood told me I couldn't talk about God, I was like, 'If you don't want my God here, you don't want me here either. God has been too good to me to go and try to sell out, to get some money. It ain't gonna happen.'"
That quote met with applause from the audience. Griffin followed it by saying, "You guys deserve the best. Leave a legacy. Find out what your purpose and value is in life."
"Don't let pop culture influence who you are. You be the influence," she concluded.
Additionally, when Griffin mentioned a desire to start a new radio station in town, she asked the students, "Pray for us."
Griffin contends none of those references came close to a violation of the First Amendment.
In none of them did she solicit students' participation in any specific religion. She never named any specific faith in the presentation, nor did she say what faith she adheres to.
An Explicit Request
Griffin says she is saddened by the fallout because it represents the very thing the district asked her to address. However, she says some district officials in their public statements have backpedaled from mentioning the speaking topics they had requested she cover.
"Now, I feel like I am a motivational, inspirational speaker, but that's not why they called me in. They called me in because they wanted to address serious issues going on in the schools," she told LakeExpo.com. Among those issues she says the district explicitly asked her to discuss were sexting (sexually explicit text-messaging), cyber-bullying, and the hypocrisy of celebrities in Hollywood.
"They specifically called me because they didn't want just a motivational speaker," she said. "They wanted me to come in there and address those major issues." She added administration had informed her about several middle schoolers who had been sexting.
"Dr. Brown was like, 'You have to come in and address sexting, and cyber-bullying is huge at both of our schools. Please come in and talk about those issues: those are the top things among everything you talk about that have to get addressed,'" Griffin said.
But since then, Griffin says the district has issued statements that "did not back up the issues they wanted to address."
She adds she has been cyber-bullied in the wake of the event, noting the irony. "I was called a porn star… I was slandered on Facebook," she said.
The Positive
Griffin's talk gave students examples of the sexual and violent elements of pop culture. But the dominant theme of her message was an encouragement to consume entertainment that contains positive messages.
"Ditch any kind of negative entertainment in your life for just one week," Griffin encouraged students.
She cited the case of a girl from Bozeman, Montana, who, after hearing Griffin's presentation, deleted negative music from her iPod and "has a reason to live today, because she didn't realize all the negativity going on in her mind and how it caused her to react on a daily basis."
She quoted an expert in psychology who has drawn a connection between violent video games and aggressive behavior.
She pointed students to what she says are positive video games, including Wii Sports and Just Dance.
"Better yet, let's actually get off the couch, get active… Guys, learn how to dance," she urged.
She exhorted students not to derive an opinion of their bodies from depictions in advertisements and quoted an interview with the pop artist P!nk: "There's a lot of pressure on women and kids to look and be a certain way. It's nauseating, depressing, it makes people suicidal."
Regarding sex, Griffin told students, "There's forgiveness… there's a clean slate… you are not what happened to you in the past, that is not your identity… What happened to you at a party last weekend… What happened to you when you were five years old, that is not who you are."
Speaking of her own engagement, Griffin said, "We waited," adding, "Good things come to those who wait."
She also had purity rings for sale, and in her presentation said, "Both men and women get them and wear them as a constant reminder, 'I'm waiting until my future spouse.'"
Griffin also told LakeExpo.com she has received around 100 emails that spoke positively of her presentations at both Camdenton schools.
A History of Controversy?
Griffin says she had told district administrators that she had a "parent/adult session" she could offer either before or after her presentation at the schools. The district declined that offer, and Griffin speculates the reason was because she was brought in to speak on short notice.
She says a presentation for adults in the community is currently in the works. She also noted between 20–30 adults could be seen in the audience at her Jan. 31 assemblies.
"The adults that were in there loved it," she said, citing praise from an adult who had been in attendance for the high school event.
Griffin was absent from a recent Camdenton board meeting in which an individual had requested to be on the agenda to discuss her presentation. She says she missed the meeting because she was not told she would be on the agenda.
At the meeting, a 2005 news article from Bozeman, Mont. was mentioned which allegedly claims a local parent took issue with what she said.
Griffin responded, "Because of Bozeman, I don't even use statistics anymore," saying people twisted those numbers and focused on the controversy, rather than "getting my main point."
Since Bozeman, Griffin says she has presented at more than 300 school assemblies, and has spoken at thousands of events, without a single controversy, until Jan. 31, 2014.
But she says she has no regrets about her Camdenton presentation.
She told LakeExpo.com, "If I could take it back, would I do it again? Yes, I would."
For more information about Tina Marie Griffin, visit www.tinamarielive.com/wordpress