A year ago, most of the people you know had probably not gotten Covid. Now, it's likely the opposite, and the Lake area's current case surge—in what we're told is presumably the Omicron variant—is mirroring the national one. (On that note, a pronunciation tip: It's "ah-muh-kraan" not "oh-muh-kraan.")
Locally, the increase in cases can be seen in anecdotal examples, in businesses, healthcare, and government entities.
Lake Regional Health System has reintroduced heightened Covid protocols:
-One visitor per patient (exceptions will be made for pediatric patients, who may have two parents, and end-of-life situations. Lake Regional Family Birth Center and Lake Regional Skilled Nursing Facility also have separate visitor policies. See lakeregional.com/visitors for details.)
-New mask requirement: medical masks must be worn by all visitors and staff. Cloth masks, gaiters, and face shields will not be allowed.
Positive Covid inpatient numbers have been in the teens since December, said Jennifer Bethurem, Vice President of Public Relations and Marketing for Lake Regional. Bethurem said as of Friday, Jan. 14, the hospital's Covid-positive inpatient number was 20. (Note: the Covid-positive inpatient number reflects patients who have tested positive, but does not indicate whether those patients are hospitalized for Covid-related issues or another reason.) That number — 20 — certainly represents an increase from low points in early summer and the fall, when inpatient numbers were typically 10 or fewer, but it's down from Lake Regional's high water mark of 30, in late July/early August.
The Camden County Health Department announced earlier this week they had to temporarily close their public office, due to the number of employees who had varying illnesses as well as Covid exposures. The office plans to reopen on Tuesday, Jan. 18.
School of the Osage Superintendent Laura Nelson wrote in a district update on Wednesday, Jan. 12, "COVID is currently posing challenges for our district. There are more total people (students and staff) out with COVID this week than we had all of the first semester combined."
Camdenton R-III School District Superintendent Tim Hadfield said that the Camdenton district is facing a small spike, but he said numbers are still lower than they were in the fall. 
"We are seeing a slight increase here since Christmas break, but again we're lower than we were in the fall. But we're seeing other illnesses that are going around the district like flu and a stomach bug, but all in all we're doing fine right now although numbers are increasing a little bit," Hadfield told LakeExpo.
He went on to say that the increase in Covid cases and other illnesses haven't affected teacher staffing beyond an ongoing substitute teacher shortage that is being felt around the state.
"We're still under where we were in the fall. As a school district we want to do our best to serve our students and keep up with our mission statement of everyone learning everyday. We have a very dedicated staff and that goes for all of our staff members."
Statewide: More Cases, Fewer Deaths
The Missouri Department of Health and Senior Services data shows, statewide, Missouri is in its largest-ever spike of cases. More PCR tests are being administered than ever before. However, confirmed Covid deaths are notably low. The highest number of deaths happened during last winter's spike: between November 2020 and January 2021. Assuming deaths are still being measured the same way, the current surge is clearly less deadly than the one seen a year ago. For comparison, in December 2020, 1,781 Covid-related deaths were reported. In December 2021, the total was 591.
Charts comparing multiple months, year-over-year, using test, case, and death data per MDHSS are below.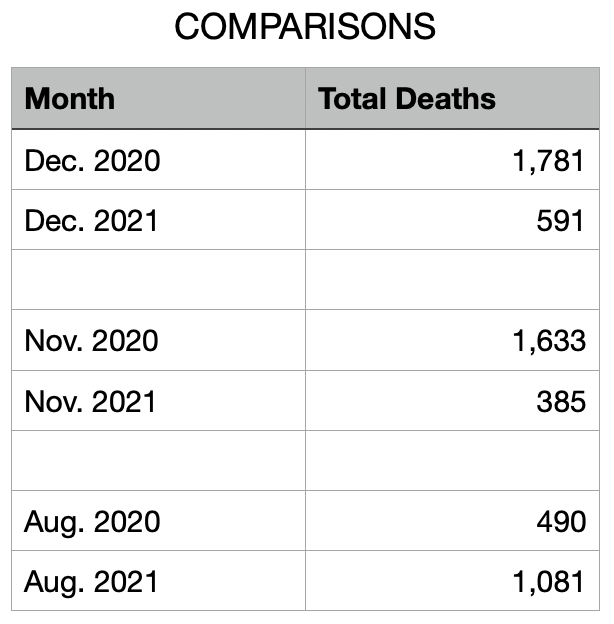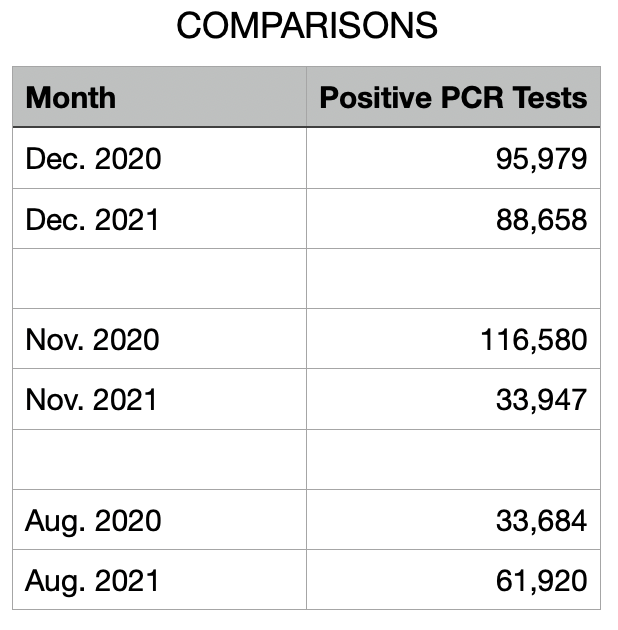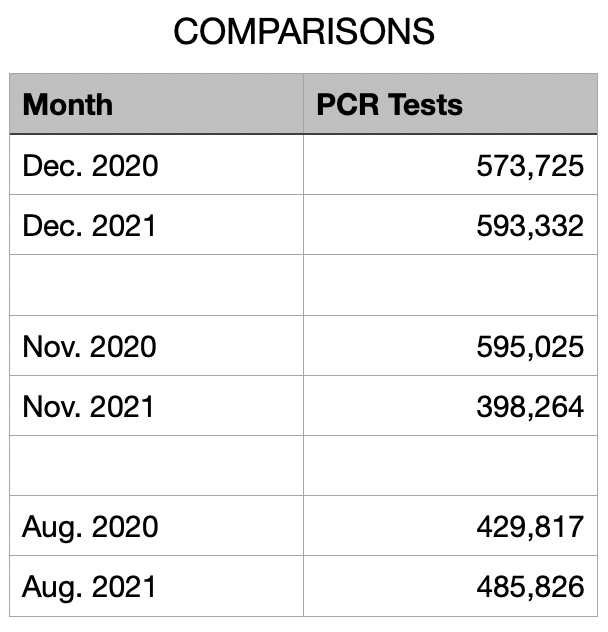 Data provided by MDHSS and sorted into relevant spreadsheets can be downloaded below. Data includes positive PCR tests, total PCR tests, and confirmed deaths for all dates from March 18, 2020 through Jan. 13, 2022.